Compound Interest Definition: The Mathematical Mind Melt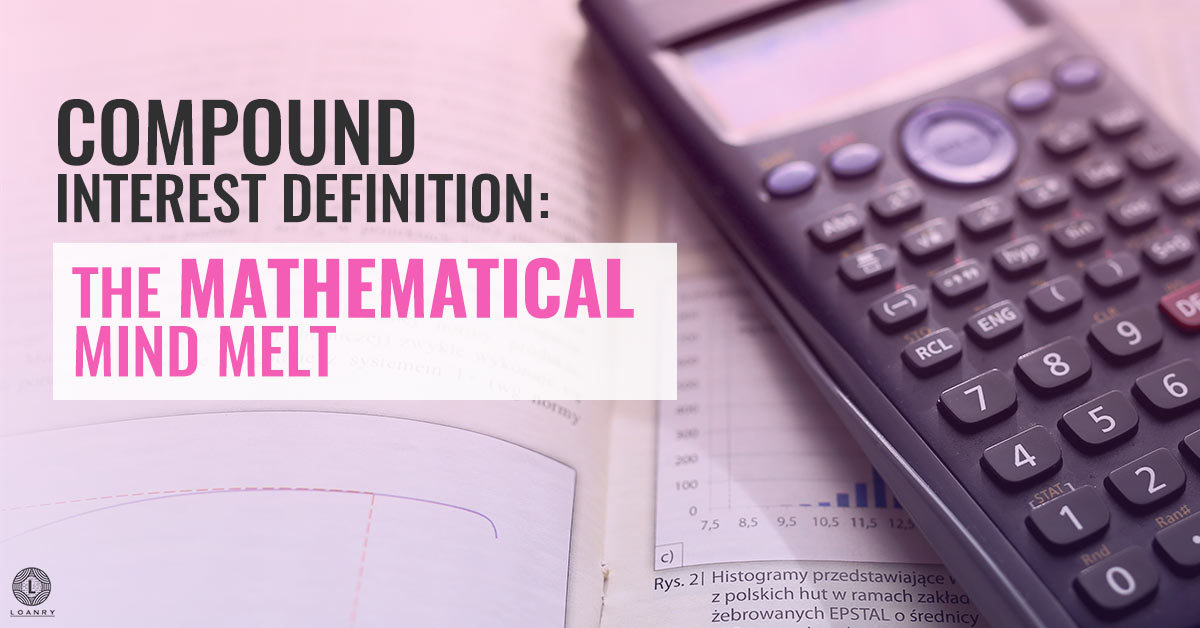 Compound interest- it can be your best friend or your worst enemy. When using it in your savings and investments, it can do a lot for you. When it comes to compound interest on things you owe, such as a loan or credit card, it can overtake your life.
It is even worse when you do not understand it and have no clue how it affects you- or what it even is. Sadly, that is the case with many people. It can be confusing and overwhelming, so we are going to do our best to change that right now.
Compound Interest: A Simple Explanation
To be completely technical, compound interest is defined as "the total amount of principal and interest in future (or Future Value) less Principal amount at present (present value)" with a lovely formula that looks like this:
=[P (1 + i)n-1].
Got that?
If you are part of the normal crowd, it may take a few times- or more- reading that to understand. That's okay- I am not a huge fan of being technical. It has its place, but really, it is not necessary, so let's get simple.
Let's start with the word "compound". By dictionary definition, compound means "a thing that is composed of two or more separate elements," "made up or consisting of two or more existing parts or elements," and- my favorite- "make (something bad) worse; intensify the negative aspects of".
I like this definition because, even though compound interest is good in savings and investments, it really hurts a lot more people than it helps. In the case of interest, compound means that the interest you owe is going to multiply. Typically, every month you are charged interest on the interest you currently owe, so it just keeps growing until you pay it off. So a simple compound interest definition is that the interest you owe, or are earning through investments, continually stacks on top of the interest from the previous round.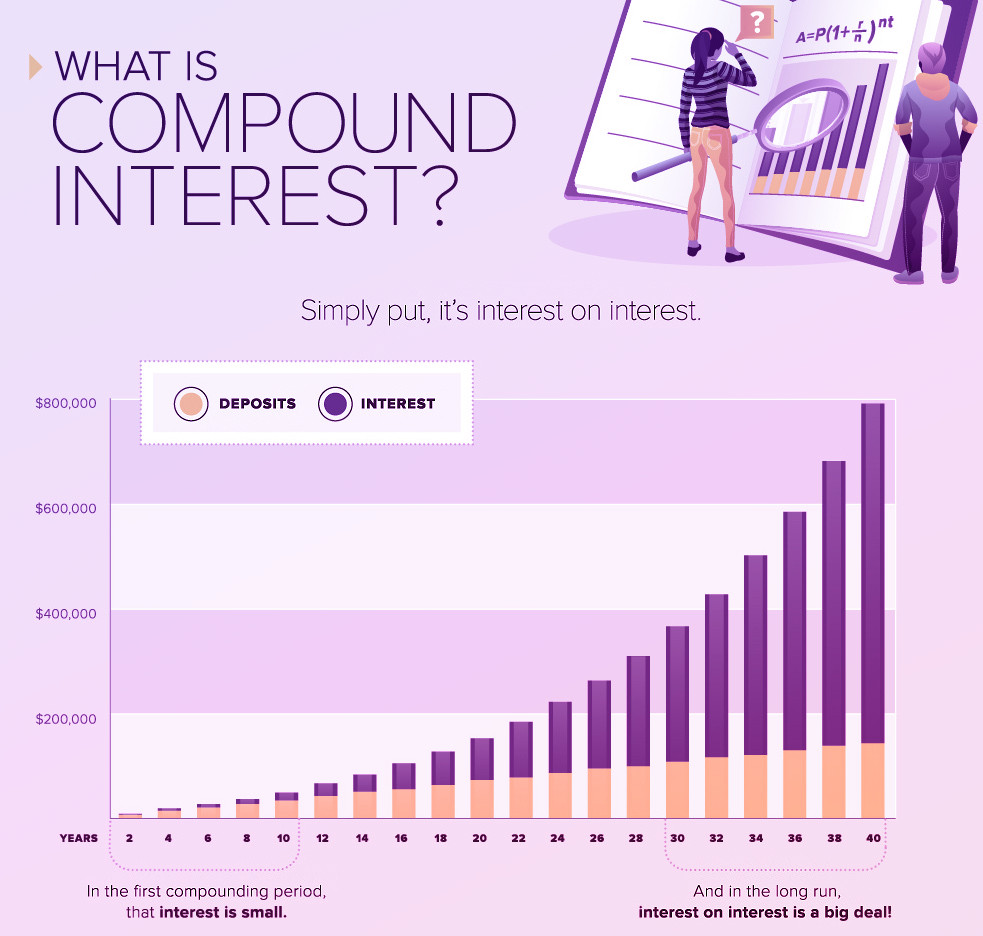 An Example of the Negative Side of Compound Interest
My oldest child will be 18 in a couple of years and, since I homeschool my kiddos, I designed a finance class to teach him as much as I can before he moves out on his own. Just this week, we were discussing credit cards. I do not want to scare him away from them- I just want to be sure he handles them responsible and does not end up in a ton of debt. The following is the scenario I gave him to explain compound interest and how it can wreck your life:
You get an offer for a credit card and apply and get approved for a $100 credit limit. It comes with a 28% interest rate that is compounded monthly. After you spend your $100, you receive a bill at the end of the month that says you owe $128= $100 being what you borrowed and $28 being the interest. You then notice that your minimum payment is only $25.
This is your first time dealing with a credit card, and your check was a little short, so you choose to pay only the minimum payment and feel good that you are responsibly making payments. The next month, your bill comes in and you see that your balance is $131.84. Wait- what? Didn't you just pay on that? After your last payment, your balance was only $103. And you have not used the card again because you reached your limit last month. How on earth did this happen?
This is what compound interest is. The first month you were only charged interest on what you used. When you paid less than the full balance due, any interest left (in this case, $3) turned into the principle. The following month, that 28% interest is charged on the full $103 you owe. It is not pretty, and it continues to grow. In fact, check out how much it can grow if you continue to make minimum payments only:
---
Month 2:

Balance Due- $131.84

Minimum Payment- $25

Total After Payment- $106.84

Month 3:

Balance Due- $136.76

Minimum Payment- $25

Total After Payment- $111.76

Month 4:

Balance Due- $143.05

Minimum Payment- $25

Total After Payment- $118.05

Month 5:

Balance Due- $151.10

Minimum Payment- $25

Total After Payment- $126.10

Month 6:

Balance Due- $161.41

Minimum Payment- $25

Total After Payment- $136.41
---
This is just for six months. Imagine that growing for a year or even a decade. It all seems so simple and innocent in the beginning, but it grows into a monster. Let me point out of few things here to bring home just how crazy this is:
Even after paying $25 a month for 6 months, you still owe $136.41.
That $25 you have been paying means that you have already paid a total of $150, which is more than you borrowed in the beginning. Do you get that? You have already paid more in interest than you have borrowed. And, yet, you still owe more than you borrowed. That's nuts! (Yes, that is my technical term for it.)
You are paying all of this for $100 that you are really only borrowing one time, and that is the first time. Once you repay it, you are just re-borrowing your payment. What I am saying is that the $100 is only technically loaned to you once, no matter how many times you borrow it or how often you repay it.
How Compound Interest Really Gets Out of Hand
You may have looked at the first few months of my example and thought, "Well, that's really not so bad. I would still owe under $200." You are correct- it does not seem so bad. The first few months, though, are not normally what gets people in the most trouble. It is when they wait years to pay it off.
"But why would anyone wait that long?" you might be wondering. Well, here's a question or two for you to consider: How many times have you gotten sick and missed work? How many times has a surprise bill or emergency popped up and thrown off your monthly budget?
You see, it is not always a conscious decision for people not to pay their credit card balance every month- life happens, and sometimes there is nothing we can do about it. There is also the fact that not everyone understands how this interest works, so they have no clue how out of hand it can be. There are other times that extenuating circumstances make it impossible.
How Do I Avoid Compound Interest?
I hope we can all agree that owing any bill that involves compound interest is not a good thing, so of course we should avoid it as much as possible. Here are a few ways to do that:
Avoid Credit Cards Completely
Let me start by saying that credit cards are not the only thing that charges compound interest, but they are the most common, so we are mostly sticking with those through this explanation. As long as you understand compound interest with credit cards, you can translate that knowledge into other loan types.
Now, one of the best ways to avoid compound interest is to avoid credit cards. If you do not use credit cards, you are avoiding a good bit of compound interest. However, avoiding credit cards completely is not always the best step.
Even with compound interest, there are benefits to credit cards.
1. They are great for emergencies.
If you end up on the side of the road with a flat tire and no cash, or if your kid needs medicine and you do not get paid for a few days, a credit card is a lifesaver. Understand though that it can only save you if you have money available there. If you have used up your limit, that card is doing nothing more than taking up space in your wallet.
2. They can help you build credit.
Credit cards are great for building credit when handled responsibly. Just having a card open and not using it or paying your full balance every month improves your credit utilization- a big factor in your credit score. Having a balance of more than 30% of your credit limit can mess you up, though, so you have to be careful.
3. There are some things that simply require a credit card.
Some purchases, hotel, and rental car reservations, and more require that you have a credit card. More often than not, this can be covered with a debit card through your bank, though. It really just depends on the company you are trying to do business with.
Compare Credit Cards
Okay, so if avoiding credit cards is not always the best solution, the next step is to really- and I mean really- compare credit cards and credit card interest rates before you get them. You want to find the cards with the lowest interest rates. The lower the interest rate, the lower the amount of compound interest you can expect to pay.
Understand the Cards You Have
Reading the fine print is never fun, but it is extremely necessary, especially when it comes to anything financial. In that fine print, credit card companies spell out- often in very technical terms- how they charge you interest, how often it is compounded, what happens when you do not pay, any additional fees they charge, and so on. The key to avoiding interest lies in the information you can learn from that fine print. The better you know how your credit card company operates, the better you can manage your card.
Choose Another Option
Avoiding credit cards may not always be the answer, but using them is not always the right answer, either. Credit cards are better for short term purchases. For instance, if you need gas to get back and forth to work and you get paid at the end of the week, using a credit card is not so bad- if you repay the money you use on payday. If your little one is using more diapers than usual and you are down to your last one, using $20 to get a new pack with a credit card is probably okay- again, if you repay that amount as soon as you get paid.
However, if you are in need of more money for a longer period of time, you should look into other options. Let's say you missed a week of work thanks to being sick and you now need to find $300 to keep your electricity on. Unless you can absolutely pay back that $300 before the close of the billing cycle when interest is charged, you should probably put that card right back in your wallet.
In times like these, you are usually better off seeking a personal installment loan. Why? Well, these handy things typically come with fixed interest that is calculated up front and spread out with payments. Using the $300 for the electric bill, let's compare a fixed-rate installment loan and credit card with compound interest with the same interest rate of 25% (Do note that most installment loans have lower interest rates, but this example is meant to show the difference):
A. Credit Card With Compound Interest
Principle- $300
Total with Interest- $375
Minimum Payment- $25
If you only pay that minimum balance, you will still owe $350. The next bill you get will show a total balance of $437.50. As you saw in the other example of the credit card, that number just keeps growing. Within a year, your balance can end up over $1,000 for just borrowing $300. That's no bueno, in my opinion.
B. Personal Installment Loan With Fixed Interest
With a personal installment loan, you have a repayment term. We will use one year for this example:
Principle- $300
Total with Interest- $375
Monthly Payments- $31.25 for 12 months
At the end of the repayment term with the personal installment loan- so long as you have made all of your payments- your loan is paid off. Do you see the difference? With the credit card, your minimum monthly payment is nearly the same as the installment loan's monthly payments, but you are just spinning your wheels with the credit card. Literally, it's like your car being stuck in the mud. You keep pushing the gas and spinning the wheels, but you are just digging yourself further.
With the installment loan, every single payment you make is getting you closer to the finish line, saving you hundreds or even thousands of dollars.
For the sake of transparency, I feel obliged to point out that installment loans come in different shapes and sizes. Interest rates, repayment terms, and even fees associated with them change from lender to lender and loan to loan. A lot of factors are taken into consideration, including your credit and income. However, an installment loan is almost always a cheaper option when you need to borrow larger amounts of money that you cannot immediately repay.
You may now be wondering why you should not just get an installment loan each time, but these loans typically do not come in tiny increments. This means that unless you need the full amount of the loan, you are putting yourself into unnecessary debt.
Pay Your Bill
The final way to avoid compound interest is to pay your bill in full and on time each month. As long as you are making your payments every month and have a $0 balance when you are done, interest does not have the chance to build on top of itself.
If you are thinking something like, "Yeah, that's easy for you to say. I don't have that kind of money lying around," I know how you feel, but this is a bad way of thinking because you are missing a very important fact: You can re-borrow that money. In fact, if you work it right, you can not only avoid compound interest but interest altogether. And, I'm going to tell you how to do it.
First, you need to make sure that your interest is calculated and added monthly, not daily.
If you are charged interest on your daily balance, this particular "trick" will not work. However, if you are only charged interest at the end of the billing cycle, I've got you covered.
Okay, let's say you use $100 of your credit limit. Your interest is charged monthly and the end of your billing cycle is the 20th(this information will be in the fine print that I mentioned), you get paid on the 18th. On payday, go ahead and pay your full balance with interest, leaving you owing $0. When the interest is calculated on the 20th, you owe nothing, so there is no interest to add.
On the 22nd, when your water bill is due, you can use your card to pay for it. Then, on your check that comes right before the 20thof the next month, pay the full amount again. This habit can help you in so many ways:
You will not have to pay interest.
You do not have to worry about that interest piling up.
Your credit utilization points on your credit is going to look awesome.
You will probably get an increase in credit limit and maybe even new and better credit card offers. To be fair, a higher credit limit and new cards can either help or hurt you. As long as you keep up this payment habit, though, it will be fine.
An Example of the Positive Side of Compound Interest
At the beginning of this, I said that compound interest could be good for you in some cases. It seems only fair I explain that a little farther. It is really the same basic thing as owing compound interest, but it is reversed.
There are some investment accounts that offer compound interest, such as bank accounts and bonds. Bank accounts that pay interest though are typically going to be savings accounts, not checking accounts. It is rare for a checking account to pay interest. Savings accounts, on the other hand, usually give 1% to 2% interest. They often offer the lowest interest, but there are other investment accounts that earn more.
For the sake of simplicity, though, we will say that you have deposited $100 into a savings account with a 2% interest rate that is compounded monthly. If you did not add any more money, this is how your account would grow:
---
Month 1:

Starting Balance- $100

Interest Earned- $2

Total w/ Interest- $102

Month 2:

Starting Balance- $102

Interest Earned- $2.04

Total w/ Interest- $104.04

Month 3:

Starting Balance- $104.04

Interest Earned- $2.08

Total w/ Interest- $106.12
---
This growth would continue as long as the money stayed there. Additionally, if you add were to save $100 each month, it would grow exponentially.
You probably noticed that you gain interest at a much slower rate than you get charged interest. Unfortunately, this is the nature of the game. To earn more, you need to look for someone to invest your money that offers more interest. Also, there are investments and savings accounts that compound daily instead of monthly meaning you have the potential to earn more quickly. Again, it is important to read the fine print so you can compare your options wisely.
Though this article focuses mostly on the downside of compound interest, you can also use it to grow your savings and your retirement fund. The keys to both saving and earning money with compound interest lie in educating yourself, making wise decisions, and handling it all responsibly.
Conclusion
Compound interest can be a powerful thing, whether you are using it to build your life or it is tearing your finances apart. It is important to always keep in mind that it has the ability to impact your life both positively and negatively, so you have to pay attention to the choices you make and the actions you take.
If you are currently in trouble thanks to compound interest and credit cards, you may not see any hope, but don't give up. You might consider getting one of those personal installment loans we talked about earlier to pay off your credit card debt. Doing so will rid you of that pesky compound interest and allow you to pay off the debt over time. If you do this, though, make sure you put those credit cards away so you do not end up in another hole.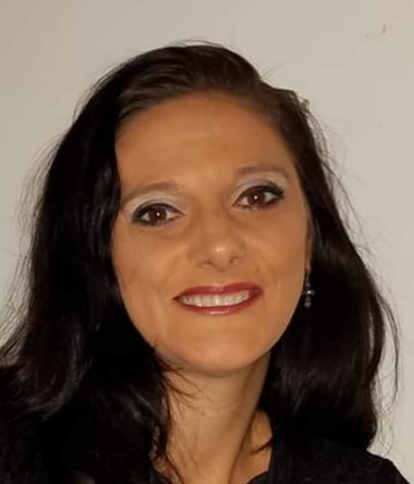 Brandy Woodfolk is an educator, home business owner, project manager, and lifelong learner. After a less than stellar financial upbringing, Brandy dedicated her schooling and independent studies to financial literacy. She quickly became the go-to among family, friends, and acquaintances for everything finance. Her inner circle loves to joke that she is an expert at "budgeting to the penny". Brandy dedicates a large portion of her time to teaching parents how to succeed financially without sacrificing time with their little ones. She also teaches classes to homeschooled teenagers about finances and other life skills they need to succeed as adults.
Brandy writes about smart money management and wealth building in simple and relatable ways so all who wish to can understand the world of finance.