How to Plan An Affordable, Fulfilling Vacation
American workers receive 10 paid vacation days on average — far less than citizens of other develop nations. Worse, many U.S. workers receive no paid vacation time since it's not mandated employers provide it. When paid time off is such a limited commodity, how can you plan a fulfilling vacation while keeping your trip affordable? We've got tips to help you plan and budget for your next trip.
The average vacation cost for Americans is approximately $1,140 per person and for a family of four roughly $4,560.
So, how do you go on one you can afford…
Planning for An Affordable Vacation
As a first step in planning your affordable vacation, consider what you want to do. Does a week on a beach resort sound nice? Or are you more of an active traveler who would love a camping or kayaking trip, an international jet setter looking to claim another passport stamp, or a forever scholar interested in picking up a new skill in a cool place?
Whatever your next dream trip, consider timing it to save money for your travel adventure. Trips are more expensive when you go in peak season. To save on a Caribbean cruise, try cruising when fares are lowest – hurricane season. Your overall risk of a major storm is low, and if a storm crops up in one port, you'll just sail to another instead. To make an international trip cheaper, wait until  airlines have a major sale to your destination to buy tickets.
Before you book tickets, use a flight aggregator to price check plane fares. Alternately, save up credit cards points by making all your purchases on a miles credit card, then redeem miles to fly for free. If you can travel on an off day — industry experts recommend Tuesdays, Wednesdays and Saturdays — you'll generally score cheaper flights. If you don't want to fly direct you might be able to save more on plane tickets.

Affordable Vacation Budgeting Tips
Assuming you've purchased your tickets, you'll need to budget carefully to cover entertainment, food, admissions fees, and activities on your trip. Use travel books and websites to estimate the most up-to-date travel finance costs for anything on your bucket list. If you're taking part in a class or pre-arranged tour, most expenses will be covered in the base price. However, you may be responsible for meals out, class supplies, and other expenses. Any service provider will let you know what the price includes and suggest a packing list of things to bring.
Stretching Your Vacation Budget
Once you've booked a trip, go into savings overdrive. Every dollar you save on food when traveling by doing things like cooking a meal rather than eating out will help you stretch your vacation budget further. Try to set aside 15-25 percent extra for unanticipated expenses related to your trip. You never know what will happen! Consider buying travel insurance that reimburses you for expenses from lost luggage to trip
interruptions. The expense may be well worth the peace of mind.
Save money by packing everything you might need, including snacks (airport food is pricey). Determine a daily vacation budget and stick to it, even if that means grabbing street food for lunch or skipping that second glass of wine.
You'll generally see cheaper prices and get a peek at a global culture by sticking with locals' favorites rather than places that cater to tourists. If you're staying at an international hostel or bed and breakfast, ask the host to recommend their favorite locals' only places.
If you love to travel, consider setting up a vacation fund that you contribute to monthly. This way, you can set aside money year round to fund your next trip. Small contributions add up and take some of the stress out of budgeting for a dream vacation.
Travel Finance Statistics & Spending
Many Americans feel like these have extra funds to travel and are making plans to do things they've always wanted to do. Things like visiting the other side of the world, a natural wonder, and adventuring into new kinds of things in their reach. People are planning vacations ahead of time, taking out travel loans and starting new credit cards to cover their upcoming travel needs.
Here are some travel statistic and spending trends for 2019:
$1,036 billion 2017 total US travel spend
2.7% of the US GDP goes to travel and tourism
317.2 billion in business travel spending in 2017
$718.4 billion in vacation travel spending in 2017
International trip for American travelers now averages $6,080
$101.1 Billion on summer vacations alone with a summer vacation average of $1,978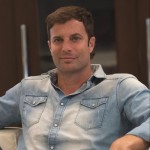 Ethan Taub
( Creator of "The Financial Goal Mall" )
Ethan founded Goalry, Inc in Dec 2016 with the mission to build the world's first and only Financial Goal Mall. One place to reach financial goals and comparison shop for any money matter. Taub invents the IP for the finance stores within the mall, while overseeing various aspects of the company. He also has orchestrated the company's earned media across the finance stores: Accury®, Billry®, Budgetry®, Debtry®, Cashry®, Creditry®,  Loanry®, Taxry® and Wealthry®. This includes over 1200 blogs, 400 videos, thousands of social post and publications that have been featured across the web.