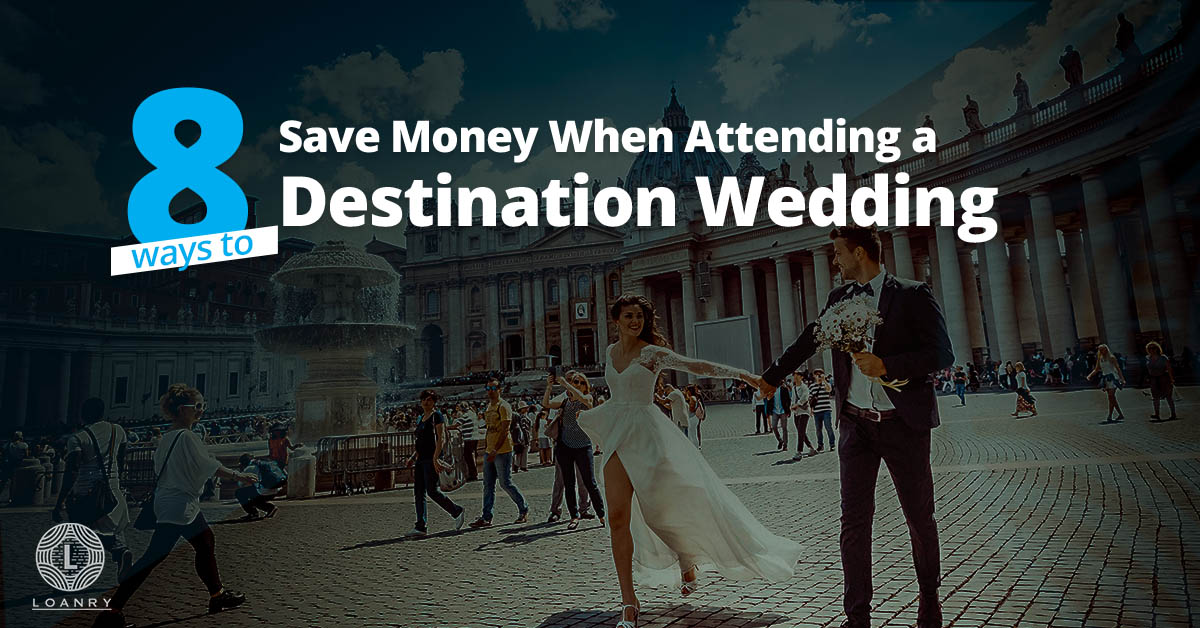 Many couple's dream wedding is about having their feet in the sand on a beach to a decorated pavilion. The surf is thundering onto the shore and the sunset provides the colors for the wedding. Other couples dream of having a wedding on a mountainside on a quaint little chapel, with a stream merrily gurgling nearby, and all her friends and family gathered close. Regardless, guest need to consider ways to save money when attending a destination wedding.
If you're invited to a destination wedding with one of these scenarios, then you'll need to do a bit of planning in order to afford it. Don't wrinkle up your nose like that; it can be done, and you'll have fun doing it. Check out these eight ways to save money when attending a destination wedding.
A Survival Guide To An Expensive Destination Wedding
1. Learn To Say "No"
Attending a wedding close to home includes the expense of buying clothes (if you don't have something appropriate,) buying a gift, and finding transportation to the venue. This generally costs less than $400.
A destination wedding, on the other hand, is more expensive, to the tune of about $1,400. If the wedding is outside the United States, then you can expect to pay around $2,500. The majority of the figures is airfare and accommodations.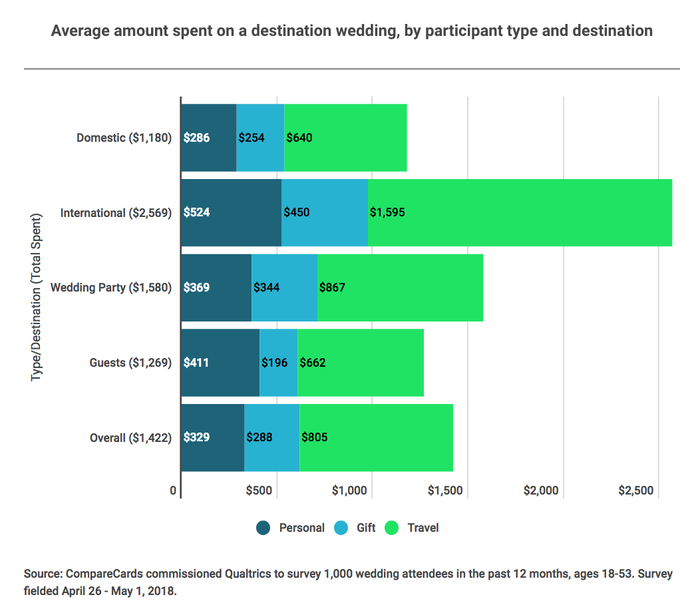 Now, I know a lot of people don't have over a thousand dollars just lying around. I'm pretty sure you don't. You'll probably look around for someone offering vacation loans or a travel loan. Pet and/or child care, time off from work, and payment of bills during the time you'll be gone will figure in your effort to save money when attending a destination wedding. Believe me, the bride and groom will understand if you RSVP a "no" because you don't have the money.
2. Split Costs With Other Friends
If the bridal couple hold the wedding close to or at a resort in any state, dude ranch in Colorado, a national park in any state, or an island somewhere, double up with someone to share costs. Resorts charge more for single rooms, so splitting costs with a roomie will save money when attending a destination wedding.
Adventuresome people like you and I research cheaper digs such as a bed and breakfast, AirBnB, or a vacation rental. However, there are dozens more alternatives to hotel rooms such as:
Save on accomodations
Room rental. Some homeowners help people save money when attending a destination wedding by renting out a bedroom, loft, or even the couch for the couple nights of the person's stay. It's not uncommon to pay less than $50 per night for the accommodations.
Vacation rentals. It might be a cabin in the mountains, a cottage by the sea, or even an apartment overlooking New York or London. Not many vacation rental owners mind renting out their property for the couple of days and nights of the destination wedding. If you're splitting costs with friends, you can literally pay almost nothing depending how many there are in your party.
Dorm rooms. If the wedding is being held in summer, then nearby colleges will make a few extra bucks renting out dorm rooms to the wedding guests. Once again, you could pay almost nothing at all by splitting the costs with your friends.
Stay on a farm. If the wedding venue is nearby, then renting a room on a farm is a fun alternative to hotel rooms. You might have to gather the eggs, but it's cheaper and way more fun than hotels.
Stop 'n swap. Offer to swap houses with someone owning a home in the area of the wedding. It will cost next to nothing, and you could make some new friends as well as sharing nicer, more personalized accommodations.
3. Don't Buy New Clothes And Other Accessories
The temptation to rush out and buy all new, hip outfits for the wedding is overwhelming, I know, but here is the ideal place to "just say no!" If you're trying to save money when attending a destination wedding, then using thrift stores to good advantage is the answer.
If the bridal couple holds their wedding in a resort or other venue with great things to do, then all you'll need in addition to your go-to-the-wedding dress is your basic black cocktail dress, a casual jacket, a couple nice blouses, and a one-pair-fits-all-activities pair of pants.
Most thrift stores have a formal section. Some offer formal wear complete with tags on the racks, so look carefully. All you need to do is find a scarf, belt, and/or great costume jewelry to complete each version of the outfit. And it won't cost much more than fifteen bucks.
Don't forget to pack your sneakers in case the venue offers hiking or a theme resort type of thing. You'll need your boots if the wedding venue offers horse riding. Definitely remember your heels for nights of music and dancing.
4. Budget Your Food Expenses
You'll be eating breakfast and dinner at wedding events, but what will you do at other meals? It's a little expensive eating out, especially in cities or even countries you know nothing about.
To save money when attending a destination wedding, you have choices. You can buy groceries locally, then meal prep what you'll need for the couple days of the wedding festivities. Grab a cooler, some dry ice, and off you go. All you'll need is a microwave.
Another alternative is to have a meal prep service like Hello Fresh or Home Chef deliver to the place in which you'll be staying. Heat it up in the microwave, and you've got yourself a healthy meal without the hassle. If the place you're staying offers a full kitchen, even better.
These things won't work, though, if the wedding venue is out of the country. In that case, know that the meal kit delivery service originated in Europe over ten years ago. It won't be too difficult to get online, locate one, and have your food delivered. If this isn't an option, then shop the local stores for foods with local flavor. Sidewalk vendors and farmer's markets are alternatives that will also give you that local flavor. It will be a meal you won't forget!
5. Reduce Your Travel Cost
Part of planning to save money when attending a destination wedding is travel expenses. Some wedding guests will have frequent flier miles to use, while others check out package deals through travel agents. Both can save you a lot of money, but what if you don't have access to those methods of booking travel?
Ask the bridal couple who the other guests are. You could get a group price on a package travel deal.
Amtrak gives you 25 percent off your fare if you book your trip 14 days before your departure date.
There are so many rental car companies nowadays that you can shop around and find one cheap enough that you can get to the wedding with change to spare.
If other wedding guests live close enough to you or live on the way to the wedding, why not carpool? You can stagger the cars to save on gas and pick them up on your way back home.
6. Turn It Into A Vacation
Vacations are about serious "me" time. They're about getting out of the four walls at home and work, getting fresh air, sunshine, restful sleep, and exciting memories. Vacations are about new places, new faces, and new experiences.
With the upcoming wedding, you have a chance to plan a little in advance to turn it into a vacation. Lots of hotels give out discounts in the middle of the week, along with spas and restaurants. Just leave a few days early, book into a hotel mid-week, and attend the wedding on Saturday. It's a great way to save money when attending a destination wedding.
Since getting anywhere is half the battle, remember that you've already saved on transportation. If you can talk other wedding guests into staying for a vacation, you can save money when attending a destination wedding with group rates on travel and accommodations.
Remember to budget 25 percent into your vacation budget for emergencies or the unexpected. Make a budget for every single day. If you run into something you want or an activity that costs more money than you have, remember your budget. It will stop you from running broke before the trip is over.
7. Don't Go Overboard With Your Spending
Keeping in mind that the bridal couple is springing for two breakfasts and dinners, you only have to feed yourself at lunch on both days before and/or after the wedding. If you're staying longer in order to turn it into a vacation, then you'll need to budget your money. However, a few tips might help:
Do not, repeat, do not buy room service at the hotel. You can get the same food at a local restaurant or bistro cheaper and it probably tastes better. The restaurant and/or bistro won't add dozens of "fees" to their food, either.
Pack your toothpaste, mouthwash, shampoo, conditioner, and deodorant in sandwich baggies so they won't leak. Pack them in your overnight bag. If you try to buy those at a hotel, you'll pay upwards of $10 for a tube of toothpaste. Been there, paid that.
Pack snacks before you leave home. If you've ever been tempted to munch on the bag of cashews at the mini-bar, you'll go into sticker shock if you do. To save money when attending a destination wedding, use nothing in a hotel room. You'll pay triple for the privilege.
Don't forget to pack something as simple as sunscreen. Go to Walmart or Target for those three ounce bottles and/or spray bottles. They'll get past the airline and won't make a mess in your overnight bag. They cost less, too.
8. Put Together A Travel Finance Budget
Almost every person living on this rock travels at least once in his/her lifetime. It could be a vacation, a family visit, going to school out of state, or perhaps even getting married somewhere romantic.  Some get vacation loans, others get a travel loan online. While it's exciting that you're planning to attend a destination wedding, we need to talk budget.  There are many ways to money tips to save on travel when attending a destination wedding, but it takes a little planning.
You might be considering turning down the invitation to the wedding due to serious lack of travel finance funds. After all, you're using money for the trip earmarked for paying bills. How will you pay the bills when you return? It's not a lost cause, though, and here's why.
No matter how you planned to save money when attending a destination wedding, you can take out a travel loan online to help you afford the trip. Loanry is a company that help you find a lender who will help with your travel finance. We don't loan money – they find companies that will. There will be a finite amount of money, you can make small payments paying back the loan, and you won't need to use your car or house as collateral.
Conclusion – Save Money When Attending a Destination Wedding
A destination wedding is a fun and cultural experience, especially when the bridal couple are good friends or family members. It's also a great chance to get in some much-needed vacation time. Paying for it can be a chore, though, but we have an idea for helping you finance your trip.
Read through the Loanry blogs to read how the company works and what they offer. They help you find a lender who will lend the amount you need and a viable repayment schedule. No muss, no fuss, and you'll be at the destination wedding in no time!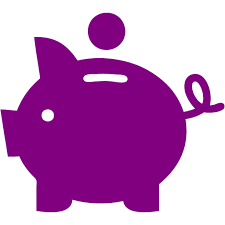 Myra has written in a range of styles encompassing white papers, finance blogs, credit product descriptions, how-to manage finance pieces, professional articles for lawyers, finance experts, web designers and more. She has written for an equally wide range of clients on the topics of loans, personal finance development, credit reports and scores, taxes and many more.
Myra worked in a bank as a young person and has dealt with payment processors in the past few years in her financial services endeavors. She therefore understands how the system works.