Home Relocation Loan When It's Time to Go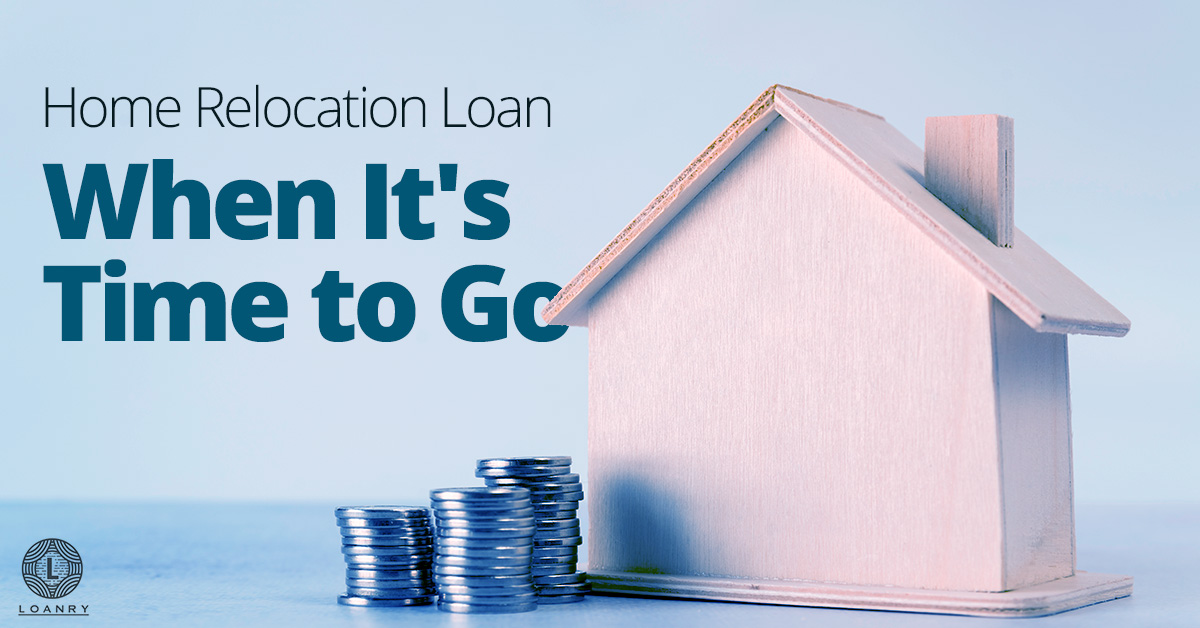 Almost everyone has lots of stress in different aspects of their life, but when it comes to pure stress, relocation is right at the top together with divorce and death. This implies that moving is probably one of the most important and life-changing events for every individual's life. Relocating represents a transition to a new job, a new location, and sometimes even a start over for numerous people. Because of the importance of moving; it is essential to ensure that you take the necessary steps to relocate comfortably.
One of the ways you can do so is by acquiring relocation loans. Whether you are just relocating to a new apartment from your old one or moving to an entirely new town, relocating can be extremely expensive, especially if you do not have a clear plan or budget. All of the fees costs that are associated with transporting and packing all your belongings can quickly add up. This is where the moving loans come in handy.
So What Are Home Relocation Loans?
Moving loans are simply personal loans, which are primarily used to help cater for the costs of relocating, it does not matter whether you are moving across the country or in state; moving loans will help cater for all the expenses. By getting a moving loan, you can easily make the move when you are financially feasible. With all the stress you have to deal with when relocating, money should not be part of it. However, one of the things that most people do not get right is how to handle the money from the loans we acquire. Here are a few tips you can use.
How Do You Get Relocation Loans?
Getting a home relocation loan can seem like a daunting experience, but getting a loan is quite simple, especially when you have an online association that can make it possible for you to connect with online lenders. Shopping for loans online is easy and fast, and it is an excellent way to see if the available online options have factors that are essential to you. With the help of Loanry, it becomes quite easy for anyone looking for moving loans online to easily find a lender that may be able to provide them with a loan regardless of their credit score and history.
How Can You Utilize Moving Loans?
Relocation loans can actually be used for any aspect associated with your relocation. This includes anything packing your belongings, acquiring packaging material, or keeping the items you do not need in your new home in storage. Saving while relocating is an essential step, but it can at times, limit your option. So, here are some of the various ways you can use a moving loan.
Hire a mover or do the moving yourself
Though the current trend is to purchase larger vehicles, plenty of people still do not have a car that is large enough to transport all their belongings down to storage, let alone to another state or city. With the money you acquire from relocation loans, you have the choice to hire a mover or rent a truck. If you prefer to have even more freedom and you do not want to use the extra cash to hire a mover, you can then use your relocation loan to hire a truck and ensure that you move your belongings.
If you have fragile, bulky, or other special belongings that you are not comfortable carrying and you do not want to be responsible for any damage, then hiring a mover is the best option. Whatever you choose, relocation loans will help you cover these expenses.
Packing material like tape and containers
Not everything you have and own is quite ready to be transported to your new location as is. You will need to purchase boxes for clothes, books, bathroom supplies, kitchen, or other accessories around your home. You will also need special packing tape— like scotch tape —to help properly close the boxes so that they do not accidentally open during transportation.
For instance, If you have some mirrors that you need to pack, then you do require some bubble wrap so that it does not break or get scratched at all. It can also be extremely beneficial to buy transport blankets, to keep your furniture from scratching while you transport them. You should also consider buying special packing ropes to ensure that your items are safe and secure when you transport them. Spending a little extra time packing and securing your items can help you save lots of money later.
Acquiring storage for your belongings
Sometimes it is just not possible to transport all your belongings to your new location all at one go. Maybe you are relocating to a smaller apartment, so not all your furniture will fit into your new residence. Or maybe your apartment's layout has a different shape and size, meaning that your furniture will not fit into your new interior.
So, whatever the reason, you will still require enough space to store your furniture while trying to figure out what you need to do with your belongings. If you are lucky, then you can have a relative or friend store them for you. But if you do not have a relative or friend who can help you store your belongings, you will have to pay for a storage facility.
Storage facilities are quite affordable, but continuously paying for one can take up a massive chunk of cash you need to account for when drafting your relocation. This is probably one of the situations where a home relocation loan can come in handy.
Hotel Stays
When relocating long distance, you might need to pay for a few trips for at least a night in a hotel. For instance, if you are to relocate from the West Coast to the East Coast, you will have to travel a long way to relocate. When you have been stuck on the road for an entire day, you will want a hot shower and a soft bed at the end of a long day traveling. But finding yourself a good hotel to stay overnight can be quite expensive, especially on a busy route. However, you do not have to sacrifice your comfort because you cannot afford to pay for a hotel.
Making a driving schedule, finding a hotel in advance, and planning for your relocation can make the entire process less stressful and more affordable. Booking a hotel in advance, with the money you acquire from a home relocation loan, will help make the trip affordable and less stressful.
Security deposit and rent
Of course, when relocating to a new town or apartment, you have to pay the rent to your new residence, however, thanks to a home relocation loan; you can now pay your security deposit and rent. If you find the perfect apartment and you need help paying rent, the amount of money you acquire from your relocation loan can help cater for your first monthly payments especially when you do not have the funds to cater for the payments.
You should not have to reject an offer to acquire a great apartment simply because the deposits are out of reach. In addition, when you are relocating, sometimes money can be extremely tight, and obtaining the monthly rent may become a big deal. The purpose of applying for a home relocation loan is not to only help you relocate but also give you a smooth transition into your new apartment. With the help of a home relocation loan, you do not have to forgo your apartment simply because your finances are tight.
Can I Get a Relocation Loan with Bad Credit?
This is one question most people ask, especially if their credit score and history is terrible. And, the answer is yes. You can get a home relocation loan with a bad credit history and score. However, there are pros and cons that come with acquiring moving loans with a bad credit history. It is, therefore, essential for you to consider all your available options and be cautious before you decide on acquiring a home relocation loan when you have a bad credit score.
But since you are dealing with online lenders, one of the advantages you get to experience even with bad credit is that the money you require to relocate will have a quick turnaround period. You also get the benefit of making one payment when combining your debt. However, there are also several negative consequences of acquiring a home relocation loan when you have a bad credit score.
If you have a bad credit score, most online lenders might subject your loan request to shorter payment schedules, higher interest rates, and loan limits only available to people with bad credit scores. Make sure you consider all the advantages and disadvantages and decide whether getting a moving loan is the right thing for you to do.
How to Budget a Relocation Loan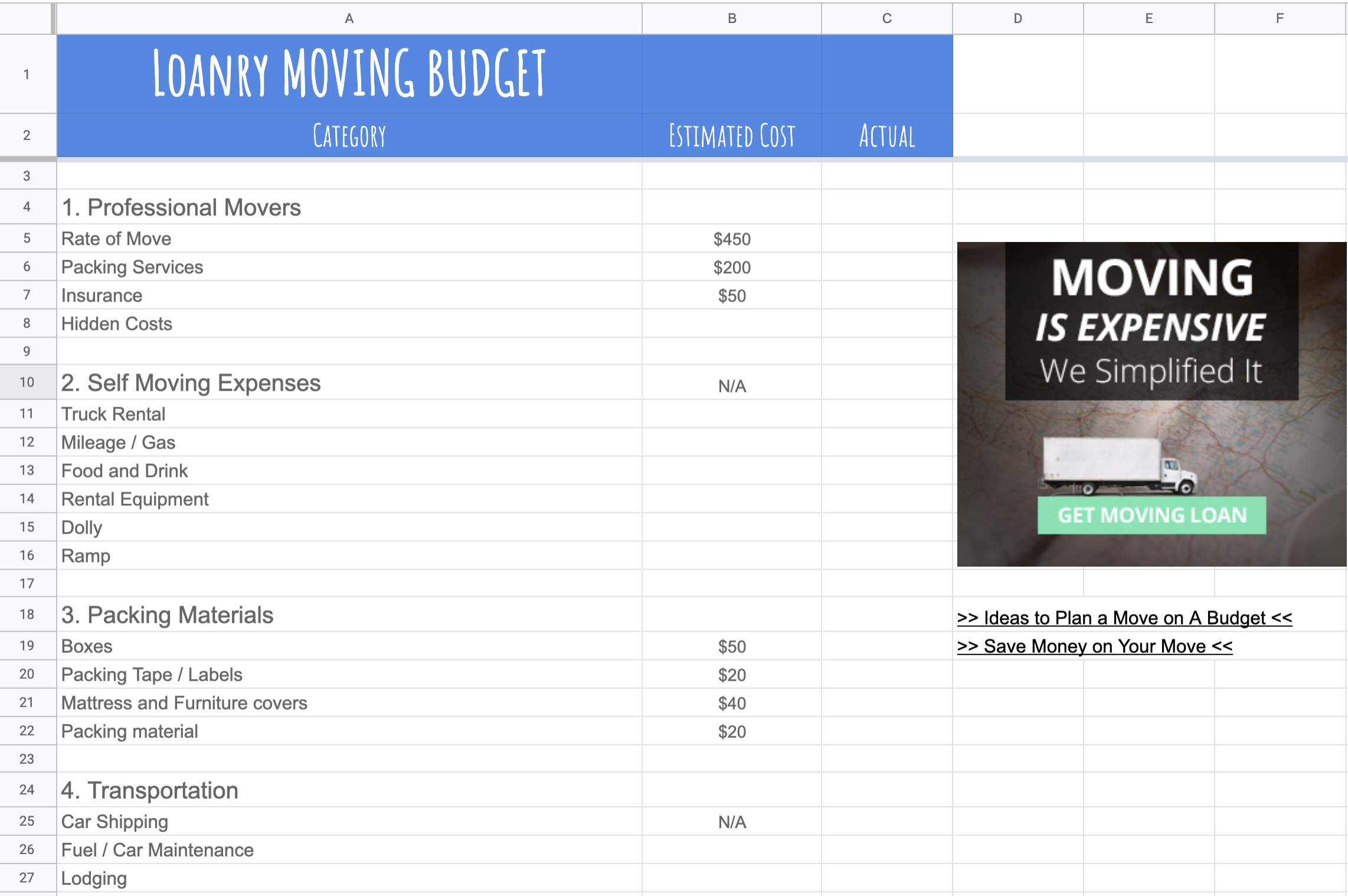 Once you acquire your relocation loan, the next step is budgeting for your relocation. Before you can move, small or big, the first most crucial thing you have to do is budget for your relocation. Some of the aspects you can consider when trying to budget for your move are cost, transportation, and packing. This section of the article will focus on some of the things you can do to not only budget but also save money when moving locally and out of state.
How to Save Money When Moving Locally
One of the best and cheapest ways you can quickly move locally is by renting a moving truck and doing all the heavy lifting with the help of family and friends or by yourself. Contacting all your friends and family and letting them know that you require a helping hand moving, is one way of reducing your relocation costs. But, if you cannot find anyone willing to help you move, you can try to compare the different prices of various moving companies available in the community. Then choose the moving company that best suits your preferences and personal needs.
How to Save Money When Moving Out of State
Relocating out of state is more complicated compared to merely moving across different towns. Nevertheless, It is indeed possible to save money even when moving from one state to another. You probably will not be able to recruit your family and friends to help you move, but you still have the option of throwing a packing party. All you need to do is get as many free boxes as you possibly can from different sources like big box stores, liquor stores, and Craigslist ads. This will help keep the costs down.
Make sure you keep all your moving-related receipts, as you can use this information as deductions when filing your taxes. Also, make sure you rent a portable relocation container, as it is a less expensive option compared to full-service relocation companies. Other ways you can save money while relocating include:
Benefits of a Relocation Loan
It is an essential short-term bridge finance: A loan for moving makes it possible for you to move from one town to another or one state to another without having to worry about the finances you need to plan for your move. It is like short-term bridge finance that enables you to move into a new apartment, pay rent if you can't afford rent, and transition smoothly into your new life. With the money you obtain from this type of loan, you can quickly secure your place of choice without having to worry about your finances.
It has flexible payment periods: The one fear almost every individual has about taking a loan is the amount of time required to repay the loan. Unlike other loan options, moving loans come with flexible payment periods that make it easy for you to pay comfortably. However, your payment period depends on the amount of money you require and the online lender. If you need a large cash amount, then your payment period will be structured in a manner that is comfortable for you to pay.
Loan options with low-interest rates
Some loan options come with low-interest rates: Since relocation loans are personal loans, the interest rates on the loan you acquire is lower compared to other loan options available. Therefore, make sure you look at the interest rates before you choose the online lender you want to ask the loan from. Looking at all the options available ensures that you do not select a loan with a higher interest rate than other lenders.
Conclusion
It is no secret that moving is indeed stressful, however, planning and making a relocation budget helps you to look over your available options enabling you to find a moving option that suits both your financial and personal needs. A home relocation loan is one of the ways you can make your move less stressful and more affordable.
Trying to orchestrate your relocation on a budget that does not fit into all the necessary expenses can cause expensive problems. For instance, if you are traveling from one state to another and you do not have the finances to sleep at a hotel; you may end up sleeping in your car, and this makes it even more challenging to enjoy your move. Relocation loans are essential if you want to enjoy at least one moment of your move.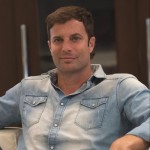 Ethan Taub
( Creator of "The Financial Goal Mall" )
Ethan founded Goalry, Inc in Dec 2016 with the mission to build the world's first and only Financial Goal Mall. One place to reach financial goals and comparison shop for any money matter. Taub invents the IP for the finance stores within the mall, while overseeing various aspects of the company. He also has orchestrated the company's earned media across the finance stores: Accury®, Billry®, Budgetry®, Debtry®, Cashry®, Creditry®,  Loanry®, Taxry® and Wealthry®. This includes over 1200 blogs, 400 videos, thousands of social post and publications that have been featured across the web.
Related Posts