Loans for Moving out of State: Coast to Coast

Moving is expensive for a lot of reasons, even without considering the physical cost of the move itself. You already need to worry about finding a new place to live, turning on your utilities, starting a new school and finding the other resources in your new neighborhood.
It may seem impossible to do everything else and also pay for the expenses of moving. You may have some resources you can look into that will help make your move easier, but once you have exhausted those options you may need to consider other choices. After you consider other options, you may also want to look into using loans for moving out of state.
Financing a Move with a Moving Loan
You may be lucky enough to have the money to move, but most people don't have that kind of extra money just sitting around. There are a lot of expenses involved in moving. And even though you'll get some of them back when the move is over, like deposits, it is still necessary come up with the money in the first place.
If you are very lucky, you are moving for a new opportunity and your new employer, or your family member's employer is helping at least some to finance your move. In that case, at least some of your expenses are already covered, maybe even a good amount of them. Unfortunately, moving is expensive, and you may still not have enough cash to cover the necessary expenses involved in making the move.
Card or a Loan?
Many people might try to put all their moving expenses on a credit card, but this is a very expensive way to cover a large number of expenses. Credit card interest rates tend to be much higher than loan rates, and some of your moving expenses will be taken out as cash advances, meaning you would start paying interest on them the day you charge your credit card. You may also not have a large enough credit card balance to cover all the different kinds of expenses you would need for a move from state to state.
Loans for moving out of state might be a good option for you because they suit the amount you need and the terms you are comfortable with. With relocation loans for out of state moves, you can search for the loan one day and have the money you need almost right away so it will be available to help you pay for your move.
Should You Get A Moving Loan
Once you start adding up all the expenses for moving, it may seem overwhelming. You don't want to be dealing with the expenses from moving for a long time after you have settled into your new place, where you have hopefully started a new life. If you use credit cards or other more expensive means to try to finance your move, you might have trouble paying them off during the next several years. You could end up in a less advantageous position than you were in before the move.
A moving loan is a great option only if you can afford it and if you can find a good deal for you. And this is definitely possible, but only if you get a loan from a reputable lender. We partnered up with Fiona to make your experience of getting a loan faster and easier. By filling out this form below, you are giving us enough information to connect you with lenders and get you personalized offers right away. If you want to see which lenders may want to make you an offer, start with this form:
Different Expenses Involved in Moving
There are a lot of expenses that go along with moving, and you can use moving loans in various ways to help with any and all of those expenses. These include but are not limited to:
You can hire professional movers, who will be able to safely and efficiently help you pack and move your belongings. Professional movers are expensive, and they charge more depending on how much you need to move and how far you need to move it. However, you can take advantage of professional movers to help with some of your most valuable or heaviest belongings and move the easier items yourself. If you have family heirlooms, electronics, or other kinds of expensive items, you will feel better using a professional mover who will be able to do the job in a way you can trust. Professional movers are also more likely to be insured, so if there is any kind of accident, they will pay for the replacement or repair of your damaged items.
If you have the energy and the resources, you can use your loan to help pay for self-moving costs. If you have moved your own things before, you know that you will need to rent a truck and equipment that will make it easy to move heavy items. You will also need to buy boxes, packing tape and any other items or equipment you need to safely pack your equipment.
Don't Forget…
You can buy professional packing materials and assistance for, particularly valuable or fragile equipment. Professionals will quickly and safely pack your property in premium materials so that your belongings will be safe during the move.
You may find it easier to make the move if you put at least some of your things into storage temporarily. Packing and storing some items will make it easier to get the rest of your property ready for the big move, so many people use their moving loans for storage fees. You may need to keep some of your belongings in storage even after you move, as you acclimate to your new environment, and the fees can add up.
If you are moving very far, you will probably need to stop and rest on the way. That means additional expenses eating out and staying at hotels. Even though you probably won't want to live it up, you will need to eat healthy food and stay in a clean, safe place where your belongings will be safe. You will need a place which is comfortable, and you will be better off if you have the funds to reserve the room ahead of time so you know where you are staying at night.
You should talk to all of your resources up front so you know ahead of time about what are known as hidden moving fees. These fees include items like activation fees, deposits, and other kinds of fees which are not normally talked about up front, and you might find it easier to use a moving loan to pay for those fees.
Other Expenses You Will Pay When Moving
Any move you will make out of state will have additional relocation expenses. Most of them are the kind of expenses which will become part of normal life once you settle in, but which will cause undue hardship to most people during the move.
For instance, you will find yourself paying rent and utilities in two places for at least a while. There is almost bound to be an overlap between places, as you will need to start paying expenses on your new place to at least reserve it before moving. Because you are moving to a new location where they don't know you, there may be higher deposits demanded, including deposits on utilities like water, electricity, and gas. Paying rent in one place takes a significant amount of your income, and you will probably need help paying rent when you have to rent a new place across the country.
Rent and a security deposit might be your second biggest moving expenses, as you might need to pay first month's rent, last month's rent, and a deposit in order to move into a new place. Moving loans can help with those kinds of expenses, which are too much for most people to come up with at once.
If you have an older car and don't have a warranty, you might not use it much for traveling long distances. One of the expenses you should consider before making a cross-country move is the maintenance and inspection of your car, to make sure you will be able to make the journey safely. Otherwise, you could end up with large expenses if your car breaks down or, worse, your car might end up damaged beyond repair and you might end up starting over in your new home without your vehicle.
Saving Money On Your Move
Moving is going to be expensive no matter what you do, but there are ways you can save money when moving from state to state. The key is to plan ahead and choose strategies that will keep you from spending unnecessary cash. Many of the expenses that seem like a good idea at the time turn out to be completely unnecessary upon reflection, and you will feel better when you know that you are taking control and cutting down on anything you don't need.
Sometimes you have to be creative to save money, and you will get a feeling of satisfaction from figuring out ways to save money. You can also read blogs like this to get ideas or stimulate ideas that more directly apply to you and your personal situation. Becoming organized will help you be more efficient so you can save not just money but time.
The Cheapest Way to Move
Some ways of saving money can be fun — you could pull a Tom Sawyer and advertise a packing party to your friends, perhaps as a social media event. You could buy pizza and make it into a contest who can help the most or turn packing your rental truck into a fun game. Depending on where you live, you might be able to get college or high school students to help for pizza or another incentive. If you are moving locally, you can probably save money by borrowing a truck and bribing your friends into helping you do the heavy lifting.
Moving out of state is much harder and more time-consuming. Most of your friends and family won't be able to avoid their personal responsibilities long enough to give you significant help to make a longer move. Getting loans for moving out of state will make you more independent so you can take care of the tasks you need and pay for your expenses in a more difficult cross country move.
The Cheapest Way to Pack
You may be able to forgo all the expensive moving equipment if you start getting ready for your move well ahead of time. Do things like drop by local offices and businesses, like grocery stores, and ask them to save you boxes. You might be able to collect enough boxes for all your things if you start working on it early enough, and an added advantage is that you can start packing your things as soon as you start getting boxes. That will give you a jump on getting ready for your move, possibly saving you a lot of time and stress in the future when you find that you already have many of your things ready to put on the truck.
Instead of using expensive materials to protect your valuables, collect newspapers after people are through with them so you can use them as packing material. You can also use socks and other clothing to wrap fragile items in, and blankets or towels for larger items. Egg cartons provide a terrific padding and packing material and you already have those anyway, but now you're wasting them and throwing them away.
Make sure you pack in a way that makes sense. Keep things together by what they are and what room they will be moving to in your new place. Mark your boxes clearly with a permanent marker so you know what exactly is in each box, and if you can, keep boxes together if they are going to the same place. It may seem difficult but if you take your time and are methodical it will make your life so much easier when you have finished moving and are trying to unpack and get your life together.
Saving Money on a Moving Company
There are a few ways you can save money on a moving company, the first of which is to start researching as soon as you know you are going to move. A good professional mover stays busy, and you will be lucky to get the date you want if you wait too long. You may also be able to get a discount by reserving early, or by paying upfront or providing a deposit early.
Comparing the costs of different moving companies can save you hundreds of dollars up front, or even more, and some companies will offer a discount or coupon if you talk to them or use their website.
Because it could save you money to reserve ahead of time, you might want to consider using your loans for moving out of state well ahead of time to make your reservation and guarantee you will get help when you need it.
Save Money By Getting Rid Of Your Things
Most of us don't get rid of our things as quickly as we should. Clothes we out grow, old electronics, and other kinds of possessions we will never use again sit in our homes for months or years after we no longer need or even want them. It will help you throughout life to regularly go through your things and declutter, but you will also be able to help yourself by getting rid of things as soon as you realize you are about to move. It's a necessary job, and an uncomfortable one, but you can hopefully motivate yourself by reminding yourself that you won't have to move anything you have donated or thrown away. You can also recycle some of your items, and even sell some valuables that you don't feel like you really want anymore, like old books or movies.
Final Thoughts
There are a lot of good reasons to move. You may be moving to be closer to family, or because your children need to be in a better environment. You may be moving to a higher paying job that will give you and your family opportunities you couldn't have otherwise. If you're really lucky, you're getting all those advantages and moving to a place where the cost of living is more reasonable.
If you use moving loans for out of state moving expenses, you can choose a loan based on how much money you need for the move. Planning ahead will ensure that you can pay off the loan comfortably, with a monthly payment you can afford. We can compare different loans based on your particular history and needs to find the one you qualify for with the best rate.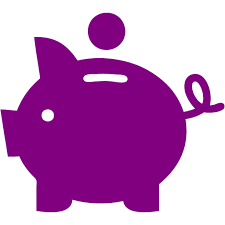 Lisa D
( Loanry® Finance Contributor )
Lisa has practiced primarily in two fields, law and libraries, and has conducted research and written necessary papers for both disciplines. She has studied social sciences, languages, and computers. She also writes for various personal finance blogs and shares a passion for teaching consumers how to budget and save money.