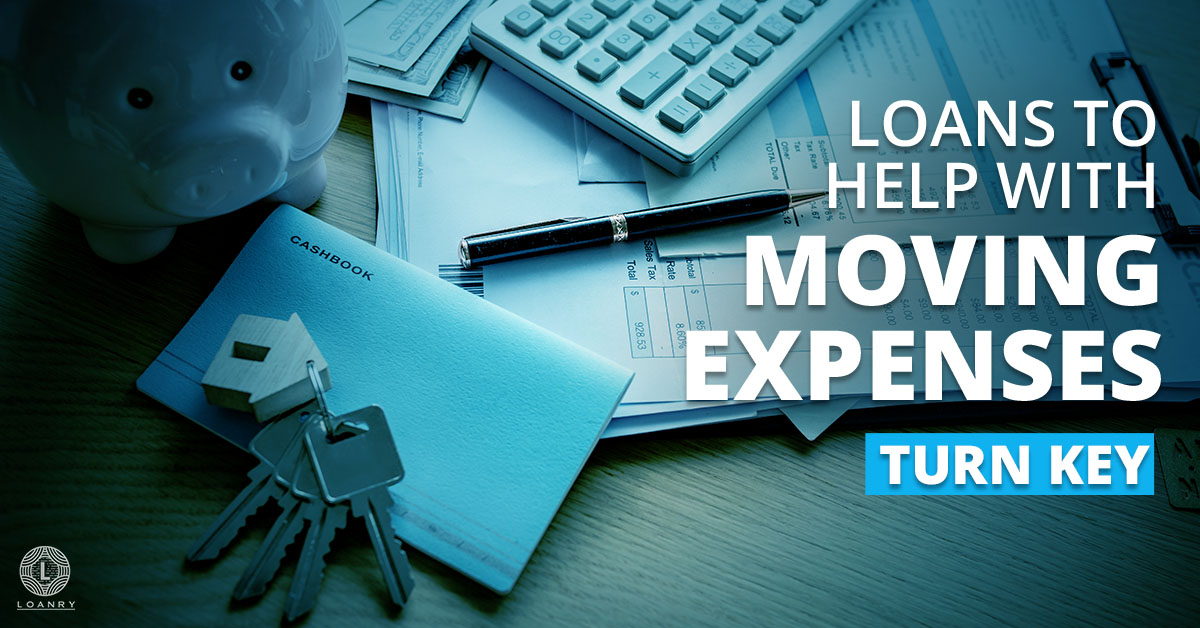 When you need to move and need help with the expenses, you need a quick, ready made solution. You may have heard the term turnkey solution in regards to businesses. Loanry offers a turnkey lender finder solution. It provides a one-stop shop for you to find a lender to help with moving loans.
What is a Moving Loan and What He can Do for You
The term moving loan refers to a personal loan "used primarily to help cover the costs of moving, whether you're moving in-state or across the country," according to Marcus, a Goldman Sachs project. A moving loan can make your relocation easier and more efficient. It provides the funds for a stress-free move that enables you to immediately transport all of your belongings, pay all of your deposits, pay your first and last month's rent and handle setting up a household in a new city.
What Can a Moving Loan Pay For?
Since a moving loan is a personal loan, in general, you can spend it as you like even if you need help paying rent. It is not a loan that has a specified use like a medical credit card. You can use a relocation loan to pay for:
rental deposits and rent,
materials for packing,
professional movers,
truck rental fees,
self-packing and moving costs,
rental of a storage unit,
utility deposits.
Rental Deposit and Rent
A moving loan can help you, if you do not have the funds to relocate in savings. Apply for a relocation loan to help you pay the rental deposit and required first and last month's rent. You can land a great apartment in your new city. The money can also be used to pay cleaning fees or application fees.
Buying Packaging Materials
The funds from a relocation loan can also be spent on packaging materials so you can pack your home on your own. Packing for a significant move requires the same materials the pros would use including, sturdy boxes, air pillows, bubble wrap, furniture blankets, packing tape,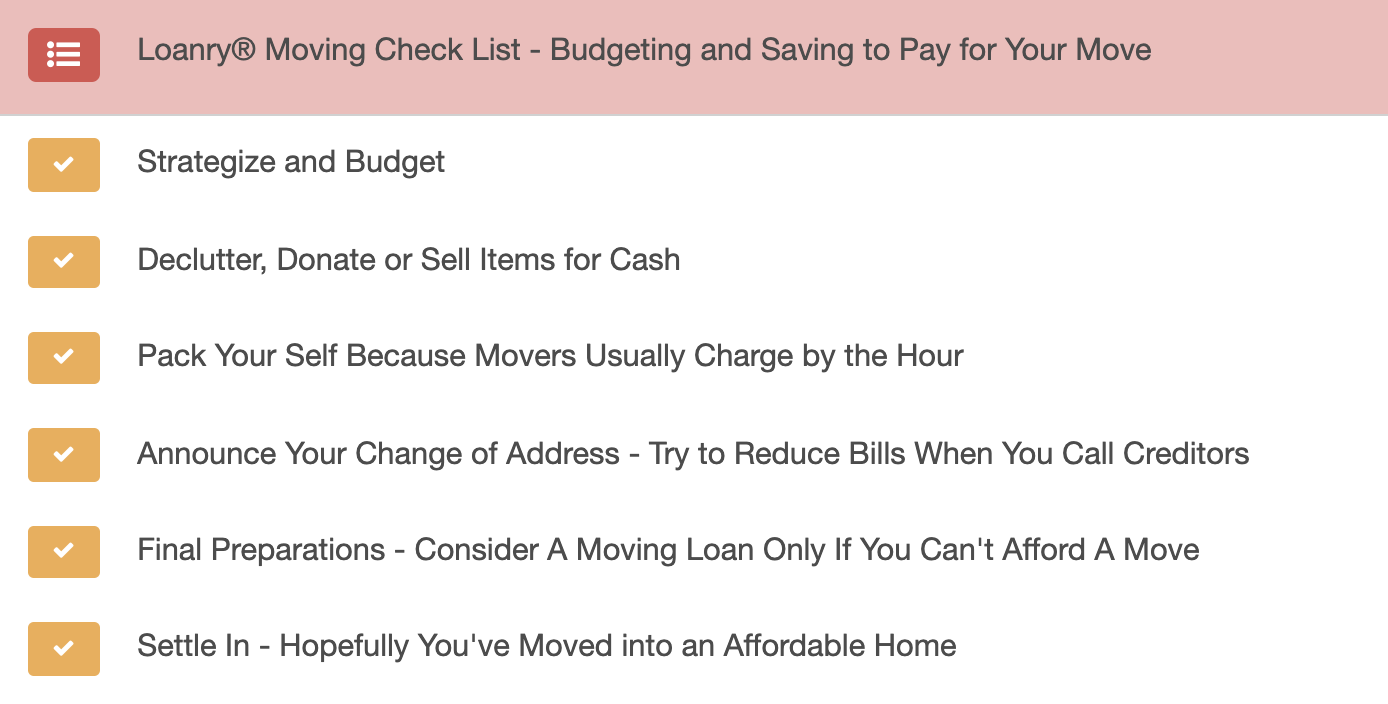 bungee cords, and a moving truck. On the other hand, if you hire pro movers, they provide all the packing materials.
Hiring a Professional Moving Crew
If you need to move a long distance, think about hiring professional movers. They will handle packing and transit. They will drive your belongings in a moving van or semi-truck to your new home.
You should also go the pro movers route if you need to move quickly and have no time to pack and transport it yourself. Hire professional movers to do the job.
Pro movers also provide expert packing of your belongings and furnishings. They use furniture pads and attach things to the bed of the truck with bungee cords, so they do not get damaged.
The cost of hiring pro movers varies by location. In general, it costs more than $2,000 for a state to state move.
Rental for Storage
Perhaps you need to relocate immediately. You will probably rent a hotel room and will not have room for your belongings. In this case, you need to rent a storage unit. You can use the moving loan to pay for the hotel and the storage facility. Budget for at least three months of storage facility rent while you apartment hunt.
Utility Deposits
Once you rent your new apartment, unless you rent an all-bills paid apartment, you'll need to make deposits to get your utilities turned on. Most companies require a deposit of $50 to $400 to establish an account before starting a new service.
Costs of Doing It Yourself
If you make a local or in-state move, you can save money on your move by doing it yourself. How much you can save depends on how much stuff you need to move, how you move it, and how long you need to get it there.
If you have a small apartment or you do not have much you're moving you could ship the items to your new location. The cost depends on their weight and which shipping carrier you use – DHL, Federal Express, UPS, or the United States Postal Service (USPS).
If you have too much to ship, rent a moving van or truck. These charges a per-day rental, plus a per-mile fee. They also use limiters on their speedometers so their vehicles cannot be driven above the speed limit. You can rent a Ryder or U-Haul truck.
Be prepared to rent a hotel room. It will probably take you about two days to cover 1,000 miles since you will be limited to 65 miles per hour.

Loans to Help with Moving Expenses
Moving can cost quite a lot. Your needs will differ from the next person's. What is right for you is not right for others. You should consider a personal loan for moving options among other financing options.
Employer relocation packages If your move occurs because you landed a new job, talk to your employer about a relocation package. Some employers will pay all or part of a new employee's expenses to move to take a job. Sometimes, they only pay as a reimbursement, so you may still need to take out a moving loan.
Use your savings. Raid your savings account or your emergency fund to move. Use this money first since you won't be charged interest on it and you won't have to pay it back. You should not spend all of your savings though. You need to keep at least a few hundred to pay for an emergency situation.
Ask your family or friends for help. Ask to obtain a loan from a family member or friend. Set up a formal contract with a payment plan. This can make them feel more comfortable. They may not be able to loan you the entire amount for the move, but you can get a private loan for some of it and this saves you from paying interest on that amount.
Put it on your credit card. This works especially well if you have enough open credit and a card with a low-interest rate. It is even better if your credit card provides an introductory zero interest rate. If you can pay back the amount you use to move before the zero interest runs out you can save money.
Take out a new credit card or loan. You can take out a credit card with a zero interest rate or low-interest rate. You could also apply for a secured or unsecured loan. A secured loan will provide you with a lower interest rate. An unsecured loan provides individuals with lower credit scores an opportunity to obtain a loan.
Find a Moving Loan Lender Using Loanry
Visit Loanry, the interactive loan mall to securely shop for a third-party lender. You complete a very short application and the site searches its immense database of lenders to help find a third-party financial institution for you.
Loanry offers variety. It works with lending institutions of multiple types. Not only can you find a moving loan lender there, but you can also obtain referrals to mortgage lenders to make it easier to find a new place to live where you are moving.
One of the best things about using Loanry is that even if you have poor credit, you can get a loan for moving. Using the loan mall will help you compare financial institutions through the companies' money tools.
To be clear, Loanry is not a financial institution nor is it a lender. You won't get a loan from Loanry despite the name. You will get referrals to banks and financial institutions. It helps you by providing a single starting point and organizing all potential lenders in one place. You can fill out a single form and then it can respond with a lender who may want to work with you.
Moving already causes enough stress. You can cut down on the stress by using Loanry to obtain funding for the move.
Tips to Help You Save Money on Your Move
While it may be tempting to buy things while they are on sale, that just requires you to pack and move more stuff. Regardless of whether it is small items like sheets or major appliances like a refrigerator, hold off buying it until you get there.
Put off unnecessary expenses like cable and Internet. Use your cell phone data and café and store WiFi for a few months. This can free up extra funds to more quickly pay off your moving loan. You can quickly save some money for your move by turning off these items a few months before moving.
Hold a garage or yard sale before you move. That lets you make money off items you will not need or plan to replace.
Donate items that do not meet the criteria for a garage or yard sale. The Salvation Army can use what you cannot sell. Everything you sell or give away is something you do not have to pay to move.
Look for movers that offer payment plans. These are not that common, but they do exist.
Make a Budget for Your Move
You probably already live on a budget. You need to amend it to make room in your budget for your move.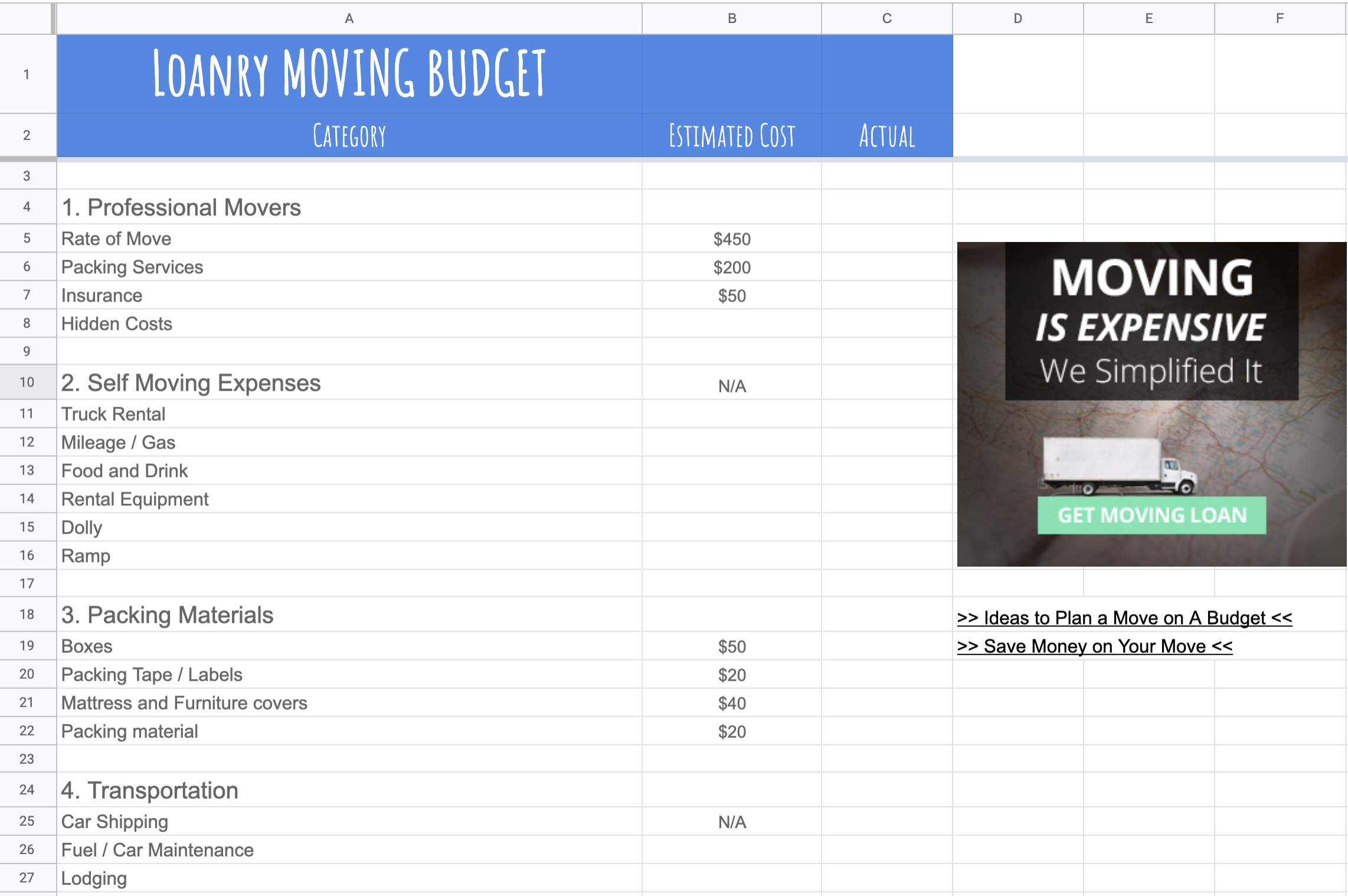 Look for ways to cut back and start a few months before you need to leave. Cut back on going out. Drop your Internet and cable subscriptions. The money you save can provide about half of what you will probably need.
Hold a garage or yard sale to cut down on the items you need to move. You will also make money to put toward your move. The rest you can donate to Goodwill or the Salvation Army, so you do not have to move it.
Reduce the amount you need to spend to move by doing so in the offseason. Hiring movers during this time can cost 30 percent less.
Tips for Cutting the Costs of Moving
Ask groceries and liquor stores if you can have their leftover boxes. These free ones can save you quite a bit of money and they're just as hearty as the moving boxes you pay for at the store.
Instead of hiring movers, draft the help of family and friends.
Ask for advice from people who have moved recently. They could know of cost-reducing methods or moving specials.
Moving long distances requires creativity and savvy. You can combine a few methods to get your belongings across the state or country.
Take the bus to your new location. The ticket won't cost much. Major bus lines let you move up to 250 pounds of luggage with your ticket. You reduce stress because someone else drives.
You'll need a different option for furniture, though. In that case, you either need to rent a truck or contract with a mover to haul your belongings. If you do it yourself, everything arrives when you do. If you hire movers, you may need to do without your furniture for a few days.
Ship some of the items. You can cheaply ship lightweight items and have them waiting on you when you arrive. This method lets you take advantage of cheap plane tickets. It works best for someone who has no furniture.
Applying for Loans to Help with Moving Expenses
You'll find a plethora of loan types that can help you with moving. At Loanry you can find personal loans to help with moving expenses, mortgage loans to help with obtaining a new home, credit cards handy for paying relocation expenses, and more. You'll find both secured and unsecured personal loans to help with moving expenses.
With a secured loan, you must put up collateral such as your existing house, your car, or boat. An unsecured loan does not require property as collateral.
Obtaining a loan or credit card can help you pay the expense outright, then break up the payments into small chunks that are spread out over the longer-term. Loan repayment terms can vary but normally you get at least 24 months to repay it. Credit cards let you stretch it out even longer, but unless you find a card with zero interest, you'll end up paying more for your move.
You can combine a credit card or loan using money from savings to make the big move. This reduces the amount of interest you'll pay.
Prepare for Your Credit Check
Every time you apply for a credit card or loan, your credit report takes a hit. That affects your credit score. You can use Creditry.com to check your credit without creating a hit on your score or report. Do this in advance of applying for a loan.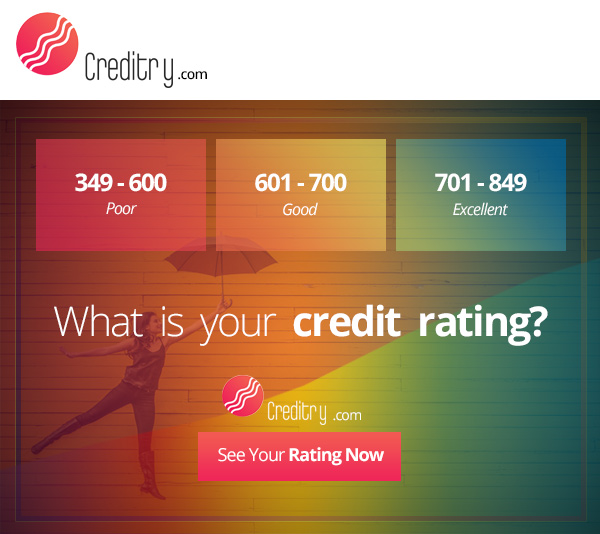 Once you know your credit score, you can improve it. You'll need to take the time to do this if it is less than 600. That's the cut-off score for good interest rates on credit cards and loans.
This is not a quick process so check your score before you even start job hunting or considering colleges. You start out with a middle of the road score of about 450 if you have never had any credit. This means you will need to build credit by obtaining a loan or a credit card many months before you begin considering a move.
Report all the incorrect items you find. This works for 79 percent of the individuals who report inaccuracies. If you have a low score, you can begin raising it by making a minimum of six months of on-time payments. Pay off any low balance cards immediately.
Conclusion
While the act of finding and applying for a loan at Loanry is a turnkey experience, you will need to do a little to get ready for it. Once you obtain your relocation loans though, you get to pack up and move.
Carlie Lawson writes about business and finance, specializing in entertainment, cryptocurrency and FOREX coverage. She wrote weekly entertainment business and finance articles for JollyJo.tv, Keysian and Movitly for a combined seven years. A former newspaper journalist, she now owns Powell Lawson Creatives, a PR firm, and Powell Lawson Consulting, a business continuity and hazards planning consultancy. She earned BAs in Journalism and Film & Video Studies from the University of Oklahoma. She also earned her Master of Regional & City Planning at OU. Her passion lies in helping people make money while reducing risk.