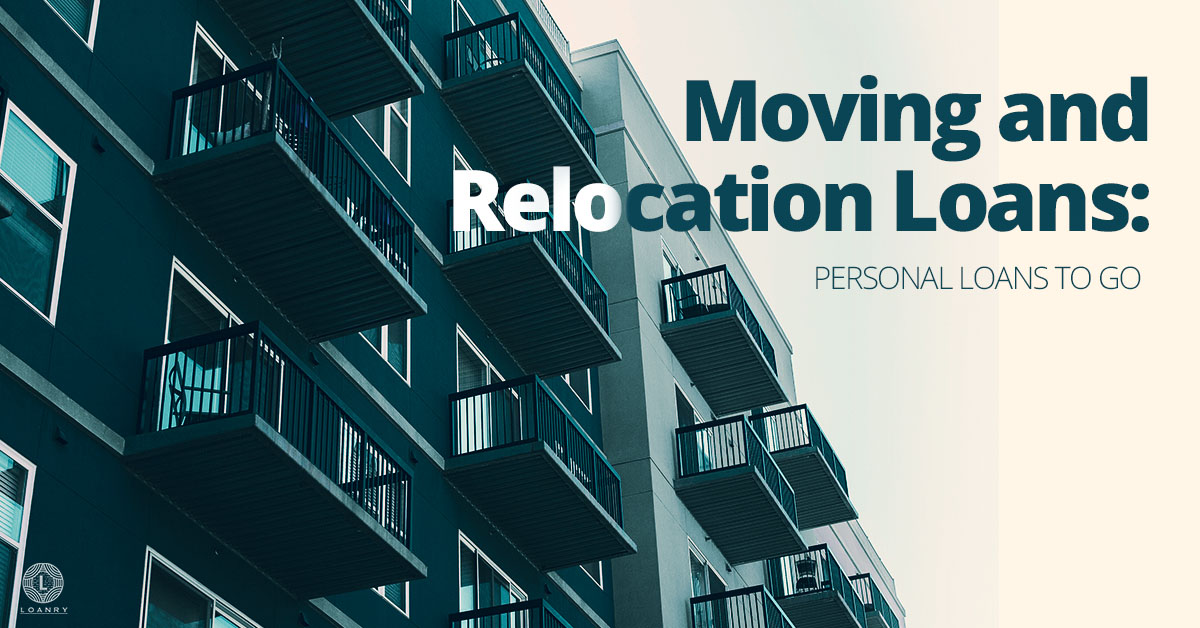 Be honest.  Moving is an expensive ordeal. Personal loans are available for moving and relocation expenses to ease the financial burden of making an interstate or intrastate move.  Moving expenses can be used to cover expenses whether using a professional mover or moving yourself.  Moving loans can also be used to cover packing materials, storage fees, travel costs, professional packing and incidental move-in costs.  They can also be used to help with the down payment on a new home or deposits for a rental.
Average Moving Costs
The costs associated with moving are directly tied to whether the move is a local or in state move or a long-distance move.  Long distance moves average around $4,300 while an instate move is approximately $2,300.  Moving a long away naturally means that the movers, who charge by the mile, will cost more.  Also, with a long-distance move there will be additional costs for meals and lodging while in transit to the new location.
Budget Tools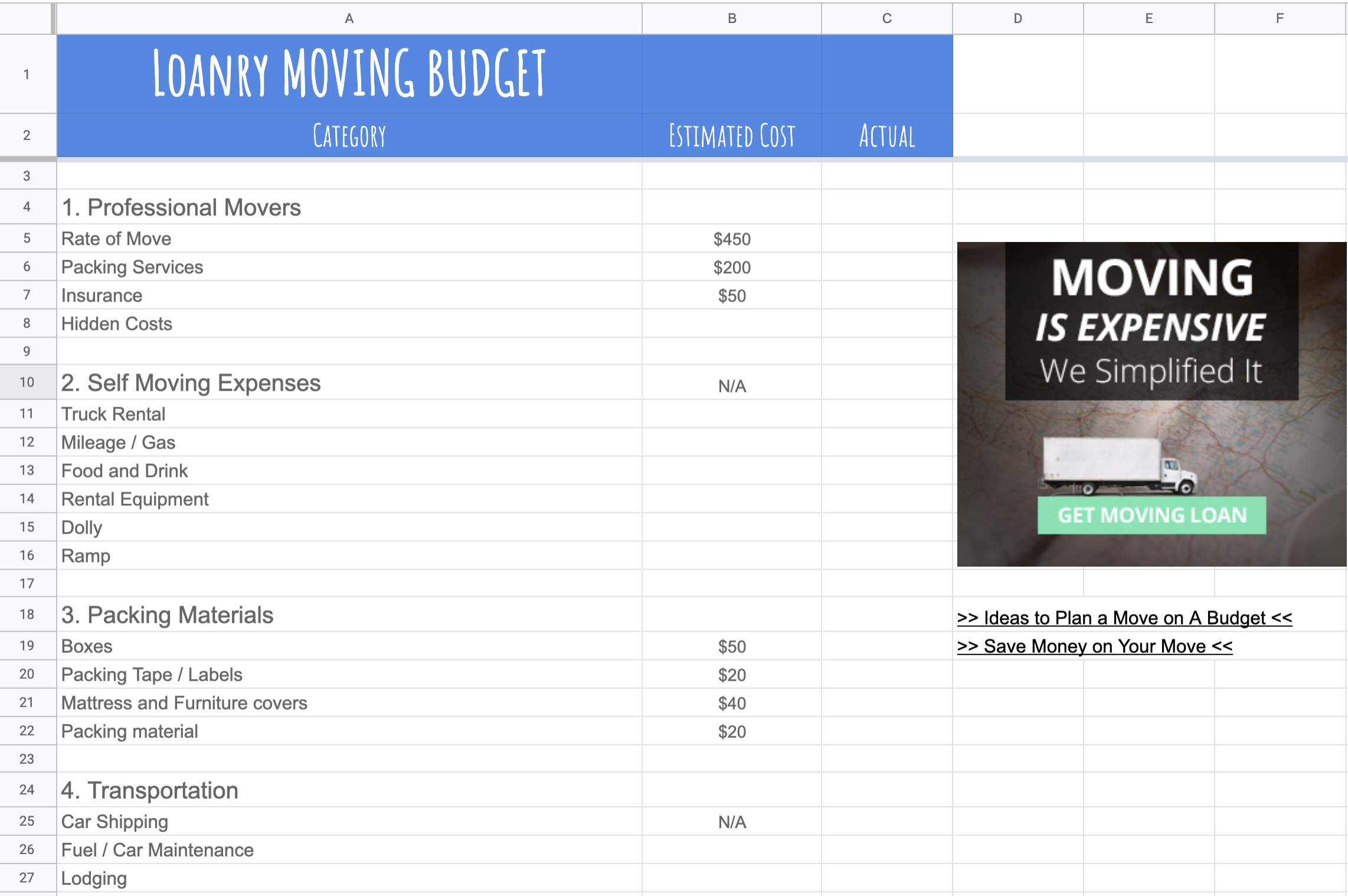 To help stem the costs associated with moving, a moving cost calculator can be a helpful tool when developing the budget.  While it won't give specific information, it does provide a ballpark cost associated with moving from one zip code to another.  This can be helpful when considering the costs associated with the move.  It's also handy when deciding how much money is needed when applying for relocation loans.  Another consideration while constructing a budget is the size of the home.  For instance, a one-bedroom apartment will require paying the movers for three to five hours of labor.
A three-bedroom home will involve 7-10 hours of labor.  The larger the house and the further the move all factor into the total cost of the move.  The time of year the move is planned also drives up the cost.  Moves planned during spring break and the summertime are right in the middle of the peak business times for movers so their prices will be higher.  If possible, planning a move in the late fall or winter months may be less expensive.
Cost Considerations
In the weeks or months before a move, it's natural to start looking for ways to save money.  This is a natural reaction to realizing that there are big bills in the near future.  Cutting down on eating out is one way to save but also consider any major expenditures.  For instance, if new appliances are needed, it is better to wait until after the move to make those purchases rather than bring them during the move.  Also look for unused services around the current home.  Most of these like subscriptions auto-renew each month.
If they are not being actively used, disconnect them.  That's automatic savings.  Another area to save is to personally pack belongings.  While most moving companies will offer to pack items, this service is costly and can easily be done in the weeks prior to the move.
Budget
In the budget, be sure to think through the entire expenses of the move.  For instance, the new apartment and utilities will require deposits.  Be sure to understand what these potential costs are and include them in your moving budget.
Garage Sale
Consider selling items that aren't being brought to the new home.  Many used bookstores will buy books in good or fair condition.  There are also a number of consignment stores online and in most cities.  A garage sale is also a good way to make a little bit of money on unneeded items.  Those funds will go a long way to making the move financially easier to bear.
Where to Find Moving Loan
Moving loans are personal loans used to cover the costs of moving.  If it becomes clear that additional funds are needed to make the move, consider obtaining a moving loan to relieve the burden of the expenses.  Banks and credit unions offer these types of loans so they are a good place to look.  There are also lenders online that provide this type of service.  Finding reputable lenders that have the type of loan needed can be difficult though.  Loanry.com is a platform that helps you find a lenders.  People seeking personal loans are able to shop a wide variety of lenders, compare rates and terms through the loan shop money tools and find a lender based on information provided based on their situation.
Having poor credit can make the search more difficult, but not impossible.  If poor credit is an issue, consumers need to pay close attention to the interest rates and terms that they are offered.  Often the interest rates will be higher and the repayment schedules will be shorter so having the opportunity to comparison shop the lenders is important.
Uses for a Moving Loan
Moving and relocation loans can be used for anything related to the move.  Saving money on the move is still the first priority so that the loan request can be smaller.  Still, the use of money to cover these additional expenses can relieve a great deal of stress related to the move.  The loan funds can be used to cover everything from the moving truck, packing tape and storage fees.  It can also be used to help with deposits on the new home, utilities, or cable and internet.
Below is a list of move-related items that can be covered with a move loan.
Movers
Whether it is a self-move or a professional mover is hired, there are various ways to use a moving loan.  These gives people options on planning the move that works best for their current financial situation and lifestyle.  Move loans do not require that professional movers be hired.  This allows people the option to rent a truck, move their own belongings and save money in the process.  For some people with larger homes or fragile belongings, it may make more sense to hire professional movers for the job, particularly if it is a long-distance move.
Packing Materials
To complete a move safely and securing, the right packing materials are needed to keep personal possessions safe during transit so they arrive in one piece.  While they don't have to be expensive, they are necessary.  Paper towels, bath towels and blankets can be used.  Free boxes can be found at local grocery and big box stores.  But there will be packing items that need to be purchased.
For instance, large mirrors will need to be padded and wrapped for transport.  Moving companies normally provide the ropes and items to secure them while the truck is in motion but for a self-move, it may be necessary to purchase items so that everything arrives in good condition.  Moving and relocation loans can cover these expenses.
Storage Units
If for some reason, personal belongings are not being taken to the new home, they will need to be stored.  Perhaps, the move is to another country for a time, then a storage unit is needed.  For people living in major metropolitan areas, look for storage companies away from the city.  The old saying, 'eggs are cheaper in the country' is really true.  The move to the storage unit will be less expensive than a big move.  Also, the storage unit's monthly rental fee will be lower.  A move loan can help with these expenses.
Hotel Stays
If the move is long distance, hotel stays and meals while in transit to the new home need to be included in the budget.  A cross country move will take several days to make.  Planning stops along with the way to rest will greatly reduce the stress of the move – particularly on children and pets.  If moving as a family, it can be an opportunity to turn the move into a big adventure.
Deposits
Move loans can also help with the down payment or rent and deposits at the new home.  With the expenses of the move, most will need help paying rent.  Don't forget to include in the budget money for deposits for the utilities and cable/internet services.  While the budget may be tight during a move, the loan is designed to help provide for these expenses.
When to Consider Using a Personal Loan for Moving Expenses
There are many considerations that go into deciding whether or not to apply for moving and relocation loans. Consumers need to think carefully when making this decision so it is a responsible and sound one.  For instance, if the move is for a new job that pays a better salary, it might be a good decision to use moving and relocation loans to cover expenses.  If the new job is providing more opportunities and benefits, it's logical to make that move.
What most people find though is that they don't have enough savings built up to cover the additional expenses of a move, especially if it is a long-distance move.  In this case, a personal loan for moving expenses makes sense.  It can cover both the known costs such as the mover, storage and hotels, as well as, the unexpected expenses that are certain to pop up along the way.
While moving and relocation loans can relieve some of the stress of a move, it's important to stick with the budget. The more thought that is given to the budget beforehand, the more successful the move will be. Often the repayment schedules for personal loans are low so they don't significant impact most budgets.
Application Considerations
Before applying for a personal loan for moving expenses, consumers need to consider the other debts that they are currently carrying.  Accumulating excess debt is never smart.  In that case, taking on additional debt would simply shift the financial burden from the move to the time when the loan needed to be repaid.  This is just creating future problems.  Prior to finding a lender for moving and relocation loans for moving expenses, consumers should pay down as much current debt as possible.  This will not only improve personal financial health but also improve the likelihood of getting approved for a moving loan.
Lenders look closely not only at credit scores but at each applicant's debt load.  This allows them to assess the risk level of the individual and formulate the interest rate they will offer.  So, getting personal finances in order prior to applying for a move loan is beneficial in multiple ways.
Additional Considerations When Deciding Whether to Apply for a Personal Loan
While it may seem that a personal loan is the perfect way to cover moving expenses, there are some downsides that every consumer should consider.
Interest rates
Lenders use a variety of ways to assess the interest rates each consumer is offered.  Primarily, they look at each applicant's credit history and current debt load.  Using this information, they estimate each person's ability to repay the loan and any risks associated with making a loan offer.
Fees
Personal loan fees will vary from vendor to vendor.  That is why it is important to comparison shop lenders before applying for loan.  Also, create a budget so that the amount of money requested will cover the costs associated with the move and the fees charged for the loan.
Consumers needs
Consumers need to understand whether they will be able to manage the increase in their debt load. This will tell them if this specific loan is right for them or not. With the loan potentially having a higher interest rate, particularly if the applicant has poor credit, an expectation needs to be set as to whether or not the repayment schedule is personally realistic.
Understand the Difference Between a Soft Pull and a Hard Pull on Credit
In the world of credit, there is what is called a 'soft pull' and a 'hard pull' on an individual's credit.  When looking at moving and relocation loans, individuals may be invited to 'pre-qualify' for the loan.  In this situation, the lender does a 'soft pull' on their credit to determine their eligibility for a loan.  This does not affect their credit score.  However, when they apply for the loan, the lender will do a 'hard pull' on their credit to examine credit history and worthiness.  This is a more in-depth look and it does affect their credit for a time – usually about five points.
Also, the lender must obtain permission to do this check.  This 'hard pull' allows the lender to determine the interest rate and loan amount that they are willing to offer.  They will also look at the number and timing of other 'hard pulls' that represent requests for new credit.
Factors Lenders Consider
Lenders will look at many credit factors such as the new accounts the applicant has recently opened.  Multiple new accounts make the applicant appear to be a higher risk so this lowers the odds that the loan will be approved.
Lenders also consider how long accounts have been open.  They prefer to see that accounts have been established for a long time.  What they don't like to see multiple accounts being open and closed.
Saving Money Before the Move
While moving can be expensive and moving and relocation loans can help, it's important to save money prior to the move so that if a loan is needed, it may be smaller and used more effectively than if efforts to save are not implemented.
There are Many Ways to Save
While moving companies provide a service to pack belongings before transit, its advisable to skip this service.  It generally is very expensive and the work can easily be completed in the weeks before the move.
Get rid of anything that is not currently being used or is damaged.  Sort everything out, then sell or donate it.
Visit supermarkets and big box stores to see if they have free boxes that can used for the move.  Often, they are more than happy to get rid of them.
Instead of purchasing packing materials, use items already in the home.  Towels, linens and paper towels make excellent packing materials for delicate or breakable items.  They are also useful in the new home.
If doing a self-move, recruit friends and family to help with loading.  It can be quality time together before the move.
Loans with Bad Credit
Even with bad credit, there are moving and relocation loans available. These need to carefully considered.  The benefit is cash to cover the move quickly.  The downside is that it increases personal debt and the interest rate may be high. The repayment schedule may also be short.  All of these issues need to be considered before turning to a loan to cover moving expenses.
Conclusion
Moving is expensive but there are many resources available today to help relief the financial burden of a move.  When moving and relocation loans are needed, Loanry can help find a lender.
The site is not a lender itself.  Rather they connect lenders with individuals who are looking for personal loans.  Consumers have the opportunity to shop a variety of lenders to find the one that meets their individual needs and situation through the companies money tools.  They are able to comparison shop to find the best rates and terms.  When moving and relocation loans become necessary, these sites help consumers be fiscally responsible.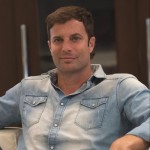 Ethan founded Goalry, Inc in Dec 2016 with the mission to build the world's first and only Financial Goal Mall. One place to reach financial goals and comparison shop for any money matter. Taub invents the IP for the finance stores within the mall, while overseeing various aspects of the company. He also has orchestrated the company's earned media across the finance stores: Accury®, Billry®, Budgetry®, Debtry®, Cashry®, Creditry®,  Loanry®, Taxry® and Wealthry®. This includes over 1200 blogs, 400 videos, thousands of social post and publications that have been featured across the web.