Personal Loan for Moving: New Home Approved

My family and I returned home from a great family vacation this morning. We drove about seven hours away to stay in a condo on the beach. While the playing was fun and seeing our kids come to life was amazing, there were actually some other great benefits. For one, the salt water cleared our little one's eczema up completely. Another, we noticed even our unmotivated teenager want to be active. I do not think he slowed down once. Anxiety and depression seemed to just fall away.
There were a few other benefits, but in short, my husband and I noticed enough great things that we decided to make a move closer to a beach. Seven hours is just a bit too far to drive every weekend, so we want to move within an hour or two of the ocean. Now, we are back home starting to think through our steps and make our plan, and I want to share with you what we have discussed so far that could assist you in moving as well.
How Do I Pay for a Move?
There are different ways you can pay for your move– you may need to use a combination of these ways. Regardless of which options you go with, the earlier you start, the better.
Make the Money: Income from a regular job can help get you where you want to go. This is where your budget comes in. However, there are other ways to make the money. First is through picking up a second job or side gig. Another is through selling those belongings you do not want or need to take. You can have a yard sale with these items and make anywhere from $20 to thousands. Having one every month or so as you declutter your home is a great way to increase the amount you make.
Save the Money: If you have enough time, you can save the money to move. Set up a separate savings account for moving. Add every dime you can from your initial income, extra jobs, or yard sales. Have a weekly and/or monthly savings goal to meet for motivation.
Borrow the Money: When all else fails, or you just need an extra bump in your savings, you may want to consider moving loans. A moving loan is simply a personal loan for moving, which you can use t0 pay for your moving expenses. Searching for a personal loan for moving or travel finance just might result in covering all of your moving costs.
How Do I Find a Personal Loan for Moving?
Family and Friends: Sometimes borrowing from loved ones is the best move you can make, but that really depends on the relationship between you and the lender. Your parents, for instance, may be more inclined to give you a longer repayment term than a friend or cousin.
Bank or Credit Union: You may be able to get a personal loan for moving through your bank or a credit union, though interest rates and repayment terms will vary. Call around before spending your time driving to different places to find out what each place requires for approval.
Online: Finding a personal loan for moving online is often the easiest way to go. There are many lenders online and they accept different ranges of credit types and scores. You can also, generally, compare many at once to find the best option for you. At Loanry.com, we can connect you with lenders that fit your needs. We do the searching for you saving you time- your most precious commodity. Put in your information here and wait for offers:
Are Moving Loans a Smart Idea?
A moving loan can be a smart or really bad move, depending on your personal situation. If you are broke and will likely remain broke, taking out a personal loan for moving that you cannot pay back will hurt you much more than it will help. However, if you will be able to repay it, it might be a smart move- especially if you need to move quickly or before you can save all of the cash you need. It would be important, though, to find a personal loan for moving with a low interest rate. Starting off in a new place under debt that is too high is a really bad foundation. Shop around for a personal loan for moving to find lowest interest rate and best repayment terms.
Plan a Move
As fun as it might be to just in a vehicle and move into a new home, it usually does not work like that. There has to be a plan made and progressive steps to follow. You can consider it a map to reach your new home. Let's start with some clarification about your move:
Where are you moving to?
Obviously, you need to know where you are moving to, and it is not just about the physical location itself. Will you be living in an apartment, a house, a mobile home, and so on? Will you be renting or buying? These are all very important aspects of a moving plan. In our case, we are working on two separate plans. The first is to buy a house. This is our goal, but it is always good to have a back up plan.
If we cannot buy a home at first, we will consider renting a house or apartment until we can. We homeschool our children, so we will have to research any homeschool laws. If you have children that go to public school, you will want to look into school districts to make sure you send your kids to a good one.
Also, it is a good idea to check into banks and such in that area to see if you will have to open new accounts. Most cities have a Facebook page that you can reach out through to find the information you need from current residents. You might ask for recommendations on doctors, house cleaners, and the like through those residents.
Why are you moving?
There are many different reasons for a move. Maybe you just want a change of climate. You might want to move one county over for better school districts. There may be a cheaper home down the road. Upsizing and downsizing are two common reasons. Perhaps you are moving for a job.
There is, of course, also not being able to pay your current rent. If that is the case, you should decide whether it is smarter to stay in your current location or move to a new one. If you decide it is better to stay, there are options for people who need help paying rent. Look into that before making a drastic step, like moving.
Is it a local move or a distant move?
Whether you are moving down the road or across the ocean, this needs to be factored into your plan. Different distances will require similar yet different considerations. Determine the distance, even if it's just an estimate for now, and write that down in your plan.
Is it a permanent or temporary move?
Not every move is a permanent one. Some people move for only a year or so for a job or something similar. If this is the case, determine if you also want to keep the place you currently have or if you want to start over when you return. If you own your home and have paid it completely off, it may be wiser to keep it. You might even rent it out while you are gone for some extra income. On the other hand, if you are currently renting or paying large mortgage payments, letting your current place go is something to consider.
What will you do once you get there?
Moving without a plan for when you get there is not very wise. This is especially true when it comes to income. If you do not already have a job lined up, have a list of places to apply. As time gets closer, you can apply online and might even get to interview online for the position. You might also consider an online job that can help keep you afloat until you move and get set up in your new home.
Various Ways to Use a Moving Loan: Go Time! | Loanry https://t.co/swaosIL2vL @NeedMoversUSA

— Loanry.com | Loan Shop ? (@LoanryStore) March 15, 2019
Moving Costs to Consider
If you have never had to plan a move before, it can be a very overwhelming process. There are so many tasks to check off the list and expenses to consider. It can seem daunting and impossible, but you really just need to get your plan on paper and work on one thing at a time. Some of the moving costs you will likely add to your plan are:
-Packing supplies- these will vary according to the number of belongings
-Transfer fees
-Utilities and deposits
-Moving truck or moving company
-Storage costs- these may not be necessary
-Travel expenses like fuel, food, and any overnight stays at hotels you might have
-New furniture and appliances, if needed
-And more
Cut Expenses
Even if you have plenty of money in the bank for the move, cutting expenses when moving is a great step to take for your future. While not everything can be eliminated, most costs can be decreased. The following are some tips to do so:
Moving Budget: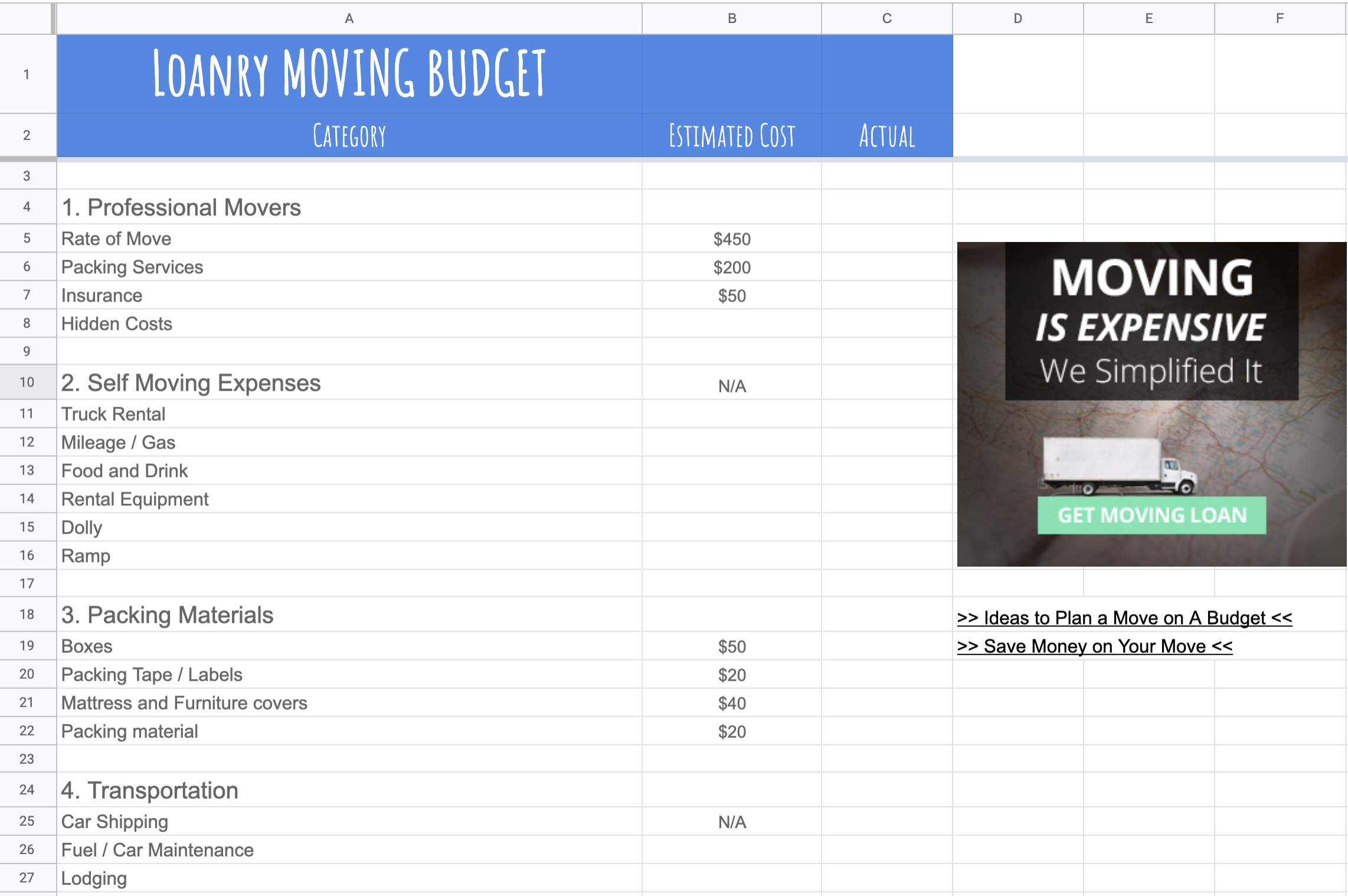 If I have said it once, I have said it at least one hundred times- you need a moving budget. A budget will help you make good decisions about moving. Determine how much you have, how much you need, and how much you will make when you get there. Factor in moving expenses, utility costs, transfer fees, future rent and deposits, and so on. Make a budget that can help you succeed.
Shop Mortgage Rates/Rent Prices:
As good as something may sound, it is never good to go with the first option without hearing other ones first. Whether you are searching for a mortgage lender to buy a home or a landlord to rent from, it never hurts to get at least three to four prices before making a choice. That many prices will often at least give you an average of what to expect.
Minimize Your Belongings
One of the biggest moving expenses you will incur is actually moving your stuff. The more stuff you have to move, the more that will cost. Getting rid of many of your items is usually more than possible. Those who have been in charge of packing their belongings before often find that they have accumulated so much over the years that they have forgotten about or really do not need. That is because we move into a place and live in it instead of treating it as a museum- and that's okay. The point of having a place to live is actually living in it. However, it does tend to attract a huge amount of clutter.
The answer, of course, is to cut that clutter down as much as possible, but how? How do you decide what to get rid of and what to keep? Here are a couple of guidelines to consider:
Pictures and mementos:
Don't panic- you can breathe a sigh of relief. I am not about to say you need to throw them all out. Actually, the opposite is true. If you are going to keep anything from your current residence, it should be those things you cannot replace. I can buy a new dining room table or even a new laptop, but I cannot buy pictures of my children being born or the footprints we molded from clay.
There is, however, a tip for saving some of the mementos. You might consider turning some of your pictures and your children's artwork into digital albums. This will free up some physical space but still let you keep the most important things.
Appliances:
Washers, dryers, fridges, and ovens, oh my! These items often take up a very large amount of space though they are necessary. That does not mean that you have to take them with you. First, find out if the place you are moving is furnished. Some places come with all or most of these appliances so you really have no need to take yours.
Second, if your new place is not furnished, you will likely find it much easier to buy new appliances when you get there. It will not cost anywhere near the price of moving these items. So what do you do with your old ones? If they are in good shape, you can probably sell them for some extra cash, give them to a relative or friend that needs one, or donate them to a charity (which is a tax deduction if you need an extra push). If they are not in good shape- well, do you really want to waste your space moving them? Either take them to the scrap yard for a little cash or look for a charity that can fix these up for those in need.
Clothes:
If you are the type that needs a new wardrobe every season or every year, there is no reason to take more than a week's worth of clothes anyway. For those of us that can keep the same clothes for the majority of our adult lives, we can still usually get rid of a large number of clothing items. If you go through every single piece of clothing, you are sure to find some things that you have never worn, that do not fit anymore, that are faded and ripped beyond repair, and so on. Let them go and start fresh at your new place- with a lot less clutter.
Books and Other Items:
It really comes down to a simple question: If you put them in a box to move and only open the boxes of stuff you really want and need at your new place, how long will these items stay packed up? Don't waste time and space on things you really will not use. Life is too short to stress over mess.
Relocation Packages:
If you are moving due to a job, your company may have a relocation package, especially if you are moving at their request. Ask about this so you do not spend unnecessary money of your own.
Hire Out or DIY?
There are two basic options when it comes to the physical moving of your belongings. You can either have someone else do it, or do it yourself.
If you have someone else to do it, you need to decide how much you want them to do. There are companies that will come in and pack your belongings for you before moving them to your new location. There are those that only pack them on the company truck and move them. It does cost more to hire a company, but there are also benefits. It is much quicker and easier for you. You just pay and someone else deals with the hassle.
If you choose to do it yourself, it will save money but cost time and energy. This has always been the choice my family has made. Usually, we rent a U-Haul and pack it ourselves. We might have family and friends help in exchange for dinner or an equally large favor. You may also consider hiring a teen or college kid who is looking for some extra cash. They will be much cheaper than a company.
Other Tips to Make It a Smooth Move
Cut daily/weekly expenses:
Regardless of how you choose to move, you need some money to do it. Look over your current spending and decide which weekly or daily expenses you can decrease.
Start planning and packing early:
The earlier you get started, the easier and cheaper it will be. If you can prepay or pre-book items, you will likely get a much cheaper rate than if it is last minute.
Buy in Bulk:
When it comes to packing supplies, i.e. bubble wrap and tape, buying in bulk will save you a good amount. Additionally, you can often collect boxes from grocery and retail stores, or liquor stores. Some have boxes they can give away on a daily or weekly basis. Some places will even set them outside when they are finished for anyone who needs them. Check these places before buying boxes.
Conclusion
Moving can be both exciting and stressful. There are so many different aspects to plan, figure out and carry out, calculate, pros and cons to consider, and more. And yet starting fresh can be like a dream come true to many. You can simplify the overwhelming part by considering a  moving loan when you cannot come up with the cash in any other way, and by trusting Loanry.com to help you find a lender for that loan.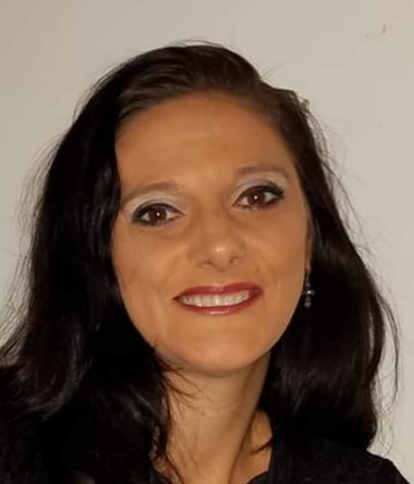 Brandy Woodfolk is an educator, home business owner, project manager, and lifelong learner. After a less than stellar financial upbringing, Brandy dedicated her schooling and independent studies to financial literacy. She quickly became the go-to among family, friends, and acquaintances for everything finance. Her inner circle loves to joke that she is an expert at "budgeting to the penny". Brandy dedicates a large portion of her time to teaching parents how to succeed financially without sacrificing time with their little ones. She also teaches classes to homeschooled teenagers about finances and other life skills they need to succeed as adults.
Brandy writes about smart money management and wealth building in simple and relatable ways so all who wish to can understand the world of finance.
Related Posts