Subprime Auto Loan Options to Get You on the Road
Subprime auto loans are types of loans that are used to finance a car that is purchased. They are offered to people with a limited credit history or a low credit score. These loans usually have a higher interest rate when compared to prime loan options. And they can come with a prepayment penalty if the borrower chooses to pay off the loan early. However, these borrowers may have no other option for purchasing a vehicle. So they are often willing to pay the higher rates and fees associated with subprime auto loans.
The History of Subprime Auto Loans
Subprime auto loans became a big business in the auto finance industry after the monetary expansion of 2001 to 2004, along with subprime mortgages and other lending options for higher risk individuals. Financial institutions were flush with money so they sought out higher returns by charging higher interest rates to subprime borrowers. The term subprime was then used in the media later, during the mortgage crisis of 2007 and 2009. Subprime lenders began to thin out after the Great Recession but have since been making a comeback.
With the risks lenders face with subprime loans, you may be wondering why they even bother. The answer is that there is a lot of profit, especially in the auto industry. By having a blend of loans that have different credit risk profiles, auto lenders can manage the total risk and this maximizes the profit potential.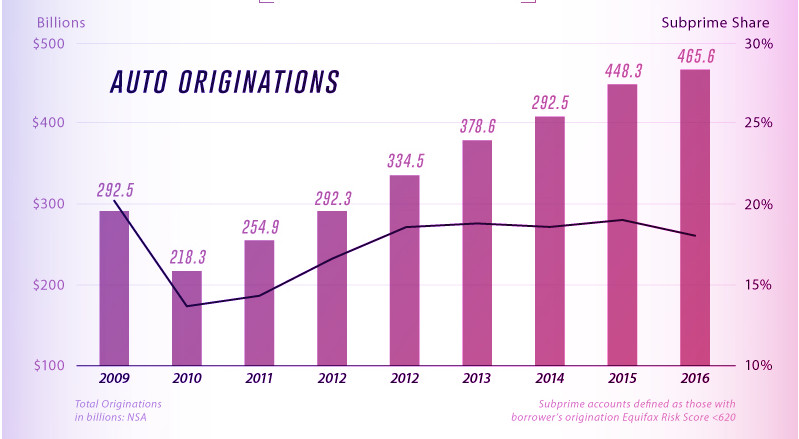 How Do Subprime Auto Loans Work?
There is no official cut off for a subprime loan. Usually, your credit rating would have to be below 650 and above 450 in order to be considered subprime. In general, there are fewer than 20% of Americans who fall below 600. In evaluating borrowers, lenders can ask to see W-2s, 1099s, and pay stubs to be able to prove income. If a borrower is in a line of work that is hard to prove income, such as being a restaurant server who receives a lot of cash tips, then he or she may need to bring in bank statements that indicate a history of consistent deposits in their account.
Some lenders do accept bank statements in place of standard pay stubs. Even when getting subprime auto loans, it's still best to shop around for rates. Not all lenders will be using the same criteria for approval and some charge different fees than others. Interest rates can be quite high because the lender wants to ensure it can recoup the cost should a borrower default on payments. Borrowers may decide they want to improve their credit score to qualify for better loan terms.
Determining If You Have a Subprime Credit Score
Understanding your credit score can make a big difference when paying for bad credit auto loans. In order to interpret your credit score and what it tells you about your borrowing power for loans, you need to know where your score falls on the range between the lowest and highest number generated by the scoring system. All credit scores have the same goal, which is to help lenders understand how risky it may be to do business with you. A high credit score will mean that you are less risky and have a low likelihood of default. A lower score means more risk to a lender.
The average FICO credit score for Americans is 701. If you have a score of 800-850, that is considered exceptional. If you have a score of 740-799, that is considered very good. But if your score ranges from 670 to 739, that is considered good. A score between 580 and 669 is fair. A score that is below 579 is considered very poor. Scores in the fair range are likely to be considered subprime borrowers. Those with poor credit scores may not qualify at all, even for subprime auto loans.
Types of Credit Scores Matter
You may be surprised to learn that there are different types of credit scores. The scores are calculated using computer models and look at the contents of your credit report. The three national credit bureaus are Equifax, TransUnion, and Experian. Models developed by different companies, such as the FICO score, differ in how they calculate and report the scores. There are usually multiple versions of a given model available from the developer of the software used to score. When you are comparing one credit score to another, or looking to track changes over time, it's important that you know which scoring model is being used to calculate the score, which credit bureau furnished the credit report, and the highest and lowest scores you get using the model.
When looking at your credit, you need to look at the credit score range. For example, the good credit range spans quite a bit and wouldn't make you eligible for a variety of loan offers. The FICO score is used in about 90% of the lending decisions so it's a good reflection of creditworthiness to a lender.
Calculating Your Credit Score
The specific calculation method that is used to calculate a FICO score is a trade secret but there are some things that factor into how your score is calculated.
Payment History: Paying bills and your debt on time is the biggest factor that affects your score and can account for 35% of the score.
Credit Usage Rate: You shouldn't be using more than 30% of your total credit card limit if you want to keep your score higher. The credit utilization rate is responsible for about 30% of the score.
Length of Credit History: Your score will continue to increase over time, as long as you are following basic guidelines. New credit users aren't able to speed up the length of the credit history but can help build up the score as the credit history continues to get older.
Total Credit and Debt: The credit score reflects total outstanding debt, as well as the types of credit you use. The FICO score likes it if you have a variety of different loan types, including installment credit and revolving credit.
Recent Applications: If you recently have applied for a loan then it will trigger a process called a hard inquiry. This means the lender has requested your credit score. A hard inquiry will usually lower your score by a few points, but as long as you continue to pay bills on time, the score will rebound quickly. If the lender uses a soft inquiry, or you are checking your own score, then it doesn't have an impact.
Why Are Subprime Auto Loans Popular?
The standards for subprime loans have gotten more relaxed that they are being given out more often. There are a few reasons for that.
Collateral
A car loan is secured by the vehicle, which can be repossessed if you default on the loan. This means that some lenders are more willing to take the risk of giving loans. New technology makes it possible for the lender to disable the car remotely if you miss a payment.
Secondary Debt Sales
The growing market for subprime auto loans that are bundled into asset-backed securities have also prompted some lenders to make financing available to those who wouldn't have qualified just a year earlier due to a history of not managing obligations.
Dodd-Frank Exclusion
The Dodd-Frank Financial Reform law from 2010 exempted automobile dealers from the oversight of the U.S. Consumer Financial Protection Bureau. This means that financing that is arranged through a car dealer is less regulated from loans that are obtained from a credit union or bank directly. It's easier for lenders that are working through a dealer to take advantage of borrower's bad credit.
Getting Subprime Auto Loans
If you have a credit score that puts you in the subprime category, you should still shop around for a loan. Banks, credit unions, and online lenders will specialize in borrowers with poor credit. Auto loans for bad credit online may be easier to get.
Figure Out What Kind of Car You Can Afford
See what kind of monthly payment you are going to be able to fit into your budget before you apply for a loan. If you aren't able to finance the car you want within your budget then consider looking at more affordable or older models. Sticking to your budget is very important.
Work with a Lender You Know
If you have a credit union or bank where you already have an account, you may be more likely to get a better auto loan from that institution.
Know Your Credit Score
Your credit score carries a huge weight and is the main factor that puts you in subprime borrower status. Knowing your score will help you know where you stand and what your options are.
Consider More than Just the Monthly Payment
You need to weigh the total cost of financing the car. If you lengthen your term then you will pay more in interest over the life of the loan.
Look at All the Expenses of Car Ownership
This will include title fees, insurance, maintenance, repairs, and state taxes.
Shop Around
Just like with other loans, you need to shop around for subprime auto loans. Shop around and compare offers so you can make sure that you are getting the best possible loan terms for your situation. You can do that here, on Loanry. Remember, all lenders we work with are reputable companies who can be trusted when it comes to loans and honesty about terms and the agreement. If you want to get offers from these companies, start here:
Benefits of Subprime Auto Loans
While there are plenty of disadvantages of subprime auto loans and you need to proceed with caution, there are some advantages as well.
Helps You Get a Vehicle: Depending on where you live, you may not have an option to use public transportation and need a car to get to and from work. Subprime auto loans can get you in a vehicle without having to spend the time working on improving your credit score.
Can Help with Credit: A subprime loan can help you improve your credit if you make your payments on time.
Can Help First Time Buyers: If you are a first time car buyer then a loan may be your only option for buying a car. You may not even have a credit score at all if you are just looking to buy a car for the first time.
Disadvantages of Subprime Auto Loans
There are some hidden risks with subprime auto loans. Before you sign a loan agreement, consider the potential cost.
High Interest Rates: A subprime auto loan usually comes with a higher APR than a conventional auto loan. The APR is the interest rate of the loan expressed as a yearly rate. The APR for an auto loan can also include fees, such as one for the origination of the loan. This number will give you a sense of how much the loan will actually cost. The interest rates on a subprime auto loan can be up to 29%. Those with employment situations that require access to a car can often be vulnerable in these situations and won't have much of the power to negotiate the loan's rates and terms.
Extra Fees: In addition to the higher APR, there may be higher fees attached to the loan. Some of these high fees can include a processing or origination fee, a prepayment penalty, and a service contract for repairs and maintenance service.
Risk of Repossession and Default: Subprime auto loans are at a higher risk for repossession and default. If the borrower takes out a loan with a harder-to-manage payment plan, it's likely he or she will default and then the car is going to be repossessed.
Income Demands: Although subprime loan lenders may not be demanding about your credit score, they can be stricter when it comes to your income. You must have sufficient cash flow and income in order to cover the monthly payments. The lender will go through a thorough financial check in order to make sure that you can meet the payments. If you aren't able to prove that you have enough cash flow, you likely won't qualify.
Buying a car is exciting and challenging, and it can be quite overwhelming. It is, however, something that the average American will face numerous times throughout their lives.#autoloan #debtrelief #cashloans #onlineloan ?https://t.co/gXS5HlL1wd pic.twitter.com/CuO4A76ksS

— Loanry.com | Loan Shop ? (@LoanryStore) November 24, 2019
Is a Subprime Auto Loan Right For You?
If you need to work on your credit score but don't have the time before you need the financing then subprime auto loans may be better for you. As long as you can make the payments on time, you can actually improve your credit score and still have the financing you need for a reliable vehicle.
If you are tired of getting rejected for traditional loans and credit options then a subprime loan can be for you.
Leasing a car makes sense for certain situations but if you can't afford a car lease or don't end up qualifying for one then you will need to get a subprime auto loan.
In the subprime loan market, it's easier for borrowers to get the money they need and be approved. This approval process can be smoother and get you on the road sooner.
Where to Go for Subprime Auto Loans
It's best to find subprime auto loans at a bank or credit union instead of the dealership. It's never a good idea to step into the dealership without preapproved financing, especially if you have subprime credit. When you get preapproved financing from a lender other than the dealer, it can help you with your car buying budget based on what you can afford, instead of the car you are trying to buy.
What Happens if You Don't Pay Back a Subprime Loan?
If you aren't able to repay your subprime auto loan then your current financial situation is only going to get worse. If you have just one late payment then you may be able to redeem yourself with a long series of on-time payments. Many lenders don't want you to default on the loan and will help work with you to make sure that doesn't happen. Some unscrupulous lenders have built a business model where they do repossess your car and then sell it to another borrower with credit issues.
If you fail to make your payments and you default on your loan then it can destroy what little you have left of your credit score. This can make it much harder or impossible to borrow again. You will also risk losing your vehicle. In some states, you can also be liable for the difference between the amount the lender gets from selling your vehicle and the balance of the loan. Subprime auto lenders may have electronic auto trackers installed in order to make finding the car easier so they can repossess it. Some even go a step further with a system that disables the vehicle until a you make a payment or they have the car back.
If you think you are in danger of missing a payment then the best course of action is to contact your lender. You don't want to just hide from them. Describe your circumstances and see if you can find a solution. If your issue is just a one-time thing then you may be able to skip a payment. If it's a long-term issue then they can work with you to sell the vehicle so that you won't have your loan obligation.
Can You Avoid Getting Subprime Auto Loans?
If you can avoid getting a subprime auto loan, it may be in your best interest. There are some things you can do to get a new vehicle when you have a bad credit score.
Improve Your Score
Take a look at your credit history and be sure to correct any errors in your reports. Then work to improve your credit score. While it's easy to destroy your score with a bad financial decision, raising it can take patience and time. You want to have several months of on-time bill payments and start reducing your credit card debt. This can help get you out of the subprime lending market and into a much less expensive loan. Even if you don't raise your score to get into the next category of borrowers, if you can show an improvement in the history of payments, it can convince a loan officer at a smaller financial institution to give you a chance to prove yourself.
Find a Second-Chance Lending Program
Some lenders, especially community banks and credit unions, have what they call second-chance borrowing programs for their customers with not the best credit history. The loan terms can be restrictive but a second-chance loan can be a stepping stone in the right direction to avoiding non-subprime auto loans.
Use a Co-Signer
Have a friend or family member co-sign a more traditional loan. This can be helpful for getting you in a car but be aware that it can be dangerous to the credit score of your co-signer. Before you have a friend or family member co-sign a loan, both you and the co-signer should understand the risk and benefits.
Refinancing
If you don't have a choice to accept anything other than a subprime auto loan then you need to make sure you pay all your payments on time and in full. After doing this for the first year, you can put yourself in a position to be able to refinance the loan with better loan terms and interest rates.
What Is the Most You Can Borrow with a Subprime Auto Loan?
You can only qualify for subprime auto loans? Then you have to be more realistic about your car choices. You need to choose a vehicle that fits in your budget. So you need to see how much car you can afford. With a budget in place, you can focus on cars that fit within those parameters.
When dealing with subprime auto loans, there can be a few layers to the qualification process. They can affect how much you can borrow. Prime lenders typically look at your income, debts, and credit score. Then you get approved if you have good credit. Subprime lenders have some extra qualifications, such as a minimum income per month, a certain amount of time at your current job, and references. These extra qualifications will of course vary by lender and your credit score. But they can also affect how much you can borrow.
Since lenders usually look beyond your credit score, one of the main things that they will focus on is your debt-to-income ratio. If the ratio is high then you may not qualify at all. If it's high but not high enough to disqualify you, it adds to the cost of your car paymen. Along with your cost of insurance.
While there is no set answer on how much you can borrow, it's important to shop aroun. This way you can get an idea of what you qualify for before you go car shopping. This way, you aren't going to go over budget and won't risk finding out you can't qualify after you already found a car.
How Do Subprime Loans Affect Your Credit Score?
Subprime loans will affect your credit just like any other loan will. Your payment history is such an important factor in your score. So it's absolutely necessary to make payments on time if you hope to improve your score in the future. One way to make sure that this happens is to set up automatic payments from your checking account.
Make sure that there is always enough in your account in order to cover what you owe. Then you don't have to face additional fees. Or overdraft your checking account. If you do miss a payment keep in mind the following. It won't be reported as late until 30 days after the due date. You may face fees if you are just a few days late. But it doesn't show up on your credit report right away. Make up the missed payment as soon as you can. Before it shows up on the report and affects your credit.
Work on Your Credit Before Applying
If you are hoping to avoid subprime auto loans then it helps to work on your credit before applying. It's possible to get approved if your financing needs aren't urgent. But it's helpful if you can wait. This way you can get a better interest rate and be in a better place financially.
Start by checking your credit score. If you get a copy of your credit report, it may have specific areas that you need to work on. It's possible that you have fallen behind on payments with a credit card or loan. So work to catch up as fast as possible and make sure to make on-time payments moving forward. If your credit utilization rate is high then start to pay down debt as soon as you can. While improving your credit score can take some time, it's worth it, in the long run, to save you money.
Final Thoughts
While subprime auto loans are here to help get you in a vehicle quickly, there are also some risks. You will likely pay more in interest and fees. However, there are options available and if you shop around, you can find the best rate for your situation. Research your various options and don't take the first offer you get unless it is, in fact, the best offer. Avoid other short-term loan options, such as auto title loans or payday loans, in order to get into a car.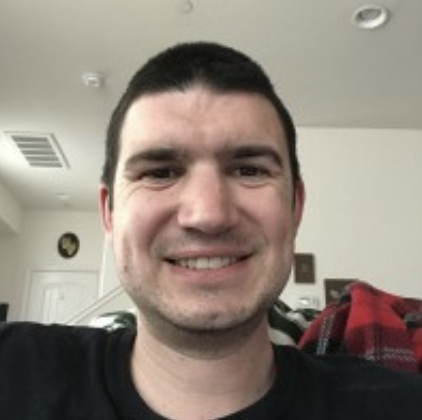 Kevin Strauss is a personal finance writer and homeowner based in the Los Angeles area. Being in one of the most expensive markets in the country, he's learned to maximize resources to plan for both his monthly expenses and future financial needs. Kevin has a passion for helping those in a similar situation navigate the complex world of personal finance so they can pay down debt, plan for the future and live out their dreams.  In addition to covering personal finance in depth on Loanry.com, Cashry.com, Debtry.com, Budgetry.com, Billry.com, Creditry.com and Taxry.com.  Kevin shares his expertise with readers who want to create budget-friendly habits across the web.