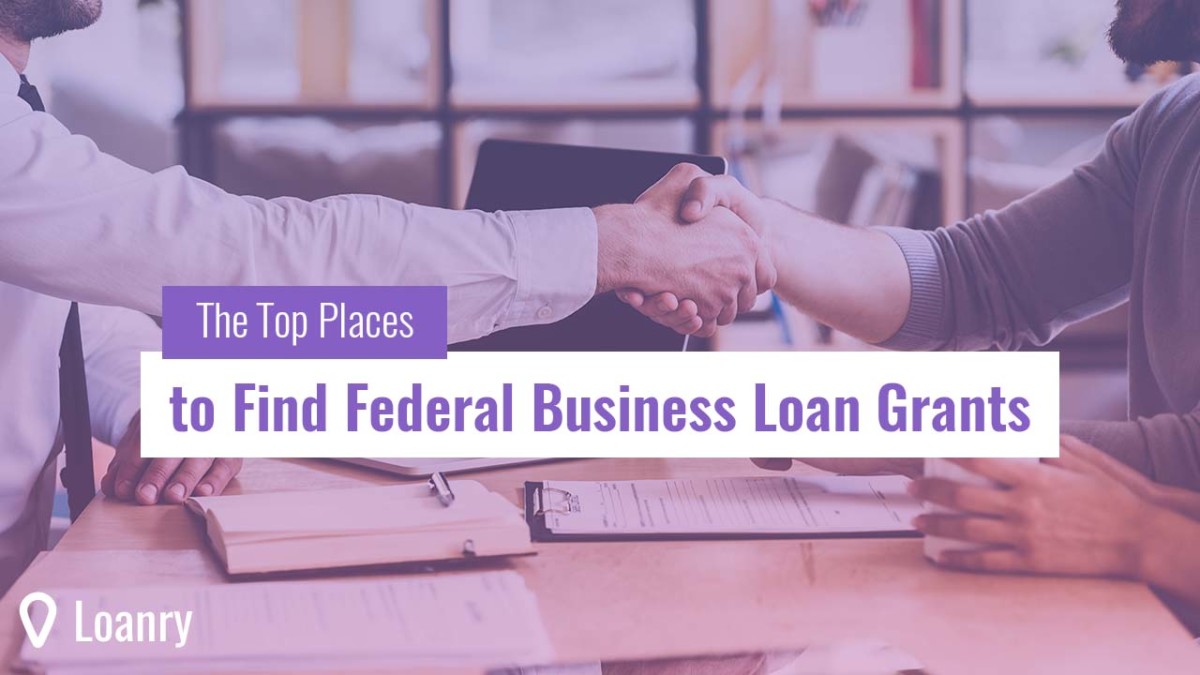 When you start a business, one of the biggest hurdles – funding – can seem unsurmountable. You can obtain funding using multiple means. One of the basic ways is to bootstrap your business, but if cobbling together small amounts from various areas of your personal budget and maxing out your credit cards does not appeal to you, you can go through the more formal approach of applying for grants or loans.
Best Places to Look For Federal Business Loan Grants
The federal government provides both grants and loans to small businesses. You can find both types of opportunities on the Small Business Administration website. But, since both options would take a really long time to complete the applications for, which of the two best suits your needs? If you still don't know, keep reading and you may get the answer.
The US federal government offers numerous grant programs to help small businesses fund their start-up, development, or expansion. Some of these programs only extend to specific industries or businesses in specific development phases. You will find most of these opportunities on the website grants.gov.
Small Business Innovation Research Program
The Small Business Innovation Research Program (SBIR) provides grants for entrepreneurial ventures that introduce a commercially viable technology innovation. SBIR focuses on specific areas of development such as clean and safe water, environmental/green construction, healthcare advancement, homeland security, and land revitalization. The program works in concert with numerous government agencies, including:
Departments of – Agriculture, Commerce, Defense, Education, Energy, Health and Human Services, Homeland Security, and Transportation
Environmental Protection Agency
NASA
The National Science Foundation
Small Business Technology Transfer Program
You often see the Small Business Technology Transfer Program (STTR) mentioned in tandem with the SBIR program. The government provides workshops on applying for the funding for both programs. It combines discussion of these two programs since many businesses eventually apply for both. While SBIR funding helps launch a technology, such as helping a tech startup fund development of its minimum viable product (MVP), the same company may later develop an expanded use for the technology. The STTR program provides grants for innovative research and development. There must be an existing technology involved, hence the connection to SBIR. STTR small businesses develop their technology in formal collaborations with research institutions. Not all US government agencies participate in the STTR program. Those that do include the:
Departments of – Defense, Energy, and Health and Human Services
NASA
National Science Foundation
Although they each participate in the STTR program and that program has its own application process, each agency also has a say in how things get done. These agencies set their own guidelines and grant deadlines. That means that the DoD may have an open STTR opportunity at a time when DoE or NIH do not. The federal website, grants.gov, lists all open STTR grants and specifies which agencies participate. Here is a brief rundown on the focus of each: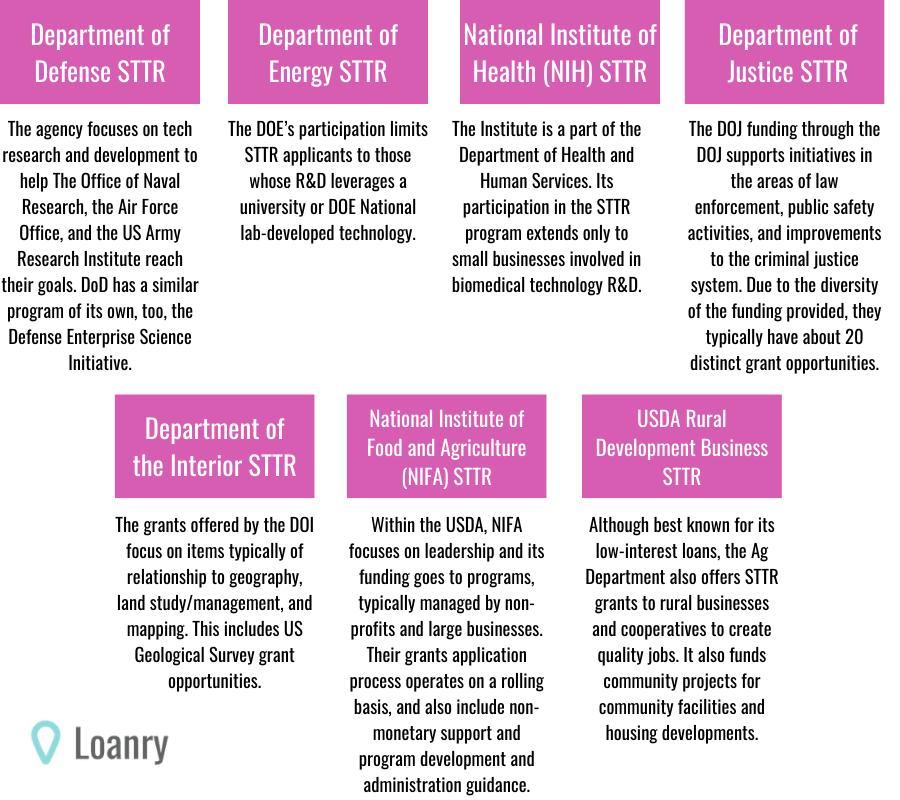 Whew! That's it for the STTR program. Now you know why it and the SBIR have their own workshop devoted solely to them. The vast program extends across numerous federal agency boundaries and though most use the STTR's mechanism for application, some add their own special twist to things. You must follow each agency's quirks and rules.
Federal Grant Programs That Support Service as a Type of Start-up Business
SBIR/STTR makes a great choice if your business engages in R & D, but unless you will create a minimum viable product (MVP)  that will eventually go into mass production, you cannot use the STTR option. You must develop an actual product to qualify for the SBIR. This means you cannot use these options if the business you start provides a service. There are federal grant programs that do support that type of business though. The Innovate HER program from the Small Business Administration provides just such a program.
InnovateHER Women Business Challenge
It hosts a grant contest to open only to women-owned businesses with a business plan. The company must offer an innovative product or service. Rather than apply to a federal level program, the applicant applies to a local Challenge hosted by a local organization. The local challenge winners advance to the semi-final round. Those winners compete at the national InnovateHER business challenge. They must pitch their ideas to expert judges who select the top three businesses. These three receive awards of $10,000 to $40,000. The business can be in the start-up phase, so it works well for those in the planning stage. The program also looks for businesses that improve or positively impact the lives of women.
Tired yet? There are a TON of business loan opportunities from which to choose if you are starting a new business or developing an existing one. The best way to get started is to visit the grants.gov website and peruse the grant programs. Each program has its own request for proposals (RFP).
Okay. Now, if you have never slogged through, I mean, read, an RFP, prepare yourself. If your dentist pulled your teeth without anesthetic, it might be more fun. Sorry to be so honest, but it is the truth.
RFP Application Details
I spent a lovely decade at the University of Oklahoma working in various nerdy, science, and weather/climate-related departments, and wow, have I read a lot of RFPs and written a ton of grant applications. RFPs require a pot of espresso. Nope. I did not mean an espresso shot. I mean you go brew a full pot of coffee but use espresso. RFPs describe the grant program, the specific offer, or need of the agency in excruciating detail. It also includes excruciatingly detailed information on how to format the application.
How detailed you ask?
Let me warn you. You must use the font they say to, the font size, the headers they specify, the order of the items in your line-item budget. You might break into tears while working on one. It is not a girl thing.
They do that because they need to compare actual apple to apples. They need to be able to lay a few budgets next to each other on a table or in a virtual desk and compare and contrast.
Sometimes, the directions for how to prepare the application packet actually goes longer than the application. Your RFP could be 30 pages, but your application will only take 20 to prepare. Go make your coffee now.
Choosing a Grant or Loan
At the most basic level, the difference between a grant and a loan boils down to whether you need to pay it back. A grant you get to keep the money without repayment while with loans you must repay all of the funds within a specified period. Some federal loans may charge zero interest or feature very low-interest rates.
The other truly basic difference is that with a grant, you must spend the funds exactly as the grant specifications say you may. With a loan, in most cases, you get to spend the funds in the way which you would like.
The thing they have in common is paperwork. You have to put together an application package. This requires a cover page with titling and categorical information provided by the grant funding application organization; an executive summary of both the need and the intended use of the funds; budget, typically line-item, and a budget description that details each line item; a description of any positions to be funded by the money; and a descriptive section that describes the details of the need, the reasoning behind the grant or loan request, delves into the existing research or product development, and explains the anticipated or desired outcome of the project.
Grants and loans do not provide a shortcut to successfully funding. You will put just as much time in as you would on landing angel investor funding or entertaining a venture capital firm. Some loans do require you to stick to the spending you detailed in the application. Read the requirements carefully.
Federal or Private Foundation or Lender Funding?
There are many options to finance your business. This article focuses on your federal funding options using business grants or business loans. Private foundations and your local banks also serve as options for funding. While this article focuses on the government, I will provide a quick, short list of private grant opportunities for small businesses:
Bill and Melinda Gates Foundation Grand Global Challenges
Caleb Brown Urban Entrepreneur's Community grant
Eileen Fisher grant program
FedEx Small business grant
InnovateHER Women Business Challenge
Nav's "Legitify Your Small Business" grant
Loans, You Can Take Out Loans, Too
Maybe you think that loans are not what you want. You do not want to pay back the money but wait. In many cases, a federal business loan makes great sense. That is because it helps you build your business credit while it funds your business needs. Plus there really is no business loan shopping since the sources remain so limited.
A government loan gives the new business the best chance at a yes. Most for-profit lenders refuse loans to anyone without strong credit and a great financial history. You do still need to have decent credit, but you can rely on your personal credit if the business is in the start-up phase. Like the grants, you must follow program guidelines including the repayment period and interest rates. These rates are far less than those in the for-profit sector though. Also, loans require no competition. As long as you are creditworthy, you will receive the money.
If you take out a loan though, you MUST pay it back. If you default on a business loan, you essentially lose your business. You can have your equipment repossessed. Your lack of repayment could also result in a business lien, a UCC filing, or cause you to need to file bankruptcy. If you do not pay back a business loan, you have ruined your credit. Your Dun & Bradstreet report will tell the dastardly tale and no organization will do business with you. You think I am kidding. Every business deal relies on your D&B.
Create Your Business D&B Account
Business does occasionally use Experian but typically relies on D&B reports. You must set up an account with the organization because it does not automatically monitor a business' credit. You must register with your FEIN. All federal grants and most of the federal loan programs require you to have a D&B.
Setting up the account is a simple process. You can do it online. I set up the D&B for my consulting firm in 2013 and found the process straightforward. You will need essential business information in front of you including your physical address, mailing address, banking information, and your FEIN. Let me say it one more time: you cannot apply for federal government grants without a FEIN and a D&B account.
Where to Find Federal Business Loans
Although the US federal government is huge, and I mean massive, the agencies that offer loans are few. There are two. Yes, really.
The USDA and the SBA.
That is it.
USDA
The USDA offers low-interest loans to agricultural producers. In case you wondered, an agricultural producer means a farmer or a rancher. The government and academia really LOVE fancy terms. The Department of Ag also offers help to spur the development of economic growth in rural communities. This means that some rural businesses related to agriculture may also qualify. You can apply for these loans through your local Ag Development office or online at the USDA website. While it might seem like it would be simpler to just go to the website, you will probably benefit from a visit to the local Ag office. The personnel there specialize in these loans and their knowledge can help you build a stronger loan package.
SBA
The SBA authorizes the loans and provides a government-backed guarantee so that lenders know their risk is absolved if you do default since the government will pay off the balance. The Administration offers a number of loan programs, each targeted toward a specific business need.
7(a) Loan Guarantee Program – This is the loan for startups and expansion. A business can obtain a loan of up to $5 million through this program
MicroLoan Program – This program provides loans for short-term purposes including office furniture, computers, transportation, or other goods. A business can obtain up to a $50,000 loan
504 Fixed Asset Program – Businesses with a business model the provides a direct benefit for their community can apply for these loans that offer a fixed-rate and a long term. The latter makes these easier to pay off since the length of time spreads out the payments so they are smaller. The typical community benefits include jobs or introducing needed services to an underserved area. A business can obtain up to a $5 million loan
Disaster Assistance – When a natural or man-made hazard impacts a home or a business structure, this loan program provides low-interest, long-term loans to fund property repairs to the pre-disaster condition
Every program requires a good business credit score and report. Each state has an SBA office. While you can use the website to apply, visiting in person can help you by letting you meet with a program representative who, like with the USDA loans, can provide tips and advice on how to best present yourself in the loan package.
In Conclusion
You can get a loan or a grant for your business to help with startup costs or to expand your operations. The federal government provides numerous programs for these grants and loans. Get started on the USDA and SBA sites for business term loan lenders and grants.gov and usa.gov/grants for competitive today.

Carlie Lawson writes about business and finance, specializing in entertainment, cryptocurrency and FOREX coverage. She wrote weekly entertainment business and finance articles for JollyJo.tv, Keysian and Movitly for a combined seven years. A former newspaper journalist, she now owns Powell Lawson Creatives, a PR firm, and Powell Lawson Consulting, a business continuity and hazards planning consultancy. She earned BAs in Journalism and Film & Video Studies from the University of Oklahoma. She also earned her Master of Regional & City Planning at OU. Her passion lies in helping people make money while reducing risk.