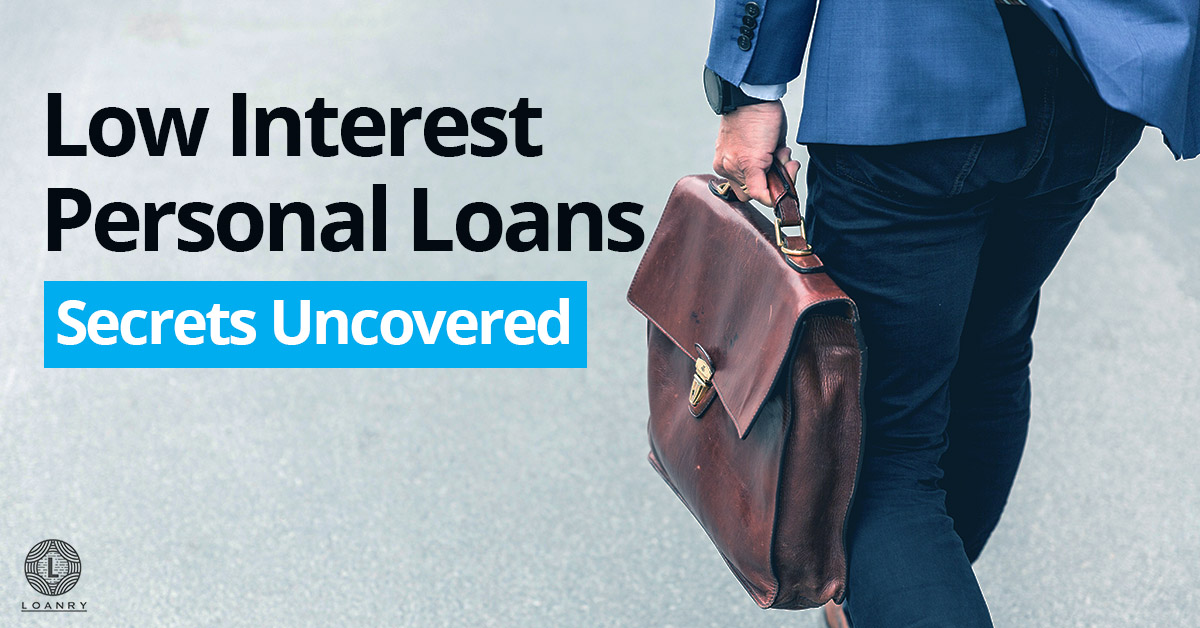 Personal loans are beneficial and can provide cash. Either it is for emergencies, vacations, home improvement, and other uses. Since there is no collateral attached to personal loans, they are often considered to be the higher loan option offered by lending companies. If you need a personal loan but are concerned about the interest rate that is often attached to them, continue reading to uncover ways to better your chances to receive a personal loan with a more favorable interest rate.
Low Interest Loans 101
There are low interest cash loans online and financial institutions. Both offering low interest personal installment loans for your benefit. Lower interest is, of course, relevant to your credit and financial situation. There is no silver bullet option, just good money tips to improve your position. Here are those secrets uncovered.
Know What Constitutes A Good Credit Score
At any point that you desire to borrow money or finance something, you can expect a lender to review your credit. Each of us has a personalized score. It changes depending on our credit activity, how much debt we accumulate, payment history, and types of debt we have gathered. The lowest interest rates available are awarded to those who hold what is considered a "good credit score."
Sitting at 740 or above, your credit score determines your risk for obtaining low interest personal loans and not paying it back. Low-interest personal loans are often considered unsecured. This is mainly because of the lack of collateral. Therefore making lower rates something harder to receive, and more dependent on your financial past.
Scores that are between 650 through 739 are often still considered good scores. However, the rates that are offered are a median rate. It is between low and high offers to other customers with low or high credit scores. Before you apply for a personal loan with fair credit, you should work to get your credit score above the 740 thresholds.
Review Your Debt
Do you currently have outstanding debt? Before you get a low interest personal loan, you should consider the outstanding debt that you currently have. Outstanding debt can include balances that you are carrying on your credit cards. It can also include a mortgage, car payments, and any other debt that you have accumulated and are making monthly payments on. The secret to low interest personal installment loans is to have minimal debt. Your lender will consider your personal loan in addition to the current debt. Therefore they determine if this is something you can afford based upon your income, and how much of a risk you are for them.
When reviewing your income, these lenders will determine whether or not you have the right amount of funds coming in. They want to make sure you can cover the loan and not be a serious financial burden on yourself. These lenders review the overall debt that you have and the income that you are bringing in to develop a ratio.
Before they will lend you money, they expect that even with the anticipated loan payment, you will still be at or below this ratio. Making sure that this loan will not cause a financial burden for you. For minimum loan amounts, you will need an income of approximately $30,000. The higher the income you have, the more money you can borrow.
Explain Your Credit Inquiries
Do you have several credit inquiries? If so, consider that multiple hard hits can negatively impact your credit score. These inquiries will stay on your credit report for two years before falling off. More than two credit inquiries in the last two years can cause a lender to raise their eyebrows in concern. Multiple requests for credit can cause a red flag and have them question how much of a risk you may be.
A secret is to be ready to explain these credit inquiries. Especially if these inquiries are within only a few months of you applying for a loan with that lender. Let them know that you may have been shopping around for insurance, or refinancing a different debt, should that be the case.
Where To Find A Low Interest Personal Loan
If you want a low interest personal loan, you can find these options in two places. They are available online as well as in your local banks and financial lenders.
Get Personal loan Online
With the new wave of technology and the access of the internet at our fingertips, traditional lenders are no longer the only option. Many lenders that offer low interest personal loans are available online. They are also conveniently located online by using a loan finder service tool. Those are made for you to search out the leading lenders and receive pre-approved offers. Some of your banks and lender with physical locations even offer online applications and pre-approvals. At least for their customers with good credit. Search around and review the offers presented in order to determine which options have the lowest interest. You can also leave us your information in the form below and get offers from lenders who may be willing to give you a low interest loans. You can expect offers within minutes.
Credit Unions & Banks
You can also still achieve a low interest personal loan with your bank or credit union. At least if you meet the credit score qualifications. A quick and easy application is available online for you to complete. Then you can go into the branch to determine the status of the loan. Prior to this ability, you would have needed to take paper forms to the bank or credit union. Then sit in there for several hours while they determined whether or not you could access the loan.
Compare Loan Companies
Before you accept the first personal loan offer, you should shop around and ensure that you are receiving the best deal available. You need to review all of the fees that are associated with the loan. Indeed some lenders have additional fees in their loan contracts that are not required by competitors.
Each lender has annual percentage rates (APR) and interest fees that are associated with their loan package. When you use a loan service finder tool online, review the pre-approvals thoroughly for the different rates that are posted. Narrow down your list to the three best options available based on fees. Don't forget to read their loan contracts.
You should also consider the approval process of these lenders and the ease of receiving your loan. If you have two identical loan offers, but one will provide a check for you to deposit and the other will direct deposit the amount, then why not take the second offer with the direct deposit? Weigh all of the pros and cons of each lender before you settle on a decision.
Conclusion
Despite there are a variety of options for personal loans for those with less than good credit despite what is advertised, there are options available for those with good credit. Those can get a low interest personal loan. The secrets to obtaining low interest cash loans online are to thoroughly research the offers available. Review the lenders and their fees. Also, it is your responsibility to maintain your credit score so that you are eligible for these options.