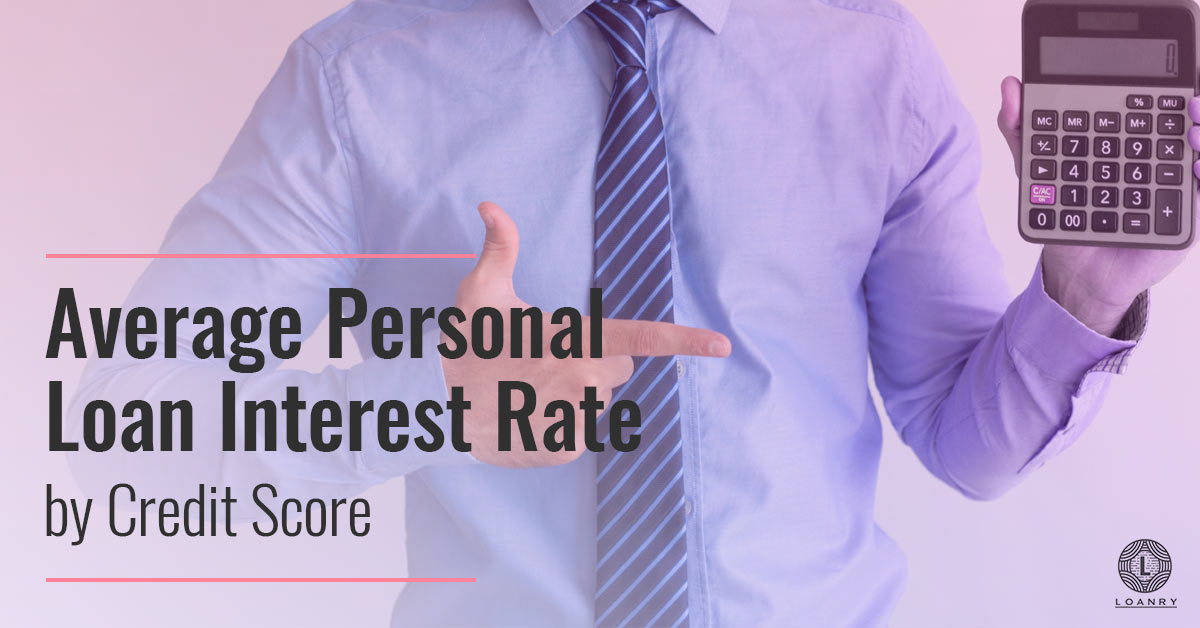 Knowing the average personal loan interest rate can help you determine whether or not you want to go forward with the application process for a personal loan. The average annual percentage rate on personal loans can go from 10% to 28%. There are different factors that go into the rate you get, including your creditworthiness, the length of the loan, the lender, and the loan amount.
Average Personal Loan Interest Rate Using Credit Score

Your credit score will be one of the largest determining factors for your average personal loan interest rate. The higher the score, the lower the rate will be. Those who have an excellent score between 720 and 850 should be getting a rate between 10% and 12%. Some individuals can even qualify for lower rates. If you don't have what is considered an excellent score then you could consider a 0% balance transfer credit card instead of a personal loan as a way to save some money on interest rates.
Good scores are between 680 and 719 and the average personal loan interest rate is 13.5% to 15.5%. For those who have poor credit and scores below 640, the interest rate can be between 18% and 36%. Not only can the interest rate be higher but also you may have trouble qualifying for a conventional personal loan. There are other options, such as payday loans, but it can be easy to fall into a never-ending debt cycle.
Average Personal Loan Interest Rate by Lender
Interest rates on unsecured personal installment loans can range by lenders. Credit unions and banks will offer competitive rates but you may find the lowest rates from online lenders. If you have a lower credit score, you may have better luck with an online lender. Each lender will have various types of loan offerings and different ways to evaluate a potential borrower. In order to find the best average personal loan interest rate for your situation, do some comparison shopping before you decide to take out a personal loan.
What Kind of Personal Loan Should You Consider?
A good average personal loan interest rate will vary depending on what you are using the loan for, the loan term, and the loan balance. You may not qualify for the best loans a lender offers but can still be in the average. It's best to apply to multiple lenders to see what rates you can qualify for based on your specific situation. If your rates are too high and you won't be able to pay back the loan with the interest rate you are given then consider other options. You may also want to work on improving your credit score before you apply for the loan. Personal loans for good credit usually come with better terms.
Factors That Affect the Average Personal Loan Interest Rate
Lenders look at many different data points when they make a decision about whether or not to extend an offer to you. The biggest factors are credit score, credit history, employment stats, and debt-to-income ratio. You have probably already heard that your credit score will be the biggest factor in whether or not you qualify and it can also affect the average personal loan interest rate you get. Many lenders will have strict cut-offs for credit scores but some lenders, especially online, can be more flexible. Other factors, like your credit history, also play a role.
Your lender may consider your employment history and current financial status. Some lenders ask that you provide proof of income, whether it's part-time or full time. Some lenders can require that you have a minimum personal or household income and if there is a requirement for this, you will need to show documentation.
You also need to make sure that you work with a credible lender. Doing your own research is always a smart idea, and you can also go to Loanry for guidance. We partnered up with Fiona to bring you reputable lenders.
Why You Should Care About Personal Loan Interest Rates
Interest rates work both ways. When you borrow money, the interest rate is the amount the lender charges you for the use of their money. On the other side, when a bank borrows money from your savings account, you then earn interest the bank pays for the use of the funds. Interest rates will drive U.S. economic growth. This will impact the costs of other loans and how much return you get from your savings.
Smart Money Tip!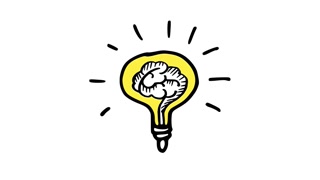 By paying attention to the current interest rate, you can decrease the amount of money associated with borrowing money or you can increase the investment earnings. High interest rates will give lenders an advantage and lower interest rates will benefit borrowers. If you see that interest rates are dropping then this is the perfect time to start looking at personal loan options.
Why Your Credit Score Matters for Personal Loans
Your credit score will give lenders an idea of how you have handled money and debts against different statistics that will predict your behavior. If the statistics are against you then there will be a chance that you will be turned down for a loan. If you do get a loan then there is a good chance the interest rate will be higher if your credit isn't good.
Why You May Need a Personal Loan
There are a number of reasons why you may want to borrow money with a personal loan. There are also different types of personal loans. Many people don't have hundreds of dollars saved up in order to pay for expenses and need a personal loan.
You may need a personal loan to cover a medical cost, to pay for car or home repairs, or even to fund a vacation.
Getting a Personal Loan with Bad Credit
Anything under 650 is considered a bad credit score and this will make personal loan interest rates higher.  However, it' s still possible to get a personal loan for bad credit. You may have a low credit score because you have made late payments. It is possible to get a personal loan with bad credit but it's not as easy as walking into the neighborhood bank and filling out an application. Online lenders will give you the best opportunity to find a personal loan with bad credit. In the majority of cases, you may need someone to co-sign with you.
What Can You Do
The best option for getting a personal loan with bad credit is to loan shop. First, look at the amount of interest you will be charged. You want to find the lowest possible rate in order to save money. The next thing you want to look at is the amount of time you will be given to repay the loan, since this will also affect how much interest you will pay. Also consider the payment amount you will need to make. This will be based on the amount of the loan and the time period you have for paying it back. You want to make sure you can fit the payments into your budget and not get yourself into greater financial hardship.
Even if you need the money, there can be some cons of getting a personal loan with bad credit. The interest rate will be higher than if you were to have a better credit score. The length of time you are able to pay back the loan may also be shorter. Be sure to keep in mind that you can also be limited in the amount of money you can borrow. Personal loans can help improve your credit so it's important that you get into a situation where you will end up improving your score in the end.
Should You Get a Personal Loan if You Have Bad Credit?
Whether or not you get a personal loan with bad credit will depend on your situation. You are the one that knows your situation best. You may be facing a medical bill or losing your home with a missed mortgage payment. This would mean you are in a situation where you need cash now and don't have time to improve your credit score before applying.
The best chance you have of getting a personal loan with bad credit is to start before you actually need money. Evaluate your different options so you can go to a reputable place that will help you improve the chances of getting a personal loan.
Getting a Personal Loan with Good Credit
If you have good credit and know that you can get approval, there are still some things you should consider.
It is best to think about getting a loan ahead of time if you can. This way, you can boost your credit score even more. Refrain from any new requests and stay current on your bills to boost your score even more and get more attractive offers.  You will want to ask for the right amount of money. You need to get what you need but you also don't want to end up with a payment you can't afford. If you get behind on bills, including your personal loan, then it can reverse the hard work that you have put into getting a higher credit score. If you are using a personal loan to pay off your credit card debt and consolidate then be sure you are cooling it on new spending so you don't have to be in the same position again.
How a Good Credit Score Helps You Save on a Personal Loan
A lower interest rate you get with good credit means that you that you will pay less money back throughout the length of the loan.
Getting a Personal Loan with Fair Credit
If you find out you have a fair credit score then you may be wondering if it's worth your effort to get a personal loan.
A personal loan with fair credit may mean a higher interest rate, which means it costs you more money. With fair credit, you could still have plenty of options and this makes loan shopping even more important.
How to Get a Personal Loan
If you have already checked your credit score to get an idea of the personal loan interest rate that is available to you, there are still some other steps for getting an unsecured personal loan. Once you have compared interest rates, you can get prequalified for a loan.
Prequalifying for a loan can give you a sneak peak at the kind of offers you will get. During this prequalification process, you can be asked for some information. This includes your Social Security Number, income, monthly debt obligations, work information, and previous addresses. You may not prequalify if you have a low score, too little income, a high debt-to-income ratio, or little to no work history.
When you shop around for personal loans, compare the loan amounts, the monthly payments, and interest rates. Don't just look at one source. Compare your other offers with other credit options. Depending on the interest rate, there may be better options to get the money you need.
There are a lot of reasons you may need a personal loan. Luckily there are things you can to help you qualify for a personal loan.#loan #personalloan #medicalloan #emergencyloan
Check it Out ?https://t.co/LJ7BzlNBYb pic.twitter.com/thwgSdhzfO

— Loanry.com | Loan Shop ? (@LoanryStore) August 6, 2019
Read the Fine Print
It's important to read the fine print. This is important with every financing option, including personal loans. Make sure to watch out for prepayment penalties. Many online lenders won't charge a fee for paying off the loan early, but some online lenders will. If you want to prepay the loan early, you will need to make sure that there is no fee. Some lenders will require automatic withdrawals. If a lender requires that then you may want to set up an alert with your bank so you can avoid overdraft fees. You also don't want to be caught off guard with any APR surprises.
You may want to look for consumer-friendly features. This includes payments being reported to credit bureaus, flexible payment features, and direct payment to creditors. Your credit score will benefit if your lender reports on-time payments to credit bureaus. Most lenders will only report late payments that harm your credit score and not on-time ones.
When you have selected a lender that matches your needs, you will then get final approval. When you get final approval, the lender will run a hard credit check that could knock a few points off your credit score. Upon final approval, you will get the funds you need.
How to Improve Your Credit Score
There are different ways that you can improve your credit score to increase your chances of getting a personal loan and get a lower interest rate.
Pay Bills on Time
When lenders request to see your credit score, they want to know how reliable you are when paying your bills. This is due to the fact that past payment performance can be considered a good predictor of any future payment performance. If you pay late or settle an account for less than what you originally agreed to pay, it can negatively affect your score. It's not just credit cards and loans that you need to pay on time but also your rent, phone bill, and utilities. While on-time payments for rent or utility bills aren't usually reported, late or missed payments will be. Use the resources and tools available to you, such as automatic payments, in order to make sure that everything is paid on time.
Pay Off Debt and Keep Balances Low
Credit utilization ratio is another factor in credit score accumulations. This ratio is calculated by adding all of the credit card balances at and then dividing it by the total credit limit you have available. Lenders typically want to see low ratios below 30%. Those with good credit scores will have very low utilization rates. When you have a lower ratio, it tells lenders that you don't max out your credit cards and can manage your credit well. You can influence your credit utilization score by paying off debt and keeping your balance low.
Be Careful about Applying for New Credit
Don't open a new account just to have a better credit mix since it probably won't improve your credit score much. Applying for new credit that you don't need can harm your score in different ways, from creating too many hard inquires on your account to tempting you to overspend and then accumulating more debt.
Don't Close Unused Cards
You should keep unused credit cards open if they aren't costing you money in annual fees. If you close an account, it can lower your credit utilization ratio. If you owe the same amount but have fewer open accounts then it can lower the score.
Be Sure to Fix Any Inaccuracies on Your Credit Report
Be sure to check your credit reports at the three credit reporting bureaus. Incorrect information could be dragging down your scores. Dispute any wrong information and be sure to get it corrected as soon as possible.
Unfortunately, there is no quick fix for bad credit scores and you have to pay bills on time and wait. Time is your friend when it comes to improving your credit score. The length of time it takes to rebuild your credit history can depend on the negative change. Most negative changes in the credit score are because of an addition to a negative element on the credit report, such as a delinquency. These new elements will affect your score until there is a certain point. Inquiries will remain on your report for two years, while delinquencies can remain on the credit report for seven years.
It may be that you don't necessarily have a bad credit score but you don't have a credit score at all. A thin credit file means that a bank or lender isn't able to calculate a credit score since there isn't enough history. There are things you can do to improve your thin credit file, such as applying for a secured loan or becoming an authorized user on someone else's credit card that has a good credit score.
What You May Not Know About Credit Scores
Credit scores are complex calculations and the more you know about credit reports, the more you can take control of your own credit and get approval for loans and better interest rates. Negative information on the credit report can lower the score. This information will remain on your credit report for a set period of time. Late payments can appear for seven years from the date of the first missed payment. Bankruptcies can remain on your report for seven to 10 years, depending on the type of bankruptcy.
You don't need to carry a monthly credit balance to build your credit history. It's possible that you can pay off the credit card bill every month and it can still help your credit standing. This not only helps your credit standing but it also helps that you don't get into trouble with debt.  If you settle an account for less than the full amount you owe, it can also harm the score. Any time you fail to repay a debt you originally agreed to, it could have a negative effect.
A good credit score can open doors for you. It helps you qualify for the best interest rate and terms when borrowing money and influence how much you pay for other things. Landlords can even consider your credit score when you apply for an apartment.
Conclusion
The average personal loan interest rate can depend on a few different things. Your credit score will be a huge factor in what your average personal loan interest rate will be. There can be a number of reasons why you need a personal loan and the process of getting a loan will involve rate shopping. Your credit score will be a huge factor in your average personal loan interest rate. Improving your score before you apply for a loan and doing some loan shopping will help you make sure that you get the best possible rate.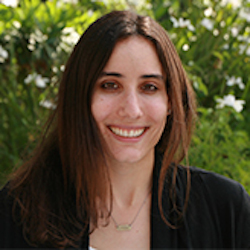 Jackie Strauss is a finance writer with a background in economics living in Los Angeles. She has a passion for helping readers learn more about personal finance, insurance, home loans and paying down debt. As a college student during the Great Recession, she has had to learn budgeting and money saving techniques to become a new homeowner.