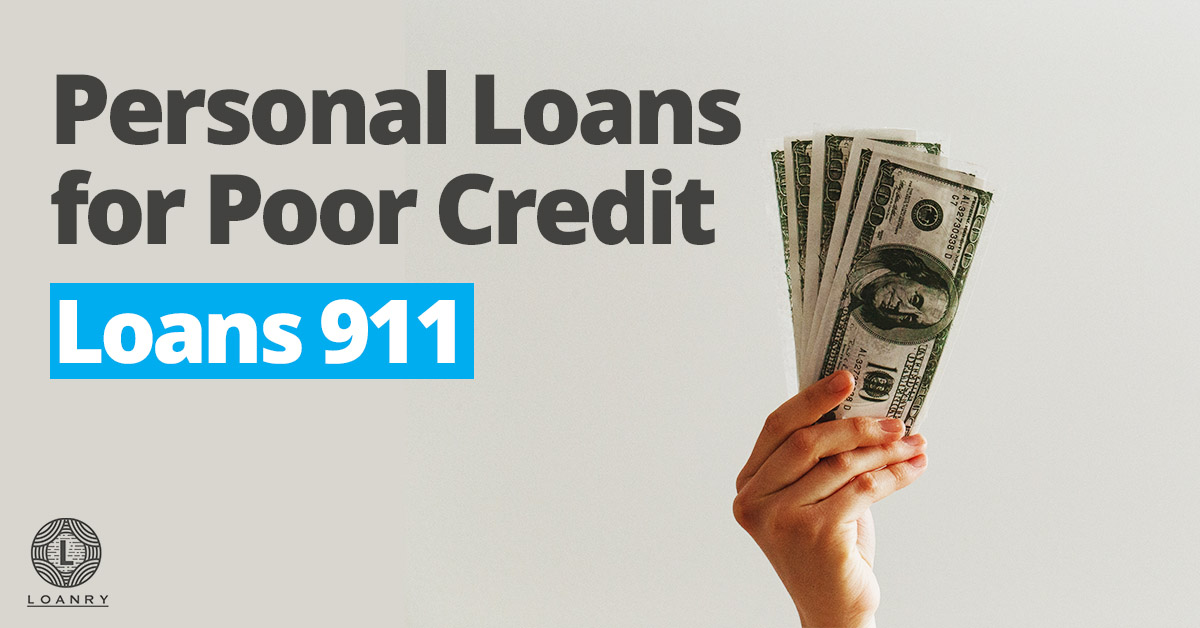 There are many reasons why people sometimes need to apply for quick cash loans or other financial help. Personal loans for poor credit are now the fastest growing loan type in the United States. They are now usually easier to get approved and the funds are quickly dispersed. Traditionally, people with low or bad credit scores have found it difficult to apply for any loan type.
Personal Loan With a Bad Credit? Here is What You Can Do
Banks and other lending institutions weigh a person's credit score when they apply for a loan. The score can affect eligibility and the kind of interest rate that will be offered the borrower. If you are looking to borrow money using personal loans for poor credit, then here are some things that you can do to qualify.
Over Coming the Credit Score Problem
Having a credit score of 550 or less can make it challenging at best to apply for and get approval for a personal loan. It can happen if you take the right steps before submitting your application.
Working on Credit Rebuilding
A score under 580 is considered a bad score for personal loans. The next level of credit scoring is considered to be in the fair range. It might surprise you that just paying down your debt a small amount or just waiting for six months before applying can actually help your score. Another way to raise your credit score is to pay bills on-time for a six-month window.
This puts a good track record of payments. What helps raise your score. It would also be a good idea to monitor your score through one of the many free credit score rating websites. If you are in need of a loan sooner than later, you can apply for your personal loans for poor credit. At least, as soon as the score goes over the 580 mark.
Look to Find a Lender that Deals with Bad Credit Scores
There are lenders available to use for personal loans for poor credit that consider a bad credit score for the interest rate but not for eligibility. They are more willing to approve cash loans bad credit than many other lenders. In many cases a terrible score is overlooked and the approval is granted.
However, the interest rate you will be offered will be high. But this might be the step you need to get a better rate someplace else. Once the loan has been approved and issued, the funds can be used to pay off credit card debt.
In a few weeks that can affect your credit score by raising it. At this time it would be worth looking at another personal loan with a lower interest rate. If you get approved, simply pay off the higher interest loan and settle into paying off the new loan.
Many of the high interest loans will be smaller in amount. Personal loans for poor credit can range from $1,000 to $5,000 or more depending on the lender. The term to pay back the loan may be shorter than normal. An average payoff time is right around 24 months. When applying for a high interest personal loan you will be required to show proof of employment and proof of payroll. This helps them see what you are able to handle by way of a loan based on your current debt to income ratio.
Come With a Cosigner to Get Our Emergency Cash Loans
A cosigner is a person who is willing to sign up for personal loans for poor credit with you. If you are thinking of using a cosigner, then find a person with an awesome credit score. The lender will look at their credit score and determine if it is good enough for the loan you are seeking. Usually there is no problem when using a cosigner.
The lender just wants to make sure that they can get their payment on time each month. A cosigner is a person that is willing to pay on the loan should you not be able to make the payments. This puts a lot of credibility on you to pay it off, so they do not have to pay it off.

Borrow From Someone You Know and Trust for Personal Loans for Poor Credit
If a bad credit score is keeping you from getting a personal loan, then you might want to consider borrow money from a trusted friend or family members. You can borrow a smaller amount to pay off just enough of your debt which will cause your score to rise.
Once you get your score to a level that you can borrow the rest of the money, then simply apply for a new personal loan. As always it is a smart move to detail out all the conditions and agreement plans just so there is no confusion or fights in the future.
Bring in the Equity for Personal Loans for Poor Credit
Most people really do not like having to bring in their personal assets to get approval for a loan. But it is one way to get the money you need. A loan that includes an asset is a secured loan. In case of a loan default the item is taken and sold to satisfy the remaining balance of the loan. Here are some things that would qualify as an asset for a loan:
Home equity.
An automobile.
Financial accounts.
Personal property.
Watercraft.
These types of loans are only issued for the value of the object being presented as an asset. In most cases an appraisal will be needed from an accepted appraiser in order to determine the objects true value.
The Option to Reconsider
Nothing is ever final until both sides agree that it is over. If you are rejected, take the time and speak with them about the reason why you were denied. You might ask them what it would take to see that you get an approval. This is where you will have to prove your case. The reasons that you present will need to be strong reasons why they should reconsider your application.
One strong reason that you can use supposing it is true it to point out a significant pay raise coming your way. The lender may require a letter stating the raise is coming, and they will need to know when. It might delay the loan being approved until after the raise takes effect.
Conclusion
There are many ways you can improve your credit score. By taking these simple steps you can begin the process to getting the help you need financially. It will take some time and effort to get your credit score up but it will be worth the effort since it can help you get a lower interest rate and the approval you are looking for.