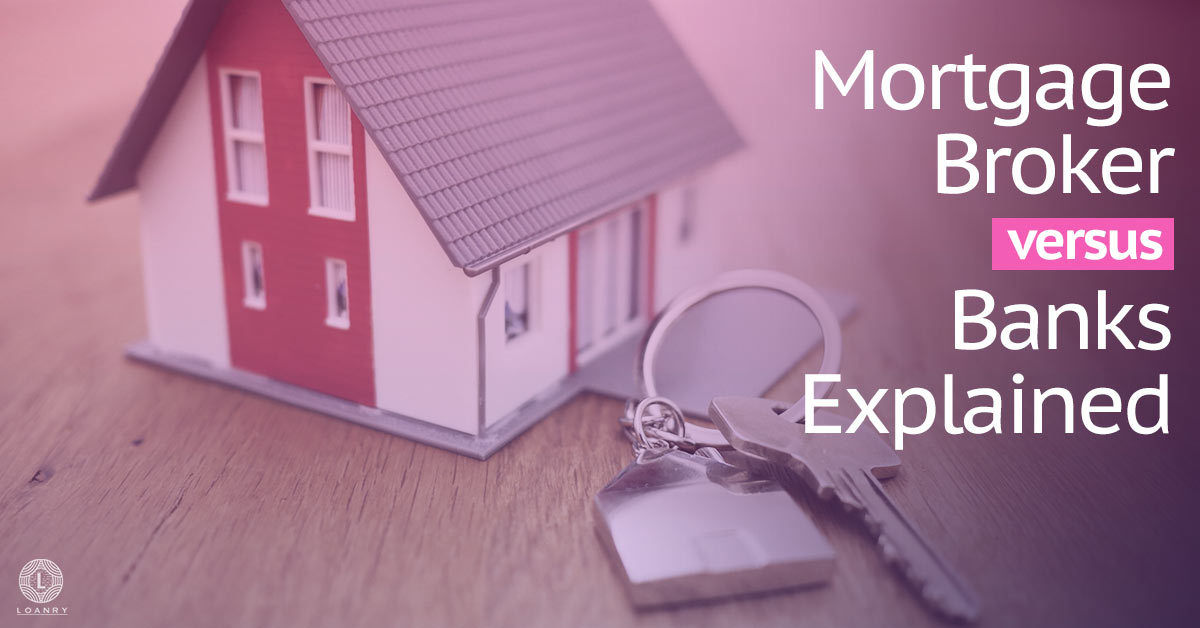 Buying a house is an important part of life. It is exciting, scary, and stressful all at the same time. There are so many things that you should know when you are preparing to buy a house. When you feel like you do not have all the information, it can be a more stressful time. While there are many details that go along with home buying, there is one that is not talked about much. That detail involves a mortgage broker. You may not even know what a mortgage broker does. Do not worry about that because it will all be explained in the article. Continue reading to find out the differences between a mortgage broker and a bank so you can choose the right one for you.
How Do I Know If I Should Buy A House?
Buying a house is the largest purchase you will make in your life. It is the most expensive and probably the one that will cause you the most headache for years to come. You should make sure you are ready to make the plunge into homeownership before you even start looking at houses. There are a few key items to indicate if you should buy a house now, or maybe wait a little longer. Making sure you are ready for the responsibility is key. While it makes sense to be nervous about taking on a mortgage and the upkeep of a house, if it makes you feel completely unprepared then you may not be ready, yet.
If you have a secure job and believe that you are going to stay where you are for a while, then now may be a good time to buy a house. When you buy a house, it makes you feel a little more stable in your life and community. If you know you want to stay where you are for a while, buying a house may be a good idea. Perhaps you are interested in getting a tax break. If you do not have a mortgage to claim, you are missing out on a tax break and could pay higher taxes. Owning a house also gives you the opportunity to earn equity in something. As you pay the mortgage, the home becomes yours. When you have paid it off completely, you own it and it becomes your largest asset.
What Is A Mortgage?
If you think that you are ready to buy a house, there are some details that you need to understand. A mortgage is an agreement between you and a lender. The lender agrees to allow you to borrow a significant amount of money to purchase a house and property. You promise the lender that you will make a payment each month to repay the loan until the agreed upon time has ended. At the end of that term, the mortgage has been paid and you are now the sole owner of the home and property. If you do not pay back the mortgage, the lender has the right to take your home.
When you borrow money for a mortgage, you are borrowing the cost of the house, but you are also paying interest on the money you borrow. The amount of interest you pay is directly related to your credit. A mortgage broker may be able to help you find a mortgage with a lower interest rate. It is important to note that when you are considering the purchase of a home, you should not only shop for a house, but also do some mortgage loan shopping. Not all mortgages are alike and you have to find the one that is the right fit for you.
Mortgage Broker versus Banks – Which One Is Better For You?
Let's get to the point and explain one possible dilemma you may have when getting a mortgage. This dilemma is whether you need a mortgage broker or a bank. Read on and find out what are the pros and cons of each, which one is better for you, and more about every option.
What Is A Mortgage Broker?
I would like to be clear here by saying that you do not need a mortgage broker to get a mortgage or to buy a house. However, you may want to consider at least talking to a mortgage broker to see what value he or she can provide to you. Remember, anything you can do to make this experience easier for you, you might want to consider. A mortgage broker is there to help you. Yes, of course, this person wants to get paid to provide you a service, but the service is completely to your benefit.
A mortgage broker is basically the middleman for you. This is the person that finds you the best loan with the best rates for your credit score. This person works for you to find the right fit for you. This is the person that works with the banks and applies for several different loans for which you may qualify. Typically, a mortgage broker has great relationships with the banks and works hard for you while you sit back. They are individually licensed and do not work for a specific bank or lender.
This person handles most of the work for you. He or she gathers all the documentation that you need, pulls your credit report and history, as well as verifies your employment and income. He does this all in a short turnaround time because he is completely dedicated to providing this service. Once you pick the loan that you feel works best for you, the mortgage broker interacts with the underwriter for the lender, your real estate agent, and the closing company to make this transaction as easy and simple for you as possible.
Do I Need One?
You certainly do not need a mortgage broker to buy a home. The real question should be do you want one? A mortgage broker makes the process easier for you, but also takes it all out of your hands. I know some of us like to be in control of every step along the way. If you are that person, you might not find much value in a mortgage broker.
If you someone that stresses easily and finds comfort in someone who is an expert doing the dirty work for you, then a mortgage broker might be the way for you to go. In addition, using a mortgage broker can save time for you. They can save you the time it takes for you to fill out loan applications. Once you get a response from the lenders with loan estimates, you are going to want to do a side by side comparison of those estimates. A mortgage broker can help you with those comparisons. If there is any interaction with the underwriter after you have decided which lender you plan to use, a mortgage broker can handle that for you.
Does It Cost More For A Mortgage Broker?

There are fees associated with using a mortgage broker. If you are considering using a mortgage broker, you should be aware of the fees and how they are paid. There are two basic types of mortgage broker fees. One is lender based compensation and the other is borrow based compensation. The broker decides how he or she collects the fees, so it is important for you to ask before signing a contract with a broker.
Lender based compensation means that the lender pays your broker's fees. Those fees are passed along to you in your mortgage, so you end up paying the fees for the life of your mortgage. The downside to this type of fee schedule is the broker may decide to go with the loan that pays a higher fee to them. Borrower based compensation means that you pay the fees at the time of closing. This is often in an origination fee, which varies on the state, your broker and the amount of your loan. The downside to this is you have to have this money at the time of closing. The positive side to this is your mortgage payment is not inflated by the cost of your broker's fees. You also do not have to worry about the broker selecting a lender that pays a higher broker fee.
Keep in mind, no matter what mortgage broker you use, there is always be an additional fee to your residential mortgage. It may be worth it to you to pay that fee for the peace of mind using a broker gives you. If you have the money to bring to closing to pay for a broker, then this may be the best option. Just be sure no matter which choice you make, it is the right one for you at this time.
What Does A Bank Offer?
A bank does not really offer more than a mortgage broker offers to you. If you have a long-standing relationship with a bank, it might make more sense for you to use that bank. Often times, your real estate agent may have a relationship with a lender that you can use for your mortgage. There are always fee associated with buying a house and obtaining a mortgage. Even if you use a mortgage broker, you still need a lender to give you the money. That lender has fees of their own, which they pass along to you, either in your mortgage or at closing. If you utilize the services of a mortgage broker, there are fees on top of the lender's fees.
The only real benefit to going directly to a bank instead of using a mortgage broker as a middle man is that you do not have to pay additional fees. If you already know which bank you want to use, there is no real reason to use a mortgage broker. You are adding fees that you do not have to pay on top of the lender's fees.
But, if you still don't know where to look for a mortgage loan for your new home, maybe Loanry can bring some options to you. The only thing that you need to do is to enter your information and see if you qualify:
Are Bank Fees Different?
The fees that a bank charges are different from the ones a mortgage broker charges. You always have to pay the bank fees when you borrow money, however, you only have to pay broker fees when you use a mortgage broker. So you should be aware of the fees that you will have to pay as part of your mortgage. You will get the total cost that you have to bring with you at closing. And you should have an idea of how much money is expected of you in advance. You may not be given the actual number until a few weeks before closing. That may not be enough time for you to gather the money you need.
Some of the fees that a bank may charge are:
Origination fee – This is a fee that lender charges you for handling all aspects of your loan. This covers their administration costs, application fees, underwriting fees, processing fees and really any other fee that they would like to add. You must bring this money to closing. It does not get included in to your mortgage payments.
Points – This is something that you can negotiate with the lender. You can lower your interest rate by paying points. You must pay for these points at closing. One point will cost you about 1 percent of your mortgage, or about $1,000 for every $100,000 borrowed. Each point you pay can reduce your interest by about .25 percent. This allows you to pay some of your interest up front so it is not attached to your mortgage payments.
Other Fees – There are other fees associated with buying a house. You have to pay for an appraisal and title insurance. You may be able to negotiate the payment of these items. Most of the time you have to pay these fees at closing.
Why Does My Credit Matter?
Your credit matters because your credit score directly impacts the interest rate you receive. Your credit score is a three digit number that appears on your credit report. And your credit report gives you a detailed list of all of your credit activities. It shows your payment history, how much debt you have, and how you use it. And it can also show the age of your credit. It shows all of your late or missed payments and even loans on which you have defaulted. Your credit score is also highlighted on your credit report. Your credit score gives lenders an indication of your credit worthiness.
You should know your credit score before you attempt to get a mortgage. One way you can do that is by pulling a copy of your credit report. You are entitled to a free copy of your credit report every year. When you want to buy a house, it is a good idea to look at your credit score about 4 or 5 months before you apply for a mortgage. You should also begin looking at the mortgage rates. A 740 or above is a great credit score. Anything between 680 to 739 is average. A score between 620 to 679 is fair. Anything between 580 to 619 is poor and a score below 579 is bad.
You should also know that when you apply for a mortgage, the lender looks at your FICO score and the credit score. The difference with a mortgage is the lender pulls a credit report from each of the three credit bureaus. Typically all three scores are a little different. As a result, the lender uses the middle range score. So the way that looks is if your credit scores are 600, 620, and 650, the lender uses 620.
Can I Improve My Credit?
You can still get bad credit mortgage loans, but it is always a good idea to improve your credit score. While it is possible to improve your credit, it does take consistent and hard work. You must be prepared to make some compromises so that you can get your credit score to increase. One of the best ways to improve your credit is to review your credit report for errors. If you find any, you should work to correct them immediately. If you can have errors removed from your credit report, you can increase your credit score.
After that, you should make every effort to reduce your debt as much as you can. The higher your debt is means the lower your credit score is going to be. The lower you can get your debt also means the lower your debt to income ratio is going to be. The lower your debt to income ratio means the higher your credit score. Lenders prefer to see your debt to income ratio below 30 percent. Another way to improve your credit is to increase your income. You may not be able to change your income, you can get a second or side job. This allows you to take all the money you earn from your second job and put it towards paying off your debt. This may help you to cut the amount of time it takes you to pay off your debt in half.
Do I Need A Down Payment?
Yes, you typically always need a down payment. There are some grants or loans that do not require you to have a down payment when you obtain the loan. The down payment is the money you put down on a house. You pay this money at closing. You do not borrow this money from the lender. So you need to provide this money on your own, out of your pocket. This is the amount of the purchase price house for which you pay. This money is supposed to come from your savings account. You can pay it electronically from your bank account, or with a check, or with a credit card. This money is not included in the amount of money you take out for your mortgage.
The higher your down payment that means the less money you borrow from the lender. This also means that your monthly mortgage payment is going to be lower. You may hear many people debate over the correct amount that you should put down with a down payment. You should put down as much money as you can afford for your down payment. Most lenders want you to put down at least 20 percent of the purchase price of the house.
If you do not put down 20 percent, the lender sees you as a bigger risk, so they want you to pay PMI. When you do not pay at least 20 percent down, that means that the bank could allow you to borrow more than the house is worth. PMI is private mortgage insurance that increases your monthly payment. The private mortgage insurance gives an extra layer of protection to the lender. If you default on the loan, the insurance covers the money you owe to the bank.
What Should I Avoid?
When it comes to obtaining a mortgage, there are a few other details that you should consider. You should make sure that you get pre-approved. Most sellers require that you get a pre-approval notice. This proves that you are serious about actually buying a house. It also lets you know how much of a mortgage you qualify to obtain.
Just because a lender approves you for a certain amount, it does not mean that you should actually borrow that amount. Most likely, even though the bank thinks so, you may not be able to afford that amount. You should create a budget to determine how much money you can afford to pay in mortgage payments. There are many mortgage calculators available online that will help you estimate how much your actual mortgage payment may be. Once you have a good estimate of your mortgage payments, and you have a good budget that indicates how much you can afford to pay. Hopefully, the two numbers match. If they do not match, you need to adjust how much you want to spend on a house.
You should avoid not getting an inspection on the house you want to buy. A house inspection can tell you about any problems that might be hidden in the house. It can tell you if there are houses that you might want avoid purchasing because there might be hidden problems. You also want to make sure that you read all the entire mortgage documents. You especially should make sure that you read all of the fine print on all the mortgage documents.
Other Terms I Should Know
There are a few terms that you should understand before you embark on house shopping.
Loan to Value Ratio (LTV) – This is the ratio of the value of the house versus the amount the lender allows you to borrow. The lender wants the LTV to be 80 percent or less. This is where your down payment of 20 percent comes in.
Fixed-Rate Mortgage – This is a mortgage with a fixed interest rate. The rates that the lender gives you at the time of the loan remains the same throughout the life of the mortgage.
Adjustable-Rate Mortgage (ARM) – This is a mortgage with an interest rate that is adjustable. The mortgage starts at one rate, which is usually lower, and it stays there for a set period of time. That set period of time is typically 5 years. After that set time, the rate is adjustable based on the prime rate. You take your chances with an ARM, because it is possible that the interest rate increases your mortgage to a rate that you cannot afford to pay.
Title Insurance Company – This is a company that is a settlement agent that acts during closing. They take the money from the buyer or the lender and make sure that everyone that should get paid during closing gets paid.
Common Home Mortgage Terms and Definitions | Loanry https://t.co/qz8jPmFpME #mortgageterms

— Loanry.com | Loan Shop ? (@LoanryStore) August 28, 2019
Conclusion
I have given you a lot of information about mortgages, mortgage brokers and fees from lenders. It is important that you have a full understanding of all of the fees associated with a mortgage before you apply for one. When you buy a house, you have the option to use a mortgage broker or work directly with a bank. There are additional fees associated with working with a mortgage broker that are applied on top of any fees that the lender applies to your mortgage.
You should also understand if you pay the fees upon closing, or if you pay them as part of your mortgage payments. To understand the fees and how they work, you should be sure to read all of the documents from the lender, including any and all of the fine print. You are responsible for understanding all of the information that the lender gives you.