Christmas on a Budget Ideas
Does it seem like Christmas comes earlier and gets more expensive every year? With a little creativity and commitment to financial planning, Christmas does not need to break your budget this year.
For example, forget the idea that you need to buy for everyone you know. Your hairstylist, children's teachers, and mail carrier probably already get a lot of cheap holiday gifts that they cannot even use.
If you feel like you really must get small Xmas gifts for this extended circle of acquaintances, wait for the after Christmas clearance sales and pick up a small but thoughtful token gift that lets them know you appreciate them.
When you need help paying rent, it just makes no sense to go into debt to purchase little Christmas gifts for everyone you know. Rather than buy trinkets that might be forgotten about by the new year, consider creating an experience with a loved one instead.
For example, spend a whole weekend day making cookies with your niece or give each of your children a day of their own with mom or dad.
You can allow them to set the schedule of activities as long as it is within reason and does not blow your budget. When it comes to cool inexpensive gifts, you really cannot go wrong with the gift of time.
What is the Average Budget for Christmas?
According to the American Research Group, the typical household plans to spend $992 on Christmas gifts in 2018. That is up just $9 from last year. However, this number jumps to $1,383 for those who plan to complete most of their holiday shopping online.
It might seem strange that the question of how much do you spend on Christmas presents varies so much depending on whether the shopper plans to buy online or in person.
Perhaps there is just something about adding to an electronic cart that makes spending so much easier.
If you find that you really have no Christmas money, then you may want to consider personal loan shopping for the holiday season only.
If you find a reputable lender that adheres to the high standards of the Online Lenders Alliance, you may be able to get a loan based on that lenders terms.
You may also wish to consider creating a budget to pay for household Christmas presents. Financial guru Dave Ramsey recommends creating something called the zero-based budget. Here are the basic steps you need to follow to create one:
·       Add up all sources of monthly income
·       Write down all typical monthly expenses
·       Be sure to include non-gift Christmas expenses such as wrapping paper, a Christmas tree, and ornaments
·       Subtract your income from your expenses to determine the amount of money you have available for your Christmas spend
Sticking to this formula can help you avoid debt this Christmas that will follow you into the new year.
If you find that you do need to visit a loan shop for extra funds this holiday season, set a goal for paying off the loan so you do not spend any more money than necessary paying back interest fees.
You can also decide early in the year how much to give for Christmas gifts and follow a budget for Christmas in 2019.
How Much Do You Spend on Each Kid for Christmas?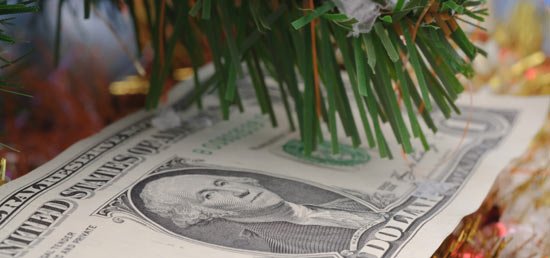 A 2015 article in Money Nation indicates that parents spend an average of $271 per child for Christmas presents. However, it often varies significantly depending on the age of the child.
For example, Christmas presents for a 2-year-old are going to look different than gifts for a teenager.
A baby or toddler will have no idea how much you spent on the gift and is likely to love any toy.
Older kids and teenagers may be more challenging to buy for, but that doesn't mean you need to break the bank to make them happy.
The four-gift rule has become popular over the past several years with parents who want to make Christmas memorable for their children without indulging them.
When shopping for Christmas gifts on a budget, consider limiting it to these four things for each child:
One thing they want
One thing they need
One thing for them to wear
One thing for them to read
Besides helping to save you money, this plan makes children more appreciative of receiving just one thing that they really wanted for Christmas this year.
What Are Inexpensive Christmas Gifts?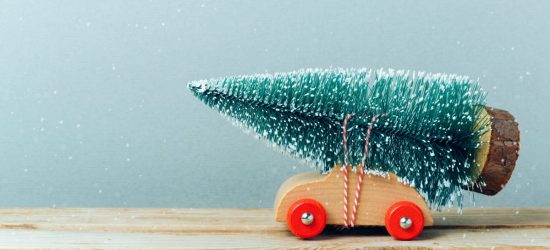 The most inexpensive gift ideas usually involve creating a homemade gift. If you are a crafty person and you have the time to do this, it is something your gift recipient should truly appreciate.
You can still find small gift ideas when you want to remember someone at the holidays but don't have a lot of money to spend, consider some of these gifts for the kids on your list:
Puzzles
Framing of a child's drawing
Board games
Those in the pre-teen and teen years might enjoy one of these small Christmas gifts:
Make-up tote that includes a portable mirror
Gift certificate to the local movie theater
Books
For the adults on your Christmas list, consider one of these Christmas gifts on a budget:
Glass jar filled with hard candy
A bag of gourmet coffee with a personalized coffee mug
A small photo album filled with your favorite memories of the person
Best Ways to Decorate for Christmas on a Budget
Decorating the house for Christmas is one of the most exciting parts of the holiday for many families. Unfortunately, it gets almost as expensive as buying gifts if you're not careful.
Decide at the beginning of the season on a budget for Christmas decorations and stick with it. As with gifts, the least expensive and most meaningful holiday decorations are often homemade.
If you have young children, they will probably make ornaments and gifts for you in school. Some other ideas for inexpensive Christmas house decorations include:
Shop after-Christmas clearance sales when it comes time to replace ornaments and household decorations
Use non-seasonal décor to match what you have available to use for Christmas decorating
Get creative by turning glasses, bowls, and vases into holiday decorations by adding some red and green festive bows
If you choose to put up strings of holiday lights, turn them off at night to save on electricity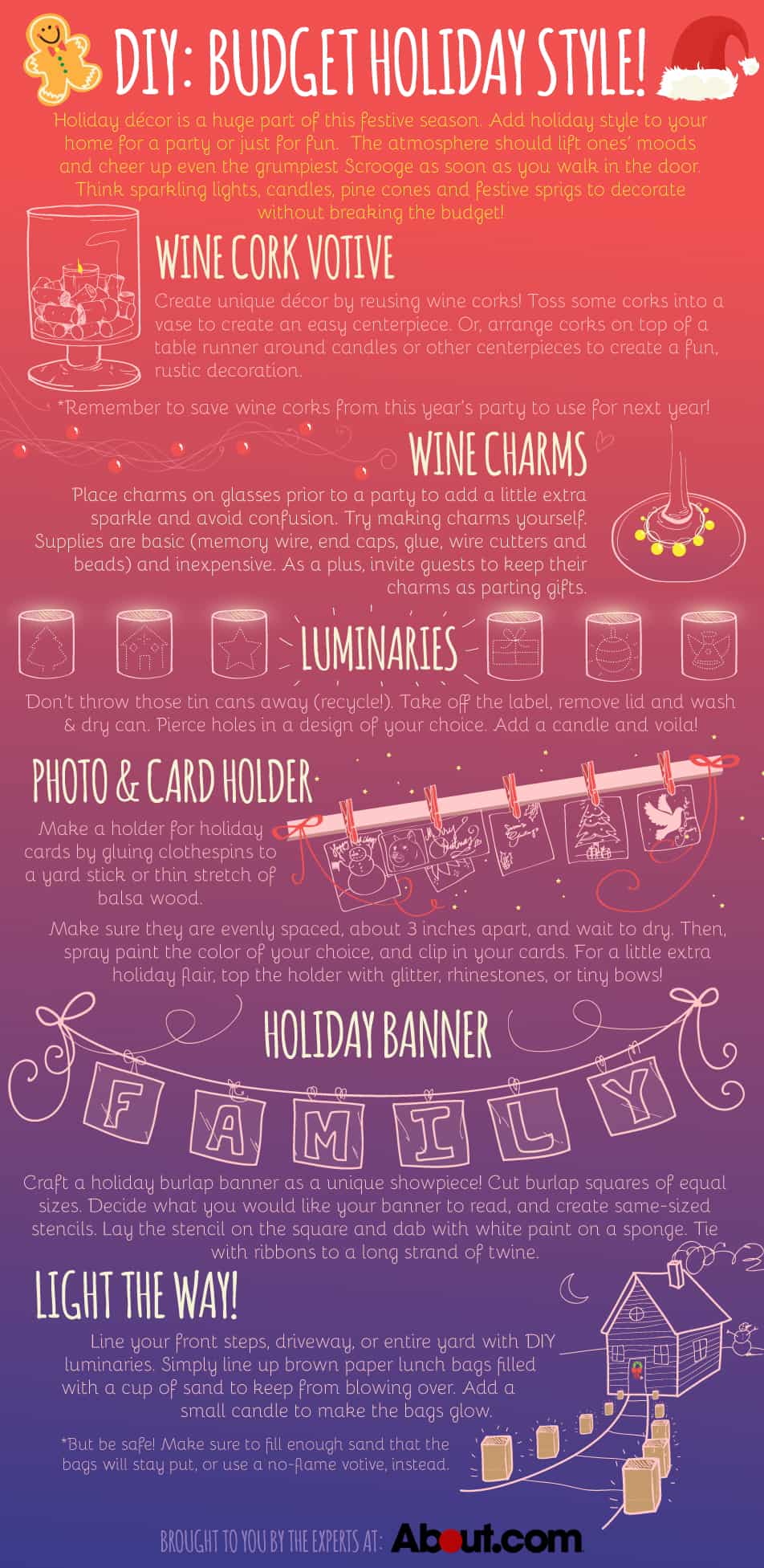 Conclusion
Christmas might have more fun when you were a kid and never had to think about what anything cost. It can still be just as exciting and festive as an adult when you know how to budget and shop smart.
If interested in other holiday budget tips see our spooky savings tips How to Save Money for Halloween. For a bellyful of tips you should check How to Save Money for Thanksgiving
Lisa K is a contributor and writing professionally creating palatable, actionable content in the realm of finance. Lisa is an experienced online copywriter with seven years of full-time experience.
She has successfully completed thousands of articles in that time in dozens of different categories.  In addition to a bachelor degree in journalism and mass communication, Lisa completed a SEO Certification Course taught by Heather Lloyd-Martin of Success Works. She earned her certification in 2015.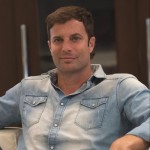 Ethan founded Goalry, Inc in Dec 2016 with the mission to build the world's first and only Financial Goal Mall. One place to reach financial goals and comparison shop for any money matter. Taub invents the IP for the finance stores within the mall, while overseeing various aspects of the company. He also has orchestrated the company's earned media across the finance stores: Accury®, Billry®, Budgetry®, Debtry®, Cashry®, Creditry®,  Loanry®, Taxry® and Wealthry®. This includes over 1200 blogs, 400 videos, thousands of social post and publications that have been featured across the web.