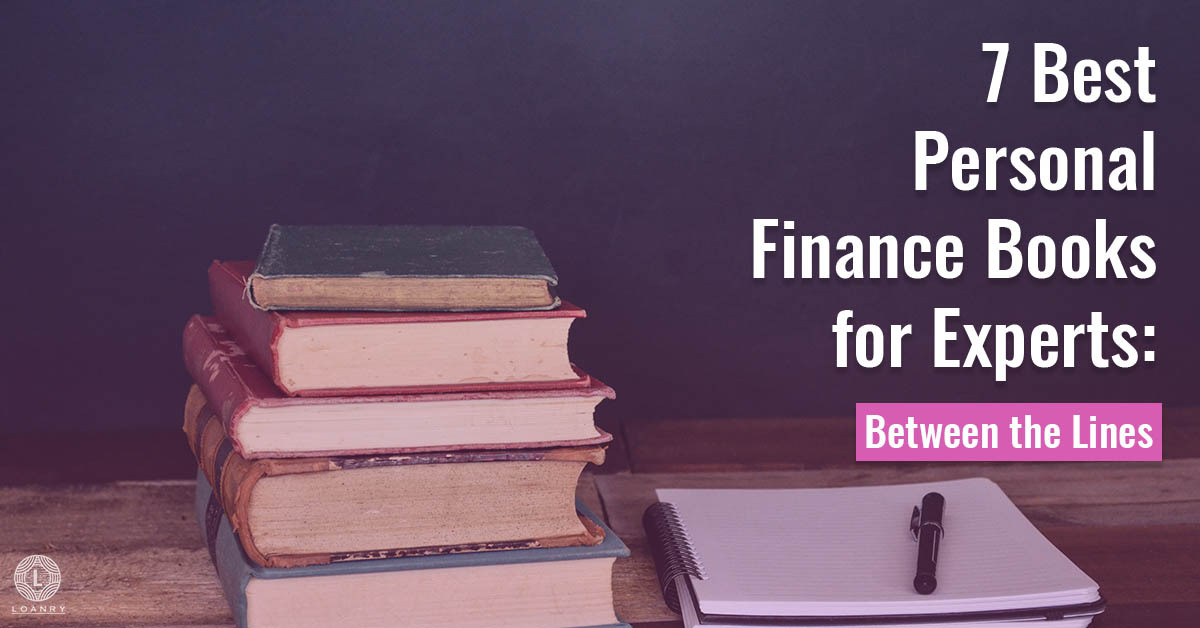 No matter what point you are at in your life, you can and should take control of your own financing. You need to know how to build a budget, how to calculate and understand personal income tax basics, and what personal loans are and how they can benefit you. But don't worry, it isn't as overwhelming as it may seem at first. You just have to take it a step at a time. One of the great things about taking control of your financing is that, when you understand how budgeting and other financing aspects work, you can use personal financing techniques to choose the path to get to where you want to be according to your personal finance goals.
Personal Finance Books for Experts
You don't have to figure everything out on your own. There are many great places to find help learning about personal finance, including apps, websites, professionals, or finance agencies. But nothing compares to good, old-fashioned books. Since you're a personal finance expert by now, you have probably already read all of the best personal finance books for beginners. Now you're ready for something more challenging. And below we have compiled a list of the best personal finance books for experts just for you.
You can get the following books on Amazon, at your local library, or possibly on Audible. No matter what your financial situation is, these books are available for you.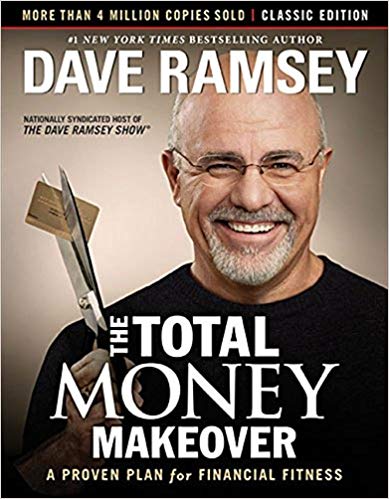 Dave Ramsey, one of America's most trusted voices on money, wrote The Total Money Makeover to help people gain financial fitness. With Ramsey's proven plan for financial fitness, even the average person can create a good budget and get their expenses under control. His straight-forward plan can turn your unhealthy money habits into healthy money habits. The beginning is always the hardest part. So Ramsey gives you a step-by-step guide that will show you exactly how you can pay off your debts and build your wealth. You can even purchase The Total Money Makeover Workbook or The Total Money Makeover Journal so that you can complete prompts and develop your own financial plan based on Ramsey's proven plan. Say goodbye to overspending and massive amounts of debt, and say hello to The Total Money Makeover!
What You Need to Know about Dave Ramsey
Dave Ramsey learned his financial principles the hard way. He was worth a little over a million dollars by the time he was 26. But he lost it because of bad decisions. Dave learned from his own mistakes and was determined not to go through that again. He asked others what they did to control their finances and went back to working in real estate to earn his money again. Also, he formed Ramsey Solutions in 1992 so that he could help others who were suffering from financial problems, giving them advice so they wouldn't have to make the same mistakes he did. And he started a local radio show where people could call in with questions. This radio show, The Money Game, is now a nationally syndicated show. The goal at Ramsey Solutions is to help as many people and change as many lives as possible.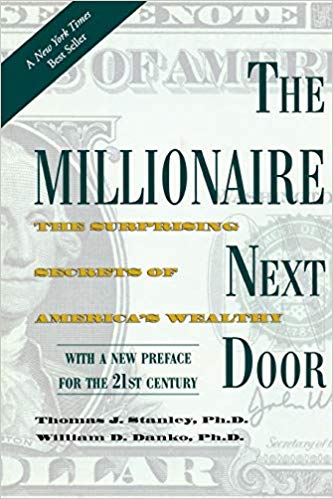 The Millionaire Next Door is what they call an oldie but a goodie. It may have been first published back in 1998 (and then first republished in 2010), but many people still regard this as one of the best personal finance books. Dr. Thomas J. Stanley and Dr. William D. Danko interviewed real millionaires to find out what it is that they do that led to them to become millionaires. According to these interviews, most of America's wealthy people aren't what you might picture: someone living in Beverly Hills or on Park Avenue.
They may actually be living right next door to you. Dr. Stanley and Dr. Danko used these interviews to determine 7 common traits that seem to be common in these people who have accumulated extreme wealth. For insight on "what it takes to become the millionaire next door today", pick up a copy of The Next Millionaire Next Door: Enduring Strategies for Building Wealth, a new book by Dr. Thomas J. Stanley, with Dr. Sarah Stanley Fallaw, published in 2018.
Why You Need to Read It
The book is based on decades of research and also includes many interesting facts and anecdotes to make the material relatable. The premise is that people can be divided into Underaccumulators of Wealth (UAWs) and Prodigious Accumulators of Wealth (PAWs). PAWS can become wealthy even without earning a lot by living well within their means. On the other hand, people who earn a lot may have high amounts of debt and no savings if they feel the need to live a too lavish lifestyle.
There is also useful information in the book about first-time millionaires, lessons to teach your children about buying a vehicle and other practical matters, and some food for thought about choosing a career. This is one of the personal finance books that can help in every area of your life, and lets you know that it is never too late to change your path.

For some reason, millennials seem to be avoiding investing. But it isn't just millennials who are avoiding investing. Many people think that they are not ready to get into the market, while others may think that they are just not rich enough for investing. Another common reason people may avoid investing is that they don't know where to even start. This book can help you, no matter what your reason is for resisting the urge to invest.
Here you will find the answers to all of your investing questions, from how to invest in a socially responsible way to where to look online for additional investment advice. You will even learn common investing terminology and how to handle your retirement savings. Whether you are a millennial or just someone who is interested in learning how to start investing, then this is the book for you.
Other Broke Millennial Books to Look Into
This book is actually part of a series of personal finance books offering financial advice, the first one being Broke Millennials: Stop Scraping By and Get Your Financial Life Together. Erin Lowry runs a Broke Millennial platform that features her books, her blog, her YouTube show, and her writings and speaking engagements. Lowry's advice covers everything from saving for retirement to paying down debt to getting a better interest rate for a savings account.
She also offers workshops so she can help individuals who are making a commitment to changing their financial lives and futures. Unlike most people, Erin Lowry learned about money from a young age. And her parents were open with her about finances. Her dad gave her her first economics lesson when she was seven. And her early experience was what motivated her to want to earn money from a young age. She practices her principles in her life, being open with her partner about their finances, and works as a financial advisor and writer.

Are you interested in FIRE? I don't mean the hot flame, I mean the acronym FIRE, which stands for Financial Independence and Retiring Early. If you are interested in FIRE but don't know how to realize this goal, then Financial Freedom: A Proven Path to All the Money You Will Ever Need can help you. In addition to the simple math needed to reach FIRE, this book can actually give you the necessary psychological components and get you into the right mindset to accomplish FIRE.
In addition to his advice on how to achieve FIRE, this book will also teach you how to save money. Without giving up what makes you happy, travel the world for less, and think creatively in order to see all the ways there are to make money. Grant Sabatier is especially qualified to help you reach this stage of financial freedom in life. Especially since he went from $2.26 in his bank account one day to having a net worth of $1.25 million just five years later. If you want to have all the money you will ever need, then Grant Sabatier can tell you what to do to make your dream a reality.
What Special about This Book
Sabatier has more of a sense of urgency than many of the other authors, and he points out that while money is unlimited, time is not. He hopes that people will use his advice to become financially independent as soon as possible. While the other advisors speak more of a day-to-day approach where you don't have to worry, Sabatier himself woke up when he was 24 and realized he had only $2.26 in the bank, but five years later he had amassed over $1 million.
CNBC dubbed him "The Millennial Millionaire," and Sabatier started to evaluate the methods he used to turn his life around. After realizing that most common advice was impractical or outdated, Sabatier created his own program offering counterintuitive advice. While most financial advisors talk about living within your means, Sabatier emphasized that you should spend time doing what you love and that you shouldn't sacrifice enjoyment of life to become more financially independent.

First published in 1949, this classic handbook has been updated several times over the last 65 years. The original author, Benjamin Graham, died in 1976, and financial writer Jason Zweig wrote the latest update. This book provides information on how to make long-term investments. And it presents the topics with the help of Graham's philosophy of "value investing." Graham has been called the greatest investment advisor of the twentieth century. And his strategies helped shield investors from mistakes they might make while developing their strategies for making long-term investments. Market developments over the years have only emphasized the accuracy of Graham's observations. His wisdom in coming up with his basic investment principles.
The Main Idea
One of the most important ideas in The Intelligent Investor is that it is more important to focus on minimizing loss than on maximizing profit. Warren E. Buffet said that you would either get the idea right away or not at all, and while you don't need to read the entire book, doing so will help you learn a completely different way of looking at the world.
Graham espouses an important philosophy. But the examples in the book are relevant to modern investing. There is information on how to find bargain issues, when to make certain kinds of investments, dealing with companies that don't pay dividends, and other important matters. The original theory can still be applied to modern situations, even after so much time.  It certainly explains why Warren E. Buffet called this "the best book on investing ever written."

Rich Dad Poor Dad is another oldie but goodie. This book has been one of the top-ranked personal finance books for over 20 years. Instead of being just one of the best personal finance books, it has recently been ranked as the #1 personal finance book of all time. And has been translated into dozens of languages and sold all around the world. In Rich Dad Poor Dad, Robert T. Kiyosaki compares and contrasts the financial lessons he was taught during his childhood by two different men: the rich father of his best friend (Rich Dad) and his own biological father (Poor Dad).
There has been some controversy over part of his current project. As well as controversy over how factual this book is. But Robert T. Kiyosaki is still known for his great tips and insights in this book. Kioyosaki retired at the age of 47 but worked with a consultant to bring his ideas into a meaningful form to share with others and help them achieve their dreams too.
Make Your Money Work for You
The biggest difference between the successful dad and the unsuccessful dad was this: one of them worked for his money, and the other one made his money work for him. Some of the ideas in the book challenge what most people would consider common sense; Kiyosaki pushes forth the belief that you don't have to be a high earner to become rich. And he challenges the idea that your house is really an asset.
Some of his most useful tips are how to teach your children about finances. Especially because public schools do not provide adequate education in that area. Regardless of how factual the book is, it is still true that it has great financial advice. This new version of the book even offers sidebars with updated advice. So that he can emphasize how successful certain tips are and how it is still relevant today. Grab a copy of Rich Dad Poor Dad if you want to know what the rich teach their kids about money that the poor and middle class don't!

According to The Millionaire Next Door [one of the personal finance books mentioned above], doctors oftentimes will not end up becoming millionaires; they have high incomes, but they will not accumulate enough wealth because of their lifestyles and spending habits. James M. Dahle, MD, noticed that unscrupulous financial professionals tried to take advantage of other professionals like himself who weren't familiar with the complicated financial issues.
Because of this, James M. Dahle, MD, decided to write The White Coat Investigator in order to teach doctors, medical students, dentists, and similar high-income professionals how to better manage their money. Even if you are not in the medical field, then you — as a high-income professional — can still get a lot out of this book. You can still benefit from the advice on graduating from university with as little debt as possible, choosing the right types and amounts of insurance, buying your first house, and minimizing your tax burden. There are not many personal finance books that focus on the issues that high-income professionals have. So The White Coat Investigator is a must for any high-income professional who doesn't know how to manage their money as well as they would like to.
About Dr. Dahle
When he is not out enjoying nature with his family or practicing medicine, Dr. Dahle does other work with his brand The White Coat Investor. He has a financing blog that gets over 200,000 views every month. And he also writes columns for journals like Practice Link Magazine and Medical Economics. Besides his main book, Dr. Dahle helped write The White Coat Investor's Financial Boot Camp: A 12-Step High-Yield Guide to Bring Your Finances up to Speed.
This book is excellent, with concise instructions on how to get the best results from the outlined principles. This book is different from the first book, too, because it applies to more professionals generally instead of focusing so much on doctors. By applying the principles he teaches, Dr. Dahle became a millionaire by the time he turned 38, only 10 years after he graduated from medical school. While he says his principles are not complicated or risky, they do take hard work.
What You Need to Know About Personal Loans
Unexpected expenses can occur at any time in life. You could be the most risk averse person in the world. And you could still be negatively affected by an accident. Whether you had one second of distraction or someone else was being reckless, you could be involved in an accident that causes you to get high medical bills that you just cannot afford.
Besides emergency medical bills that require you to find financing quick, you may find yourself in a situation where you need to get a personal loan to relocate. Maybe you are about to have your dream wedding and don't have the funds to pay out of pocket, so you need to get a personal loan to fund your dream wedding. No matter what your personal situation is, it is important to make sure you understand the basics about personal loans before taking on such a responsibility.
What Is a Personal Loan?
A personal loan is a fixed amount of money a lender gives to an individual, with the agreement that the individual borrowing the money pays the money back. A personal loan has an agreed upon repayment term, as well as a fixed interest rate. Or how much extra you are required to pay over a period of time for having borrowed the money. There are many types of loans, so it is important to do your research on the different types of loans before choosing one.
Credit Score
It is understand to understand what role your credit plays when getting a personal loan. This three-digit number that appears on your credit score reflects your relationship with money. And it reflects how likely you are to pay back your loans and debts. Because of this, it is important to have a good credit score. So that you can build trust with your bank and lending institutions. The first step is to find out what your credit score is, and then you can determine what types of loans and with what kinds of interest rates may be available to you.
Since your credit score can have a big impact on whether or not a lender decides to loan you money, does having a bad credit score automatically disqualify you from getting the loan you need? No! It is possible to get a personal loan with bad credit. You may end up with a higher interest rate. Or may need to find alternative lending institutions — such as credit unions — in order to get the loan you need. But it is possible to get a personal loan with bad credit. In fact, getting a personal loan could even help your credit.
Benefits of Getting a Personal Loan
While a personal loan is generally used to pay off large expenses that you cannot afford out of pocket, it is sometimes overlooked that sometimes getting a personal loan can save you money. Debt consolidation, or the process of putting your debts under one loan to be paid off, can save you money over time. Since you may be able to get a smaller interest rate that will allow you to pay off your debt faster. If you have more than one type of debt, then it may be worth it for you to consider consolidating your debt.
Final Thoughts
It makes sense to use all of the resources available to you when it comes to changing your habits and living the life you really want and deserve. Books are great because they are tangible; you can read them and then mark them so that you can really enforce the lessons. That doesn't mean that you should ignore other resources, such as apps, blogs, and personal financial advice. Most of the authors here provide extra information and advice in the form of talk shows, blogs, and newsletters. And you can look at their personal finance books as textbooks, which you can read again and again. In this way, you can learn more about finances and change the way you think about money.
When you are considering finances, you have to look at your short term goals and your long term goals. Sometimes you need to get money now because of a current need. And you don't have another good way to get the cash. There is nothing wrong with checking out personal loans online. As long as you are responsible and make a plan to pay it back. With the principles from the personal finance books here, you will learn about how to protect your credit and stay out of debt.
When you use an online lender, you can often find a reputable business that will loan shop for you while only running your credit once. If you are just starting out in your financial education, you may not have much credit history yet. Personal cash loans can help you build your credit as you prove that you are capable of paying back the money. Personal loan shopping can help you find the best deal for you. So that you can keep from paying unnecessary fines.
These personal finance books offer advice on everything from working to investing to retiring. So you can find guidance for every area of your life. Pick up one of the personal finance books in our list today, and take control of your financing!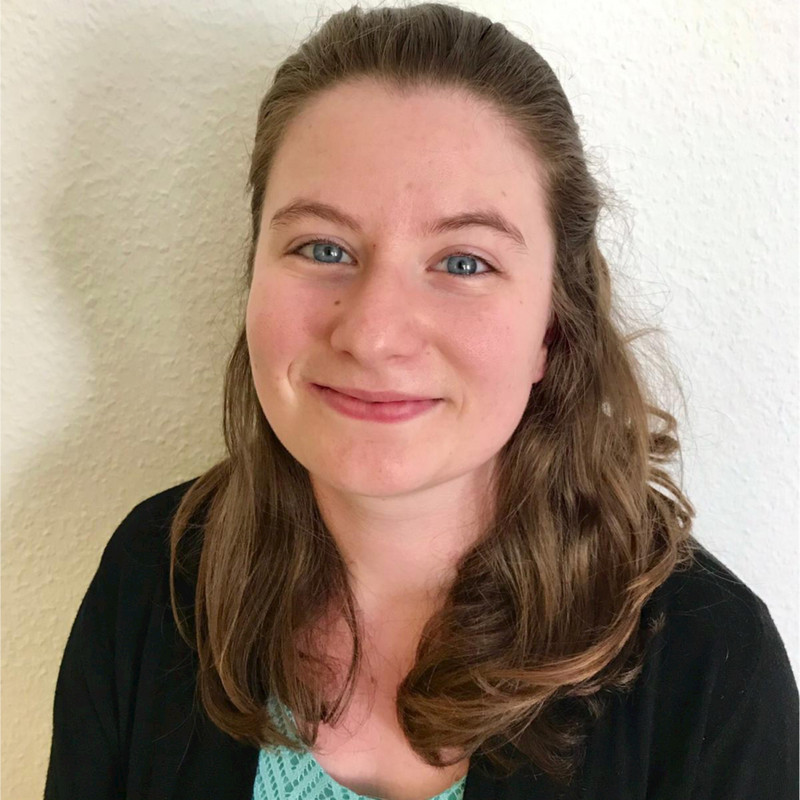 Grace Douglas is a master candidate in international security management by day and a personal finance writer by night! With powers in finance, writing, and languages that she received by being exposed to high dosages of university courses and being bitten by booklice while working in a rare books library, Grace loves to use her powers for good rather than evil. If you need help with budgets or personal loan questions, then just call Grace, your friendly neighborhood FinanceWoman!