Tax Deductions for Your Moving Expenses: Save and Go!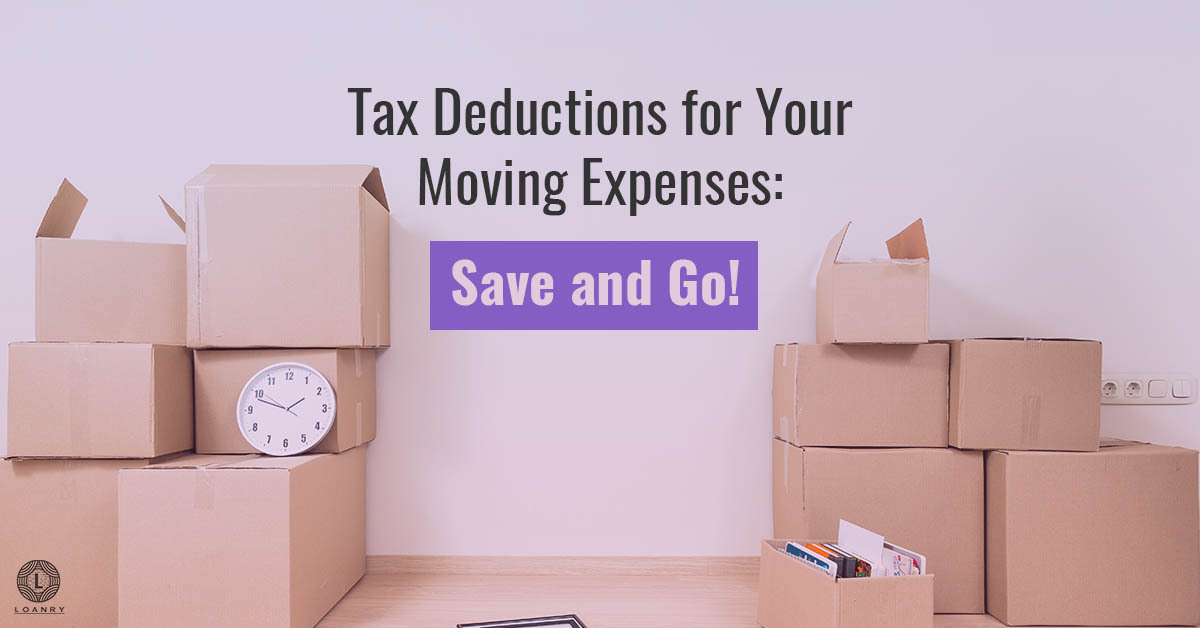 Moving expenses can really add up so it helps to know if you can deduct some of these expenses from your taxes.
How The New Tax Law Changes Moving Deductions
Prior to 2018, you were able to deduct moving expenses if you were moving for a new job. You had to meet certain qualifications but you didn't need to itemize in order to claim the deduction on your return. However, due to recent changes this deduction is no longer available to you.
When the Tax Cuts and Jobs Acts was signed into law, it eliminated any tax deduction moving expense. In addition to lowering the tax rate, there were some changes that suspended personal exceptions and increased the standard deduction.
What Can You Deduct from Your Moving Expenses on the Federal Level?
If you moved for a job in 2017 then the good news is that your moving expenses can be tax deductible. However, the tax break was omitted in 2018 due to the Tax Cuts and Jobs Act, which will remain in effect until 2025. This means that everyone who moved in 2018 and 2019 should take note of the changes. Moving expenses are still deductible for military members who moved for a permanent change of station.
If you moved in 2017, it doesn't mean that you can automatically deduct your moving expenses. There are some still some specific circumstances you must meet to take this deduction.
The time frame of the move matters in this deduction. You must start your new job within a year of moving to a new location. You can move before or after you start the job as long as the moving day and job start date are within a year of each other. Your new employment must be at a minimum fifty miles further away from your old place than your old job. You must work for your new job for a minimum of 39 weeks within the first year following your move. If you were self-employed at the time of the move then you need to work 78 weeks during the first two years at the new location. In either case, you are able to deduct the expenses from the taxes paid for the year you actually moved, even if you haven't satisfied the full-time test requirements.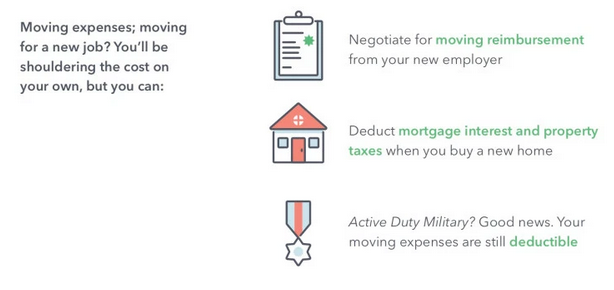 Exceptions
Of course there are some exceptions and active military members don't need to work for a specific length to qualify. If a taxpayer is no longer able to work at the new job due to death or disability, they will be exempt from the job requirement length. If a worker is laid off for any reason other than misconduct, they are also exempt from the job length requirement.
There are only certain expenses that qualify. The deduction won't cover the cost of any meals during your move. Some common expenses you can deduct are any shipping cost incurred to the new home, moving and packing costs, travel costs, hotel and lodging costs during the move, rental truck costs, moving supplies, and parking fees.
It's not possible to claim moving expenses that your employer already paid. If your current or new employer gave you a stipend to cover you moving costs, you may not qualify for this. If you had to pay more than the stipend given to you then you may qualify but you need to keep records of everything. On the flip side, if your employer paid you more than what you need for your moving expense then this gets added to taxable income.
Deducting Moving Expenses on the State Level
Even though the federal government has suspended being able to deduct moving expenses, some states will still allow you to claim this on your state tax return. Whether your state will allow this will depend on whether the tax laws where you live are automatically updated when federal tax laws change or whether there is legislation needed to update them.
Your state can also pass new laws changing the default rules to allow the deduction for moving expenses. For example, in New York, the state tax code automatically updates when the IRS changes the rules so the suspension of the moving tax should apply. However, New York passed a law afterward saying that certain provisions wouldn't be incorporated into state law and this includes the deduction for moving expenses.
What Can You Do Without The Deduction?
With the disappearance of the moving expenses deduction for the foreseeable future, it means you have to find new ways to save on the cost of relocating.
Declutter Your Home
You can make money when you move if you take the time to declutter your home and sell your excess items. Gather your unneeded items that still have some value and decide if the items are worth the time and headache to move. If not, sell the items and then pocket the cash to help with moving expenses.
Do Much of the Move Yourself
If you pack on your own, rent a truck, and load and unload your belongings yourself then you can reduce a lot of your moving costs. If you need to hire some help, bring in professionals for tasks you can't do yourself.
Shop Around to Compare Prices
Be sure to get many different written quotes from moving companies if you do need help. The movers should come to your home to see what is involved so you can get a better estimate and there aren't any surprise costs.
Try to Get Free Boxes
You can get boxes for cheap or even free if you visit your local dollar store or grocery.
Move at a Low Demand Time
Moving will cost more at certain times when there is a greater demand for movers. You may be able to find better prices if you schedule your move during the middle of the month, on a weekday, or early in the morning. Moving in the summer can also be expensive since nearly half of all moves take place during this time.
Take Advantage of Discounts
It can be smart to submit a request with the U.S. Postal Service in order to change your address. This does cost a small fee but it's not just for the convenience. You will also have access to a number of coupons from major retailers via email or snail mail. This can help offset the cost of home improvements and new things you need for your home. The USPS says the discounts in this package can be worth more than $750 in savings. You may also qualify for other discounts from truck rental companies as well.
Use Credit Card Rewards
You want to save for the move in advance so you can avoid paying any interest on your credit card. However, if you are expecting to spend a significant amount on the move, and in the next few months getting home upgrades or furniture, then you may be spending enough to get a sign-up bonus for a new credit card. This can help offset your moving expenses. However, in order to do this you need a good credit score and you will need to pay off your balance so you can avoid increasing the credit utilization rate, which lowers your credit score.
Don't Overbuy for Your New Home
It can be easy to go overboard when spending on furniture and accessories for your new home. You want to freeze your spending, even when it's tempting to spend. Resist the urge to mentally decorate the new space until you are actually in it.
Ask Your Company for Reimbursement
If you are considering a job in a new state, ask the company if they will pay for the moving expenses or offer a compensation package for relocation. You would be surprised at how many companies are willing to do this.
Use Self-Storage
If you move is temporary or there is a gap between when you need to be out of your old place and when the new place is ready, a self storage unit may be your best option.
The Cost of Moving
How much money you will need to save for your move will depend on how much stuff you currently have. Other factors that can play a role include how far away your new home is from your current home and the people you can rely on for free help. If you don't have anyone you can rely on nearby then you will have to hire a moving crew and use more of your budget. Once you have a budget for a move you also need to factor in emergency expenses. Something can always go wrong during a move so you need to prepare for the worst-case scenario.
How to Create a Budget for Your Move
Creating a budget for your moving expenses will help. Not only will this tell you how much you should save but also how much you will need for a personal loan if you choose to get one.
Set a Moving Budget Template
A software program can be the easiest way to create a budget template. Excel can allow you to use formulas to make calculations easy. If you want something portable then get a booker's record book at the office supply store to give you a basic outline of expense tracking you will need. Be sure to have a good calculator on hand.
Common Moving Expenses
There are common moving expenses that you will need to work into your budget. Consider the moving company fee, which is the fee that includes labor and fuel charges. Ask for estimates from three companies and add the highest quote to your budget, even if you aren't going with that company. Consider additional insurance expenses and the extra services that the moving company may charge for, such as preparing appliances. If you are moving yourself then consider the truck rental, the mileage rate, gas, insurance, extra equipment rental, and the incidentals.
Travel to New Home
If you are moving by car or a moving truck and are going far you need to consider costs for transportation, lodging, and your meals. You may need to consider additional services and care for pets or children. Will you need temporary housing at your final destination before the home is ready? If you do need this then make sure you factor this into your budget.
Packing and Storage Fees
It can be hard to determine how many packing supplies you need but it helps to have an estimate for your budget. Determine how many boxes you will need. If you need storage space before or during the move then contact some storage companies and use the highest price for your budget, even if you haven't decided which one to use yet.
Moving from a Rental or Selling Your Home
There will be costs involved no matter if you are moving form a rental or selling the home. If you are selling, you will need to pay selling fees and commission. You may need to clean the home or repair it and this can include painting costs. If you are leaving a rental, you need to make sure it's in the same conditions you got it in. If you aren't able to give your landlord enough notice then you can be charged for cancelling your lease.
Renting or Buying Your New Home
Consider the fees if you are buying your new home or even renting. Don't forget to think about things like insurance, utilities, deposits, and other miscellaneous costs. Miscellaneous costs can mean broker fees if you are renting your apartment from a broker or other incidental costs, such as parking permits, association fees, and garbage disposal fees.
Once you have this comprehensive list then add the line items up and multiple that by 5%. This percentage gives you a contingency buffer so you want to add it to make sure you have enough money for your move.
Can You Use a Personal Loan for a Move?
Now that you aren't able to deduct moving expenses you will need to figure out how to pay for your move. If you need help paying for moving expenses then a personal loan may be able to help you. Moving loans can be used for just about every expense related to moving. These loans may not always be the best option for everyone. Everyone has different needs. Before you decide to get a moving loan, consider all your other options.
When You Should Use a Personal Loan for Moving
There are plenty of instances when it makes sense to use a personal loan for moving. In a perfect world, it would be nice to be able to afford your move no problem out of pocket but this may not be the case.
You Find a New Job That Pays More
If you find a new job that pays more but requires a move, you don't want to turn it down just because you have to move. A personal loan can pay for unexpected costs related to the move and with your new income you are making, you will be able to make the loan payments.
A Tight Budget
If you have a tight budget then a moving loan can give you flexibility to do what needs to be done. The payments with moving loans can be low and can easily fit into your budget. You may be able to save money when moving by moving into a smaller place.
If You Are Working on Paying Down Other Debts
The last thing you want to do when you have to move is get more debt. When it's time to take out a loan to pay for a move, you need to keep in mind your current debts. If you have time before you apply for a loan, pay down as much debt as you can. It also helps if you are able to lower your housing payments.
When Can You Use a Relocation Loan?
This loan can be used for any aspect of moving. This can include anything from packing materials to keep belongings safe to storage. Saving on the move is really the most important step but sometimes there are limited options.
Hiring Movers or a Do-It-Yourself Truck
Many people don't have a car that is large enough to move all their belongings. With the money from a loan, you have the option to either hire movers or a truck to do it yourself. If you have heavy or fragile items you don't feel comfortable moving yourself, it may be better to hire movers. However, you can rest assured knowing that whichever option you choose, a moving loan can help pay for expenses.
Packing Materials
You can't transport everything you own as is and you may need to purchase boxes for your belongings. You may also need special packing tape to properly close the boxes. If you have mirrors or artwork, you also need special kinds of packing materials to not damage your items. You may want to consider purchasing special packing supplies to ensure the safety of your items. Spending a bit more on packing supplies and properly securing your belongings can save you a lot of money in the long run when you don't have to replace things broken in a move.
Storage
Sometimes it may not be possible to move all your belongings to your new home at once. You may be moving into a smaller place so all your furniture doesn't fit. You could be moving into a new place with a different layout and your furniture just won't work. Whatever the reason you need to store some furniture, you can use a moving loan to pay for the storage facility.
Overnight Hotel Stays
If you are moving long distance, you may need to pay for a night in a hotel. Planning ahead and finding a hotel in advance can make the process less stressful and more affordable but you can still use the money from a loan to pay for this expense.
Rent and Security Deposit
Moving loans can help you with the security deposit and rent that is required when you are moving into a new place. You shouldn't have to miss out on a great apartment because the security deposit makes it unaffordable. When you are in the process of moving, money can get tight so that monthly rent that seems like no big deal can become a big deal.
There are different ways you can pay for your move– you may need to use a combination of these ways. Regardless of which options you go with, the earlier you start, the better.#loanry #movingpay #financehttps://t.co/i72nxDTOjN pic.twitter.com/8QljBn6cfI

— Loanry.com | Loan Shop ? (@LoanryStore) 22. јун 2019.

When Should You Not Use a Personal Loan for Moving?
There can also be some downsides to a personal loan that you should be aware of when making the best decision for you.
High Interest Rates
Each lender has a different way of figuring out your interest rate. You are likely looking at a rate between 5% and 30%. The lender will look at the credit history and your current financial obligations before giving you any money. The lender wants to make sure that you are able to pay back the loan.
Loan Fees
Depending on which lender you choose, you could have a number of loan fees. There are some lenders that don't have any fees for loans used for moving. You will need to make sure that you choose a loan amount that is high enough to cover your moving expenses as well as any fees the lender has. The last thing you want is to not have enough money to cover all your expenses.
Effect on Credit Score
Getting a loan of any kind, including a personal loan, means that there will be a hard inquiry on your credit. When you first apply for a loan, there will be a soft check. This will determine your pre-approval amount and it won't affect your score. If you do go with the loan then there is a hard check in order to determine your eligibility and the loan amount. The more hard hits you have on your credit report, the more they affect your score.
Factors to Consider When Getting a Moving Loan
When applying for a personal loan for moving, you need to consider your credit score. This is one of the main things that lenders use to determine if you qualify for the loan and what your interest rate will be. Lenders will look at the number of accounts that you recently opened. If you have several new accounts within a short time frame then you will be considered high-risk and may not get the personal loan.
Lenders also look at the number of hard checks on your credit report to see how many times you have requested credit recently. If you have too many, you are considered high-risk and may not get a loan. The lender also considers the amount of time you have had your certain lines of credit. The longer you have been with those accounts, the better your score will be and the easier it will be to get a loan.
Final Thoughts
Since it's not possible to deduct moving expenses from your taxes, except under certain circumstances, you will need to look at ways to prepare for your move. Creating a budget is the first step and finding ways to save on the cost of moving can also play a role. A personal loan for moving can be one way to help pay for moving expenses. There are pros and cons of getting a moving loan and it can be helpful in a number of situations. However, you do need to consider certain factors and know a little bit more about your credit score in order to determine if you can qualify for a loan and get an interest rate that makes sense for your repayment plan.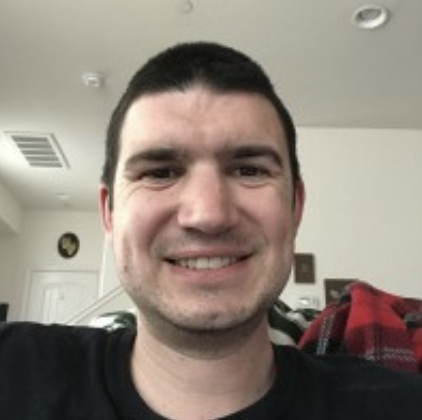 Kevin Strauss is a personal finance writer and homeowner based in the Los Angeles area. Being in one of the most expensive markets in the country, he's learned to maximize resources to plan for both his monthly expenses and future financial needs. Kevin has a passion for helping those in a similar situation navigate the complex world of personal finance so they can pay down debt, plan for the future and live out their dreams.  In addition to covering personal finance in depth on Loanry.com, Cashry.com, Debtry.com, Budgetry.com, Billry.com, Creditry.com and Taxry.com.  Kevin shares his expertise with readers who want to create budget-friendly habits across the web.