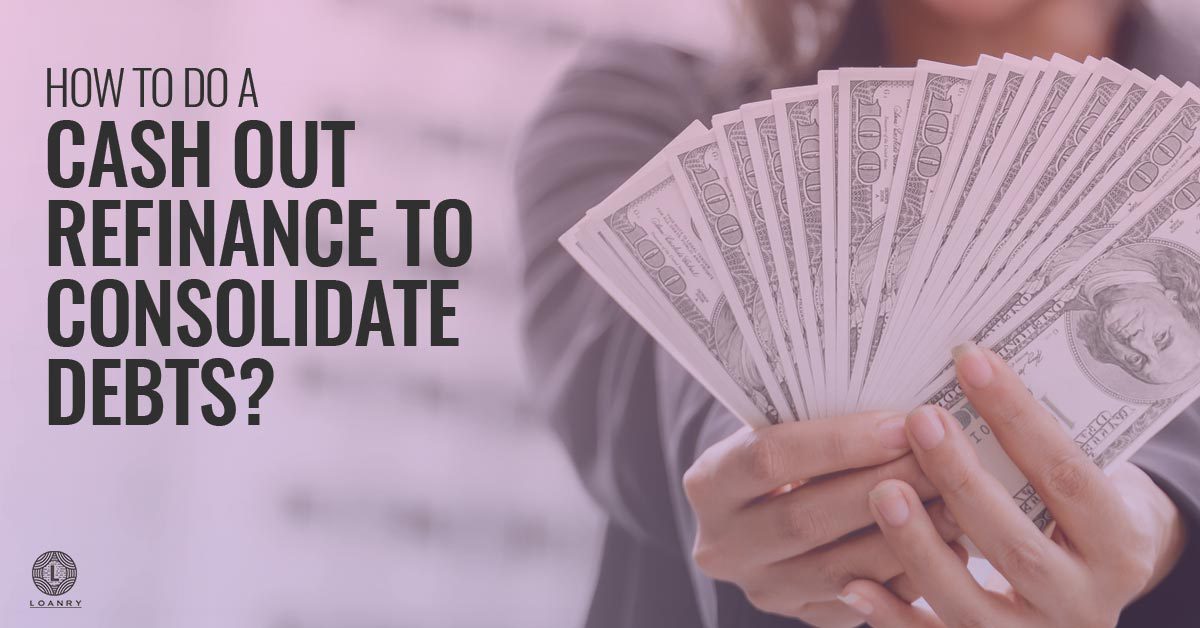 If you are a homeowner and have found yourself in need of funds at any point, you have probably heard of a home equity loan or home equity line of credit, both of which are very helpful options under the right circumstances. However, there is another option that many find even more helpful: a cash out refinance to consolidate debts.
This may be your first time hearing that term. You are not alone if that is the case. It is not mentioned anywhere near as much as home equity loans, but a cash out refinance can be more helpful in many situations. One great time to consider a cash out refinance is when you want to consolidate debts. So let's explain how you can do this.
What is a Cash Out Refinance?
If you are currently paying off a mortgage loan and have been for some time, there is a good chance you have some equity in it. Equity is how much of the home you actually own. For instance, if you bought a $100,000 house and you have $25,000 equity in it, then you currently own $25,000 worth of the house while the other $75,000 is still being paid with your mortgage payments. As you pay more, your equity increases. You have the ability to borrow money on the amount of equity you have in the home.
You may be saying that this sounds an awful lot like a home equity loan. They are similar, but they are also different. A regular home equity loan actually becomes a completely separate loan from your current mortgage, meaning that you end up with two separate payments.
A cash out refinance puts your current mortgage loan and your equity loan into one lump sum payment, leaving you with one loan. In other words, the cash out refinance loan will cover the full $100,000 again (minus any costs, fees, and so on). It will pay the $75,000 to your current mortgage loan, and you get the remainder. You then have to repay the one $100,000 loan.
When Is The Right Time to Refinance Your Mortgage? | Loanry https://t.co/OiSNBQbBhf #mortgageloans #refinance

— Loanry.com | Loan Shop ? (@LoanryStore) August 11, 2019
Will That Not Just Add Debt?
If you are anything like me, your initial reaction to paying down debt is, "Whew! I am not getting into debt again!" So the idea of doing a cash out refinance to consolidate debts or for any other reason sounds a bit counterproductive, especially if you barely got your mortgage paid down. There are, however, some potential benefits to a cash out refinance to consolidate debts, and for other purposes. Let's break it down some.
A Cash out Refinance to Get Out of Debt
A loan to get out of debt? Is that a thing? Yes, it actually is. So how can doing a cash out refinance to consolidate debt help if you will still be in debt? It is actually simpler than it sounds, so we will keep the numbers simple as well. Let's say your debts look something like this: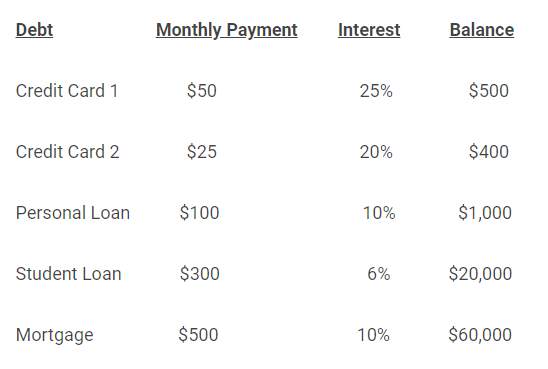 While yours may look different, you get the point. The above debts are just some that I have seen recently.
These payments come out to $975 per month- and that is with the minimum payments on credit cards. If you are not aware, paying only minimum payments on credit cards is going to keep you in debt- forever- so those balances do not decrease each month. They actually increase- every…single…month.
At this moment, your debts come to a total of $81,900. Remember that this includes your mortgage. If your home cost a total of $100,000, $40,000 of which you have paid down and own. You could go do a cash out refinance to consolidate debts in the amount of $81,900. $60,000 of it would go to the mortgage and $31,900 would go to your debts.
Now, let's say you also got a lower interest rate this time of 5% instead of 10%. If you chose a 30 year mortgage, your payment would go down to around $300, which would cover EVERYTHING, not just the mortgage. If you have paid off your debt with that loan, you now only owe your refinance loan. So you have gone from paying out $975 a month on debts- including credit cards that you will not be paying off with the current payment- to paying out about $300 per month. Even if you do a 15 year mortgage instead and have around a $500 payment per month, you are still winning. As you can see, this can be a great way to get your finances in order. 
If you choose to, you could get a loan for more than what you actually need, but we are trying to stay out of debt, remember? Getting more than you need is probably not a good idea unless there is a good purpose for it, like sending your kiddos to college or something similar. Shopping sprees? Probably not a good idea.
 Why Would I Want to Do That?
Some people's initial reaction to this information will be utter astonishment that someone would want to do such a thing. Yes, it sounds a little crazy- until you consider what it can do for you. But there are good reasons for a cash out refinance. Some people do a cash out refinance to consolidate debts. Other common reasons are home remodeling projects, college costs for their kids, buying a new car, tax deduction, better terms, lower or fixed rate, pay off high-interest debts, buying an investment property or second home, investments, starting a business, illnesses or emergencies not covered by insurance or emergency funds etc.
What is Your "Why"?
Why are you considering doing a cash out refinance to consolidate debts? Obviously, yes, to consolidate debts, but why do you want to consolidate them? Is it to lower your monthly bill total? Improve your credit score? Start a business? Send your kids to college? Go on vacation? Invest?
The thing is that it is still a loan, and a loan has to be repaid. If this loan will, logically speaking, but you in a better financial spot, it is probably a good idea. To help you determine if this is the case, answer the following:
Will it save me money every month?
Will it lower my interest rates or eradicate high-interest debt?
Is the money going into starting a business or other money-making venture that will generate additional cash flow? Will that cash flow be larger than my loan payment?
Will I owe out more or less after I get the loan?
Is It In Line with Your Beliefs and Values?
This may seem like an odd question, but there is a purpose. If the money is going toward something you completely believe in, like college funds or ministries, it will seem like a lot less hassle to repay it than something you care nothing about. For instance, I firmly believe in providing my kids with what they need, including a head start in adulthood, sending them to college, and supporting ministries that help those in need.
This means that, for me, I would be more inclined to get into debt and repay a loan if I were doing it for college costs, to help my kids buy their first home, or to donate to a ministry that helps build homes for the homeless and feeds the hungry. That debt would not seem like such a burden. If you are considering the refinance option, make sure you believe in what you are doing. If you do not, even doing a cash out refinance to consolidate debts is going to feel miserable over time.
Benefits of a Cash Out Refinance to Consolidate Debts
Though the benefits may change from person to person, some of the potential main benefits include:
It might lower your monthly payments.
You might find lower interest rates than you currently pay.
Paying off debt helps to improve credit scores.
It can help build better credit by paying off debts and it opens up a new account. If you pay on time, your credit will continually improve.
If you pay off your debts and are no longer paying those monthly payments, you increase your cash flow, which is always nice.
You can stop debt collection agencies from calling you- talk about relief.
Risks of a Cash Out Refinance to Consolidate Debts
As many benefits as there are, there are also risks and downsides to doing a cash out refinance to consolidate debts. It is important to be aware of these before making a decision.
Most, if not all, cash out refinance loans will require you to pay closing costs….again. It probably was not very fun the first time, so it is probably not something you want to do a second time. Ask around and read the fine print to find a lender that does not charge closing costs.
If you are not careful, you could wind up with a higher interest rate than before. Obviously, this is not what you want, so make sure you are paying attention to the loan terms.
You might be putting off retirement to pay off your loan. I do not know when you plan to retire, but if you are getting another 30-year mortgage, you might be working longer than you wanted.
Still Not Sure?
You could also speak with a financial advisor or a loan officer. Word of warning on that, though, if the person you are speaking to will be affected in some way by your choice, do not just take their advice and run with it. Weigh out what they say against what you have learned. Have them show you- preferably in very easy to understand numbers- how exactly this cash out refinance to consolidate debts could hurt or help.
Maybe I am asking too much, but I personally prefer looking at numerical information through charts and graphs to see how something will affect me. I am not so sure every loan officer and financial advisor feel the same way though. As long as they can show it clearly so you can fully understand, you should be good to go.
Also, try not to just jump into a decision. Again, this is a big move. Rushing into it might put you in a worse financial state than you are now. Take the time to really consider your options before you decide.
How to Do a Cash Out Refinance?
First, you have to understand that not everyone will get approved for a cash out refinance to consolidate debt. It is still a loan, so your credit will need to be checked as well as your payment history up until this point. If you have not been so good at paying your first mortgage on time, there is a good chance that the lender will not want to lend to you.
If your credit and payment history are good enough, though, your next step is to go back over all of the information above and be 100% certain this is what you want to do. Once you are sure that you are sure, it is time to start looking for your loan.
How to Shop for a Mortgage
Understanding the mortgage process is pretty important if you're thinking about getting into it. If you just jump online and type, "how to get a consolidation loan", you are going to be bombarded with results and quickly overwhelmed. However, online is typically where to shop for a mortgage loan because you have a gold mine of options.
Whether shopping online or going to the bank, it is important to find a lender who is credible and who is trustworthy to keep their word when it comes to following the terms and conditions of the loan agreement in the initial stage of the application. Here, on Loanry, you can find it! By putting in your information here, you can check if you qualify for a loan with one of the carefully selected reputable lenders:

It is important that you find an interest rate that is lower than the one you currently pay. If it is higher, you are costing yourself money that you do not need to. You can always consider a cash out refinance later when rates drop. If you are using your money to consolidate debts, it might be okay if the interest rate is the same- though you would really need to do some calculations. Regardless, you do not need one higher. Even lower your rate by ½% saves you a lot of money over the life of the loan, so search until you find the best rate possible.
As you can see, knowing how to shop for a mortgage, or any other type of loan is important so you can make the best decision for yourself.
Conclusion
As you can hopefully see, a cash out refinance to consolidate debts can be a really good idea, but you have to think it through to make sure that it is good for you. Consider your entire financial state at this time, and how long you are willing to pay on your new loan. Get advice if you need to, and definitely talk it over with your spouse if you are married. Weigh out the pros and cons, then make the best decision you possibly can with the information you have.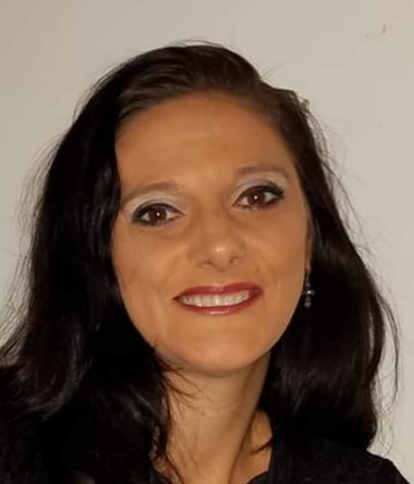 Brandy Woodfolk is an educator, home business owner, project manager, and lifelong learner. After a less than stellar financial upbringing, Brandy dedicated her schooling and independent studies to financial literacy. She quickly became the go-to among family, friends, and acquaintances for everything finance. Her inner circle loves to joke that she is an expert at "budgeting to the penny". Brandy dedicates a large portion of her time to teaching parents how to succeed financially without sacrificing time with their little ones. She also teaches classes to homeschooled teenagers about finances and other life skills they need to succeed as adults.
Brandy writes about smart money management and wealth building in simple and relatable ways so all who wish to can understand the world of finance.