Home purchase loans are a type of mortgage loan used to buy a home. It's not a loan that is taken out after you buy the home, such as a home equity loan. A borrower can get this loan from a bank, a credit union, or a private source of funds, including the seller who is selling the home.
When Is the Right Time for Home Purchase Loans?
Before you begin the process of purchasing a home, there are some things you want to consider.
Consider your financial situation. You need to be certain that you have a steady income and have a decent amount of money you can use to put toward your down payment. If you choose to buy a home before you are ready, this can be a disaster financially.
Think about the market. You should be on the lookout for a home that will increase in value over time. Consider if it is an up-and-coming neighborhood that you are buying into and the current economic conditions.
Consider your life stage. If you are going to be moving in a year or two then buying a home right now may not be the best plan. You should only buy a home if you are going to be in it for the next five to seven years since there are plenty of expenses related to buying a home.
Buying a house can be one of the most stressful and exciting times of your life. There are many things to consider when you want to buy a house.#mortgageloans #savingmoney #weaddingloans #travelloans ?https://t.co/9zagZtWfUL pic.twitter.com/Amr0lJu4ZA

— Loanry.com | Loan Shop ? (@LoanryStore) November 8, 2019
The Basic Types of Loans
When you are researching home purchase loans, it helps to know your lingo when it comes to mortgages.
Conventional
A conventional loan that has a fixed loan rate is usually a safe bet. The reason is that the payments don't change over the life of your loan. These loans are available in different year terms, ranging from 10 to 40, but 15 and 30 are the most common types. With a fixed home loan, you can get the best rates for qualified borrowers and there isn't any mortgage insurance required if you put down 20%. This type of mortgage is worth a thought if you plan to stay in the home for a longer time period, have built a credit history, and have the funds for a down payment. If you aren't putting down 20% and have private mortgage insurance, you would be able to refinance at a later date in order to stop paying it.
Interest Only
This loan gives you the option during the first five to 10 years to only pay the interest portion of the payment instead of your full payment. You aren't required to do this but it slows down the repayment time and this can be helpful. After this period, the rest of the loan is paid off just like a conventional one.
With Adjustable Rate
There are many different types of these home purchase loans. The interest rate will change over time throughout the life of the loan. The rate changes are due to the economy and the cost of borrowing money. A common type of loan is a 5/1, where the interest rate will stay the same for five years and then changes for the rest of the loan. An adjustable-rate mortgage can be useful for you if you plan on moving or selling your home in a few years.
FHA and VA loan
This loan is guaranteed by the Federal Housing Administration. These require smaller down payments than some other options. An FHA mortgage has both fixed-rate and adjustable-rate options available and can be useful for someone with a lack of credit history or someone with some credit problems in the past. With these loans, you are paying the mortgage insurance as part of the loan. This insurance protects the lender in case you default on the loan.
VA loans are for veterans and their spouses to buy homes. The Department of Veteran Affairs guarantees them and some don't require a down payment.
Combo, Ballon and Jumbo loan
The combo loan is when you put down less than 20% and then get another type of loan to pay for the down payment, in order to avoid paying any private mortgage insurance.
With a balloon loan, you would pay interest for a certain period of time. And after this time the total principal amount is paid.
A jumbo loan is too big for the federal government to guarantee. This means that the borrower wouldn't get the lower interest rate that would be available on smaller loans. A jumbo mortgage may be the right choice for you if you can put down 20%, have good credit, and want to avoid multiple mortgages.
Income and Equity Requirements for Home Purchase Loans
The lender determines home mortgage pricing in two different ways. In addition to checking your FICO score, lenders also calculate the loan-to-value ratio to set the interest rate and the amount of money they will loan to you.
The loan-to-value ratio, or LTV, is the amount of implied equity that is available in the home or collateral being borrowed against. For a home purchase, LTV is decided by dividing the loan amount by the purchase price of the house. The more money you put down with your down payment, the less likely you are going to default on the loan The higher the LTV, the greater the risk of default so lenders charge you more.
The debt service coverage ratio helps the lender determine your ability to pay the mortgage. A lender will divide your monthly income by the mortgage cost to look at the probability that you will default on the mortgage. The greater the ratio for this number, the greater the probability is that you will be able to cover the borrowing cost. And the lender doesn't take on as big a risk.
It's important that you include any type of qualifying income you have when you are negotiating with a mortgage lender. Sureties, another income-generating business, or an extra part-time job can make a difference when qualifying for a loan and getting the best rate possible.
Steps to Getting a Home Purchase Loan
There are some different steps of getting home purchase loans that you should be aware of before you begin the process.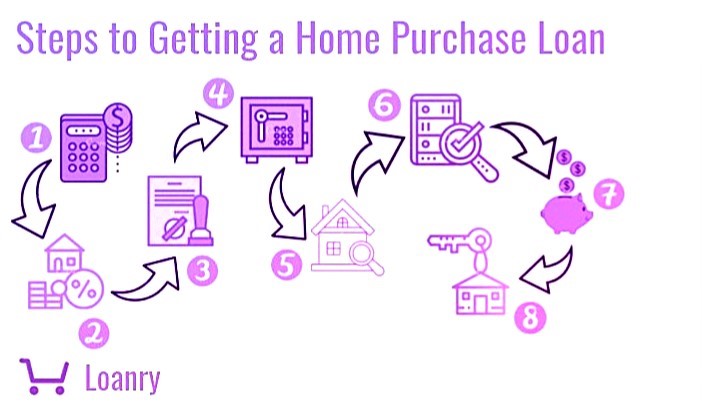 1. Review your financial circumstances
Start to pull your credit reports and scores. You can start to use a home affordability calculator to see how much home you can afford. If your credit score is too low or you aren't able to afford a home in your market, you will need to spend some more time-saving.
2. Decide which mortgage type is right
With so many different mortgage types, you need to consider which one is best for your financial situation. Do you want a 15-year or 30-year mortgage? Do you have a down payment large enough for a conventional loan or do you need to rely on an FHA loan? Are there mortgage options where you could avoid mortgage insurance? Mortgage loan shopping is an important part of the process so be sure not to skip it
3. Get pre-approval before you start house hunting
Once you have a preapproval letter in hand it's easier to shop for homes in that price range. Home sellers will take you more seriously if you are already preapproved
4. Make an offer on the prospective home during this time
You will have to make an earnest money deposit to show your commitment
5. Get a home inspection
Once the offer is accepted you want to pay for a home inspection to ensure the home is ready to live in and to identify any repairs the seller should complete before the sale moves forward. At this point, you will also fill out a formal mortgage application
6. Work with the underwriting team
The application goes to the next stage, which involves verifying documentation before you get final approval. The underwriting team will ask for updated paperwork so you want to be quick in your response in order to prevent any delays. The lender will also order an appraisal to confirm the home value is enough for the loan amount. You get the closing disclosure three days before your scheduled closing date
7. Start saving
Not only will you need some money for a down payment in most cases but you also want money to cover your closing costs. In addition, you want to keep your emergency fund intact before you buy the home so you can prove to your lender that you can make the mortgage payment should you suffer a medical emergency or a job loss
8. Complete the final walkthrough
Before you go to the closing table, walk through the property to make sure the repairs were addressed. Once you are at closing you will pay your down payment, sign several documents, pay your closing costs, and get your keys
Home Buying Mistakes to Avoid
Buying a home can be a great experience but it can also be overwhelming. There are ways to streamline the process but it's important to avoid these home buying mistakes.
Preapproval First
It's best to start the process of home purchase loans early and get a preapproval. This part of the process is helpful because it shows you how much home you can reasonably afford and that way you can adjust your expectations and budget accordingly. Preapproval will also give you the opportunity to check your credit. Once you have preapproval you can confidently shop for a property knowing that your financing will be in place.
Putting Off Credit Issues
You have to deal with the credit issues that could be keeping you from getting a loan. This includes raising your credit score, waiting to open more credit cards, and paying off debt. Your credit score is a key factor that determines the conditions and terms of your mortgage so it's important to know where your score stands. Those with a score of 620 could pay almost a full percentage point more than someone with a 740 score. Some credit issues can be easy to fix and it can save you thousands on your loan. Start tracking your score now.
Making Assumptions About a Down Payment
You may think you don't need any money for a down payment but, in fact, you do. You can get away with less than a normal 20% down payment but you likely have to put something down.
Not Having a Good Real Estate Agent
Finding a real estate agent who is knowledgeable and has your interest in mind is important to home buyers, especially first-time home buyers. You will likely have a lot of questions and this person is responsible for helping you find your dream home. In addition to finding someone you trust, you need to find one with current market knowledge.
Not Researching Mortgage Lenders
Finding a good mortgage lender is imperative in a competitive market. A seasoned mortgage lender can help you set your financial goals and secure a loan within your budget. Once you find someone you trust you can feel confident in the mortgage rates and the steps they are helping you take to protect your finances. Start with referrals from family and friends and then ask questions.
Loanry can help you to find reputable, trustworthy lenders. Put in your information below and see if you will get any offers from potential lenders.
What You Need for Preapproval for Home Purchase Loans
Since preapproval is such an important step when it comes to home purchase loans it helps to know what you need in order to get one. Preapproval usually lasts for a particular period, such as 60 or 90 days. The final approval happens when you have an appraisal done and the loan is applied to the property you are buying.
Proof of Income
Homebuyers will need to produce W-2 wage statements from the past two years, some recent pay stubs that show your income, and year-to-date income. There should also be proof of any additional income, such as bonuses or alimony and the most recent year's tax returns.
Proof of Assets
A borrower will need investment account statements and bank statements to show that there are funds for the down payment and for the closing costs, as well as additional cash reserves. The down payment will vary by loan and will have mortgage insurance if you are putting less than 20% down. A buyer who has money from a relative or a friend to help with the down payment will need a gift letter in order to prove that the funds aren't a loan.
Good Credit
For a conventional loan, you will need a FICO score of 620. For an FHA loan, you may need a lower credit score. Keep in mind that lenders will usually reserve the lowest interest rates for those with a credit score of 760 or higher. The FHA guidelines allow for approved borrowers who have a score of 580 or higher to pay as little as 2.5% down. Those with lower scores will need to make a bigger down payment. Lenders may work with you if your score isn't high enough to suggest ways to improve the score.
Employment Verification
Lenders want to be sure that they lend money to a borrower with stable employment. Lenders not only want to see the pay stubs but will also call the employer to verify salary and employment. A lender may want to contact the employer if a buyer recently changed jobs. Those who are self-employed will need to provide a lot more paperwork confirming income and their business. The factors that go into approving a self-employed borrower include:
the stability of the borrower's income
the nature and location of the borrower's business
the financial strength of the business
the ability of the business to continue generating income
the demand for the products or services offered by the business
A self-employed borrower will need to have at least two recent tax returns with all appropriate schedules.
Other Documentation
Even if all this seems like a lot of documentation, you may still need more. Lenders will need a copy of your driver's license and your Social Security Number. This allows the lender to pull a credit report. Prepare yourself for all this documentation at the pre-approval session. And then you may need to provide additional paperwork if requested by the lender at a later date. The faster you provide the documentation needed, the smoother the process will be.
You want to do this all before you go house hunting. Getting approved for home purchase loans before you find your dream property will save you a lot of trouble down the line. And home sellers will take your offer more seriously with financing already in hand.
Conclusion
Home purchase loans give you the opportunity to purchase one of the biggest things in your life: your home. There are different types of home purchase loans and mortgages to consider and it helps to work with a mortgage lender in order to find the right one that suits your needs. Your income and credit score will play a big role in if you qualify for a loan and what your interest rate will be. There are some home-buying mistakes you want to avoid. Preapproval is an important part of the process and you can make it much smoother by having all the right documentation ready to go.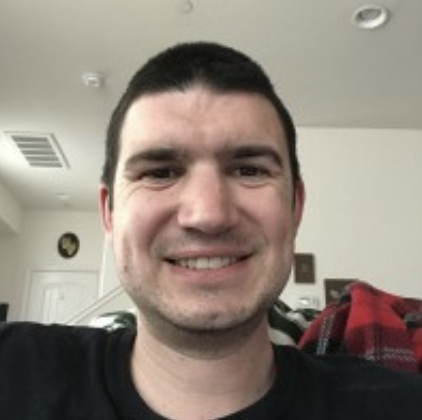 Kevin Strauss is a personal finance writer and homeowner based in the Los Angeles area. Being in one of the most expensive markets in the country, he's learned to maximize resources to plan for both his monthly expenses and future financial needs. Kevin has a passion for helping those in a similar situation navigate the complex world of personal finance so they can pay down debt, plan for the future and live out their dreams.  In addition to covering personal finance in depth on Loanry.com, Cashry.com, Debtry.com, Budgetry.com, Billry.com, Creditry.com and Taxry.com.  Kevin shares his expertise with readers who want to create budget-friendly habits across the web.