When you think of military benefits, you probably think of continued health care through the Veterans Administration (VA) hospital or buying cheap groceries at the PX. The VA's loan program should top your list though. Low rates and zero down requirements make VA loans one of the top benefits available to those in or released from the military.
All About VA Loans
Qualified recipients can purchase or build a home or refinance one with a loan up to $484,350, the 2019 loan limit. In areas where real estate costs more like New York City and Los Angeles, the VA provides a higher loan limit. You also avoid paying for Private Mortgage Insurance (PMI). PMI insurance type protects your lender until you reach at least 20 percent equity for which you pay monthly premiums.
During the year 2018, the VA backed mortgages worth $161.3 billion. The average home loan amount was $264,197.
The affordability of these loans makes them attractive to every service-member and veteran who wants to own a home. Traditional mortgages simply cost more money, and they have far tougher qualifications. Read on to learn how to shop mortgage lenders, apply for a VA loan and to explore the loan process in-depth.
VA Loans: Basic Training
Your loan still comes from a private lender although it is backed by the US Department of Veterans Affairs. The program began in 1944 and since then more than 22 million individuals have purchased homes through it.
With a conventional home loan, you must put down as much as 20 percent. The VA loan programs offer the only loans you can get with no down payment.
With a conventional home loan, you must purchase PMI which can incur a monthly cost of hundreds of dollars. You avoid that with a VA loan.
With a conventional home loan, interest rates can reach sky-high limits. The government backing on a VA loan keeps its interest rates very low – in many cases, under five percent.
With a conventional home loan, you must meet stringent requirements. The VA home loan program provides a more lenient lending policy and has more lax requirements.
VA Funding Fee
You will pay a VA Funding Fee to the Department of Veterans Affairs which helps pay for future VA loans. Those with a service-related disability avoid the funding fee. Which ranges from about 2 percent for first-time homebuyers to 3.3 percent to 3.6 percent for repeat home buyers. You can bundle this cost into the loan amount.
VA Loan Limits
The zero down payment loan limit for 2019 was $484,350. In major metropolitan areas where the cost of a home rises higher than the typical US home, the home buyer can qualify for up to $726,000. New York City is one of the locations where this exception applies. A veteran can qualify for loans for larger amounts, but they must put money down.
The loan amount for which you can qualify varies. Your credit score and debt ratio still largely determine this. You can determine ahead of time the amount of house payment you can afford with the amount you can put down as an initial payment.
Common Home Mortgage Terms and Definitions | Loanry https://t.co/qz8jPmFpME #mortgageterms

— Loanry.com | Loan Shop ? (@LoanryStore) August 28, 2019

AIT: VA Home Loan Types
You can obtain a VA-backed loan or a direct home loan.
VA-backed loan
With a VA-backed loan, the VA guarantees the loan you obtain from a private lender. This means that if the lender must foreclose on your home because you defaulted on the loan, the lender can recover a portion of or all of its losses. This lessens lender risk, resulting in improved loan terms for you.
Another benefit to you is that the financial lenders follow VA loan standards rather than their own. They can require additional standards. But these typically fall within a reasonable request such as a specific minimum credit score or obtaining an updated home appraisal. If you apply for a direct from the VA loan, no minimum credit score requirement exists. If you apply for loans from private or traditional lenders, you will need to meet their requirements. Which typically is a credit score of 620 or higher.
VA Direct Home Loan
Conversely, with a VA direct home loan, the VA functions as your mortgage lender. You apply to the Administration and work with the VA to manage a loan you receive.
You still must prove you have sufficient income to repay the mortgage. While VA loans still look at your debt load, the guidelines for the debt ratio are a little more lenient. VA guidelines allow veterans to use their home-loan benefits a year or two after bankruptcy or foreclosure.
Within both of these loan types, you will find various programs.
Purchase loan: a loan to buy a home for the first time or as a repeat buyer
Native American Direct Loan (NADL): a home loan and home improvement loan program for Native American veterans and veterans who are married to a Native American. This direct loan from the VA lets the individual purchase or improve a home on federal trust land
Interest Rate Reduction Refinance Loan (IRRRL): individuals who already have a VA-backed home loan may qualify for an IRRRL which reduces or stabilizes monthly payments
Cash-out refinance loan: you take out a loan against the equity in your home which you can then use to fund the school, pay debts or use it in some other manner
If you want to see which lenders may want to make you an offer, start with this form:
Caveats to VA Loans
You can use VA residential mortgage loans for more than one home. But it can only be for your primary residence. VA loans cannot be used to finance vacation homes or investment properties.
You must obtain a certificate of eligibility (COE) before you can apply for a VA home loan. You can qualify for basic entitlement and/or bonus entitlement. The basic entitlement equals $36,000 or 25 percent of the total mortgage whichever is less. A bonus entitlement equals up to $85,087, still 25 percent of a larger loan amount. The 25 percent is the amount of the loan the VA covers. It is not the same as the loan limit. This is the amount that the VA guarantees to the financial lending institution.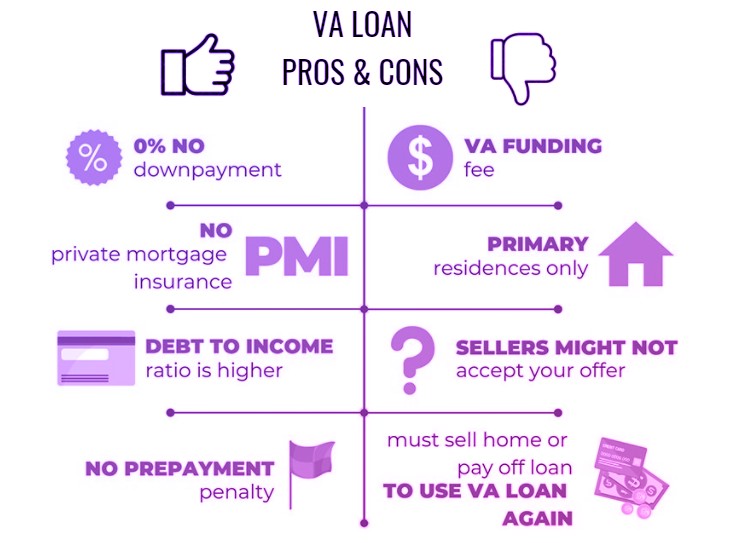 Get Your COE
You can apply for your COE in three different ways. Again, you will need this before you can apply for VA loans.
Lender request: Have your lender use the database at their disposal to determine your eligibility and produce your COE
VA.gov: Apply online at VA.Gov by logging into your account and completing the COE application page
Postal mail: Print a hard copy of the COE application from the VA website. Complete it and include your eligibility documentation. Mail the application to the VA
Documents Required for COE
Your necessary documents vary by branch.
You can use your full entitlement package more than once. Deplete your entitlement a little at a time. You might use $24,000 of your package on the first home you purchase. Selling it ten years later, you might return to the VA for a second home loan and use another $12,000 of entitlement.
Veterans and Current or Former National Guard or Reserve Members in Federal Active Service
Must include a DD Form 214 with a copy showing the type of service and the reason for leaving.
Active Duty Service Members, Current National Guard or Reserve Members
Who have never been Federal active service must include an up-to-date statement of service signed by the adjutant, personnel office or commander of the unit or headquarters with their name, Social Security number, date of birth, entry date of active duty, duration of lost time and the name of the command providing the data
Current National Guard or Reserve Member
Who has never been Federal active service must include an NGB Form 22, report of separation and record of service for each period of National Guard service
Current National Guard or Reserve Member
Who has never been Federal active service must include an NGB Form 23, Retirement Points Accounting and proof of the character of service
Discharged Member of the Selected Reserve
Who has never been activated for Federal active service must include a copy of your latest annual retirement points statement and evidence of honorable service
Surviving Spouse
Spouses who receiving Dependency & Indemnity Compensation benefits must submit VA Form 26-1817 and veteran's DD214, if available. If they receiving Dependency & Indemnity Compensation benefits must submit the veteran's and surviving spouse's social security number on the 26-1817 form. Surviving partners must include a copy of your marriage license, and need to submit form DD214, proving discharge orders. For those who do not receive Dependency & Indemnity Compensation benefits must submit VA form 21-534. Mail a copy of VA 21-534 to the mailing address for your state of residence. Surviving spouses must include the death certificate or DD Form 1300 – Report of Casualty.
Eligibility Requirements
By now, you have seen me refer to the eligibility requirements a number of times. Ah, but what are they, you ask?
You will be happy to know that it is really easy to obtain your COE. You are eligible for a VA loan if you meet any of the following statuses:
regular active military
veterans
reservists
National Guard
military spouses whose spouse died during active duty or from a service-connected disability
There Are a Few Qualifications For the Above Categories of Individuals
Active-duty military personnel must serve for six months before qualifying for a COE. If an active duty military member serves 90 consecutive days during wartime, they qualify for the COE.
National Guard members and reservists must serve six years before qualifying for a COE. If they get called to active duty, they gain eligibility following 181 days of active duty.
Here's the thing – a COE simply means you qualify to apply for a mortgage. The COE allows you to start shopping for your mortgage. That is not like shopping for a new pair of blue jeans. You start looking for a mortgage by considering traditional mortgage lending institutions. That means you will need to meet each lender's requirements for debt-to-income ratio, credit score and income verification. Typically, these VA loans do not include any income verification mortgage option.
The fees required vary by branch, too. It also varies depending on which option you choose – zero down payment or a down payment of 10 percent or greater.
Armed forces first-time borrowers with no money down pay a fee of 2.15 percent of the loan amount
Armed forces first-time borrowers with 10 percent or greater down pay a fee of 1.25 percent
National Guard members and reservists pay an additional quarter of a percentage point more than active-duty military
Returning borrowers with no money down pay 3.3 percent of the loan amount
Home Occupancy Requirements
You typically must move into your new home within 60 days of purchase. You must use it as your primary residence. Some exceptions are made to the move-in deadline based upon a case by case basis.

Final Thoughts
The VA also offers financial counseling to its borrowers. If you cannot make your mortgage payments, the VA will help you negotiate with the lender to alter the repayment plan, modify the loan and help develop other alternatives to foreclosure. The VA offers mortgage counseling to every veteran regardless of whether they obtained a VA loan. Phone (877) 827-3702 for financial counseling and help with getting a handle on your mortgage.

Carlie Lawson writes about business and finance, specializing in entertainment, cryptocurrency and FOREX coverage. She wrote weekly entertainment business and finance articles for JollyJo.tv, Keysian and Movitly for a combined seven years. A former newspaper journalist, she now owns Powell Lawson Creatives, a PR firm, and Powell Lawson Consulting, a business continuity and hazards planning consultancy. She earned BAs in Journalism and Film & Video Studies from the University of Oklahoma. She also earned her Master of Regional & City Planning at OU. Her passion lies in helping people make money while reducing risk.