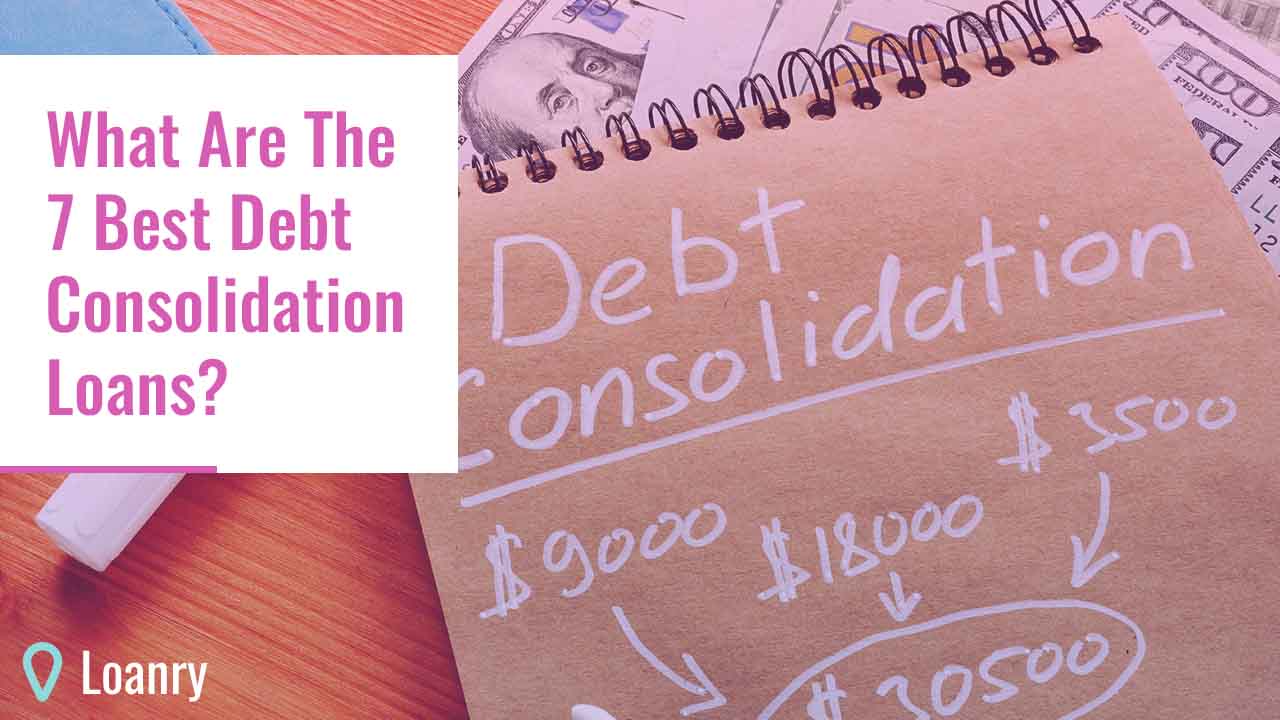 Don't you just wish you could snap your fingers and make your debt disappear? Yeah, me too. Unfortunately, that is not a possibility. Instead, we have to find other ways to get out from under our debt. Thank goodness there happen to be several ways to get rid of debt, one of which is through debt consolidation loans.
Best Debt Consolidation Loans
With debt consolidation loans, you gain simplicity and usually save a lot in interest. Every time you make a payment, some of your money goes on the interest. But it's important to find a good option for you. We reviewed 7 best consolidation loans below.
1. OneMain Financial
OneMain Financial provides debt consolidation loans and other loan types to borrowers with not so great credit. They have no set credit score or income requirements since their decision is based on several things. The credit decision is based on your credit history, your income, and expenses, why you need the loan, and your overall ability to repay. This gives many people who normally would not qualify for credit a chance.
OneMain Financial debt consolidation loans come with up to five years to repay, and you are not penalized for repaying early. There is a pretty high-interest range, too, with the lowest rate being 18 percent. However, that interest is fixed into your monthly payments, so you do not have to worry about the interest compounding each month. You can usually get an answer on the same day as your application, but you have to go in person to finalize the paperwork.
OneMain Financial offers both secured and unsecured loans. However, unsecured loans will typically come with a higher APR. This is a great loan for those with low credit scores. However, if you have a higher credit score, you can typically get approved through another lender with lower interest.
Pros:
Fast approval
Fixed payments
No prepayment penalty
Repeat customers usually get better terms
Cons:
Larger loan amounts require collateral
Must go into the office to close the loan
High interest

2. Avant
Avant is another company that offers debt consolidation loans for those with low credit. In fact, thanks to their low credit requirements, it is considered one of the best avenues for debt consolidation for poor credit. Their interest rates start as low as 9.95 percent, but if you have low credit, you should expect to move closer to the 35.99 percent interest rate. Additionally, they charge administration fees, late fees, and an unsuccessful payment fee, so you definitely do not want anything to go wrong.
Repayment terms go all the way up to 5 years, and there is no fee for paying your loan off early. One awesome thing about Avant is that they actually let you refinance your loans. If you find you need longer to repay your loan, need a lower monthly payment, or your credit improves enough to get better terms, you can refinance. It is always nice to know that something like this exists just in case you have some unexpected trouble.
Pros:
Can refinance if needed
No prepayment penalty
Low credit score requirements
Cons:
Cannot use a cosigner
Administrative fees of at least 4.75 percent
Late fee and unsuccessful payment fee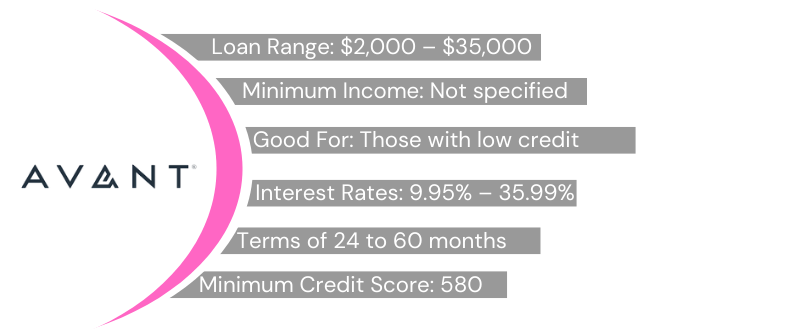 3. Upgrade
Upgrade is a favorite among many borrowers. You need at least a 580 credit score, which is pretty fair. There is no specified amount of income you need to make, which is helpful, of course. However, most borrowers make more than $30,000 per year. They also typically also have at least $1,000 leftover after paying bills each month. So, technically, there is a minimum amount of income required – it just depends on your monthly bills.
The interest rates are not too terrible, starting at 5.94 percent, and you can get up to seven years to repay your loan. You will also be charged origination fees of up to 8 percent of the loan. The lowest interest rates and best terms are usually available to those that set up autopay.
One of my favorite parts about Upgrade is that they have a hardship program for clients who are struggling, meaning that if you happen to lose your job, they will most likely work with you instead of letting your credit be ruined. Upgrade is not available in some states, including Maryland, Wisconsin, Iowa, West Virginia, Colorado, and Vermont.
Pros:
Help when struggling financially
Up to 7 years for repayment
Cons:
Origination fees of 1.5 to 6 percent
Need free cash flow
Not available everywhere
Minimum loan amounts vary according to location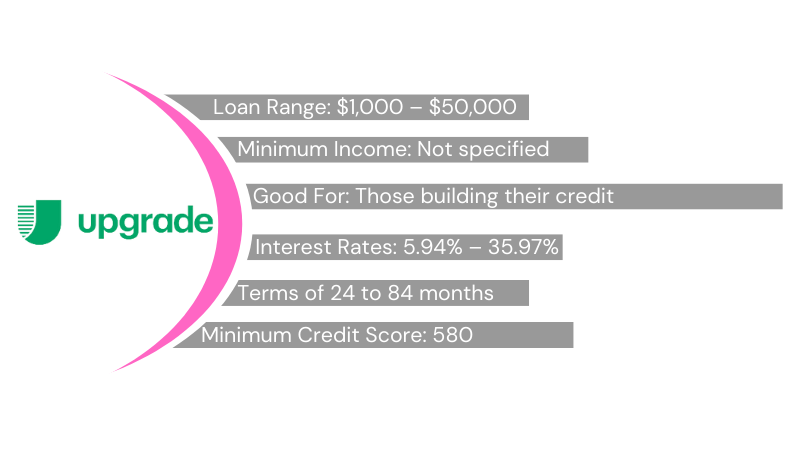 4. SoFi
SoFi offers debt consolidation loans and other loan types, but you have to meet some pretty stringent requirements to get approved. You- and your cosigner if you have one- need a credit score of at least 680, which is very difficult for many people. For some, a score of 700 is required, depending on the loan type and your financial state. While no minimum income is specified, most of the borrowers they approve make more than $100,000 each year.
SoFi offers both fixed and variable interest rates that start as low as 5.74 percent and go all the way up to 21.78 percent. The better your credit, the lower your rate. Repayment terms can go all the way up to seven years, and SoFi offers rewards- so to speak- to some clients. Those who sign up for the AutoPay option get a 0.25 percent discount on their interest.
Additionally, for every 12 consecutive payments you make on time, you can defer one payment. It is important to note, though, that you will continue to accrue interest on those deferred payments.
Pros:
No fees
Fixed and variable rate available
Discount for AutoPay
Cons:
Stringent requirements
Interest can get high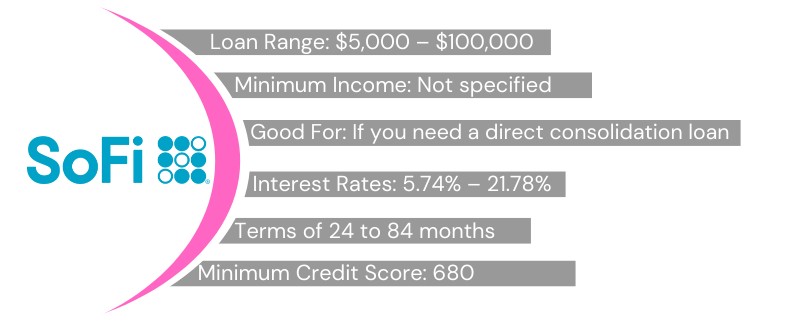 5. Marcus by Goldman Sachs
Marcus by Goldman Sachs is a pretty well-known financial institution that offers bank accounts, debt consolidation loans, and more. This institution caters to those who have a good credit score but not necessarily a long credit history. You can borrow up to $40,000, so it is a good option for those with large debts to consolidate. Unfortunately, if you are approved, it can take several days for you to actually receive the funds.
If you make timely payments for a set time period, you are offered the chance to defer a payment. There are no fees involved and they even let you change your monthly due date up to three times if needed. They do not allow cosigners and interest can go up to nearly 20 percent. Documents required to apply will depend on several things, including the specific loan you are applying for.
Pros:
No late fees or origination fees
Rewards for timely payments
Can help with large debt
Can change your due date
Cons:
Needs pretty good credit
No cosign option
Can take time to receive loan funds
Interest can get high

6. Payoff
If you have a pretty good credit score and at least three years of credit history, Payoff is a great option for debt consolidation loans. You can borrow up to $40,000, and with the right credit score, you can do it with as little as 5.99 percent interest. Additionally, you can take up to five years to repay it without worrying about fees in the process. They even give you a 10 day grace period if you happen to be late on a payment.
Of course, lower credit scores will typically get higher interest rates. Payoff's go all the way up to nearly 25 percent. You might face an origination fee of up to 5 percent, though some pay nothing. Payoff is not available in every state, including Massachusetts and Nevada.
Pros:
Offers education
No prepayment or late fees
Prequalification
Cons:
Origination fees up to 5 percent
Not available in all states

7. LightStream
LightStream is a division of the well known SunTrust Bank. They offer interest rates as low as 5.49 percent on loans up to $100,000. Signing up for AutoPay gets you a discount on your interest, and you can have up to seven years to repay the loan. LightStream can get you the funds you need as quickly as the same day that you apply for the loan.
LightStream does require a credit score of at least 660, but you can have a cosigner to help you get approved. There are no specified income requirements, though. While some other loans allow you to use the money for what you need, LightStream says that you can only spend the money on the listed purposes. This is not really a big issue as you are supposed to be getting the loan for a specific purpose. However, it is important to understand that you are not allowed to deviate when it comes to LightStream debt consolidation loans.
Pros:
Up to 7 years for repayment
No fees
Can use a cosigner
No specific minimum income
Cons:
No prequalification process online
Can only use the loan for approved purposes
Pretty high credit score requirements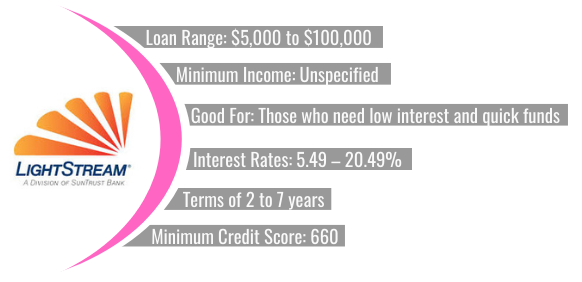 How do Debt Consolidation Loans Work?
The Oxford Dictionary definition of the word "consolidate" is to "combine (a number of things) into a single more effective or coherent whole". Using that definition, debt consolidation means combining all of your qualifying debts into one single loan. It tends to create a simpler and more effective plan for paying off debt.
Another good thing about debt consolidation is that your monthly payments are typically much lower than the sum of the separate payments. If you borrow $10,000, you will get a number of years to repay. Instead of making 10 $100 payments each month, you will likely end up paying less than half of that. Some people end up paying closer to a tenth of their current payments with the right lender and credit score.
Will Debt Consolidation Loans Hurt My Credit?
It is common to wonder whether or not debt consolidation loans will hurt your credit. There is no straight answer to this question as they can both help and hurt your credit, but they usually do a lot more good over the long haul. When you first get a debt consolidation loan, your score will likely drop because you are increasing the debt you owe.
However, once you have paid off your old debts with the debt consolidation loan, your score will increase. As you make timely payments on your loan, your score will increase even more. The short answer is that it will hurt your credit in the very beginning, but it will quickly begin to help it.
Debt Consolidation Loans VS Debt Settlement
Debt consolidation loans are a successful way to get out of debt, but they are not the only way. You might also consider debt settlement, through which you settle your debts for a lower balance than what you owe. Both of these options have benefits.
Truth be told, though, you can actually use the two methods together. Work with your debtors to settle for a lower amount, and then use a debt consolidation loan to pay them off. If you can manage to merge these two methods, you can get your credit in order quickly at a lower amount than you thought.
Conclusion
Debt consolidation loans are a great option for people who are in a lot of debt and have trouble making payments. If you choose to get debt consolidation loans, make sure you are committed to using them for the right reasons and making your loan payments. If you end up spending the loan funds on something else, you are only hurting yourself as you will still be in the same debt you were plus the new debt.
Not making loan payments will just cancel out all the work you did to pay off old debt. Before you apply for any loans, make sure you have a plan that you can commit to and handle things responsibly. If you feel you cannot, either have someone manage it all for you or find another way to pay off your debt.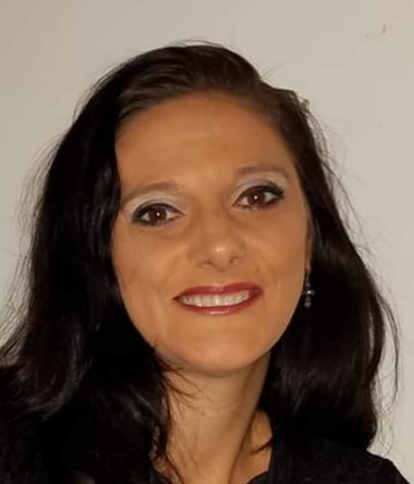 Brandy Woodfolk is an educator, home business owner, project manager, and lifelong learner. After a less than stellar financial upbringing, Brandy dedicated her schooling and independent studies to financial literacy. She quickly became the go-to among family, friends, and acquaintances for everything finance. Her inner circle loves to joke that she is an expert at "budgeting to the penny". Brandy dedicates a large portion of her time to teaching parents how to succeed financially without sacrificing time with their little ones. She also teaches classes to homeschooled teenagers about finances and other life skills they need to succeed as adults.
Brandy writes about smart money management and wealth building in simple and relatable ways so all who wish to can understand the world of finance.