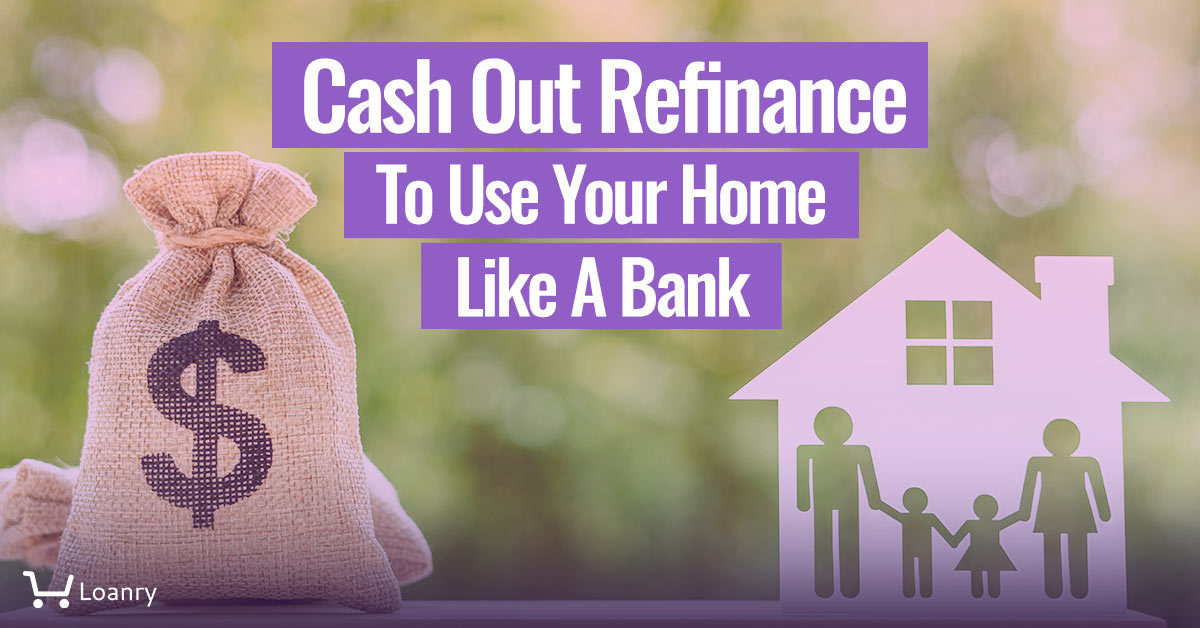 You may love your home and want to remain there. You may also need remodeling or renovation to make it livable or to meet a change of life. Maybe you need to widen doors to accommodate a wheelchair. Perhaps you need to add a mother-in-law apartment. Perhaps you need to replace your furnishings. One of the simplest ways to pay for these needs is a cash-out refinance mortgage to replace your existing mortgage. You can obtain a new home loan that provides funds for more than you owe for the home with the difference going to you in cash. A traditional refinancing mortgage simply gives you a mortgage loan in the same amount that owe, but a cash-out refinance lets you access home equity.
Everything You Should Know About Cash-out Refinance
Cash-Out refinancing loan differs from a home equity loan though. You can join the 8.2 million homeowners already benefitting from a cash-out refinance mortgage as of June 2019.
You will pay a slightly higher interest rate and the cash-out limit will range between 80 to 90 percent of your home's equity. While you may wish you could get all the home's equity, this does mean you can borrow against it without depleting it. That also means you still have a bit of equity for a rainy day. Do not laugh. You will have at least 10 percent left meaning that if you need to access a few thousand dollars quickly, you will still have that money to access via a home equity line of credit. It is like keeping a few thousand dollars in your back pocket. Still, if you really want the full 100 percent of your equity right away, if you obtain a cash-out refinance loan guaranteed by the US Department of Veterans Affairs.
You can add the costs of a new mortgage to the amount refinanced so you do not have to pay anything out of pocket at closing. You can end up with a higher interest rate or longer loan term though. Also, you could end up paying more in interest through the life of the loan.
Now, do not get too excited. You won't get cash right away. You still have to go through an underwriting process, the appraisal and your lender has to approve refinancing. Once you close, you get three days to cancel the loan in case you decide you have changed your mind – guaranteed by the Truth in Lending Act. Three to five days after your closing, you get your cash.
Reasons You Might Need a Cash-Out Refinance Mortgage
While the most common expense for these cash-out refinance loans is home renovations or improvements, you can also use the money for many other reasons.
Debt Consolidation
You can use the equity in your home for a very low-interest rate debt consolidation loan. This will also raise your credit score by letting you completely pay off your credit cards. This instantly reduces your credit utilization ratio.
Medical Bills
Skip the medical credit card and its high-interest rates. You can use the equity in your home to pay medical expenses.
School Expenses
Perhaps you want to attend a school or vocational program that does not offer financial aid packages. Leverage the home equity you have to pay for it.
Vacation
Take that trip around the world with your spouse or family. You can see Paris and enjoy it using your home equity.
Tax Deductions
Use a cash-out refinance mortgage to leverage the interest deduction available if you use the money to buy, build, or renovate your home.
Two Kinds of Refinance
Rate-and-term refinance: You will get a lower interest rate and new loan terms, but only the same amount of money as you currently owe.
Cash-out refinance: You may get a lower interest rate, but you will also get at least 80 percent of your equity in the loan on top of your new mortgage. You must get your home appraised to determine the home's value for the loan-to-value ratio which determines one variable in the formula to decide for what amount of loan you qualify.
Reasons to Avoid Using a Cash-out Refinance Mortgage
To be honest, there are just as many reasons not to take out a cash-out refinance mortgage. You should only use this option for financing if you absolutely must.
Foreclosure Risk
You open yourself to the risk of foreclosure because your home becomes the collateral. If you fail to make the payments, you lose your house. While it is possible to use the cash-out refinance loan to pay off your credit card debts, this is frowned upon in the financial world because you repay an unsecured debt with a secured one.
New Terms
You completely reset your mortgage. It will have different terms than the original. You could end up with a higher interest rate and you will pay new loan fees. Read all documentation carefully before you sign anything.
Closing Costs
Yep, it is just like when you bought your home initially. You pay closing costs again. This ranges from two to five percent of the mortgage.
Private Mortgage Insurance
Remember the private mortgage insurance (PMI) you had to purchase when you first bought your home? If you tap into more than 80 percent of your home's value, you have to obtain PMI again. This costs between 0.55 to 2.25 percent of the loan amount annually.
Bad Habits
Start a good habit by working and silently earning money to pay your bills, rather than continuing a bad habit of using a loan pay off your debts while you continue to charge to your credit cards.
An Example of How a Cash-Out Refinance Mortgage Works
In this example scenario, your home has a value of $300,000, but you still owe $100,000. Your lender requires you to leave 20 percent equity, so you can only get a loan for $160,000 or 80 percent of $200,000 of your equity. You can typically obtain a lower interest rate on your mortgage.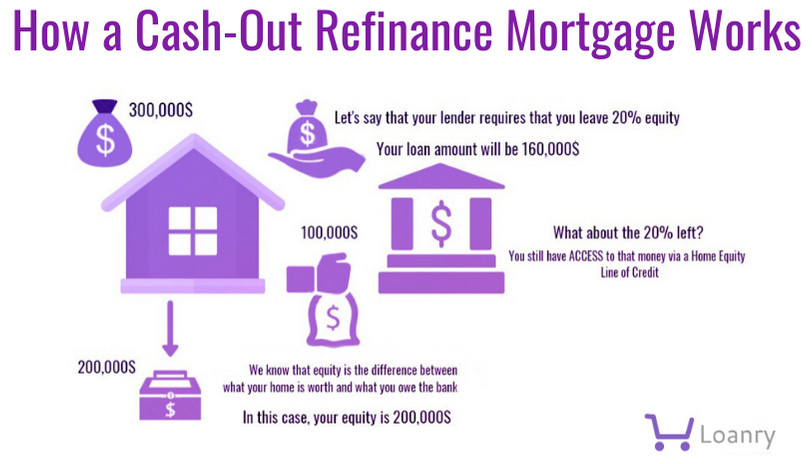 Difference Between a Reverse Mortgage and Cash-Out Refinancing
A reverse mortgage lets you borrow against your home's equity without mortgage payments. You accumulate the interest on a reverse mortgage and pay the full balance when you sell your home or move out. Your heirs must pay it when you die if you die before you have paid it off. That may sound morbid, but you must be aged 62 or older to qualify for a reverse mortgage and the home must be your primary residence. You also must have substantial equity in it or own it outright.
Difference Between a Home Equity Line of Credit and Cash-Out Refinancing
A Home Equity Line of Credit (HELOC) looks like a second mortgage on paper but works like a credit card. You can draw from your HELOC funds when you want to take money out instead of a mortgage that requires you to take funds out in a lump sum. For example, you can purchase the items for your wedding and use it again six months later to purchase a car. Unlike a credit card, you do not pay it back and re-obtain the credit. Once you use your credit limit, your HELOC closes. Until you pay it all back, your house is your collateral.
Remember Your Credit Score Still Matters
While your equity helps you qualify, you still need to know your credit score and it still needs to be about a 620. You can do a few things to raise your score if it is not quite up to par.
Pay your bills early or on time six months in a row. This increases your score by about 20 points.
Check your credit report for errors. Correct the errors by filing a correction request or requesting an investigation of any piece of data that looks questionable. If you do not recognize a credit line or show that the debt was paid, then you need to file a request with the credit bureau through which you obtained the credit report. Each credit bureau provides its own copy of your credit report. Different creditors report to different bureaus so they do not all have the same information.
Pay off your largest credit card debt, if possible. Make a lump-sum payment. This instantly reduces your debt-to-income ratio.
Your credit score is one of the biggest influencing factors that determine the interest rate you obtain. The higher you can get your credit score, the more easily you can obtain a lower interest rate. So, you need a high credit score to save money in the long run.
Specific Requirements for a Cash-out Refinance Loan
Each and every financial lender sets its requirements for refinancing qualifications. Most banks do have some typical requirements though. These include credit scores, debt-to-income ratio minimums, and required equity level.
If you just want a new interest rate and loan terms, you only need a credit score of about 580. If you want to get a cash-out loan though, you need a credit score of at least 620.
You will need a DTI of less than 50 percent. The term DTI ratio refers to the amount of monthly debts and payments divided by the total monthly income.
Here is an example. Let's say you pay $1,500 in housing and other bills each month. Your monthly household income is $4,000. To calculate your DTI ratio, divide $1,500 by $4,000.
1500/4000 = 37.5 percent
That means you would have the required DTI ratio of less than 50 percent.
Your lender will require you to have a sizeable amount of equity to qualify for a cash-out refinance. Keep in mind that you cannot cash out 100 percent of the equity without a VA refinance. Plan accordingly since you will need to calculate ahead of time that 80 percent of your equity will cover the amount you need.
If it is so you can renovate your home, make sure you would have enough money to do the work by obtaining a few estimates from area contractors first. You may need a different type of loan to cover all of the work.
Getting Your Loan Approval
By now, you have probably prepped yourself rather fully. You complete your application for a cash-out refinance. It could take a few days before your lender decides whether to approve the refinance loan. It could take a few weeks. You may have to provide additional paperwork including bank statements, pay stubs and/or W-2s to prove your DTI ratio.
Once you are approved, you head toward your closing. A few days after it, you get the loan monies. Remember, you will still have closing costs, just as if you were purchasing a house again. Your loan check goes directly to the bank first since you have to pay off your original mortgage amount first. That includes the closing costs, real estate taxes, homeowner's insurance and other items you may have bundled into the loan request. After that, the remaining funds belong to you.
Interest Rates
You can get a cash-out refinance with a fixed-rate mortgage or an adjustable-rate mortgage. Which one you choose depends on your financial situation. With respect to HELOCs, you will get a variable interest rate that changes in tandem with the U.S. Prime Rate. You can learn this rate before applying by checking The Wall Street Journal. As the index decreases or increases, so will your interest rate.
If that option does not sound attractive, you can also obtain a fixed-rate loan so that throughout the life of the loan, you will have one interest rate that will never vary.
In Conclusion
You have a number of options when it comes to refinancing your house mortgage. You might just adjust your interest rate and terms, or obtain a cash-out refinancing mortgage or take out a HELOC.  And you have a number of ways to fund household renovations, a new car or numerous other large financial needs. Start researching today at Loanry.

Carlie Lawson writes about business and finance, specializing in entertainment, cryptocurrency and FOREX coverage. She wrote weekly entertainment business and finance articles for JollyJo.tv, Keysian and Movitly for a combined seven years. A former newspaper journalist, she now owns Powell Lawson Creatives, a PR firm, and Powell Lawson Consulting, a business continuity and hazards planning consultancy. She earned BAs in Journalism and Film & Video Studies from the University of Oklahoma. She also earned her Master of Regional & City Planning at OU. Her passion lies in helping people make money while reducing risk.