Buying a car sounds fun until you start shopping for it. At that point, you realize how much work goes into choosing the make, model and getting the loan for the new or used vehicle.
Once you have done your research on vehicles and have determined what you actually want, you need to shop around to find the best deal on financing unless you have tons of money in the bank.
If you know how to car shop, you know that you need to create a budget. And if you know what you can afford each month as a payment, then you know what you can spend. So, if you can save up a larger down payment, you can reduce your monthly payments. If this is your first car, you probably need to learn how to shop for a car loan.
Financing Your Loan
The time comes when you need to determine how best to finance it. Your choices probably include the bank, credit union, dealer financing or savings. Your first decision is either used car loans or new car loans. You need to know whether you will buy a new or used car.
You can get a loan from your bank or credit union with a relatively strong credit score. We're talking between 600 to 700. Banks like to loan to people who already have established good credit. Most credit score systems top out at 800 or 900. (Yes, there is more than one scoring system.) Regardless of whether it tops out at 800 or 900, realize that 600 to 700 translates to a really good score. The lowest score on any of the scales is 300.
So, what if your score drops below 600? You can still get a loan, but you will probably need to go with dealer financing. This option lets you borrow the money although you should be prepared for much higher annual percentage rates. Your interest payments can be remarkably higher with a dealer provided option.
It is totally wonderful if you happen to have thousands of dollars in the bank that it takes to purchase a car outright. Most people do not have that ability. However, if you do have this option, use it. You can very easily save yourself money by using your savings since you do not pay interest or finance charges on money that you own.
Dealer Financing Explained
You already know what savings are and you probably have some familiarity with bank and/or credit union loans. On the other hand, dealer financing may just be a phrase you have heard on television commercials.
Dealer financing also referred to as special financing, refers to a type of loan called an indirect loan. This loan starts with the retailer which offers it directly to its customers. The retailer then sells the loan to a bank or another third-party financial institution. The financial institution typically purchases the loan at a discount. You still end up making payments of the principle and interest to the bank. payments from the borrower.
The auto dealership usually has an agreement set up with the bank already. If you read the fine print on the loan information at the dealership, you can determine which bank will ultimately own the loan.
Car purchase financing is probably the best-known example of dealer financing although you also see it in appliance dealerships and some major home improvement stores. You should really use it only as a last resort and here's why.
Although the bank that ultimately buys the loan and the dealership work together to create the program, they do so with their profit in mind. The financial institution offers the dealership an interest rate that fits most consumers, also referred to as the buy rate. The dealer can then add to the interest rate it offers the customers.
Eek, Those Interest Rates
Why would they do that? It better covers their risk. Every entity involved in making loans is risk-averse. They add fees and interest rates to the loan amount to alleviate the risk. You pay them these extras upfront and on a monthly basis as risk rent.
Automotive dealerships want to sell cars. Most have an existing affiliation with an automotive manufacturer. They report their sales up the chain of command to the manufacturer. These dealer financing programs let the dealerships offer loans to people who would not typically qualify. That helps them sell cars to people who could not generally purchase them. These buyers might not normally qualify for bank financing due to a bad credit rating or other reasons.
The bank that buys the loan gets the interest rate they provided to the auto dealer. The auto dealer gets to keep the money from the mark-up on the interest rate. It becomes an extra profit for them.
Automotive dealers face no obligation to offer customers the best available interest rate.
The dealership gets to arbitrarily set higher rates or longer terms. The dealer can keep your loan rather than turn it over to the bank or other financial institution.

The Benefit to the Dealership
Not only can offering loans at the dealership mean that the auto retailer sells more cars, it means they sell them quicker. Rather than wait for a car buyer to arrange their own financing, the dealership can offer the financing so that the customer can purchase that day.
The Benefit to the Customer
Using dealer financing reduces the effort and time to obtain a loan. You can drive off of the lot with the car you like, typically on the same day you see it. It also provides an option for those with bad credit who cannot otherwise afford a bank loan.
Caveats to Dealer Financing
Not only might the interest rate cost more for a dealer loan, but there can also be other tradeoffs. Auto dealers extending financing to high-risk customers may install devices in the auto that disable it from starting if the customer misses payments. This also helps them repossess the vehicle if needed.
Other Terms Regarding Dealer Financing
Buy Here, Pay Here (BHPH): The terminology of dealer financing includes buy here, pay here which refers to automotive dealers that sell and finance vehicles.
In-House Financing: The term in-house financing refers to a seller financing program that provides customers a loan, so they can purchase its goods or services.
Floor Planning: Floor planning refers to a type of financing for large ticket items displayed in showrooms.
Subprime Auto Loan: A subprime auto loan refers to a loan type that features a high-interest rate. People with high credit scores qualify for prime rate loans while people with lower credit scores qualify for subprime loans.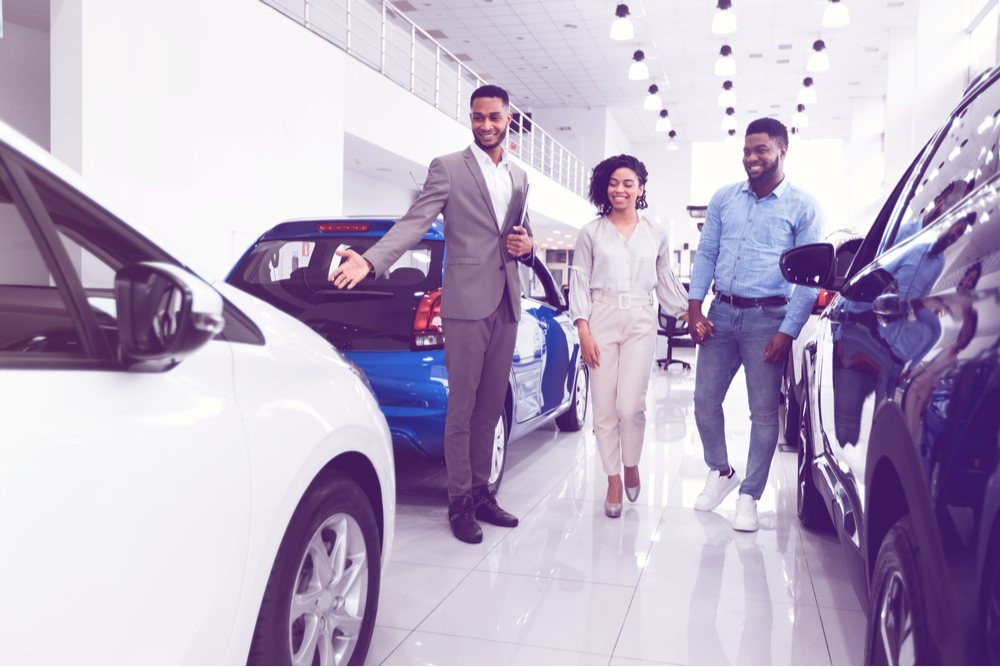 The Truth About Car Dealerships
Car dealers may lead people to believe that they purchase their vehicles and that ties their money up in inventory. Not at all true. The auto dealers take out loans themselves to amass their inventory. The manufacturers provide the financing, the above-defined floorplan financing. You might think the dealer then loses money on interest, but that is not true either. The manufacturer reimburses dealers for their loan financing through a dealer holdback that typically equals one to three percent of the vehicle's invoice price.
Here's How it Works
It might cost the auto dealer $350 a month to finance each vehicle. Let's say a car takes two months to sell. The interest costs them $700. The car costs $20,000 though with a dealer holdback of three percent. That equals $600. If the auto dealer sells the vehicle in one month or less, they make a $250 profit just off of the holdback. The holdback remains the same regardless of how long the car sits on the lot. The interest accrues though.
That is another reason that car dealerships want to move vehicles off of their lots quickly. They did not sink lots of their own money into the inventory. Sp they did the same thing you will do to buy a car or truck. They took out a loan. Their loan costs them interest, too.
What Automotive Dealers Make Most of They Money From
Automotive dealers make most of their money from the following:
the extra money on your car loan interest,
selling add-ons,
trade-in vehicles
The interest that dealers charge you over and above the bank's interest rate can net them as much as $3,000.
When it comes to trade-ins, they low-ball the price they give you, then they turn around and sell it for a profit after a little detailing and regular maintenance. The dealer makes about $2,000 on the trade-in once it sells. Then there are the add-ons. These include accessories to the car, maintenance packages, gap insurance, an extended warranty, and much more. Between parts and service plus on-site maintenance, the dealer can add about $3,000 to their profit.
All of that together means the dealership makes about $10,000 off of the sale of a single car. Now, you see why they so badly want to move vehicles off of the lot quickly. The interest rate from their own loans from the manufacturer quickly eats up the profit potential. If a car sits on the lot for six months, it quickly eats into their profit. Six months cost them $2,100 in interest alone.
Getting Ready to Apply for an Auto Loan
Before you jump into the actual car shopping and auto loan applications, plan out your budget and get your credit ready. You typically know ahead of time when you will be car shopping. Start about six months before you want to buy your new or used car getting your credit ready.
While you have moved into credit checking mode, go to Creditry.com to learn how to manage your credit.

This part applies whether you have great, so-so, bad, or no credit. Regardless of how you currently manage credit and money, you can always learn something new and improve. Creditry helps you keep on top of all your credit lines and loans. If you have not opened any credit lines yet, you are in luck because it lets you learn how to deftly manage your credit cards and loans.
Check your credit. You can do this for free by visiting the federal government provided free credit report website. Every twelve months you can obtain a copy of your credit report from each of the major credit bureaus. That means you will have three copies to compare and contrast.
You can apply for preapproval online or by visiting your local branch of the bank. You typically need to already know what type of vehicle you want, so the bank can determine if it is willing to assume the risk for you to afford it. When you get the loan directly from the bank or credit union, you will obtain a true interest rate with zero markup.
Final Thoughts
Got your credit in order? Found a loan? Good job. Go vehicle shopping. You may buy whatever you can actually afford. Pick something that gets good gas mileage and has a high safety rating. You'll save money on your auto insurance.
You probably already budgeted for your auto insurance, but in case you forgot it, such a bonus that you are reading this before you even car shop. Remember that you will either pay for six months of car insurance all at once or it will become a monthly expense. Your good credit score will help you qualify for a lower insurance rate. Your choice of car will help, too. The higher your credit score, the easier you will find everything.
Enjoy your new ride. Hopefully, you can get behind the wheel without having to resort to dealer financing.

Carlie Lawson writes about business and finance, specializing in entertainment, cryptocurrency and FOREX coverage. She wrote weekly entertainment business and finance articles for JollyJo.tv, Keysian and Movitly for a combined seven years. A former newspaper journalist, she now owns Powell Lawson Creatives, a PR firm, and Powell Lawson Consulting, a business continuity and hazards planning consultancy. She earned BAs in Journalism and Film & Video Studies from the University of Oklahoma. She also earned her Master of Regional & City Planning at OU. Her passion lies in helping people make money while reducing risk.