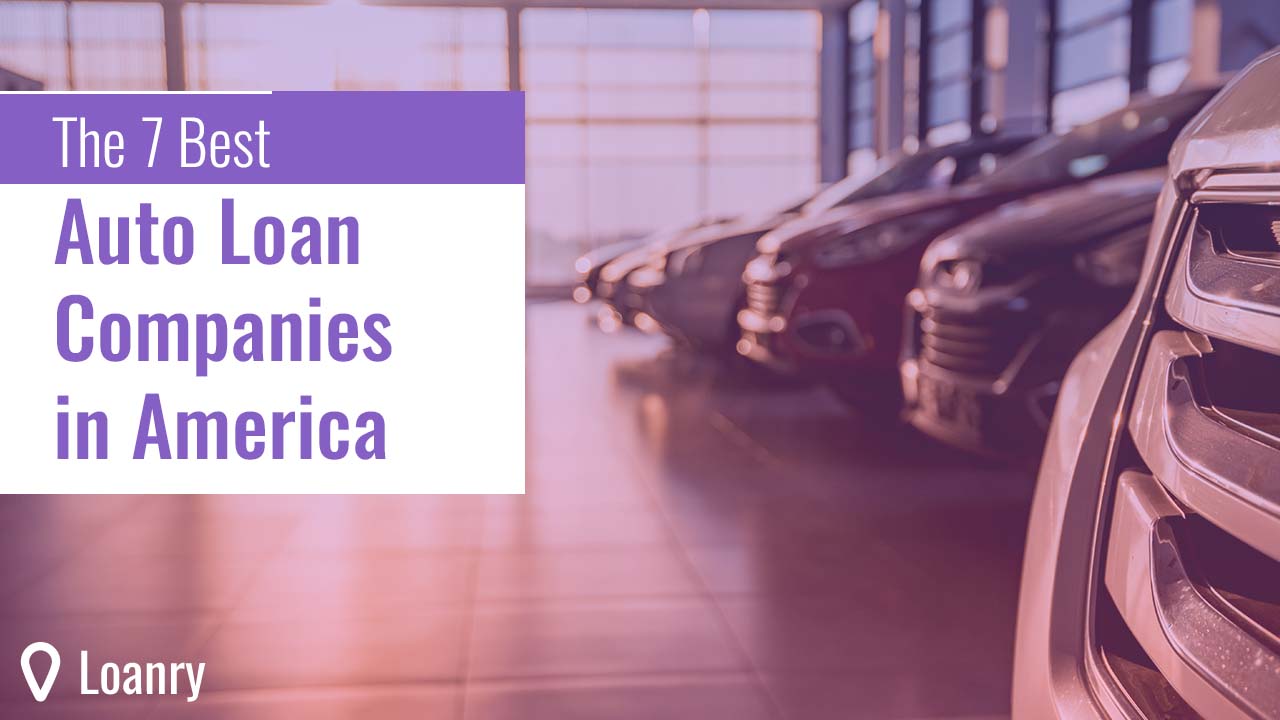 It can be incredibly difficult to have the cash on you to purchase a new car when you need it. My poor car has seemingly been on its last leg for a while now. I think the only reason it is still kicking is that it is as stubborn as I am, and I happen to be grateful for that. At this moment, there is simply no way I can just pay for a car outright so I've been having auto loan companies on my mind.
For those with the same struggle, know that you are not alone. I know that does not really solve the problem, but it's still nice to know. And, anyway, the fact that so many people need help purchasing a vehicle is the reason that there are so many auto loan companies available to help us out.
With so many options, it may seem impossible to choose the right one, but it's not. We are going to talk about seven of the best auto loan companies in America so you can narrow down your choices.
7 of the Best Auto Loan Companies in America
There are many good lenders in this country, but here are seven great ones to start with:
1. 5K Funds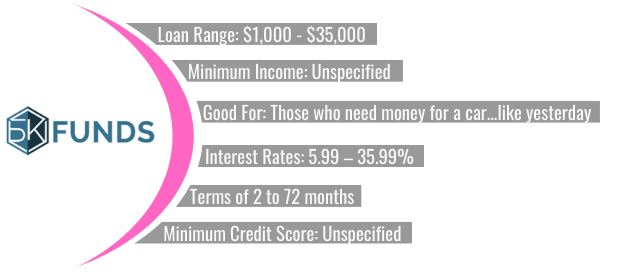 5K Funds has a network of more than 100 auto lenders and offers a very simple, fast, and secure online process. The initial application can take as little as 90 seconds. If approved, you get access to the funds pretty quickly.
Unfortunately, you might also have to repay the loan very quickly. Terms do go up to 72 months, but depending on your loan amount and other factors, you could have a repayment term of only two months. All of this is stated prior to accepting any loan offer, so you have the opportunity to turn down a loan with unfavorable terms.
5K Funds is one of the auto loan companies with relaxed qualifications. There is no specified minimum monthly or annual income. They are more concerned with you having a steady income. There is also no minimum credit score requirements. In fact, other than a steady income, their only stated requirements are that you are at least 18, be a U.S. citizen, and have a valid bank account.
Pros:
Very quick application and approval process
Quick access to fund after approval
The complete and secure online process
No fees
Cons:
Maximum loan of $35,000
Some short repayment terms
2. CarsDirect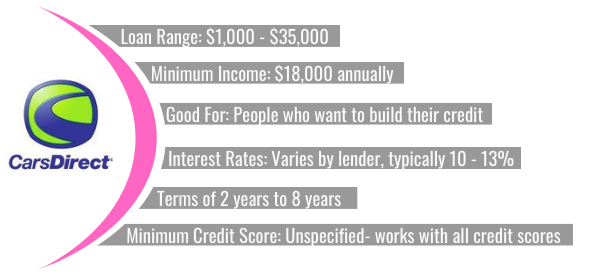 CarsDirect is a great company that can help people from all financial walks, including those that have bankruptcies, bad credit, and even no credit. You can use these loans for both new and used cars as well as refinancing current auto loans.
CarsDirect is an auto finance broker that can link you to both financing and cars in one place. With a large network of thousands of lenders, they have the ability to help pretty much anyone who is at least 18, both reside in and is a citizen of the U.S., and makes at least $18,000 a year.
CarsDirect does not specify a minimum credit score. Instead, they work with all types of credit. However, the interest, length of repayment, and the need for a down payment will depend on your credit and income. CarsDirect can be excellent for those with poor or fair credit who need a car and want to build their credit.
Pros:
Find car and loan in one place
Accepts bad credit
Prequalification and fast application
No fees
Cons:
The potential need for a down payment
Broker- not a direct lender
3. Monevo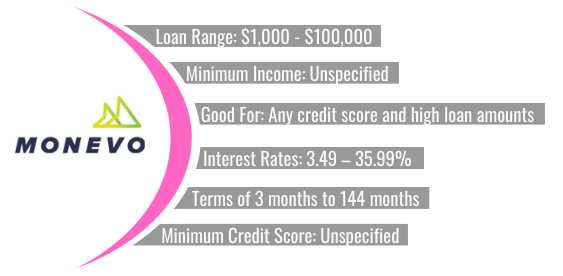 Monevo is one of the auto loan companies that is a broker as opposed to a direct lender. They have a network of more than 30 lenders and you can easily apply for and compare loans on their website. You can also prequalify so there is not a hard credit hit until you choose one of the auto loan companies to go further into the application process with.
There are very few set requirements: You must be 18 or older and a U.S. citizen or legal resident to apply. They also require that you have a valid bank account under your name. Any additional requirements would come through the individual auto loan companies in their network.
You can apply for loans up to $100,000 with terms all the way up to 12 years. The interest rates start very low at 3.49 percent but they can get high depending on your credit.
Pros:
Soft credit hit first
Works with all credit types
Repayment terms up to 12 years
Borrow up to $100,000
Cons:
Fairly new to the U.S.
Smaller network than some other auto loan companies
4. Auto Credit Express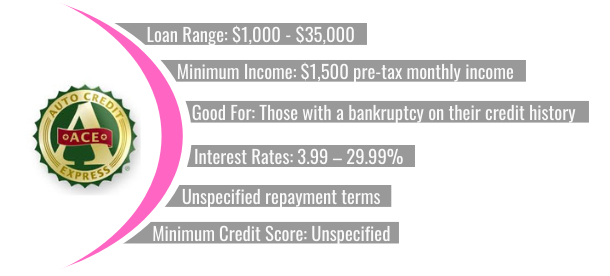 Auto Credit Express is connected with more than 1,200 auto loan companies that work with good credit, bad credit, and bankruptcies- even open bankruptcies in some cases. They do require that you make at least $1,500 per month before taxes, are 18 or older, are a citizen or legal resident of either U.S. or Canada, and have a valid phone number.
The auto loan companies connected to Auto Credit Express offer a wide range of loan amounts, most of which fall between $1,000 and $35,000. Interest rates for those with good credit can be as low as 3.99 percent. Bad credit scores could lead you to pay up to 29.99 percent. Repayment terms vary widely among the auto loan companies in the network.
Along with lenders, Auto Credit Express also has a network of dealerships. You can only use their loans for those dealerships, so if there is a car outside of that network you want, you will need to apply elsewhere. Some credit types and loans do require a down payment, but they tend to be very reasonable.
Pros:
Great for all credit
Works with even open bankruptcies
The network of over 1,200 auto loan companies and auto dealerships
Cons:
Can only purchase through a partner dealership
Might require down payment
5. Capital One Auto Finance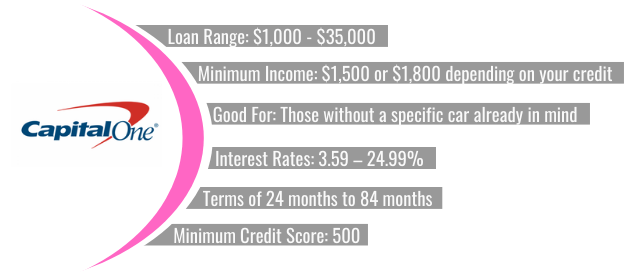 Capital One is pretty well known for being open to those with less than perfect credit. Their auto loans are no different. Even those with a score as low as 500 have a chance of being approved if they meet the income and citizenship requirements. Interest starts very low at only 3.59 percent, but lower credit scores do move closer to 24.99 percent. Capital One auto loans typically range from $1,000 to $35,000, and you can get up to 84 months to repay the loan.
While Capital One does supply direct loans, you still cannot shop just anywhere for your car. It has to be purchased through one of their partner dealerships. Not to worry, though. They have more than 12,000 dealerships they work with, so you are bound to find the car you need and want.
They do have other rules about the vehicles, such as they cannot have been manufactured before 2009 and they must have less than 120,000 miles. Some vehicle types, such as Oldsmobiles, Suzukis, and Saabs, do not qualify either. Capital One offers auto loans all over the U.S. except for Hawaii and Alaska.
Pros:
Provides an auto search tool
12,000 partner dealerships
Up to 84 months for repayment
Cons:
Not available in Hawaii or Alaska
Can only shop with their partners
Rules about the vehicles you choose
6. Lending Tree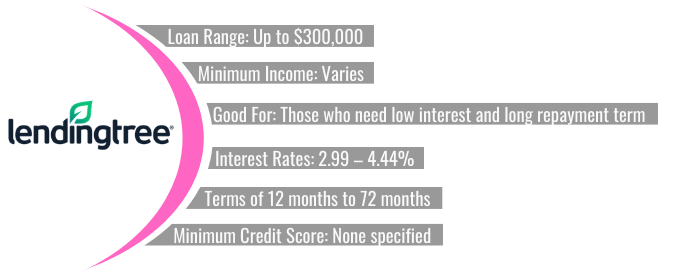 Lending Tree is a popular organization with a large network of auto loan companies. With such a network, Lending Tree does not state any specific requirements because they vary so greatly. Both the minimum credit score and minimum income requirements depend on which of the auto loan companies you choose through them.
These variations can be positive for many people, but it can still be a bit frustrating, too. The standard requirements, though, are that you must have a valid bank account, a stable income, be 18 or older, and be a U.S. citizen or permanent resident.
Lending Tree is connected with auto lenders that offer loans up to $300,000, and you can get up to 72 months to repay the loan. Interest rates start as low as 2.99 percent and often top out around 4.44 percent, though your income and credit score may affect this amount. You can use the loan for new and used cars as well as refinancing and lease buyouts.
Pros:
New and used cars
Refinancing and lease buyout
Up to 72 months to repay
The large network of lenders
No minimum credit score
Cons:
Terms vary between lenders
Hard credit hit
7. Car.Loan.com
Car.Loan.com is another auto broker that can link you up with several auto loan companies. There are loans for good credit, bad credit, and no credit as well as a history of bankruptcy. There is no minimum credit score, but they do want you to have at least $1,500 per month. You are also required to have at least five personal references, three years of job history with 6 months at your current job, and a valid phone number.
Car.Loan.com has access to loans ranging from $1,000 up to $45,000. Interest rates start as low as 7.99 percent but- like all other auto loan companies- your interest will depend on your credit score. Repayment terms go all the way up to 84 months for qualifying loans. The only real downside is that the process is not completely online. An agent will contact you to finish up the application. This kind of takes away the convenience factor, but it is still a good option to consider.
Pros:
Up to 84 months to repay
Fast approval process
Works with all credit types
Low interest for good credit
Cons:
Some dealings with an agent
Interest can get high
Before You Apply
You really need to make a plan before you apply to any of these auto loan companies. Your plan will help you choose the best auto loan and lender for you.

Granted, that down payment may be a bit steep for some people with low income and little time to save, but you should still try to have a good down payment to minimize what you need to borrow. Here is a calculator to help you determine how much you can actually afford.
You should also determine how long you will need to pay off your debt. Most lenders offer repayment terms from a few months to several years. Experts suggest keeping it around 60 months, or five years.
However, you might need to keep it much lower than that. Are you expecting any major life changes or any negative impact on your income before those five years are up? Do you have a baby on the way or is one of your kiddos heading off to school? Will you be taking a year off to help take care of your aging mother or even taking some time off due to an operation you will be having? If the answer is yes, you might not want to commit to a five-year repayment plan.
The more you can decide beforehand, the easier it will be to narrow down your options. Also, if you have not yet picked out a car or dealer, don't do it. Your best loan offer may come from a lender that requires you to purchase specific cars from specific places. It is okay to window shop and to get an idea of what you are looking for, but try not to settle yourself on any one single vehicle until you know the rules of engagement.
Conclusion
Paying out of pocket is most certainly not the only way to buy a vehicle. Even better, you do not have to have a perfect credit score, a perfect job, and a perfect down payment, either. There are auto loan companies out there who work with just about anyone, any income, and any credit. You just have to look for them.
We provided you seven awesome auto loan companies to check into, but by all means, look into as many as you need to in order to be comfortable with the company you choose. Shop around as much as you can, receive as many prequalifications as you can to more thoroughly compare your options, and take the time to think each of your options through carefully before making a final decision.