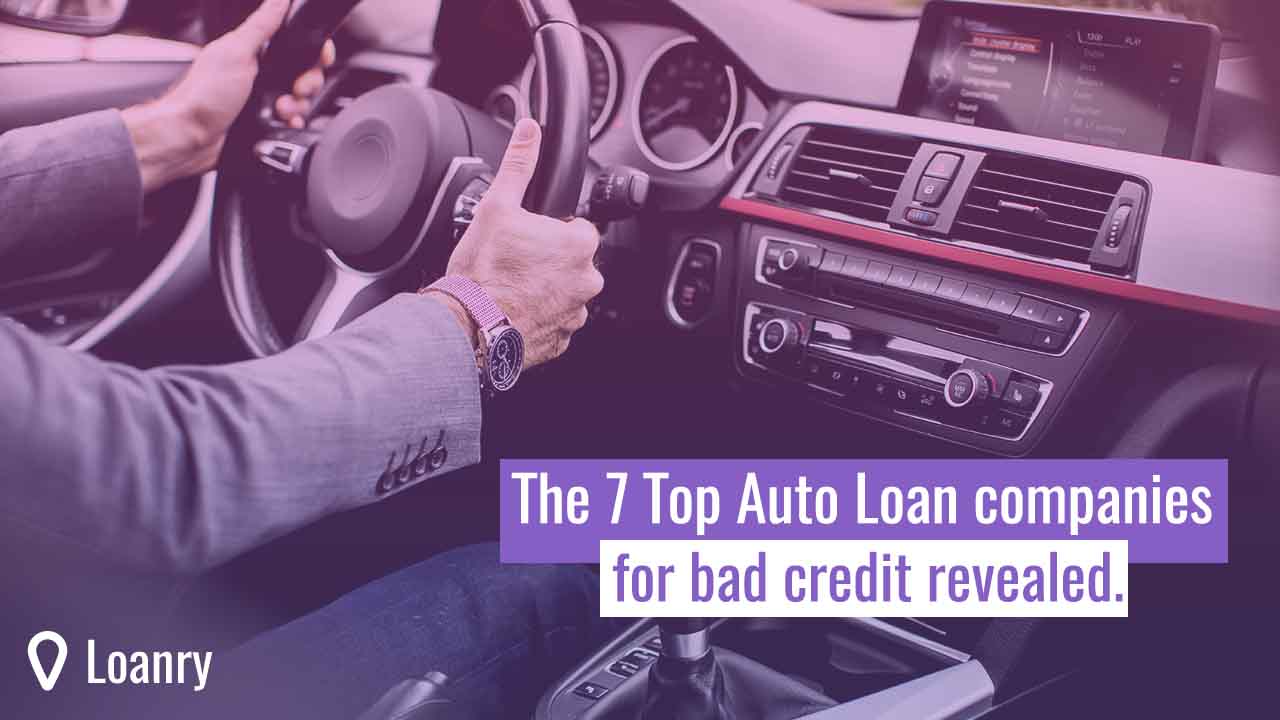 Having bad credit has a way of preventing you from getting the things you need. But it does not stop you from needing those things. Two major ways bad credit can get in the way is when you need to buy a car or want to buy a house. Fortunately, there are auto loan companies available that help those with bad credit.
Auto Loan Companies for Bad Credit
We took a look at what is available and compiled this list of seven of the best auto loans for bad credit online. This is by no means an exhaustive list, so if none of these suit your needs, do some more research. These are, however, seven great auto loan companies to start your search with and find a car loan with bad credit.
#1 Capital One
Capital One is one of the auto loan companies that lets you pre-qualify for a loan. This means that you can see if- according to the information you provide- they will approve you for a loan without a hard hit to your credit.
If you choose to use Capital One, they will need to do a full credit check. But they do not require it at the beginning of the process. Your pre-qualification is valid for a full 30 days. Pre-qualifying does not guarantee a loan or the quoted interest rate. All of the terms and rates will be decided upon the final approval of the loan.
Minimum Required Credit Score: 500
Minimum Income: $1,500 - $1,800
Minimum Loan Amount: $4,000
Interest Range: 3.59% and up
There are some restrictions to keep in mind:
Capital One does not provide loans in Alaska or Hawaii. So if you live in either one, you will need to look for alternative financing.
The car you purchase must not be older than 12 years. Though, in some states, 10 years is the maximum. They also do not want the car to have more than 120,000 miles- the fewer, the better.
Some makes and models do not qualify. If you already have a car in mind, make sure that Capital One financing will cover that particular one before you get too deep in the process.
#2 Rate Genius
Rate Genius is another auto loan broker that helps those with low credit. People with scores of as low as 550 can be approved if they meet the other requirements. However, you can expect a pretty high-interest rate for a low credit score.
There is a pretty fast preapproval time, sometimes in as little as two hours. But there is a hard credit inquiry. Rate Genius will send your application to up to three lenders if you are denied by the first option. The car you choose cannot be older than seven years or have more than 100,000 miles on it.
As it is an auto loan broker, it does not specify any vehicle restrictions, though the lenders it works with may have their own. Rate Genius financing is available everywhere in the U.S.
Minimum Required Credit Score: 550
Minimum Income: $2,000
Minimum Loan Amount: $10,000
Interest Range: 3.49% - 25.87%
#3 My Auto Loan
My Auto Loan is a broker who works with several auto loan companies to provide its applicant with several loan options. The company works with applicants who have credit scores as low as 500, but you must make at least $1,800 per month. You can expect a hard credit inquiry.
My Auto Loan only approves cars that are less than 10 years old and have less than 125,000 miles. Additional vehicle restrictions may come through different lenders. My Auto Loan is available in all states except for Alaska and Hawaii.
Minimum Required Credit Score: 500
Minimum Income: $1,800
Minimum Loan Amount: $8,000
Interest Range: 2.74% - 27%
#4 LendingClub
LendingClub is one of the auto loan companies that provide both peer-to-peer lending and direct lending, increasing your available options. It allows you to view and compare two loans at a time without a hard credit pull. Though, it does require a hard inquiry if you officially apply.
While they only require a credit score of 510 to qualify, you can expect your interest to be high if you have bad credit. Also, for those with scores less than 630, you might find yourself needing to meet additional requirements.
Minimum Required Credit Score: 510
Minimum Income: No minimum
Minimum Loan Amount: $5,000
Interest Range: 3.99% - 24.99%
LendingClub is only available in 35 states. So double-check that yours is one of them prior to applying. Additionally, the car cannot be older than 9 years or have more than 110,000 miles if your credit score is under 630. Those numbers increase to 10 years and 120,000 miles if your score is higher.
One of the biggest benefits of using LendingClub is that you can extend your loan term by refinancing with them. This is extremely helpful for those who find it difficult to make their current payments. You can often get it extended up to 12 months. However, your current loan has to have been opened for a minimum of 30 days. And you must have at least 24 months left on your current loan term.
#5 Springboard Auto
Springboard Auto is one of the direct auto loan companies that work with bad credit. You only need a credit score of 500. But they do require that you have a minimum monthly income of $2,000, which is the highest on this list.
They also require you to get at least a $7,500 loan. You must have at least four accounts on your credit history. And you can expect origination fees of almost $600.
Minimum Required Credit Score: 500
Minimum Income: $2,000
Minimum Loan Amount: $7,500
Interest Range: 5.00% and up
The car can be no older than 10 years and have no more than 138,000 miles on it. Additionally, there is no financing available for electric cars, some trucks, and a few other types. Financing through Springboard Auto is only available in 33 states. While the requirements are a little more stringent for this lender, it is a great option for those who have bad credit yet still have a decent income.
#6 OpenRoad Lending
OpenRoad Lending is a loan broker that works with traditional financial institutions and other auto loan companies to find their applicants the best possible loan. While OpenRoad Lending itself does not do a hard credit pull prior to an official application, some of the lenders in its network might.
It is open to all borrowers with a credit score higher than 500. But it is important to remember that the lower the credit score, the higher the interest rate.
The minimum loan they approve is $10,000, which is a bit steep for some people. However, most used cars come close to $10,000 at a minimum. So whether this loan amount is good or bad really depends on the total of your car.
Minimum Required Credit Score: 500
Minimum Income: $1,500
Minimum Loan Amount: $10,000
Interest Range: 2.90% - 24.90%
It only approves cars that are less than 10 years old with no more than 140,000 miles. But some makes and models are not approved regardless of age and mileage. These include smart cars, Oldsmobile, and a few others. So be sure to check if your car is on that list. OpenRoad Lending is only available in 40 states, so be sure to check for your state as well.
#7 Carvana
Carvana is a bit different from most other auto loan companies as it only finances cars that it sells. This can be beneficial in some ways, but it also limits you to those cars. If you have already found the car you want or Carvana does not offer what you are looking for, you will need to find another lender.
On the upside, it simplifies the process a bit. You can do your car shopping and your finance applications all in one place, saving you hours or days of time. Even better, there is no need to negotiate the price.
Minimum Required Credit Score: None
Minimum Income: $10,000 per year
Minimum Loan Amount: $4,000
Interest Range: 3.90%
There is no minimum credit score required. Though the APR will depend on your credit. Carvana will do a soft credit check so you can check rates and terms before officially applying. You must make at least $10,000 each year to qualify or currently be in bankruptcy.
You might be concerned about purchasing a car online, which is understandable. But there are some things that might ease your mind. First of all, the car goes through an extensive 150 point inspection and even includes a CarFax report. So you can view the history of it as well as a 100-day warranty. Second, they actually deliver the vehicle to you, in most cases free of charge, or reimburse your airfare if you fly to get the car.
Also, Carvana has a return policy. You have seven days after receiving the vehicle to test it out and decide if it is right for you. If it is not, Carvana will refund any money you put down on the car and cancel out the loan before a payment is even due.
What to Know Before You Apply
Before we jump into the loans and companies, let's talk a little about what to expect in the process. Auto loan companies vary in many ways, but there are some general things to know before filling out any applications.
Credit Hit
Here is something important for you to know: When you apply for credit, your credit score takes a hit. You can get preapprovals from many auto loan companies, though. These are soft hits, meaning they do not really impact your credit score.
Play it smart- get as many preapprovals as you can before officially applying. Once you have some companies that have preapproved you, put in all of the official applications within two weeks. These steps will help minimize the impact on your credit.
Income
Most auto loan companies require a somewhat stable income. While not all lenders specify, a good rule to go by is to be sure you have worked for the same company for at least six months. Many want to see an ongoing income for the past three years.
Each lender will have its own requirements concerning the minimum amount of income you need. With bad credit auto financing, you usually need at least $1,500 of monthly income. Some lenders require more. In short, the better your income and the length of time you have had it, the better chance you have with financing.
Loan Amount
Some auto loan companies have minimum loan amounts that you must apply for. Be sure that you know what these are before signing a contract. You do not want to borrow more than you need or can afford.
If you're interested in getting an auto loan, check out the offer of our trusted partner Fiona, insert your information and you may get offers that suit your needs best. It's quick and simple:
Interest Rates
It is simply a fact that if you have bad credit and get approved for a loan, your interest rate is going to be higher than that of someone who has good credit. This is because those with bad credit are considered risky, and a higher interest rate is intended to offset that risk.
Unfortunately, those interest rates can get pretty high- some up to almost 30 percent. That is $300 in interest for every $1,000 you borrow.
If your credit is really low, you should try to hold off a little while on getting an auto loan. I understand that desperate times call for desperate measures, so if you can't hold off, I get it.
If you do no absolutely have to have that car right now, try to wait until you improve your credit some. The best way to improve your credit is to pay off what is on it. You may not be able to pay it all off right now, but try to pay off a couple of things- even getting just one thing off can improve that score.
Call your creditor and see if they will settle for a lower amount. They will often agree to this, meaning that you can pay that debt off more quickly. If you can do this before applying for a loan, you have a chance to get a lower interest rate.
Steps to Take Before Applying
There are some steps to take before you apply for an auto loan with any auto loan companies to increase your chances of success and speed the process up a little.
Conclusion
While bad credit can interfere with your ability to get what you need, it does not necessarily have to put a halt to your plans. As you can see, there are auto loan companies willing to work with those who have credit problems. Explore all options, don't hurry, and I am sure you will find the best place to shop for a car loan. Don't let a low credit score get in the way of you getting the car you need.