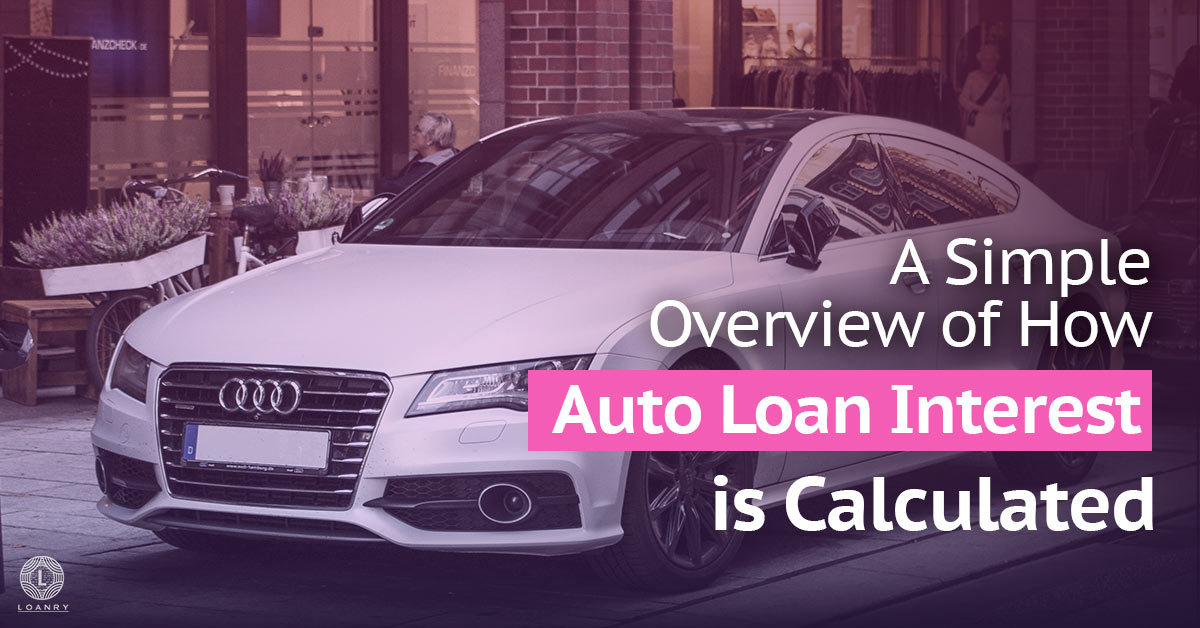 Buying a car is exciting and challenging, and it can be quite overwhelming. It is, however, something that the average American will face numerous times throughout their lives.  Regardless of if you need a two door car or a car for your family, you have to think things through and have a strategy when you are car shopping. It is best to have as much planned as possible before you even begin your search, especially when it comes to your method of payment.
Very few of us ever have enough cash to just walk in and plop down on the counter to buy a car outright. Instead, most of us have to get an auto loan to purchase a car, and that means dealing with auto loan interest. The loans and interest rates are often the most complicated part of the process, so let's try to make them a little easier to understand.
Different Ways to Buy a Car
When you decide to purchase a new car, there are a couple of ways to go about it. The first is by paying cash outright. Like I said above, we do not all have it like that, so this can usually only happen if you have your eyes set on a lower priced used car. There is no reason to avoid used cars as a whole, but you should be sure you check out the seller and the car to make sure they are worth what you are paying.
The second way to purchase a car is through vehicle finance. It simply means that you borrow the money to pay for the car, then repay like you would any other loan. The differences come in with the availability of the loans, the interest rates, the repayment terms, and, of course, the amount you can borrow.
Types of Auto Loans
There are two basic types of auto loans that can greatly affect your auto loan interest rate:
Dealership
Most dealerships, both used and new, offer financing. Used dealerships usually provide their own financing, which just means that the owner of the used car lot is letting you make payments to him. New dealerships offer financing through institutions, usually one bank or lender that they have a deal with though sometimes they have connections with two or more.
Financial Institution
You also have the option to get the financing from an external institution. For instance, if you have good credit with your bank, you might be able to get a better auto loan interest rate through it than you would through the dealership's lender. Also, if you take cash to a used car lot, you can often get an even better deal on the used car. It may be better for you to go to a lender yourself, get a personal installment loan, and go find a used car within the amount you borrow.
Calculating Auto Loan Interest
Auto loan interest can seem a bit complicated but it does not really have to be. The interest will most likely be calculated upfront and fixed into your monthly payments. This ratio of interest to principle might mean any of the following depending on the lender:
You might find yourself paying all of the auto loan interest long before you even touch the principle. This means that if you owe a total of $3000 in interest and your monthly payments are $500, you will make the first six payments to nothing but interest. After that, however, you start paying strictly on the principle.
Another option is that the auto loan interest gets paid by fixed percentage. For instance, perhaps 20% goes to interest while the other 80% goes to the principle every month.
You might also get charged auto loan interest that is calculated according to the balance each month. This would mean that if the interest is 20%, then- just like a credit card- 20% is charged on the balance you owe every month.
The way you are charged auto loan interest and the way that auto loan interest is applied to your loan should be disclosed upfront. If there is any confusion about it, be sure you ask for clarification before you sign any paperwork. It is important to understand all the terms of your loan.
It is also very important that you shop car loan rates. Call around to different lenders to find the best possible auto loan interest rate. It is also important to know that your credit score will affect the type of loan and auto loan interest rate you are able to get.
Using an Estimator
If you are looking for a way to determine what your payment will be, you can use an auto loan estimator before you even begin your search. With this estimator, you can input things like your credit score, the price of the car (if you don't know it yet for certain, just estimate), interest rate, number of payments, and down payment or trade in amount.
These factors can give you a good idea of what your monthly payments will look like. What I really love about these estimators is that you can actually play with them to figure out your perfect conditions- well, as close to perfect as you can get. Let's say you know that you can only afford a $300 monthly payment. You can hop onto an auto loan estimator and change all of the factors until you get to that $300 monthly payment.
This will tell you the amount you can afford to borrow for a car, the number of payments you should aim for, how much you should come up with for a down payment, and the interest rate that you need to look for. Though you may not be able to control every single factor, using an estimator for auto loans to figure out the best conditions for you and your wallet puts you in the most control you can be in. Try one out for yourself to see just how helpful they can be.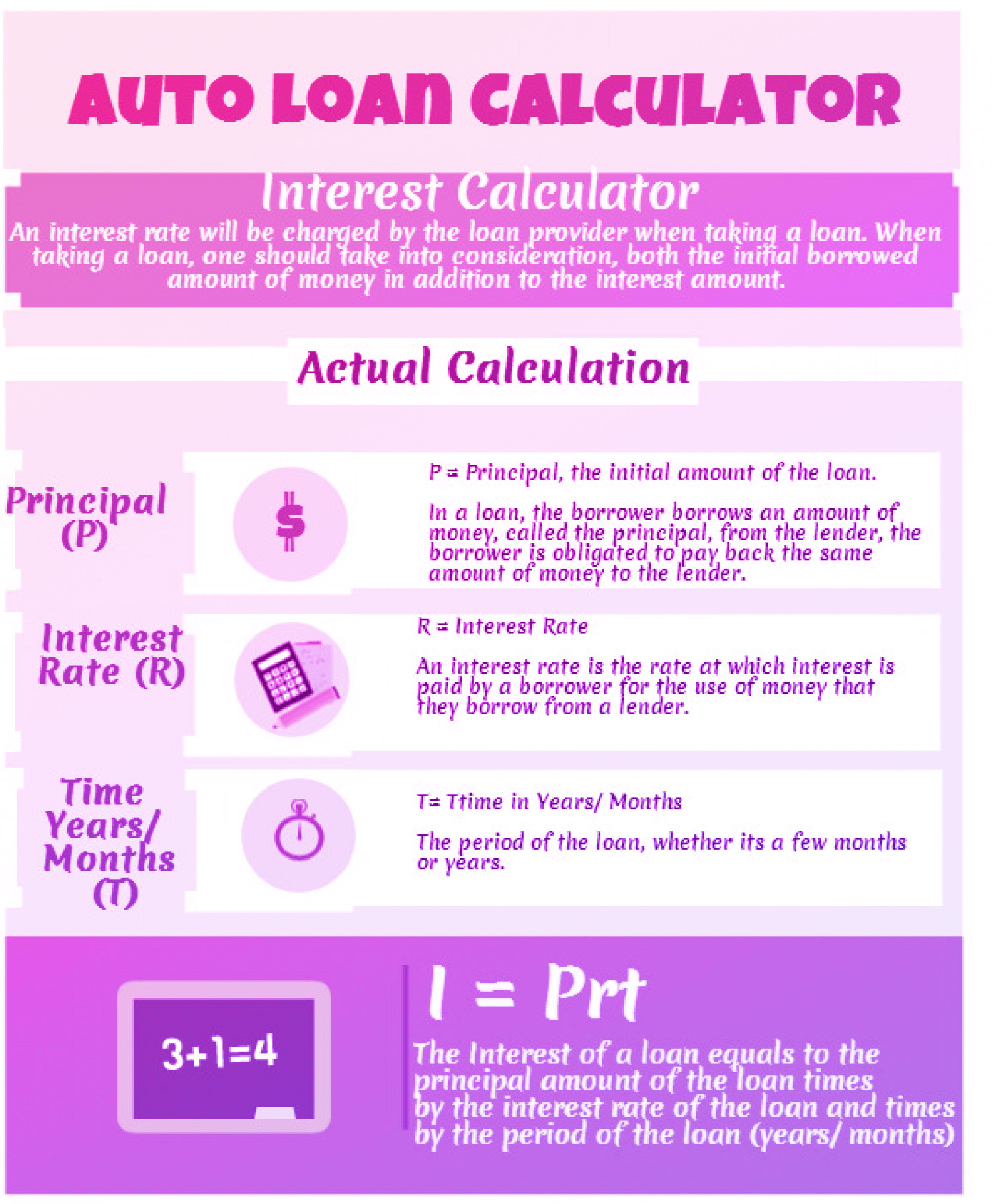 Making Payments
It is very important to make every single payment on an auto loan. If you do not, it can destroy your credit. If you miss too many payments, you might also lose the vehicle that you have worked so hard to obtain. With that, you will lose any money you have paid into it up to that point. Then you will have to start over. Make every payment you can on time.
If you will be late, talk to your lender. Often, they will attempt to work with you as opposed to going through the trouble of taking the car back. You should also keep in mind that, unless you pay your payments on time, you will end up paying more interest than you signed on for. In order to make timely payments, you have to prioritize them in your budget- which means adding them to your budget in the first place.
If you are like many Americans, that means either squeezing another bill into the tight space in between other bills or replacing some things you currently spend money on with the new bill. Below I share some ways to make some extra cash, but here are some ways to make space in your budget:
Replace cable with Netflix and Hulu subscriptions or simply decrease the amount of channels you get
Replace Starbucks with coffee from home at least a couple of times a week
Skip fast food as much as possible
Brown bag your lunch and snacks
Find ways to cut down on the power and water usage in your home
Check for a cheaper cell phone plan
Try carpooling, if it is possible
Workout at home instead of paying for a gym membership
Find creative ways to cut down on your grocery budget, including using apps like Ibotta
Fill out surveys on the side for gift cards that you can use at places you regularly shop
Find a cheaper place to stay
Try date night at home at least half of the time, or make it a game to come up with free dates
Learn how to make homemade pizza instead of ordering- it's more fun and usually a lot more tasty
Learn how to make homemade cleaners instead of buying them all the time- natural ones are more healthy anyway
If you wash your clothes with hot water, turn it down to warm. When I did this, I made a huge drop in my power bill.
Deciding on the Repayment Term
Most often, you will find that three repayment terms will be offered, though you may run across more. The most common ones are 48 months, 60 months, and 72 months. How do you decide which to choose?
You have to understand what this means. You will most likely find that the higher the repayment term, the lower the monthly payment. Sure, it is tempting to take those lower payments- trust me, I know. The trouble is that the longer the repayment term, the more you pay in total overall thanks to the interest.
Choose the shortest repayment term with the monthly payments you can afford without giving up necessities. But avoid taking the longest repayment term just because you do not want to pay a higher monthly payment. This will save you a lot of money down the line.
Can I Pay It Off Early?
In almost every case, yes, you can. Occasionally, you will run across lenders who do not want you to. They can get the full amount of interest. So they will charge a prepayment penalty if you try. This is not with every lender, though, and more often than not, that penalty will not be anywhere near the amount of interest you will save.
Every single extra penny you pay on your car payment will help you pay it off quicker, but there are a couple of ways to really expedite the process:
Increase your monthly payment. If it is the least bit possible, double your monthly payment, even if you can only do it once. If you cannot double it, try just paying an extra $50, $100, or any other extra amount you can.
Separate your monthly payment. If your car payment is $500 per month, do not pay it all at once. Instead, pay $250 twice each month. Why? This actually adds up to one full extra payment each year. Think about it: monthly = 12 payments, twice a month= 26 payments. This means that you are paying an entire extra payment without really doing anything extra.
Refinancing an Auto Loan
Many times, people will realize that they cannot afford their car payments with the high auto loan interest that they first agreed to. If you find yourself in this situation, it is an excellent time to refinance your auto loan, but what exactly does that mean and how can it help?
Refinancing your auto loan very simply means taking out another loan to pay off your first one. How does a new loan help anything? Well, because the new loan should have a lower auto loan interest rate than the first one. Often, after you have been paying your first loan on time, you can get a much lower interest rate.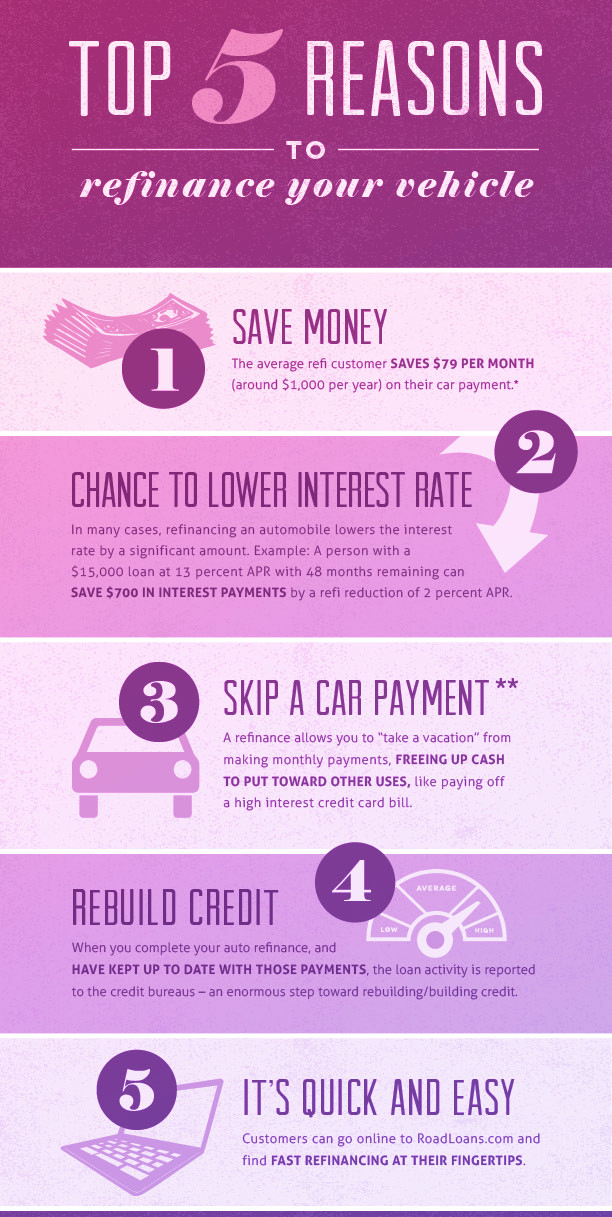 How to Decrease the Amount of the Loan
Paying auto loan interest can increase the length of time you pay on an auto loan, so it is a good step to decrease the amount of the loan you have to get. There are a few ways to go about this:
Car Shop
It is never a good idea to go with the very first car you find without at least looking at some other ones. Shop around for different vehicle makes and models. There is a chance that the fifth car you look at will be much better than the first one. Also, if you find one car model you love, look for the same one on other car lots. You might find that dream car somewhere else that is running some type of special at the moment or just has a lower price tag. Always shop around.
Consider Used Cars
I mentioned before that there is no reason to totally avoid used cars. That is true. In fact, used cars can save you a ton of money. Even purchasing a car one to two years old can save you thousands of dollars. Cars depreciate as soon as you drive them off the lot, so taking a look at older cars can get you one that is just as good- basically- as a new one, if you know how to shop used.
Talk to Rental Car Companies
Rental car companies like Enterprise usually replace their cars pretty often, enough so that the cars they rent are not more than a year or two old, though this can vary. Talk to these companies about purchasing when they are getting rid of cars. The good thing about buying from these types of places is that those cars have been cared for. Oil changes are completed regularly, problems are taken care of by mechanics quickly, and so on.
Talk to Dealerships
A lot of dealerships have used options, as well. There are three dealerships within two miles of my house. When I called around to check about the process to buy through the dealership, each of them asked me if I wanted new or used.
Get a Report on the Car
If you have heard of Car Fax, you know that you can get reports on specific vehicles. I personally have never used Car Fax, but I know some people who have. I hear good reports about finding out all that they needed to make a good purchasing decision.
Look for Bank Repos
Often, people will get a loan for a vehicle through banks and be unwilling or unable to make the payments, so the bank repos those vehicles. Some of them are still very new and in excellent shape. Finding a bank repo can be a great step towards purchasing a good used vehicle. Just call around to the banks in your area and ask if they have anything available.
A record seven million Americans are at least three months behind on their auto loan payments.#loan #autoloan #finance ?https://t.co/Xg2hu5WcD7 pic.twitter.com/e3SwMWFdQC

— Loanry.com | Loan Shop ? (@LoanryStore) 29. октобар 2019.
Save As Much As You Can
Another way to decrease the loan amount is to save up as much money as you can to pay down on the car. If your auto loan interest is 20%, then every $100 you can pay out of pocket is $20 in interest you do not have to pay. That may not seem like too much, but it does add up. Also, the more you borrow, the higher the likelihood of a long repayment term. That, of course, can lead to even greater interest.
So how do you save up for a down payment? With some hard work and creativity. Here is a lesson that I Iearned a long time ago and teach my kids often: It is very rare that things will just be handed to you, so you have two choices to make. You can work hard now or work hard later, and more often than not, it takes less hard work when you do it upfront. In other words, it will be easier to work harder to save up some money now than it will to have to work hard to pay off a car payment. If you are willing to put in the work, here are my go-tos for extra cash:
Extra shifts
This is the tried and true method. Picking up some extra shifts at your job will always bring in some extra cash. This is even more true when you get paid extra on your hourly rate. Many jobs frown upon having to pay overtime pay, but some are happy to do it if it means getting things done that need to be done. Check with your boss about whether or not you can get some overtime pay.
Start a side hustle
It does not have to be anything elaborate or even permanent. Are you a gifted baker? Bake birthday and wedding cakes for people in your community for three or four months. Are you good at organizing? Advertise your skills as a home organizer around your neighborhood. Clean houses, fix lawnmowers, cut grass, babysit or pet sit, paint a house or room. Do some sewing, manage a social media account for a local business, or anything else that you can pull off. You will have better success if you can combine the cash from a few avenues.
Sell some stuff
Have your grandpa's old records in the attic that you have no clue what to do with? Try selling them on eBay. Have a pair of shoes or jeans that no longer fit? Put them for sale on Facebook or Craigslist. Or carry it all out to your front yard and have a yard sale.
Trade ins
Many car lots will take your old car as a down payment on your new one. Not every lot will do this, but it is worth looking into. And if your old car is not in good shape, that does not necessarily mean you cannot trade it in. In fact, there is a car lot in my area that advertises you can trade anything "you can push, pull, or drag" to their lot.
The fact is that even cars in horrible shape are worth something. Even if it is just scrap metal or for extra parts. If you cannot move the car from your yard, there are people who will come around to pick up old cars and give you some cash for it. These are people who know how to either fix these cars. Or take them apart for the maximum amount of money. These steps could make you anywhere from a few hundred to a couple thousand. Both of which can help out tremendously when it comes to saving on auto loan interest.
A few years ago, we had an old car just taking up space in the drive. But we had absolutely no way to move it or even any idea what to do with it. It just sat there, rusting away and getting soaked on the inside because a window had been busted out for years.
Out of nowhere, we had a knock on our door. Some guy had a tow truck and offered us $400 for the car. I explained that it was in awful shape. And he explained that he could double or triple the money he paid us just by taking it apart. He sold it for scrap metal and a few parts that were still in working order. Even when a car seems worthless, it is still worth something.
Conclusion
When it is time to purchase a new car, you need to be sure that you have a plan in mind. It should consist of how much you can afford to pay and how long you are willing to make payments. If you go to a dealership, either used or new, do not jump on their financing option until you look into external options as well. Be sure you try out an auto loan estimator to get a good idea of what you can afford. Dealerships may not offer you the loan rates and terms you need, so always look into your own bank and other personal installment loan companies for the best deal. Loanry can get you offers from online lenders instantly. And we do mean instantly, right now.