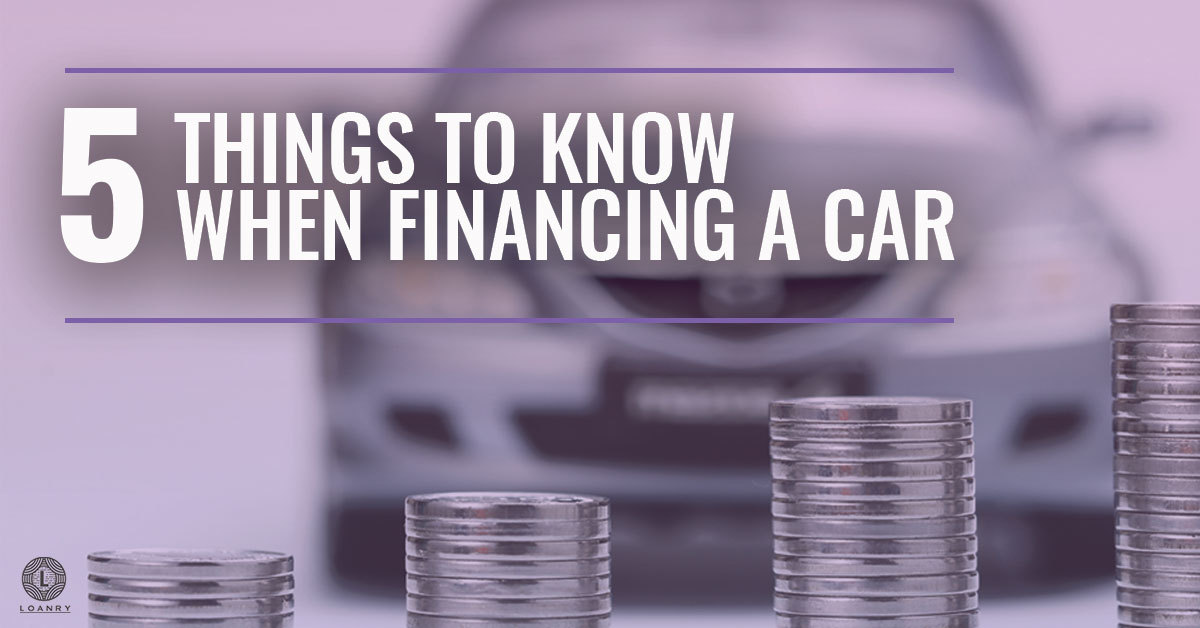 One of the most important decisions that consumers have to make when looking for a car loan relates to the lender they should work with. With the numerous auto finance options available, the process can be confusing and overwhelming. The good news is that prospective car owners can work with a third party that is not in the loan business to find a lender. We make it easy for consumers to identify and find lenders so they can enjoy a hassle-free borrowing experience. In addition, we strive to ensure that you have the information you need to help you make the right decisions. In order to ensure proper financial management, here are a few things to know when financing a car.
5 Things to Know When Financing a Car
The prospect of buying a new car can be exciting. But it is important for consumers to prepare themselves before heading to the dealership. This will help them save both money and time. Also, they will avoid the frustrations that come with a stressful car buying process. Adequate preparation means putting finances in order as well as familiarizing themselves with the important things to know when financing a car. Here is part of the information that can be of help when it comes to vehicle finance.
1.
The Rate You Are Approved for
One of the decisions prospective car buyers have to make has a lot to do with how they will finance the car. To ensure a seamless process, consumers should consider doing this in good time. That is before they select the car they wish to buy. When exploring financing options, borrowers should be aware of the loan terms offered by different lenders. This means looking at the financial institution that offers, among others, the lowest interest rate. Although the rate you are approved for is one of the most crucial things to know when financing a car, borrowers should also be aware of factors that affect the interest rate.
Just as with other types of loans, the better the credit history, the better the interest rate that borrowers are likely to get on their auto loan. Another point to remember is that although an annual percentage rate of zero percent may be enticing, the terms of the loan could translate to higher monthly payments.
Auto Loan Rates in April 2022
| Credit Score | New Car Loan | Used Car Loan | Refinance Car Loan |
| --- | --- | --- | --- |
| 750 or higher | 6.33% | 6.58% | 3.38% |
| 700-749 | 10.64% | 10.89% | 4.32% |
| 600-699 | 14.27% | 14.52% | 6.74% |
| 451-599 | 17.52% | 17.77% | 9.39% |
| 450 or lower | n/a | n/a | n/a |
2.
Factors That Impact Your Payment
Before taking out a loan, borrowers should always determine how much they will be paying monthly as well as the cost of the loan. These two factors are necessary for helping to establish whether the individual will afford the loan. However, borrowers should go further to understand the inputs that will influence their payment.
Taking a large loan amount will mean high interest in the long run. This may also be accompanied by high monthly installment payments. The down payment made will also have an impact on how much the borrower pays back. Generally, borrowers will have lower monthly payments when they make a higher down payment. Borrowers should remember that while longer loan terms will lower monthly payments, they will end up paying more over the life of the loan.
Since some borrowers may find these factors to be confusing, they should consider seeking the advice and guidance of financial experts. The professional can help consumers make the right choices and manage their debt better.
3.
Determine Whether New or Used is Right for You
This is one of the most commonly overlooked but essential things to know when financing a car. A good number of people tend to make their decision based mainly on cost. But there are several other factors to take into account. Some of the issues you may have to think about include repair costs, the condition of the vehicle, the cost of maintenance, and depreciation.
The average term for auto loans is 69 months, in the case of new vehicles, and 65 months for second-hand cars.
In most cases, new vehicles will attract lower interest rates on auto loans. The vehicles are also associated with lower repair and maintenance costs. This is particularly critical to bear in mind. Because the borrower will be repaying their loan while at the same time running the car. Failure to calculate these costs may result in huge expenses. They could affect the borrower's ability to repay the auto loan.
There is no right answer when it comes to making the decision between new and used. This will depend on the purpose for which you wish to buy the motor vehicle as well as your budget.
4.
Accurate and Complete Documentation
Apart from credit score, there is a set of documentation that needs to be completed and submitted for verification. Making the process seamless will require that consumers ensure the information is accurate. Being aware of the documentation required will help to fulfill the approval for the auto loan.
Since requirements vary depending on the lender, borrowers can consider talking to a financing officer from their lender of choice. This enables them to prepare the documents prior to shopping for a car. This will hasten the process of buying the car. It will also provide leverage when it comes to negotiating with the car dealership. Some of the other documents that the lender may require include proof of income, identification proof, proof of residence, bank statements, and vehicle information.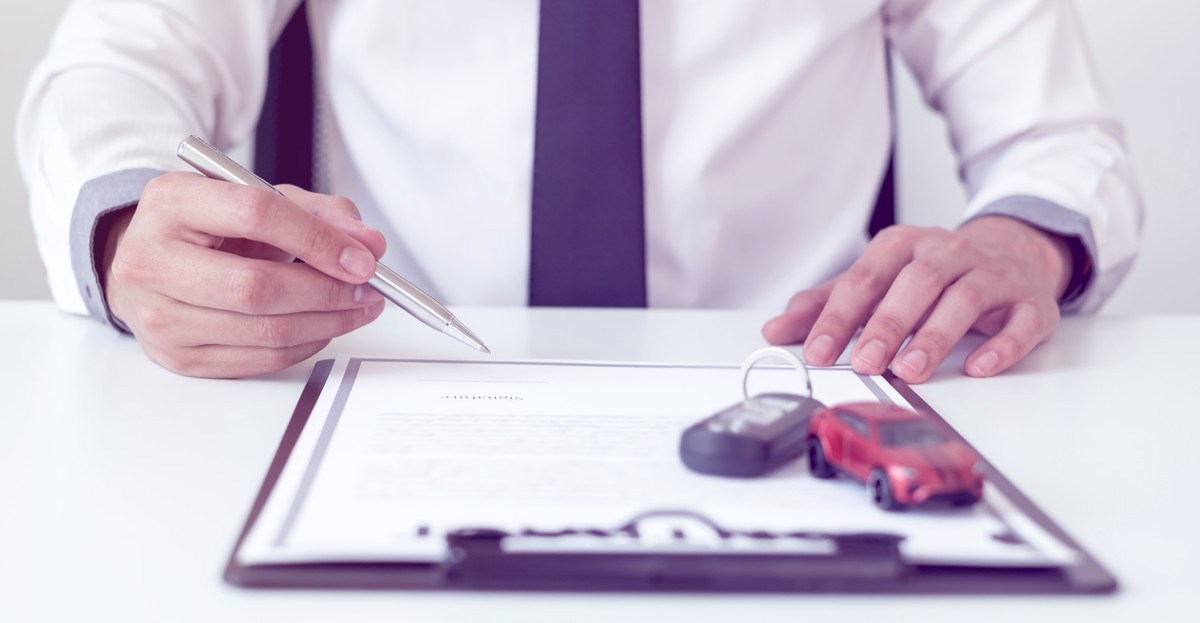 5.
EMI, Processing Fees and Foreclosure Charges
Some of the auto loans available in the market come with numerous charges and conditions. This is why it's necessary for borrowers to go through the details. In addition to the above factors, borrowers should have a clear understanding of what they are getting themselves into when they decide to take out an auto loan.
Calculating the equal monthly installment, commonly known as EMI, will help them plan their payments. Financial experts also recommend looking at processing fees to determine the total cost of borrowing. In the event that the borrower cannot pay back the loan, they should know of the kind of foreclosure charges they will be required to pay. Knowledge of all these important factors will enable the consumer to play their finances in such a way that they will meet their obligations as required.
There are many more things to know when financing a car. For instance, borrowers should look out for any hidden extras in the bill of the vehicle they intend to purchase. In addition to shopping around for the best interest rates and checking their creditworthiness, consumers have to consider choosing their loan tenure wisely and scrutinize for offers.
The Impact of Credit Score
Just like with other types of loans, one of the essential things to know when financing a car is the impact of credit score. The borrower's credit score plays a major role in determining whether they qualify for financing as well as the terms they will enjoy.
Credit scores affect many aspects of consumers' lives. Apart from impacting loan eligibility, the credit score also influences how much the borrower will pay in interest charges. This means that a lower credit score will see the borrower pay more in interest. It is critical for consumers to obtain relevant information regarding their credit score to enable them to protect their credit score and obtain good auto loans.
The credit score is displayed on an individual's credit report, a detailed listing that also shows how much debt they have and how they used the money. The credit report also shows the payment history and the loans the borrower may have defaulted on. In order for borrowers to increase their chances of qualifying for an auto loan and enjoying lower interest rates, they should consider building their creditworthiness.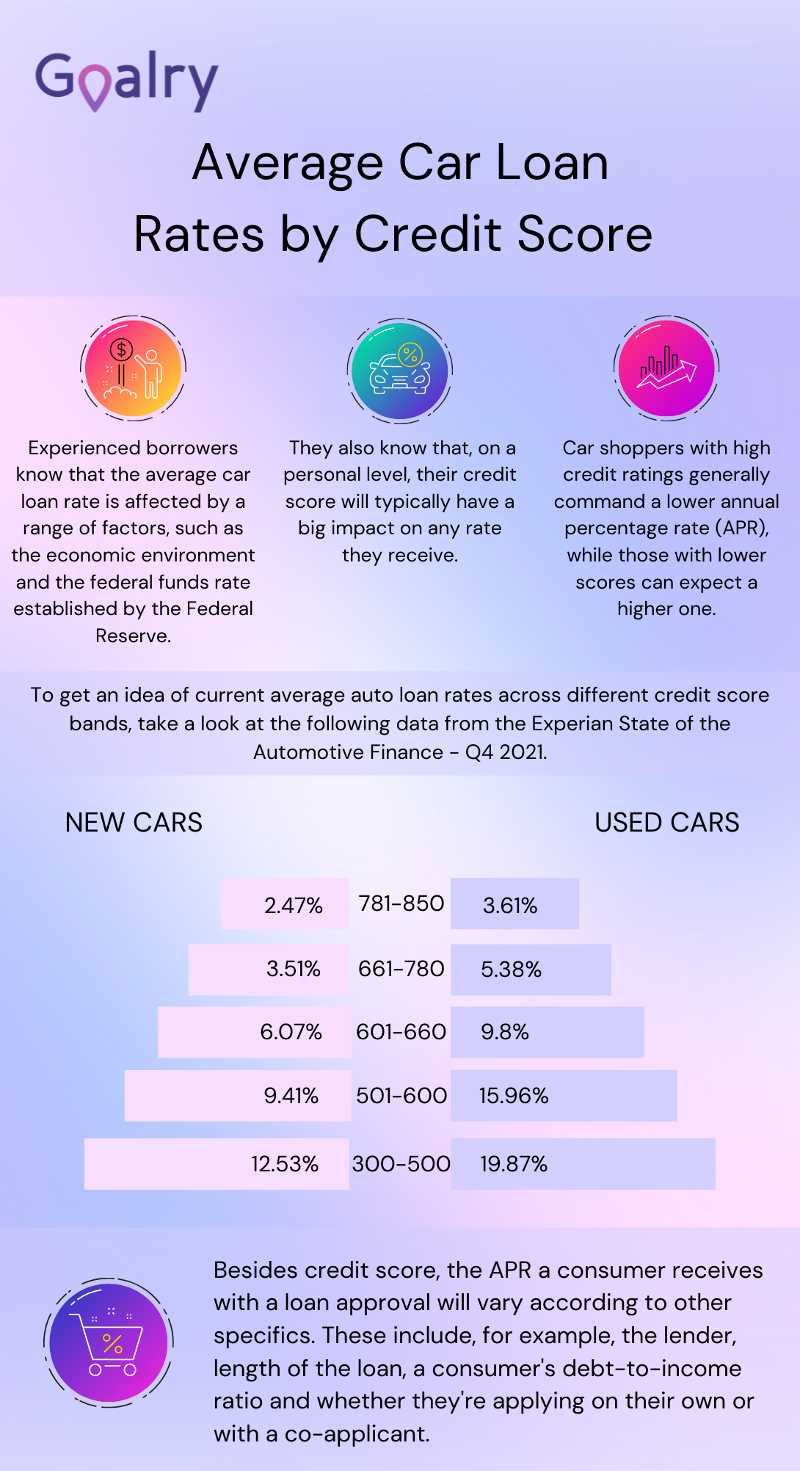 Personal Loans versus Credit Card
When it comes to auto finance, there are numerous options that consumers can explore. However, before making a decision, the individual must understand what works for them. This will make it easier to settle on the option that will not only meet their needs but also ensure they repay the loan without much straining. Even as you seek to learn the important things to know when financing a car, you should also take time to compare personal loans and credit cards.
With personal loans, borrowers have many options open to them. In case a borrower can get a loan at a low-interest rate, they will enjoy significant savings and pay less money per month. Similarly, it is easier for borrowers to find a personal loan that fits their budget. Personal loans have fixed monthly installments, allowing borrowers to plan properly. At the same time, taking out a personal loan does not impact the balances on the borrower's credit card, allowing them to use the card for emergency purposes and other uses.
Consumers can also consider using their credit card to purchase a car. One of the advantages associated with this decision is that the user will pay back only the amount that they used. Credit cards also have revolving credit, meaning that credit will be available to the user once they pay what they used. Choosing the best credit card and using it responsibly may also see the consumer enjoying the reward programs and special promotions offered by most of these cards.
Ways to Increase Your Chances of Getting Approved
Once a borrower knows what is financing a car, they should work on increasing their chances of getting approved. Although improving the credit score is important, there are several other ways through which consumers can ensure lenders will be willing to finance:
Borrow what you will afford to repay. Borrowers who apply for loan amounts that they can comfortably pay back have a higher chance of being approved for financing. This is why it is necessary to consider the income level as well as current debts before making the financial commitment.
Put up collateral. Another way to increase the likelihood of being approved is to put up collateral. This will serve as a guarantee to the bank that the borrower will pay back the loan. Collateral should be a tangible asset that can cover the loan amount.
Raise income. Almost every lender will look at the borrower's income to determine whether they are eligible and how much they qualify for. Raising income by asking for a raise, doing a part-time job or a freelance business will give lenders the assurance that the loan will be repaid.
Request a loan officer meeting. A one-on-one meeting with the loan officer will give the borrower an opportunity to show important personal and financial information that is not captured in the credit report.
Once a borrower is familiar with the things to know when financing a car, it will be easier for them to secure the funding they need and manage their debt better.
Factors to Consider Before Taking out an Auto Loan
Choosing vehicle finance means huge financial commitment and responsibility. This is why prospective car owners should consider the option carefully before taking out the loans. Below are a few things to know when financing a car:
The need for a car. If one cannot afford a car at the time, they should carefully think about whether they actually need to buy one. Consumers can also consider alternative options such as walking to work, cycling, or carpooling. This will not only help them avoid paying interest on the loan but will also be good for their health.
How much is required to buy a car. Most lenders will offer borrowers more than they actually need. While the numbers may look good on paper, borrowers should only go for what they can afford. It is important to ensure that the loan amount is such that they will comfortably make all payments on time.
Comparing different options. The need to compare the different options available cannot be emphasized enough. Loan terms and interest rates vary widely from one lender to the other. Getting the best deal will require that borrowers compare these options.
Choose a car that meets your needs. When going through the things to know when financing a car, borrowers should ensure that the car they buy will meet their needs. This is particularly important when they choose dealership financing.
Getting a Car Loan with Bad Credit
Although credit scores impact loan eligibility, it is still possible to access vehicle finance with bad credit. There is no down that a good number of lenders will turn down applications from people with bad credit. The good news is that are a number of steps that such borrowers can take to increase their odds when it comes to obtaining car loans for bad credit.
Make a down payment. Saving money, whether to pay for a car in full or make a down payment, is not easy. However, it will make a huge interest in terms of interest rates, monthly payments, and the willingness of lenders to give you the money you need.
Get a co-signer. Getting someone with a stronger credit score to be a co-signer can also help borrowers with low credit scores to get a loan. In the event that the borrower repays the loan as scheduled, their credit score will improve without changing that of the co-signer.
Look over the credit report. It is important to check whether there are any errors and oversights on the credit score that could lower the credit score and limit the finance opportunities available.
Do not be fixated on monthly payments. Rather than focusing only on the monthly payments, borrowers should look at the overall loan terms. Other factors to consider include the duration of the loan and interest rates.
In addition to these things to know when financing a car, borrowers should consider researching financing options before shopping for the vehicle. This will entail using online calculators to understand the factors that affect loan payments.
How to Ensure You Make Payments on Time
The borrower has a duty to pay back the loan once they have received it. Failure to do that will not only have a negative impact on the individual's credit score but could also result in additional charges and interest. Here are some tips to ensure that you make all payments on time:
Set up auto-pay – borrowers who are paid regularly from their jobs can consider setting up auto-pay. This will minimize the chances of falling behind on payments, especially when they are busy or out of town.
Put it on the calendar – life in the modern equals busy schedules. Similarly, there are other bills that one has to pay every month. To ensure that you do not forget to make the monthly payments, you can rely on calendars and planners to remind you of the event.
Control spending – buying a car through a loan comes with a serious financial commitment. If a consumer is to ensure that they make payments on time, they should not only control payments but also prioritize purchases. This will include making the most important payments before spending on other things.
Debt consolidation – there may be times when a borrower will have trouble paying their bills consistently. Consolidating or restructuring debt can help to lower the amount that is repaid monthly. In that way the loan is paid back comfortably.
An understanding of the things to know when financing a car will go a long way in helping consumers to manage both their finances and debt. Prospective car owners should try to ensure that the decisions they make will not lead to financial stress and troubles. Creating a budget is a must whenever you take out any loans, simply because this is the best way to organize your finances.
Conclusion
Financial education and literacy can help consumers to understand the things to know when financing a car. Such consumers will also have the skills and knowledge required to handle money in a better way. They can also manage debt in a manner that will help them reduce it over time. However, prospective car owners should not forget the importance of shopping around when looking for auto finance.
Doing a little research enables consumers to know the various options available and understand what each option means for them. Today, third parties make it easier for consumers to find lenders through online platforms. This simplifies the process of borrowing and minimizes the hassles that consumers experience. The next time you are looking to buy a car, kindly consider working with us to find a lender.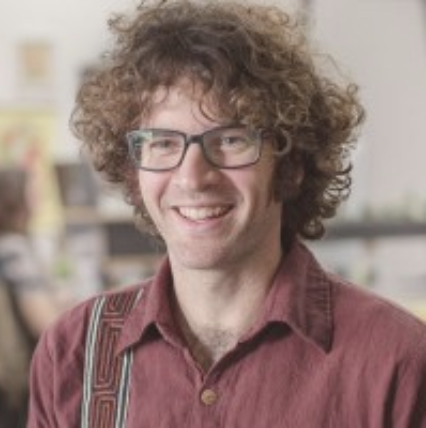 Cole is a personal finance research analyst and writer with extensive experience in building and maintaining a corporate brand utilizing both qualitative and quantitative methods. Cole has written on a diverse range of topics including financial planning, cryptocurrency, commercial real estate, and tax strategy. A graduate from Drexel University, Cole seeks to demystify financial borrowing and help individuals achieve financial freedom.