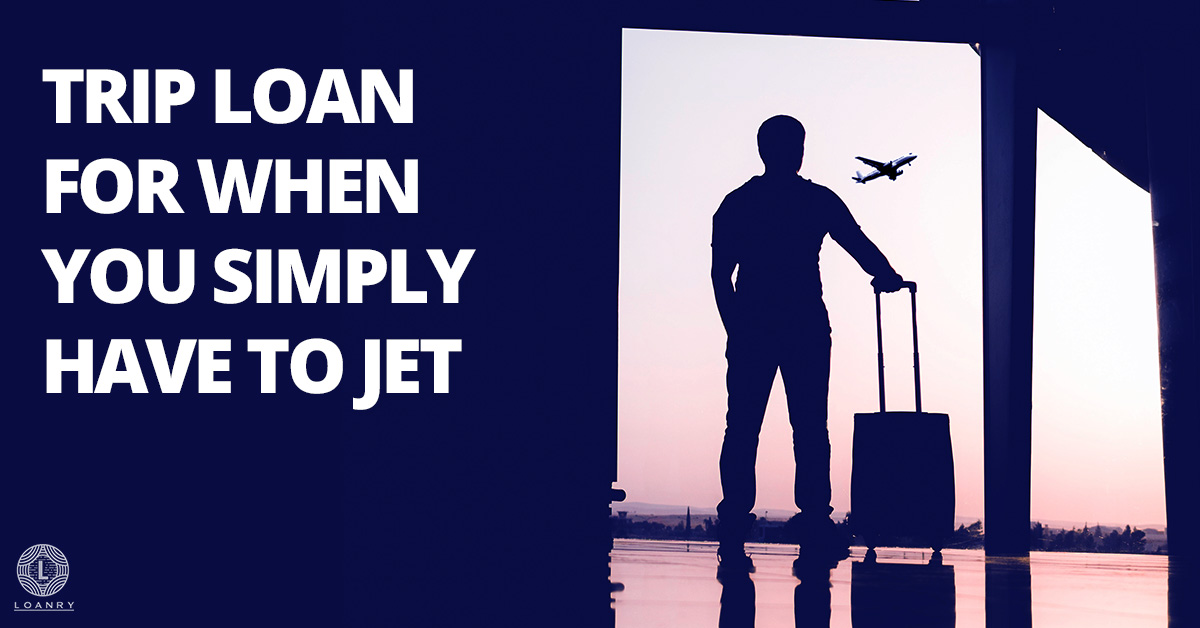 We all need a vacation occasionally. However, the world's most popular travel destinations are quite expensive to reach despite being completely intriguing. Unless you have a huge stockpile of travel points and airline miles, you will still require to pay for your air tickets and a place to stay while on vacation—even if you pay for a cheap place. And, even then, you will still require money to cater for the cost of activities, food, and transportation like trains and taxis.
At the end of the day, all the expenses you have to cater for making traveling a privilege that many people cannot afford without help. If you cannot afford your dream holiday, this is where you can choose to acquire to take a travel loan.
What Exactly is a Travel Loan and How to Use It
As the name suggests, a travel loan is basically a loan that helps cater for your travel purposes. It is a personal loan that helps cover all the costs associated with your holiday expenses from the accommodation, airfares, travel accessories, and tours. A trip loan is also an unsecured personal loan, meaning that it does not require any assets or property as collateral.
If you want to check right now whether you can get offers for a travel loan, put in your information below and it will take just a few second to get you potential offers.
You simply have to repay the trip loan in monthly installments that are basically fixed over a specific period of time. However, you need to approach borrowing a trip loan sensibly. Despite online lenders helping to fill the yawning gap between aspirations and reality when it comes to traveling, you still have to be smart to borrow responsibly.
Factors to consider before acquiring a trip loan
As I mentioned earlier, going on vacation can sometimes be quite expensive. And with the competitive world we live in, going on vacation has become more of a necessity than a luxury. Because of the expense, you have to cater for while on vacation, financing travel becomes one of the options some people consider. But before you end up taking one, here are some of the things you should consider before taking our a travel loan.
Do You Really Require to Borrow?
Before you get a trip loan, you have to decide whether you really require to borrow the money in the first place. Before you get yourself into debt, it is important to find out if your savings if any can cater for all the expenses you will incur while on vacation. You can find out this information by using a rough budget estimate. You can find the information you require by conducting research online.
Once you have a rough estimate, you can then decide whether the savings you have are enough for your vacation. If not, then you can consider acquiring help from an online lender for your travel finance needs.
Your Financial Situation
Here is another essential factor to consider, can you afford to take out a trip loan? To answer this question, you need to consider three things: how much money you make, what you're spending, and what you're keeping. If the amount of money you save, is more than enough to cater for your travel expenses on a monthly basis, then you can probably handle paying a few premiums.
But, there are also other aspects you to consider about your financial situation. For instance, do you have any other debts you need to pay? Do you have a stable job that will help you complete paying for the loan? So, if you have other financial commitments and are new at your job, then you should consider holding the trip loan off for a while.
Your Credit Score
You also have to consider your credit score and history before taking out a loan for your trip. If you are looking for a vacation loan with bad credit score and history, some online lenders may end up giving you a loan with a higher interest, and this will end up becoming quite costly for you. However, most online lenders are completely open to the idea of offering you a loan with lower interest rates despite your credit score.
Interest Rate
Another essential aspect to consider, before taking any vacation loan is the loan's interest rate. The reason why this is important is that the interest rate is an important consideration, as it determines the total amount of money you will spend repaying the loan. Therefore, make sure you consider a travel loan with a low-interest rate along with other related factors that can influence the interest rate.
Repayment
The final thing you have to consider is the repayment schedule of the loan once you choose to take one. Vacation loans should not take a long time to settle. This means that the amount of money you acquire for your vacation should not be too small or too large; as this makes sure, you can afford paying the loan over a specific period. The problem with taking a large loan is the unreasonable amount of money you will have to pay on interest.
Is it Possible to Acquire a Trip Loan With a Bad Credit Score?
When it comes to approving loans, most lenders look at your credit score, as this helps them determine whether you get the loan or not. Having a bad credit score can, at times, deny you the opportunity to acquire any loan. However, some online lenders choose to look past your bad credit. They have several travel finance options suitable for individuals with bad credit.
However, for you to get an online lender willing to give you a vacation loan despite your credit score, you need to conduct diligent research, as this will help you get an online lender willing to help you acquire a loan. Once you find an online lender willing to overlook your bad credit score, the next step is ensuring you read and understand the terms of the loan.
A travel loan with a bad credit history needs to be taken seriously. If you do a great job making your monthly payments on time, this can help improve your credit score. If you are unable to pay the loan on time, it ends up hurting your credit score even further.
Requirements of a Trip Loan
In an ideal situation, you would pay cash for all your vacation expenses, as this helps you avoid getting into debt. But if you really need help with your situation, then here is what you should consider when comparing your travel loan options.
Interest Rate
Different online lenders charge diverse interest rate ranges, so it is essential for you to shop around and look at the various interest rates, online lenders have to offer.

Fees
Personal loans do not come with plenty of fees. But, some online lenders might end up charging you an origination fee, which can range between 1% and 8% of the vacation loan amount. Also, you should check if your online lender charges late fees, as this can be a surprise if you make any late loan payments. Make sure you do your research before you can commit to an online lender, as this helps you avoid unnecessary charges when repaying your loan.
Loan Term and Amount
When it comes to taking a personal loan to finance your travel, it is essential for you to only borrow what you require and avoid working with an online lender that only offers a high minimum. Also, make sure you consider an online lender with flexibility when it comes to their repayment terms. Some travel loans for bad credit will often give you weeks to fully repay your debt, while others will offer you months or even years to finish repaying the loan.
However, make sure you take a loan term that is comfortable for you to pay off during a short period. Longer loan repayment periods allow you to make smaller payments, but they eventually make you pay more in terms of interest.
Other Features
Some online lenders offer extra bonuses that end up enticing you to apply for their loans. For instance, you may end up getting a loan reduction on your interest rate, if you end up signing up for their automatic payments. Make sure you seek out an online lender with bonuses that suit your travel finance circumstances.
Ways You Can Use Your Vacation Loan
Transportation
Depending on where you are planning to travel, transportation can easily end up being your biggest vacation experience. You will have a better vacation experience if you end up planning for your trip in advance, as this makes it possible for you to find a price range you can afford. With research, you also get to compare the cost of various transportation companies and make reservations early.
However, this is not possible without the right amount of finance, and this is where travel loans may step in to assist.
Food and Drinks
When you are at the comfort of your home, you probably do not think a lot about how much your food and drinks costs beyond your grocery bill. But when you travel, you will have to take care of all your needs while on the go. Even if you are booking a travel cruise, you still need to factor in the cash you will require on the trip to the ships dock.
Food and drinks during a vacation can be quite costly compared to when you eat at home. This means you will have to plan for every meal, snack, and drink you take during a vacation. This requires a lot of money, and using a travel loan is the best way to cater for this expenses.

Entertainment
We all go on a vacation to relax. And one of the ways to do this is by considering different kinds of entertainment that can help make your vacation interesting. Whether you choose to visit a music club or paragliding, all these different forms of entertainment require money. For you to enjoy yourself without having to worry about how to pay upfront for your trip, a vacation loan may be a way to go. With the extra finances, you can finally get the courage to check off items on your bucket list.
Lodging
This is definitely one of the most fascinating parts of any vacation. However, it can be the most challenging without adequate financial support. If you want to have an excellent vacation, lodging is quite important. Some vacations even offer you a place to sleep under the stars, comfortable bed and breakfasts, and luxurious hotels.
But staying in such places costs an arm and a leg. With a trip loan, you are able to reserve your accommodation in advance and get it at the best and affordable price available.
Things to Carry With You on Your Vacation
This is another area that requires you to plan ahead. For instance, if you are flying, sometimes people often think that they have a few items they need for their vacation. But, the reality is there may be other special items that you may need while on vacation. One of these items is a passport. You require one if you want to take a cruise or fly.
Another item is a travel pillow. It is small and extremely easy to carry, but it can save you from significant neck strain when having your downtime. If you are planning a vacation in another country, you will probably have to remember to pack adapters so you can plug in your electronic appliances like your cell phone and laptop.
You also require comfortable and appropriate clothing for the location you are visiting. Acquiring all this items can become a challenge, especially if you do not have the finances to purchase them. With a vacation loan, you can purchase all the items you require and still have enough to cater for other expenses.
How to Properly Manage a Trip Loan: Be Budget-wise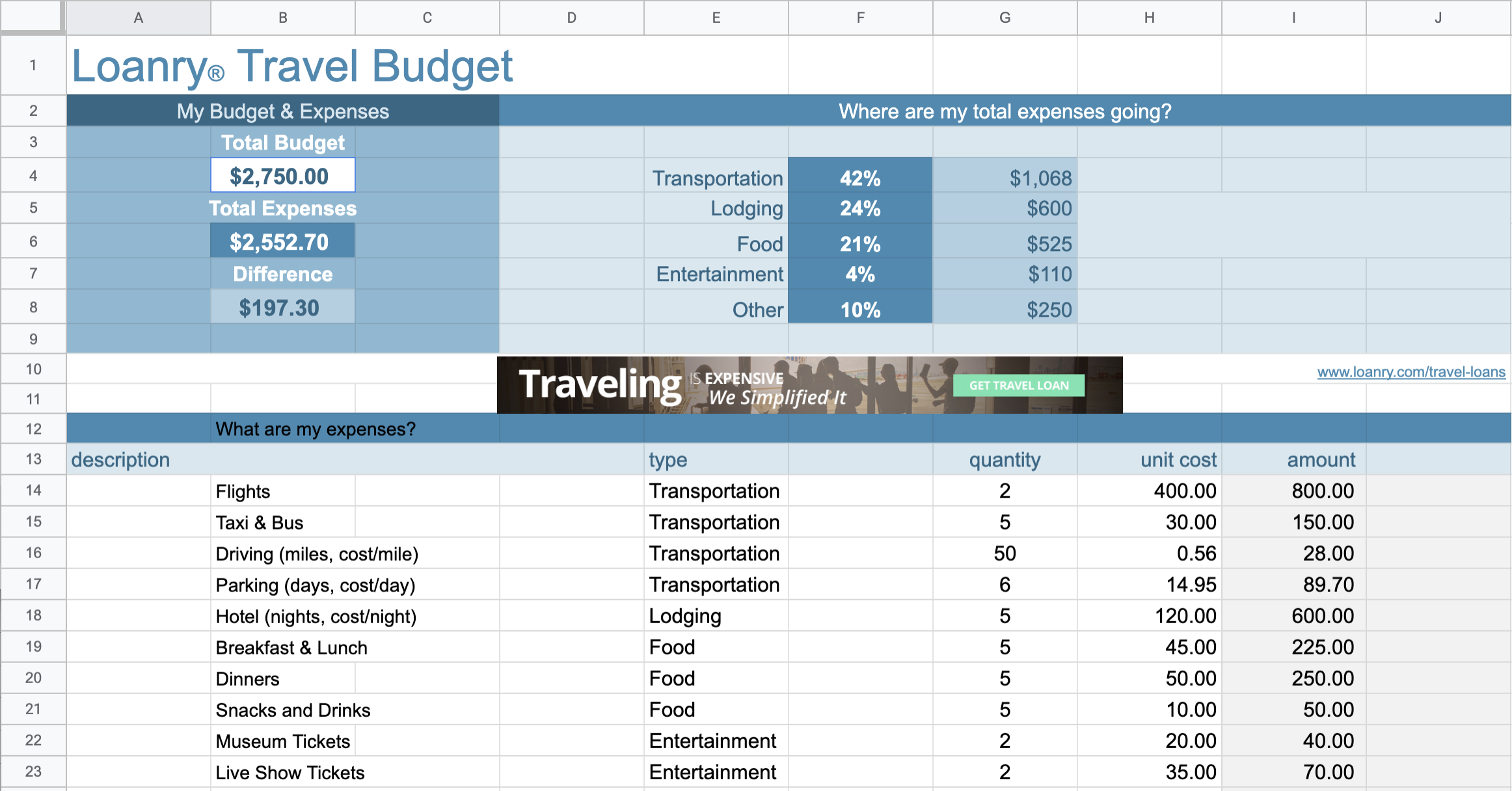 Once you finally get your loan amount in your bank account, the next step is managing your trip loan money appropriately. After all, you do not want to spend more than you have. Here are some of the ways you can manage your travel loan.
Watch out for travel deals
Never be too fast to pounce on every first price you see. Check hotel, airfare, or resort costs as often as possible as this will help give you a feel for the appropriate price range. Once you have a general idea of the average cost, you can them pick a good deal when you come across one.
Travel With Other People
Planning a vacation on your own can be quite expensive. But when you do this with a group of people, travel expenses are significantly cut. This means that you all share the lodging and transportation costs. So, if you are traveling with your family, you can try considering traveling with another family.
Prepare Your Meals
Eating out every day is expensive. Preparing your own meals even when on vacation helps cut down the costs. This is quite easy for snacks, breakfast, and lunch. You can try packing whatever food you can travel with or buy groceries upon arrival.
If you must eat out, make sure you stick to the local joints and completely stay away from alcohol. Most of the restaurants that cater for meals can be quite expensive. The same goes to high-end alcoholic drinks.
Pack Smart
Packing smart can actually save you lots of money. You can bring along a reusable water bottle, and this gives you the option of refilling the bottle rather than buying bottled water. You can also carry your cash in the form of a traveler's cheques, as this will help you resist the urge of overspending.
One way you can completely save up money is by planning. Planning your activities makes it easy for you to calculate your expenses, meaning you do not have to spend too much while on vacation.
Loanry makes it possible to find a lender, making the search for a trip loan a little easier.  You may be able to take the immediate financing constraints of a vacation off the table, with a click of a button, you can review the information present and you may be able to find an online lender that may be able to help make your dreams come true.
Conclusion
Going on vacation might seem like a lot of work; but with financial support, you can have unforgettable moments anywhere in the world. Make sure to set your budget and never take out a loan unless you can afford to pay it back as soon as possible.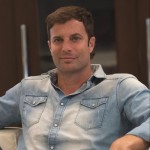 Ethan founded Goalry, Inc in Dec 2016 with the mission to build the world's first and only Financial Goal Mall. One place to reach financial goals and comparison shop for any money matter. Taub invents the IP for the finance stores within the mall, while overseeing various aspects of the company. He also has orchestrated the company's earned media across the finance stores: Accury®, Billry®, Budgetry®, Debtry®, Cashry®, Creditry®,  Loanry®, Taxry® and Wealthry®. This includes over 1200 blogs, 400 videos, thousands of social post and publications that have been featured across the web.