Credit Cards for Fair Credit: Swipe Here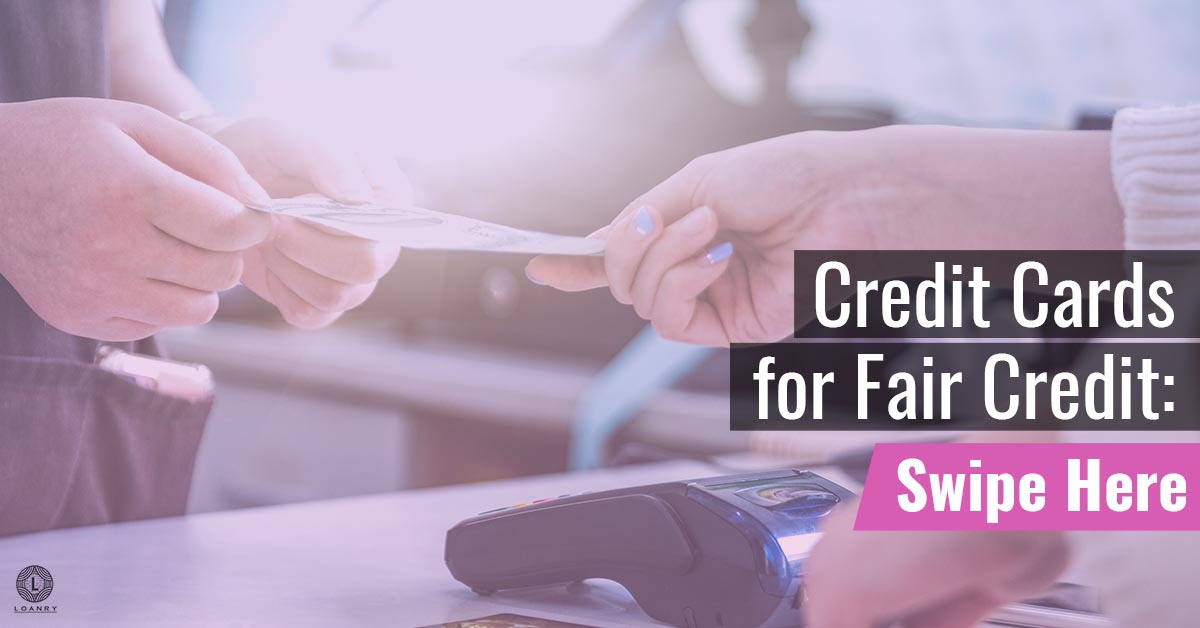 Credit cards can be excellent tools when handled responsibly. If you have been thinking about obtaining a credit card but are afraid you will be turned down due to your fair credit score, we have good news: there is a card out there for pretty much anyone. Fair credit may not be the best, but you can still find a credit card to help you meet your goals. This information should help you with your search.
What is Fair Credit?
If you are looking into credit, there is a chance that you have heard of more than one type of credit score: a FICO score and a Vantage score. While lenders vary, the most commonly used and well-known credit scores are FICO scores. These usually range from 300 to 850. The following is how these scores are viewed:
300- 579- Very Poor
580- 669- Fair
670- 739- Good
740- 799- Very Good
800- 850- Exceptional
Approximately 17% of Americans fit in the Fair category. A full 33% of Americans fall into either the Very Poor or Fair credit. If you have fair credit, you are most definitely not alone. The good news is that fair credit still gets some opportunities; so if you are looking for credit cards for fair credit, do not despair. There is hope.
Credit Card Basics Spelled Out: Credit 101 | Loanry https://t.co/JdNnSniKu9 #creditcards #comparecreditcards

— Loanry.com | Loan Shop ? (@LoanryStore) 25. јул 2019.
Breakdown of a Credit Score
It is important to know exactly what goes into your credit score, so let's break it down:
---
-35% of your FICO score is your payment history.
-30% of it is how much you owe.
-15% of your score depends on the length of credit history.
-10% involves any new credit you have opened.
-10% is about your credit mix- or the different types of credit you have used.
---
Note that the two biggest factors include your payment history and the total you owe. Though you should work on your credit as a whole, these two sections are a great place to start. As we will go over in this article, you should always try to keep your payment history looking as good as possible. Pay what you owe on time as much as you can. Try not to be a bit late.
Then, pay off as much as you can. The less you owe, the better your credit score will be. Make a repayment plan, even if you can only pay $5 on a debt each month. Try picking up extra shifts or a side hustle to pay it off quicker.
Opening new credit cards can help, too. First, by lowering your credit utilization, then by adding more to your credit mix and putting a little more activity on your credit. Even if your credit is less than desirable at the moment, by following the tips listed here, you can increase your score for the future.
What is the Difference in Credit Cards for Fair Credit vs. Other Credit?
Credit cards are basically the same. They are simply avenues of borrowing money. The difference comes in the terms that come with each credit card. Credit cards for good credit will have much more favorable terms than credit cards for fair credit, though credit cards for fair credit will have more favorable terms than those for poor credit. These terms will include things such as your interest rate and available credit limit.
Things to Know When Shopping for Credit Cards for Fair Credit
Anytime you are getting ready to make a move, especially in your finances, you need to be educated about what you will face. When you are shopping for credit cards for fair credit, there are quite a few facts you should be aware of.
Different Types of Credit Cards for Fair Credit
Some credit cards for fair credit will require that you put up collateral, typically in the form of a deposit. These are called secured cards, and they may require deposits as low as $39, or they may require a deposit in the full amount of your credit limit. As long as you make your payments on time, most companies refund this deposit after a certain amount of payments.
Interest Rates
Most credit cards for fair credit will come with pretty high-interest rates. You cannot really control these rates. They are, unfortunately, one of the major downsides to having lower credit scores. Over time, if you handle your credit card responsibly, you should find opportunities for cards with lower credit card interest rates. Sadly, when your credit is less than stellar, you will have to start out closer to the bottom and work your way up.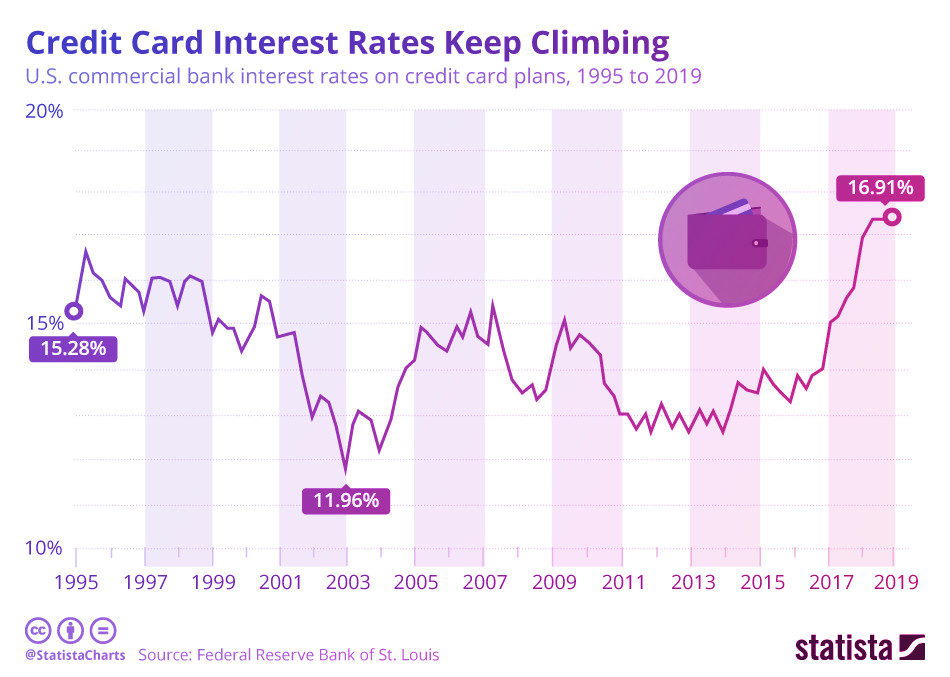 Credit Limit
Credit cards for fair credit will likely not have very high credit limits. While it will really depend on the credit card company, it is usually best not to expect more than a couple or a few hundred. Most companies will increase your limit over time if you make timely payments, but the lower your credit score, the lower your initial credit limit.
Fees
Some credit card companies will charge annual fees. These fees can range in price, and sometimes make the card not worth it. As you compare credit cards, make sure you know what- if any- annual fees you will be paying and if there are any benefits to paying those fees. There are usually other fees, too. These can include anything from a paper statement fee to a late fee.
Credit Card Perks
When you are credit card shopping, you have to watch out for the advertised perks. It is very common for people to fall for credit cards with high fees or high-interest rates due to the perks that come with them. The perks themselves are not necessarily bad things, though. The problems come due to the following people sign up for the perks that they never use.
I have actually known people to sign up for credit cards for airline miles. This would not be a bad thing except that these particular people never- and I do mean never- fly. When I asked one of them why they signed up, she said, "Well, so they'll be there if I ever decide to use them."
Basically, she paid a crazy annual fee for something she knew she would probably never use. She would have been better off putting that annual fee in a savings account or investment account every year. If she ever did decide to go somewhere, she could easily pay for her plane ticket with that money, or she would have it for something she actually would use. Do not fall for credit cards just for the perks unless the perks are something you already use. Earning cash back on groceries or gas, for instance, would be worth it for many people- unless, of course, you never drive and always eat out.
Where to Find Credit Cards for Fair Credit
Credit cards seem to be available everywhere now, but finding the one that is right for your credit and your life is not always a walk in the park. It is very important to compare multiple credit cards to get the best terms and interest rates. Especially when you have fair credit. Without shopping are for credit card interest rates and terms, you could end up with a card that does you a lot more harm than good.
The best way thing to do is to buy credit card online. Through the Internet, you can compare multiple cards at once. In fact, you can even start your search with your personal criteria, such as your credit score. Shopping credit cards for fair credit online will save you a ton of time. And most likely show you some options you would not find out about otherwise. You just might be surprised by what you find.
If you're ready to find a credit card for your right now, you're lucky! You came to the right place. Together with our trusted partner Fiona, Loanry connects you with reputable companies which may give you a card if you qualify for it. You can check whether you qualify right now, by putting in your information here:
How Can I Improve My Credit to Get a Better Credit Card?
One of the great things about credit is that it can always be improved. One of the great things about credit cards is that they can be used to fix credit. If this is what you are aiming for so that you can get better credit cards or a home, or even if you want to just keep your good credit, here are some steps to take:
Be Responsible
The biggest thing to remember is to be responsible with the credit card. Do not overspend. Spending more than you can repay is the exact step you should take if you want to be in debt and destroy your credit. Otherwise, be sure you only charge what you can repay.
The first step to following through on this is determining how much you can afford to repay. A good rule of thumb is to not charge anything that was not already coming out of your check. If you were not planning to buy an $800 smartphone this weekend out of your weekly paycheck, do not purchase it with your credit card. In other words, do not just go crazy and spend it because it is available.
Large Purchases
At the same time, credit cards can be useful for larger purchases- if you plan and prepare correctly. Here is the thing about credit cards: they are similar to mortgages and auto loans in that they can help you get things you cannot normally afford all at once. You have to remember, though, that they are also like mortgages and auto loans in the fact that you will be paying back more than you borrow. Interest is going to be added, so you have to really think it through.
When it comes to a mortgage, most people are more than willing to pay interest because they are getting to purchase a home- something that most people cannot do without a loan. I want to purchase a home for my family, something that we can all enjoy, and that my kids and grandkids (when I have some) can come to visit. A home is part of my dream, so paying interest to purchase a home is worth it to me.
The same thing can be said for cars. For those who really need or want a new car, paying interest on an auto loan is worth it completely. These people will happily work harder to pay the interest because what they get in return is worth the cost they pay.
When it comes to your credit card, you have to look at it the same way. Is the item you want to charge worth paying interest on until you pay it off? For instance, if you were considering purchasing that $800 cell phone I mentioned a moment ago, will you be willing to pay out extra each month to have it? Or would it be better to pick up a few extra shifts at work to pay for it outright?
This decision really comes down to you. You will be the one paying the bill, so only you can decide what is worth the money. Your priorities can help you make these decisions. I, personally, would not put a TV on my credit card, but if one of my kids asked for a really special gift on their birthday, I might consider it- if I have not saved enough for the gift.
Other people might value a TV because that is what their family sits around on Saturdays to watch movies for family night. As I said, the choice of what to charge is completely up to the cardholder. You just have to decide what you are willing to pay extra for.
Emergencies
Credit cards can be great tools during emergencies if you have any room left on your card. If you have a card that is specifically for emergencies, normally, you should leave it alone. However, if you were only able to get credit cards for fair credit, you may currently be stuck with a $200 or $300 credit limit. What happens if you have a $700 emergency?
While you do want to be very careful with your emergency credit card so it is available when you need it, you also need to put some activity on it so that you can increase your credit limit. Try just using it for $20 worth of gas once or twice a month and pay it off quickly. Definitely do not use your emergency card for shopping, just for some small charges and repayments that make you look like a responsible cardholder.
Pay Your Bill On Time or Early
Do not be late. I repeat, do not be late with your payment. Late payments can affect your credit more than you will ever know. Be on time with your payment, or early if you can. It can be hard sometimes when you are broke or struggling, but it is possible. Let me tell you my "secret" of paying early.
A couple of years, I was offered a credit card from my bank. It was nothing overwhelming- just a $200 card. After some thought, I went for it. We were also broke at the time, so interest rates were not something I could afford, but I wanted to build up my credit a bit. So, I sat down and formulated a plan to keep away from interest and still be able to utilize the card while making early payments.
I knew that the $200 limit would cover a particular bill every month. And I knew that my utility bill was due four days after the close of my card billing cycle and that the credit card bill was due right in between the two. So I would use my check that came directly before my credit card bill was due, which was the same check I would normally pay my utility bill with.
I would pay the entire $200 on my credit card bill, at minimum, two days before the billing cycle closed. If the funds were in my bank, I would pay it a few days earlier. Since interest was charged at the end of the billing cycle, I avoided having to pay any since my balance was zero. As soon as the billing cycle closed, I would use my card to pay my utility bill.
With this system, my bill got paid every month either on time or early and I avoided interest. Sometimes, I would do it twice a month to increase my credit card activity. All of this drove my credit up and a few months later, I got a credit increase to $500. I did not go crazy and blow it though. Instead, I continued the same system but added a bill to the mix. I also left at least $100 completely alone just in case of an emergency.
I hope you can see that it can be pretty easy to take care of your bill with a little planning and some type of income. If you want to follow my system, it is important to do a few things. First, make sure your credit card does not charge interest until the end of the billing cycle. And you should definitely know when the end of the billing cycle is. Second, figure out which of your checks will come every month prior to the end of the cycle, and be sure you budget your credit card bill into that check.
Pay More Than What is Due
When you receive your credit card bill, it will tell you a minimum amount to pay. It can be very tempting to only pay that amount when you are broke. The problem is that paying that amount is only going to help you for that moment. Typically, that minimum amount is not even enough to cover the interest you owe.
That means that the next month, you will get charged interest on your purchases and the remainder of your prior month's interest. Every month, you will get charged interest on your interest. What was once a $200 credit card can quickly increase to thousands of dollars. As long as you are making those minimum payments, the credit card company will continue to let your balance grow.
And that, my friends, is how so many people end up in crazy amounts of credit card debt. I promise, it is not what you want to go through, so pay more than is due every month. If you can follow the system I mentioned above, this will not be an issue for you.
Pick a Good Due Date
Many credit card companies will now let you choose your due date. Try to find a company that gives you this option. Then, before you choose a date, consider which check of the month will be the easiest to make your payment from.
Protect Your Credit Card
While there are many ways to mess up your credit, the easiest way seems to be when someone else gets access to it. It does not require an experienced hacker to steal your identity. It only takes them seeing your card, or picking it up off of the ground. A person can make all kinds of purchases online with nothing but your credit card information. Keep it safe at all times. If you notice that it is missing, you can freeze it until you find it. It may just be in the wrong pocket of your wallet, but it might also be in the hands of a dishonest person.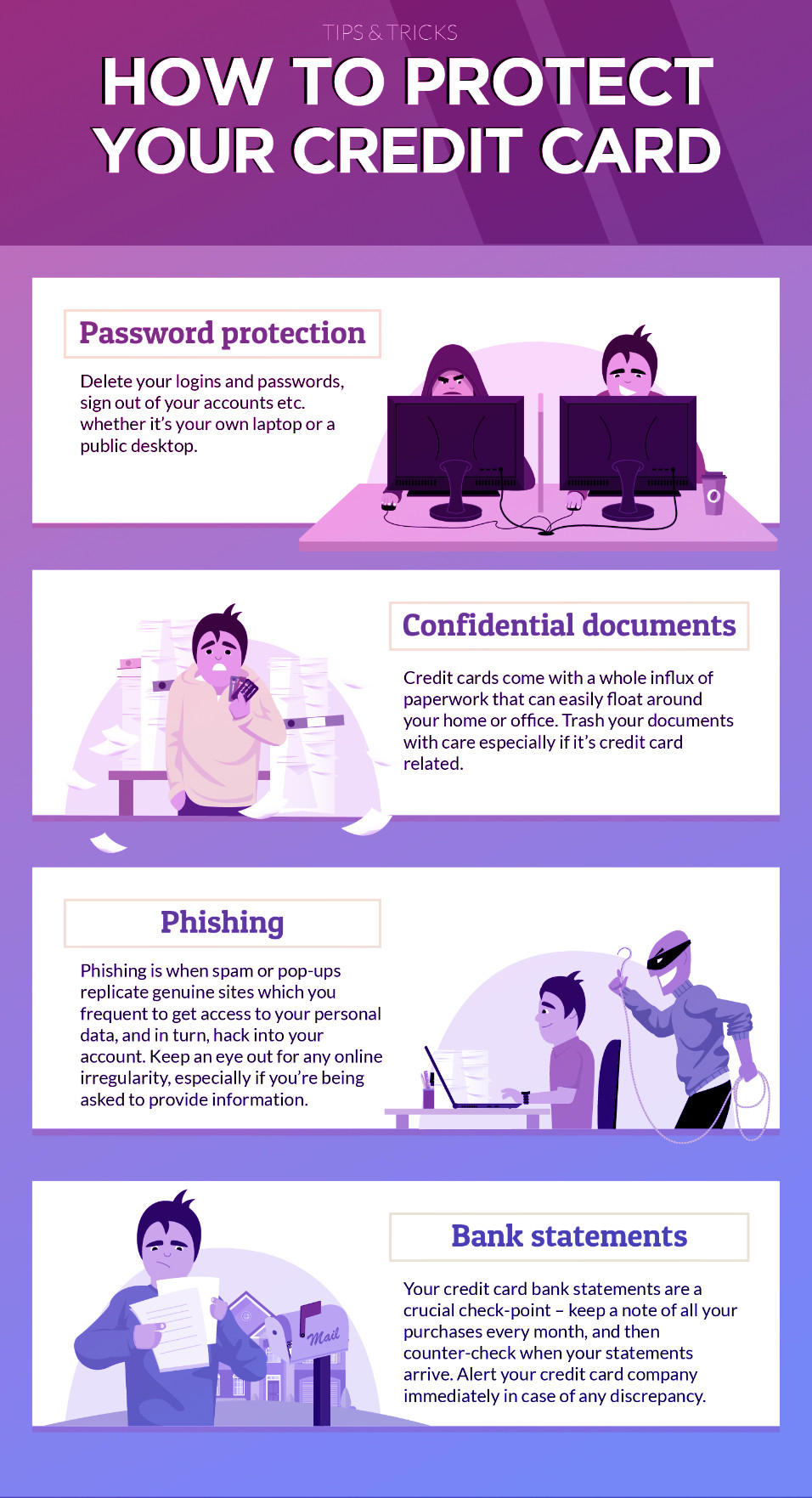 Conclusion
While fair credit may sound unappealing, it does not have to be. It also does not have to keep you from building a better financial life for yourself. There are lenders and credit card companies all over the place now. Some of them work specifically with lower credit scores to help those people build their credit.
If you have fair credit, do not just sit around and wait for your score to go up on its own. There is a credit card out there that can help you increase your score and build up your credit. With some patience, determination, and some work, you can find a great credit card for your current financial situation that can help you build a better one.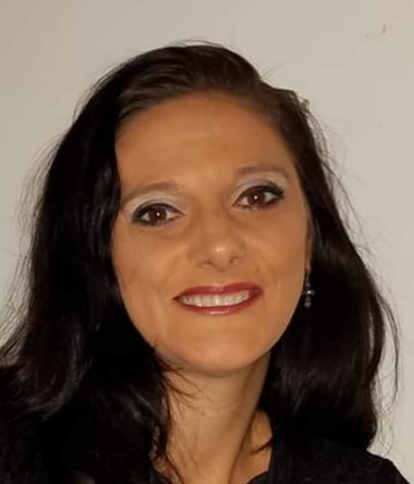 Brandy Woodfolk is an educator, home business owner, project manager, and lifelong learner. After a less than stellar financial upbringing, Brandy dedicated her schooling and independent studies to financial literacy. She quickly became the go-to among family, friends, and acquaintances for everything finance. Her inner circle loves to joke that she is an expert at "budgeting to the penny". Brandy dedicates a large portion of her time to teaching parents how to succeed financially without sacrificing time with their little ones. She also teaches classes to homeschooled teenagers about finances and other life skills they need to succeed as adults.
Brandy writes about smart money management and wealth building in simple and relatable ways so all who wish to can understand the world of finance.