As exciting as college can be, it's also a bit overwhelming – and we're not just talking about the papers and exams that are cramming your schedule. We're talking about the financial aspect, too. Even if you have financial aid, there are probably some expenses it doesn't cover. Sure, you could ask your parents for help, but you want to be independent. And anyway, you need to prepare for life after college. How can you do that while paying for your own expenses? Student credit cards.
What Is a Student Credit Card?
Student credit cards are a lot like regular credit cards in the sense that you use them to pay for your purchase and then repay the money. The differences typically come with the approval process and the perks that come with them.
Let's talk about the perks first. Most regular cards offer perks like airline points or cash back at the gas station. These are great rewards for many people. However, they don't always apply to students.
You know what does apply? Free annual membership to Amazon Prime, meal perks, and streaming subscriptions.
Those are the types of rewards you can gain from using a student credit card. Even better, some offer things like a statement credit if you keep your GPA up to a certain level. Talk about an incentive to hit the books!
Another difference is in applying for the card. Issuers that offer student credit cards are well aware that you haven't yet had time to build a credit score. Some students haven't used their credit a single time. Therefore, they make contingencies for that. They typically go more by income than anything else. And most allow you to get your parents to co-sign or even for you to claim your spouse's income if you happen to be married. In short, they can be a bit easier to get for many students than regular credit cards.
Reasons to Get a Credit Card As a Student
There are plenty of good reasons to get a student credit card. Before we dive into those, though, it's important to understand something. Credit cards are handy and can help you out. But if you use them irresponsibly, it can mess you up for years to come.
So as we talk about these benefits, remember that we are talking about responsible credit card usage. Don't let your credit card be an excuse to go wild and fill your dorm full of stuff you can't afford.
Now that we've had that talk, let's get to the fun stuff.
Pros and Cons of Student Credit Cards
Okay, so let's review the pros and cons.
How to Get a Credit Card As a Student
Getting your student credit card doesn't have to be complicated. You just need to follow these steps:
1. Think about what you need the card for and what kind of perks would be nice for you. Before you start looking for one, it's better to have an idea of what to look for.
2. Start your engines – I mean, your research. Compare the different cards available to find which one offers what you're looking for.
3. When you've found a few that you like, take a look at their requirements. Determine if you'll need a cosigner, what types of income they require, what documentation they accept to prove you're a student, and anything else you can find.
4. Gather all of the documentation you need. The process can move a little quicker if you've got everything in hand before applying. And if you need a cosigner, go ahead and talk to your parents at this point.
5. Lastly, it's time to apply.
5 Best Credit Cards for Students
We're going to help you get started with your research by showing you five pretty awesome options below.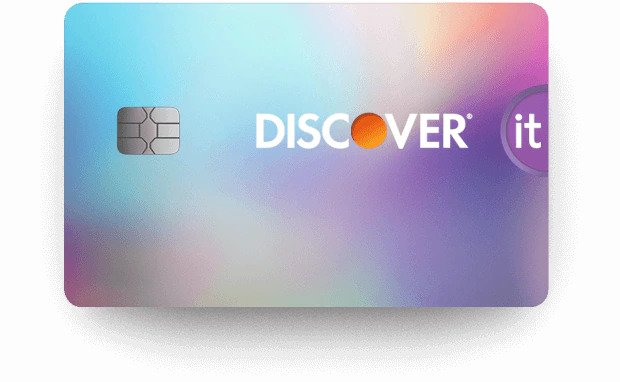 This card is a pretty good one, as it's really easy to apply. You don't even need a credit score to do it. And yet, you can earn 5% cash back on pretty much anything you buy using PayPal.
So, when you go on an Amazon shopping spree or splurge on pizza night – or do the responsible thing and buy school supplies – you're earning 5% of that back. If you don't use PayPal, you still earn 1%. Even better, they match everything you earn that first year.
You also get 0% interest for the first six months. Unfortunately, that can jump up to 22.74% after that period, so you'll need to be prepared for that.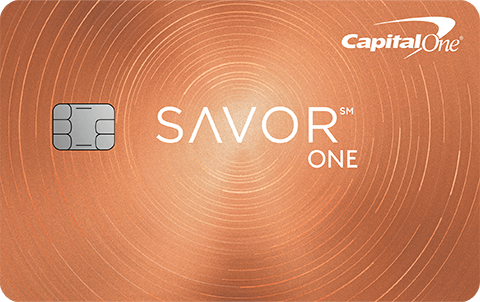 If you like the idea of cashback and monetary rewards, this is a pretty good card. You can earn 3% cash back on streaming, dining, entertainment, groceries, and more. And you earn a $100 cash bonus if you spend $100 on your card within three months of getting it.
There is no annual fee, which is great. At this time, though, there is not a 0% interest rate introductory offer. Instead, you'll pay 15.24% to 25.24% from the beginning. They do run introductory offers sometimes, though, so look into it before you avoid this card.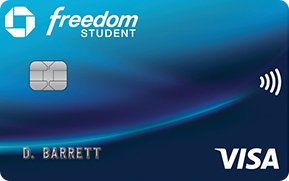 The Chase Freedom Credit Card is a little different than the other options on this list so far. It offers a lower cashback amount at only 1% on all purchases. This might seem undesirable, but it can actually be nice.
It means you don't have to keep up with how much you're earning – it's the same amount all of the time. And, unlike most cards, you don't need to hit a minimum balance to redeem those rewards. You can redeem them at any time – no matter how few or how many you have available.
There are some other benefits, too. For instance, you get a credit limit increase after you make five timely payments. There's also no annual fee and you get $50 after you make a purchase using your card in the first three months.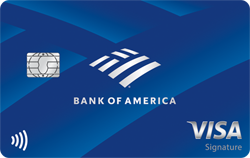 If you're going to college a long way away from home, this might be the best card for you. The Bank of America Travel Rewards Credit Card for Students allows you to earn 1.5 travel points on every single dollar you spend.
And if you spend at least $1,000 in the first 90 days, you get a bonus of 25,000 points. These can come in really handy when it's time to fly home for the holidays or during summer break. And the good thing is you don't have to worry about blackout dates.
Additionally, there is no annual fee. You get 0% interest for the first 15 billing cycles, but that can increase to 24.74% once that intro period is over.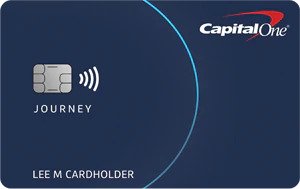 For those who love to stream, the Journey Student Credit Card from Capital One gives a $5 streaming subscription credit each month as long as you make timely payments. Subscriptions like Amazon Music Unlimited, SiriusXM Streaming and Satellite, Spotify, Disney+, and Prime Video are all eligible.
Additionally, you earn 1% cashback on all purchases. And you can increase that to 1.25% if you make your payments on time. There's no annual fee, but the interest rate is 26.99%. That can quickly add up. The best way to earn all of your rewards and prevent yourself from having to pay such high interest is to pay your balance before the end of the billing period.
How to Responsibly Manage Your Card
One of the most important tools you'll learn to use as an adult is a budget. It is a clear plan about what you need to pay and where to send your money each time you get paid. That helps you make smarter buying decisions, as you know how much money you have for extras.
As a college student, you might not yet know how to budget or be very comfortable with it, but there is a simple solution for it. Head to the Goalry Mall and sign up for your member key. There you'll find a budgeting tool that can help you stay on track.
You'll also find other financial tools and a plethora of educational resources that can teach you everything you need to know about finances. By the time you graduate from college, you can be a master at managing your money.
Conclusion
Student credit cards can be a very helpful tool – as long as you manage them responsibly and find one that suits your needs. Take the time to look through the options listed here as well as any others you come across. Compare them before making your final decision. Then, put a budget to work to ensure that your card helps you instead of negatively impacting your future.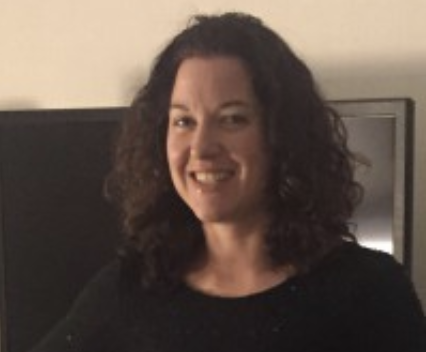 Julia Peoples is a long-time business manager focused on providing decision making assistance to the public. She works with people at key points of their lives who are making important retirement and financial decisions. She has had many articles published that educate the public on sound financial decision making.
Julia writes for those who are working towards financial freedom or a better understanding of how finances work. She has shared her financial insights with individuals on a one on one basis for years.