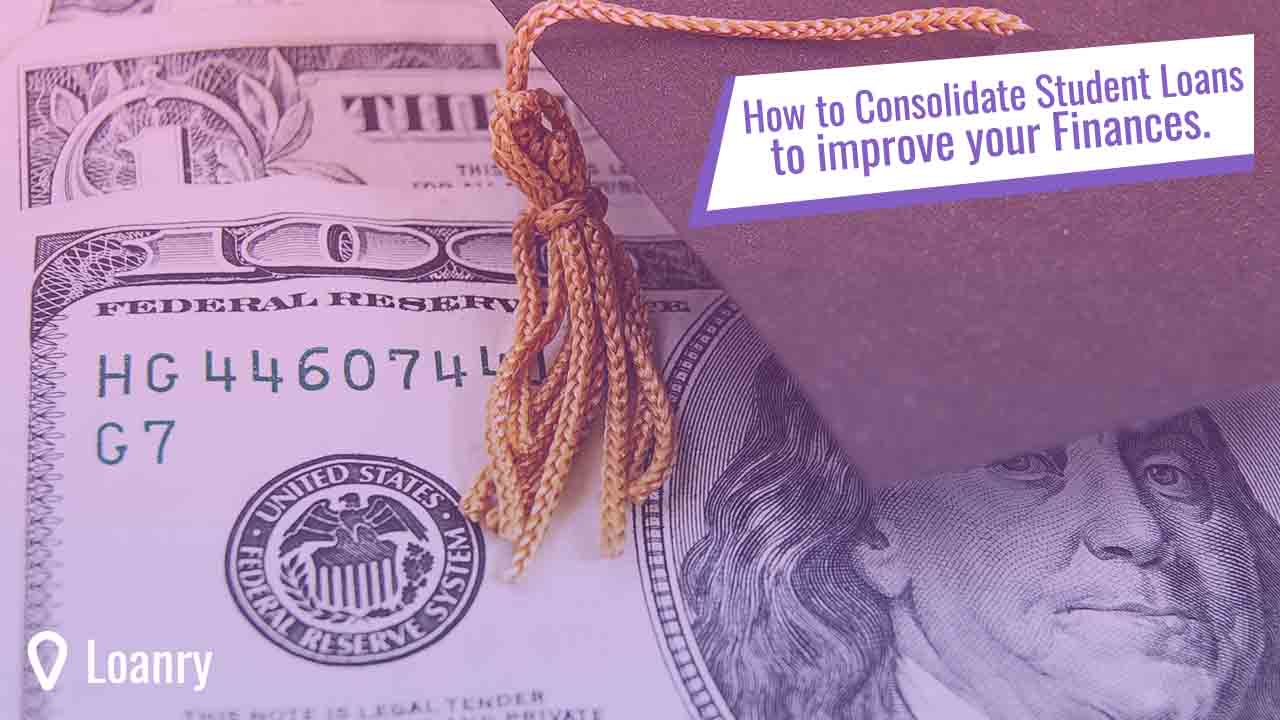 You entered college with the knowledge that earning a four-year college degree would make you vastly more employable. It took long study hours, paper after paper, week-long study sessions before finals, and tens of thousands of dollars. Scholarships probably did not cover all of it so you likely have some college loans.
How to Consolidate Student Loans
In the US, consumers owe more than $1.64 trillion in student loan debt. Even credit card debt measures less – more than half a billion dollars less. About 45 million individuals took out student loans. Nationally, the average college debt equals $29,900. Parents owe money, too. About 14 percent of student's parents also took out loans with an average PLUS loan debt of $37,200. Sallie Mae tries to recoup its money as quickly as possible so the typical monthly payment ranges between $200 to $299.
Right out of school, you might not make the salary you had envisioned. You could probably make due except six months after you graduate, you owe your first payment on your student loans. Sallie Mae wants its money. Many graduates struggle to re-pay their student loans. You may submit deferment after deferment requests, but the best option remains finding a way to repay.
You do have options. Deferment can help for a short time. Consolidation and refinancing also provide options.
Learning How to Consolidate Student Loans
Before we jump into consolidation, let's talk about what happens when you apply for a deferment.
Deferment Option
---
This makes a good option if you just need a few months before you can comfortably begin repayment. A deferment lasts for six months. You can request them more than once. That means if something unforeseen occurs and you cannot start your new job on time, you can also push back the date by which your payments begin. You can download a deferment form from the Sallie Mae website or you can file an online deferment form.
Sometimes, Sallie Mae arbitrarily mails a blank form to you. You need to file it as quickly as possible. Shoot for at least two weeks before your payment due date. Even if you have a deferment pending, you must make your student loan payment.
You must stay on top of your paperwork. You could file for a deferment and think everything has been taken care of, but the deferment could get denied or the agency could determine the form was completed incorrectly. This could put you into default. You can quickly get out of default status by negotiating with Sallie Mae. Go past the customer service representative by asking for a manager or write them a letter that explains the situation. As for a small, good faith payment you can pay to get the loan out of default status. Next, request a hardship payment plan. This lets the agency know that you do want to pay your debt and you take it seriously.
But, let's look at ways you can avoid needing a string of deferments and how to can completely avoid defaulting.
Consolidating Your Student Loans to Better Manage Finances
Perhaps you're already familiar with the concept of consolidation of credit cards or loans. If not, essentially, rather than making many smaller payments on a bunch of loans, all of them get bundled together with a uniform interest rate allowing you to make one payment per month. The organization to which you make the payment then distributes it among the various loans.
This can make it simpler to protect your credit and make the payment on time each month. It can also make it cost less each month although the re-payment time period may lengthen.
When you consolidate student loans, you can bundle all of the loan types. Your federal, state, and private loans can all go into the consolidation loan.
Two Types of Consolidation
When learning how to consolidate student loans, your first major decision is how to consolidate. Two main ways exist. You can consolidate with an organization like the Department of Education (DOE) or you can take out a larger loan that lets you pay off all of the student loans and only owe one payment per month.
Consolidation Programs
You can use the Department of Education (DOE) to consolidate or a private bank if you need to include private loans. This type of loan consolidation works similarly to consolidating credit cards through a non-profit. You would pay the DOE a single payment each month which it would distribute amongst the loans.
A private bank would consolidate your loans by purchasing them. Each month, you would make a single payment to the bank to cover the total debt.
Under both of these scenarios, you obtain one interest rate and one monthly payment. This can result in a lower interest rate for you which can save you money. Depending on the term of the loan, you might create much smaller loan payments for yourself. If you obtain a mortgage-like term of 30 to 40 years, you could end up with tiny payments that result in you having more money in your budget for other things like savings and investment. That helps you because investments can grow at a higher rate than the interest you incur on the consolidated student loan. That means you could save up a lump sum to make a balloon payment and get out from under the student loan debt completely.
Consolidation Loans
You can obtain a consolidation loan for any type of loan or debt. It does not apply only to student loans. Using this method, you can pay off both the private loans and the federal and state loans through the government. You do need to qualify for a potentially sizable loan though. This might not present that large of a problem if you already landed a career-level job within the field in which you earned a degree.
Depending on your credit score, you could land a decently low-interest rate. One step in how to consolidate student loans is learning your credit score and potentially raising it before attempting to obtain a consolidation loan. If you just graduated and obtained career-level employment, you should have decent credit so long as you did not jump on the credit card bandwagon during your undergraduate. You need a minimum of 640 to earn a decent interest rate that can compete with the rates your federal loans probably offered.
Once you know you have a strong credit score, you need to study your student loan debt portfolio. You must know exactly what you owe under which program and to what lender as well as your monthly payment to each. Your portfolio might include any or all of the following loan types:
Direct Subsidized Stafford Loans
Direct Unsubsidized Stafford Loans
PLUS loans from the Federal Family Education Loan (FFEL) Program
Direct PLUS Loans
Supplemental Loans for Students
Federal Perkins Loans
Federal Nursing Loans
Health Education Assistance Loans
Private loans
Get Access to All of Your Federal Financial Aid Records
You can look up all of your federal loans in the National Student Loan Data System online. You can access all of your federal financial aid records there.  To determine your total student loan debt before moving forward, you need to use this type of student loan planner.
You will need to look up your paperwork on each private loan by checking your own paperwork or checking with each lender. Chances are that since they want their money, they probably mail you regularly about your payments. This makes it easy to add them to the list and have their contact information at the ready.
How to Consolidate Student Loans: Honestly Assess Your Situation
Do you already have employment that would allow you to re-pay a large loan? If you consolidate through the DOE, can you make their schedule of payments? Here is where the research comes into play. You need to contact each potential consolidation option and ask a few questions.
What would the payment schedule be?
What would the estimated monthly payment be using each option?
Is there a payment forgiveness option for at least one payment?
What happens if your situation changes, i.e. your hours get reduced, you lose your job, a medical problem arises, etc.
What is the penalty for late payment?
Once you consolidate with the DOE or a private lender, you cannot unconsolidate. The only option would be to pay them off completely with a consolidation loan. You then pay the consolidation loan off. What is done cannot be undone. Realize that when you sign the paperwork.
Is Consolidating Right for You?
You should consolidate your loans if your federal loans already entered default status. Doing so can help you save your credit rating. Other scenarios also mean you should consider consolidation.
If you know that you cannot really afford the payments you make each month, and you fear you will make late payments or default, you should consolidate.
You can also consolidate to make bill payments easier. Instead of multiple payments each month, you can make one. This makes scheduling payments simpler. You might end up with two payments if you have both federal and private loans. Besides the no going back to unconsolidated loans caveat, you also need to understand that when you consolidate private loans, you could owe a fee of up to 18.5 percent. That adds to your loan principal plus although you will likely have more years to pay things off, you will also pay more in interest that way. The federal interest rate cap of 8.25 percent remains much lower than credit card rates, but it adds up when you pay off a loan of about $30,000. You will have all new loan terms and conditions regardless of the type of consolidation.
Final Thoughts
Visit the website StudentLoans.gov. Complete the application. Carefully review the summary sheet you obtain once you complete the application. If it all looks correct, life is good. But, if you see a mistake, within 15 days, contact the DOE to correct the information.
If the application gets approved while you were in default, you will choose one of three payment plans and re-enter re-payment. Each option, IBR, Pay-As-You-Earn, and ICR, provides income-based payments. People with no loans in default get to choose from six repayment plans – standard, graduated, extended, income-Based, Pay-As-You-Earn, and income-contingent repayment. This is based on discretionary income and will not exceed 20 percent of what you have available monthly.
You start making your payments again. Voila. You eventually pay off your student loans and get a badge for adulting.

Carlie Lawson writes about business and finance, specializing in entertainment, cryptocurrency and FOREX coverage. She wrote weekly entertainment business and finance articles for JollyJo.tv, Keysian and Movitly for a combined seven years. A former newspaper journalist, she now owns Powell Lawson Creatives, a PR firm, and Powell Lawson Consulting, a business continuity and hazards planning consultancy. She earned BAs in Journalism and Film & Video Studies from the University of Oklahoma. She also earned her Master of Regional & City Planning at OU. Her passion lies in helping people make money while reducing risk.