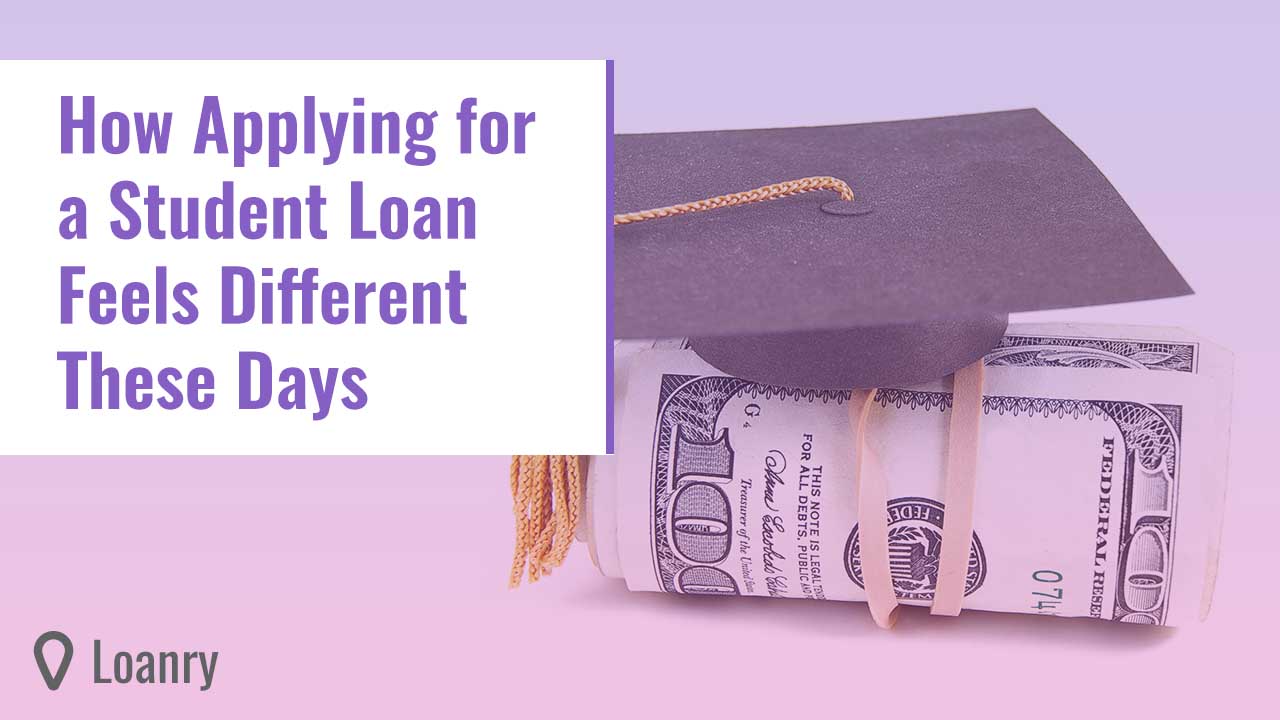 Parents and students will agree that there's an increased sense of uncertainty today when it comes to pursuing higher education plans. With life practically upended as we know it, many things are left high up in the air and have yet to fall back down into their proper place.
Even those who have set aside college funds for their children might now be dealing with unemployment, and so now must seriously look into available higher education loan opportunities.
Regardless of the dire changes in the world's situation today, what hasn't changed is the importance of investing in education. This is why many will most likely still pursue it. Although, they might have to delay it for a time until things settle down a bit. Different kinds of financial aid, from scholarships to loans, can be sought out to help students increase their chances of securing funds to secure their educational future.
It will require patience and a keen understanding of how these options work, though. After all, taking out a loan for school is one of the first, and biggest, loans you'll ever take out for yourself. As a matter of fact, the only other type of debt that comes close to the average person is the housing loan.
As with any other types of loans, there's going to be a stringent application process you'll need to get through first before approval. To apply for a student loan, forms will need to be filled up, and requirements will need to be sent. In other words, there's a lot of information gathering and data collecting that will occur.
Student Loans Then and Now
Before diving into those specifics, let's first take a look at what you can expect in today's student loan landscape. Perhaps the first thing you need to know about student loans is that you're not the only one interested in applying for it. As a matter of fact, there are over $1.64 trillion worth of student loan debt in 2019, $1.515 trillion of which come in the form of federal loans, while the other $124.65 billion comes from private funding, according to the December 2019 data from the Department of Education.
These numbers are staggering. And give you an idea of just how much clamor there is for it in the country. And these numbers keep growing every year.

We were still only dealing with billions back then, and now it's in trillions. It only took a full decade to double that amount in billions to trillions today! Can you imagine how much more it's going to be in the next decade?
The Rise in Student Loans
As more people seek out higher education, whether in college or post-graduate studies, the more that student loan opportunities—and rates—go higher. There are a variety of reasons for this.
One is that the cost of schooling itself increases every year. Colleges and universities may justify these tuition fee increases with improvements in faculty, facilities, and curriculum. Of course, they would want to reassure you that you'll be getting your money's worth if you do decide to come to their institution.

Another thing you should know before you apply for a student loan is that you can expect an average of $35,397 student loans per person. So if you're planning to take out a loan, it would be great if you could also have a reasonable expectation of where you're going to get funding to repay the loan. After all, student loans aren't simply offered on principal amount; there are interests and possibly other add-on rates that may be attached to it.
Simply put, it's definitely a long-term commitment that you would do very well to prepare well for and take seriously.
Understandably, the idea of taking out a student loan today, especially in this very uncertain economic climate, is nerve-wracking. However, from then and now, student loans have proven to be a reliable option to help you pursue your life goals by way of completing your education.
Taking out student loans is a serious responsibility, yes. But with proper management, it is possible to prevent it from overwhelming your life or drowning you in debt for many years to come.
Here are some of the first steps and considerations you need to take if you are planning to apply for a student loan.
Set A Budget
How can you set a budget when you don't know how much loan amount will be offered to you? The answer is simple: list down your options for colleges and universities and sees how much they cost. Doing this should give you an idea of the range of costs you should aim for when you take out a loan.
The cost of tuition will depend on how prestigious and exclusive the institution is. Ivy league schools are definitely going to require a lot more in terms of finances. Smaller private institutions, like art universities, also tend to be in the higher range of tuition costs because of the perception of exclusivity attached to it.
Other more "regular" colleges and universities may cost a little less. But don't take it to mean that it's going to be so much more affordable. Whichever option you take, it's still going to cost a serious amount of money. You're talking about funding for your entire four years (at the minimum!) of your degree, after all.
This is also why it's crucial for you to think very hard about what course you're pursuing before you apply for a student loan. Is this something that you could build and grow into as a serious career, or is this something more of an interest elevated to a higher level? How marketable are the skills that you can have in this degree you want to earn? What is the job market like upon your graduation? Does your area of study allow you to pivot to a different career path seamlessly in case you need to?
Make a Good Plan
We know, it's definitely a lot to think about. But you have, because remember, once you take out the loan, it's your responsibility to pay it back. Therefore, whatever it is that you're using it for, you should at least try and make sure that your next steps in the future, upon graduation, are going to be helpful to you in bearing this responsibility.
As you've seen in today's world, there is no guarantee for success, that much is true. But also, preparation really is key to make your future just a little bit more secured. So you don't let financial obligations like student loans take over your life. At the very least, you can try.
It is highly advisable that in your search for the best-suited loan offer for your needs, you prepare the basic document requirements as well. You might also want to make duplicates of these documents, especially if you intend to make multiple applications.
Approaching Student Loans
Student loans can be terribly intimidating, we know that as much. The sheer amount of money involved in the conversation is enough to send a first-time student loaner tossing and turning at night.
When taking steps to apply for student loans, regardless if it's your first time or not, it's always good to take a comprehensive look at what awaits you in the deal. Know what are the moving parts in taking out a student loan.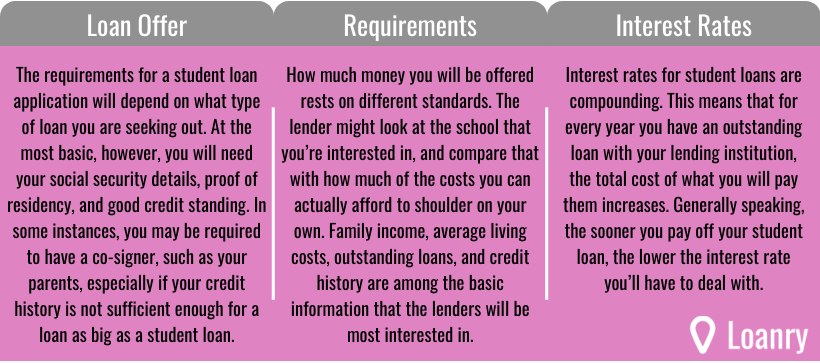 As a tip, don't be lured in by easy promises of huge money to fund your education. Always read the fine print and make sure you've studied the terms and conditions before signing on the dotted line. If the process seems too easy and too good to be true, then that's probably because it is.
That's why you should really take the time to study your options and compare the different offers out there. If there's one major change you can be grateful for a decade ago, it's that information and fact-checking is a lot easier now, thanks to the internet. Put in the work for research so you can come up with a well-informed decision. Your future literally depends on it.
Types of Loans

What you have to remember about federal loans, however, is that the school will be the one to determine how much you should get. That, plus the fact that there is a cap on how much you can loan. Whether you get subsidized or unsubsidized loans.

They will do a hard check on your credit history to verify your eligibility. And again might need to require a co-signer. You must clearly identify who the primary lender will be. In this case: is it going to be or your parents?
Private loans also do offer a variety of options for loan repayment. Do you think you can manage a monthly schedule? Which will start running as soon as the funds are released to your account. Or would you rather defer the payments until after you've graduated? Each choice will have its pros and cons so make sure to think about it hard.
When you apply for private loans, you'll also be the one to identify first how much you think you'll need. You can justify your application by saying it's for student loan housing on top of tuition and other additional costs. The lender will determine if your justification is good enough. And most importantly, if your credit standing is good enough to give the amount you asked for. Be prepared to be offered a different amount, and one that's less than what you're hoping to get.
When you apply for a student loan, the most important thing you have to watch out for in private loans is the interest rates. They tend to give out the highest interest rates among the different types of loans you can avail of in this list.
Final Thoughts
Ultimately, however, while there may have been many changes in the landscape of student loans in the past decade, what remains is the fact that it is a crucial part of pursuing your dreams.
True, there are many reasons to be scared and unsure in these times. But there are also plenty of helpful resources you can use to help you feel in better control of your future. Before you apply for a student loan, study your personal loan options. Take a deep look at the considerations, and base your decision on established data and factual information. Then you'll find taking out a student loan today does not need to be as scary as you think it is.