You can have the wedding of your dreams without breaking the budget. But you're going to have to plan ahead to do so. The strategies below can help you save money on your wedding without sacrificing everything you've dreamed of. You can shop around, compare costs, and downsize these things to stretch your budget further, though.
How Much Money Do You Need to Save for a Wedding?
The Knot Real Wedding Study for 2021 revealed telling information about the costs of weddings with the average wedding ringing in at nearly $22,500 (without the honeymoon) and the average "per guest" spend coming in at $307. The good news is that your wedding doesn't need to be nearly as extravagant as these weddings for you to have an amazing experience your friends and family (not to mention the two of you) will cherish for many years to come.
The key is to decide on a budget and create the best possible wedding within those budgetary constraints. The last thing you want to do is create the wedding of your dreams that becomes a financial albatross as you are beginning your new lives as husband and wife.
How to Save for a Wedding in a Year?
It's quite possible to save for a wedding in one year's time – as long as you've created a budget that works with your goals and expectations. Obviously, if your dream wedding costs more than your annual income, you're going to have to make some adjustments.
The Knot recommends using simple math to plan your wedding budget. If your goal is to spend $20,000 for your wedding and you plan to get married in one year, then you need to save $1,700 per month to make it work.
If you can't manage to save that much, look for big ticket items you can eliminate from the budget or extend the amount of time you plan to save for your wedding.
What kinds of things can you eliminate from your budget? Consider the following:
Switch wedding venues
Create a smaller guest list
Reduce the size of your bridal party
Slim down the menu
Any of these things can help you save more effectively for your wedding by reducing the overall costs of it.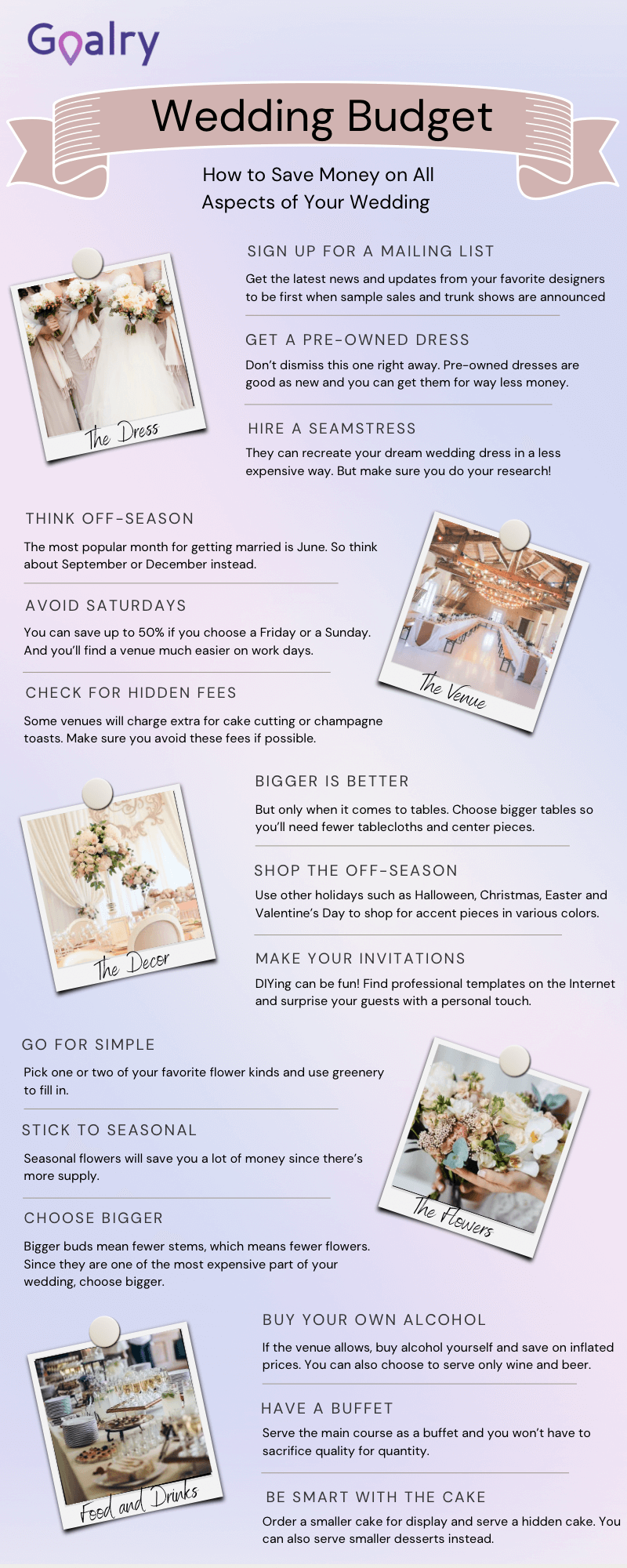 How do I Save Money on My Wedding Cake?
While you are working out ways to cut costs on your wedding, the last thing you want to do is go broke on your wedding cake. Consider these recommendations from Wedding Wire to keep the costs of your wedding cake under control:
Ditch elaborate cake designs. The bride should be the prettiest thing in the building after all. Plus, something simple is sometimes supremely elegant
Go with slimmer slices. This helps stretch your cake and your budget further without stretching as many waistlines in the process
Choose a small, tiered display cake and a larger sheet cake to serve your guests. The best part is they'll never know the difference
Little tricks like these can help you save big on your big day. This will either leave more money in your budget for a honeymoon or help you develop life-long habits for saving money and stretching dollars.
$4,500
is the average honeymoon costs.
How do I Save Money on My Wedding Dress?
There are plenty of things you can do to save huge amounts of money when buying a wedding dress. These are just a few options available to you from low costs (as low as the costs of slight alterations) to moderate costs:
Borrow from a family member of similar size. It might not be your first choice, though in some families it's a tradition. With the average costs of a wedding dress above the $1,500 mark, it's a good tradition to start
Shop vintage and second hand. There are some wedding shops that specialize in second-hand wedding gowns. Not only is it budget-friendly, it is also planet-friendly
Buy last year's designs. This is one of the more expensive options for cutting costs, but it is highly effective and can save you hundreds of dollars, if not more
There is always the option of borrowing money for your dress or asking for your mother to help pay for it as a wedding gift to you since wedding finance is no laughing matter.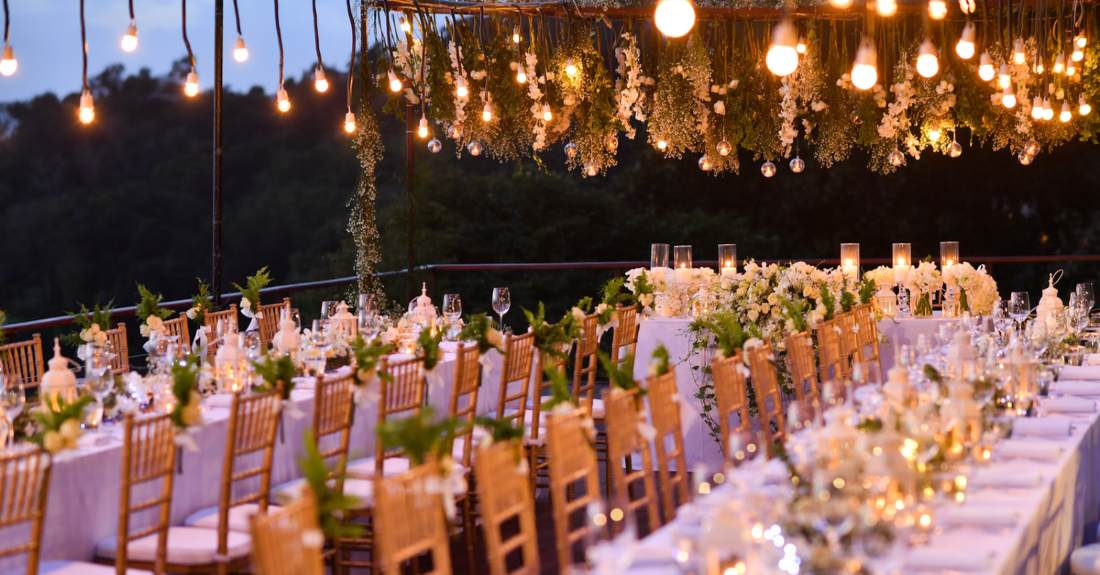 How Can I Save Money on My Wedding Venue?
There are many ways you can save on your wedding venue. One thing to consider is whether you need a specific venue hot spot or if you have a friend or relative that will allow you to celebrate your big day on their property. This eliminates the venue fees freeing up precious funds for other things.
However, you can save big on your venue by thinking outside the box. For instance, The Knot Real Wedding Study reports that fall and summer are the most common times of year for weddings, accounting for 37 percent each, of all weddings Saturday is the most popular day of the week for weddings. This means you can save money on your favorite venues by getting married in winter or spring and planning your wedding for a day other than Saturday.
Wedding Photographer Cost
An average wedding photography prices vary from $2,500 to $5,000.
How to Pay for a Wedding with No Money?
For starters, keep your wedding small. It's hard to plan a big event when you have little to no extra money in the budget. This might be a case where you opt for a small civil or religious ceremony, and then consider a less formal party or event to celebrate with your friends and family. Offbeat Bride suggests you can have a low budget wedding with as little as $100. It might not be the day of your dream, but the important thing is that you're marrying the spouse of your dreams.
Another thing you can do to is to ask for help. Explain to friends and family members that you're trying to save for your wedding. Ask that they consider donating to your wedding fund in lieu of Christmas, birthday, and other annual gifts.
Thinking about taking out a loan for a wedding? You're not alone. Many couples consider getting wedding finance help in the form of personal loans and other finance options. Some opt to pay for weddings out of pocket and seek travel finance help to fund dream honeymoons once the main event is over.
Conclusion
Financing a wedding is hard work. Our goal is to help you understand your loan options ahead of your big day. Contact us to learn more about the services we provide and the many ways we can help you manage credit, taxes, and more to get your financial affairs in order as you begin your new lives together.