How Much Does A Wedding Cost?
Your wedding is the best day of your life. You want every moment of it to be perfect. Weddings are expensive. Many people spend more money on a wedding than they do on a car. The last thing you want to do is to cut things out of your wedding. But, if you do not have unlimited expenses, you may have to make some hard choices. The national average cost for a wedding is $33,931.
The most expensive aspect of a wedding is the reception location. This costs around $14,000. Do not be dismayed about the cost of a wedding. There are ways to bring down that cost. You may have to be flexible with some things. You can try to negotiate the cost of some of the things you would like.
Ways To Save Money On My Wedding
There are many ways save money on your wedding.  You may have to make some hard choices. For example, have your wedding on any day other than Saturday. A Saturday in June is the most popular time for a wedding. Having your wedding on a Friday or Sunday, may save you close to 50 percent. Consider having your wedding in the winter. Summer is the most expensive time to have a wedding. Simplify as much as possible. Just because you plan a wedding on a budget does not mean you have to cut everything, just simplify it.
Change your sit down dinner to a buffet style dinner. You can also change your dinner to hors d'oeuvres. These things can decrease the price significantly. When it comes to your cake, order a one tiered cake for display. Have a sheet cake in the back that is actually cut for the guests. They never see the cake and never know that it is a sheet cake. You can have the cake cut into smaller pieces. You can get rid of the cake all together and have brownies and cookies for dessert.
Flowers are another area where you can cut costs. When you buy flowers, make sure they are in season. It is always cheaper to get flowers that are in season. Flowers are incredibly expensive. It is obvious that the more flowers you have, the more it will cost. If you choose flowers with bigger buds, they take up more space. There also have less stems, which saves you money.
Another way to plan a wedding on a budget is to save money on your dress. The simpler the dress, the less it will cost. You can find leftover styles from the year before. A dress from last year cost less than a new model from the current year. You can purchase a pre owned dress. You can purchase a dress for up to 75 percent less than in a store.
Are There Things I Can Do Myself For My Wedding?
When you want to plan a wedding on a budget, you can do things for yourself instead of hiring someone else. You can make your own invitations and select a simple but elegant invitation template. You can pick quality paper and print them. This may save yourself hundreds of dollars in one simple step. Ask the venue if you can purchase your own alcohol to serve at the wedding. You will not have to pay increased prices for the alcohol and can return any unopened alcohol. You can purchase alcohol from a distributor, which makes it cheaper.
One great suggestion is to decorate the venue yourself instead of letting their decorators do it. You can have larger tables, which means there are less tables to decorate. Purchase bulk vases or centerpiece parts. You can put the centerpieces together yourself and can shop around for various accent pieces. Find them on sale, especially at the end of the season or choose favors that you can make yourself. This can save you hundreds of dollars by making them.
You can make corsages for the groom and all the groomsmen. You can use succulents, wire and tape and in minutes have an elegant corsage. Instead of renting chair covers, you can make your own. You can get creative with the way you decorate your chairs. You can add your own sense of style and color. If your venue allows it, you can make your own table settings.
You can create a funky look with dishes and silverware that has different patterns. You can buy and fold your own napkins. When you plan a wedding on a budget, this is your chance to bring the look you want to your wedding. Get creative with it.
Should I Create A Budget For My Wedding?
It is always a great idea to have a wedding finance budget. This helps you to understand how much your wedding is going to cost. It also helps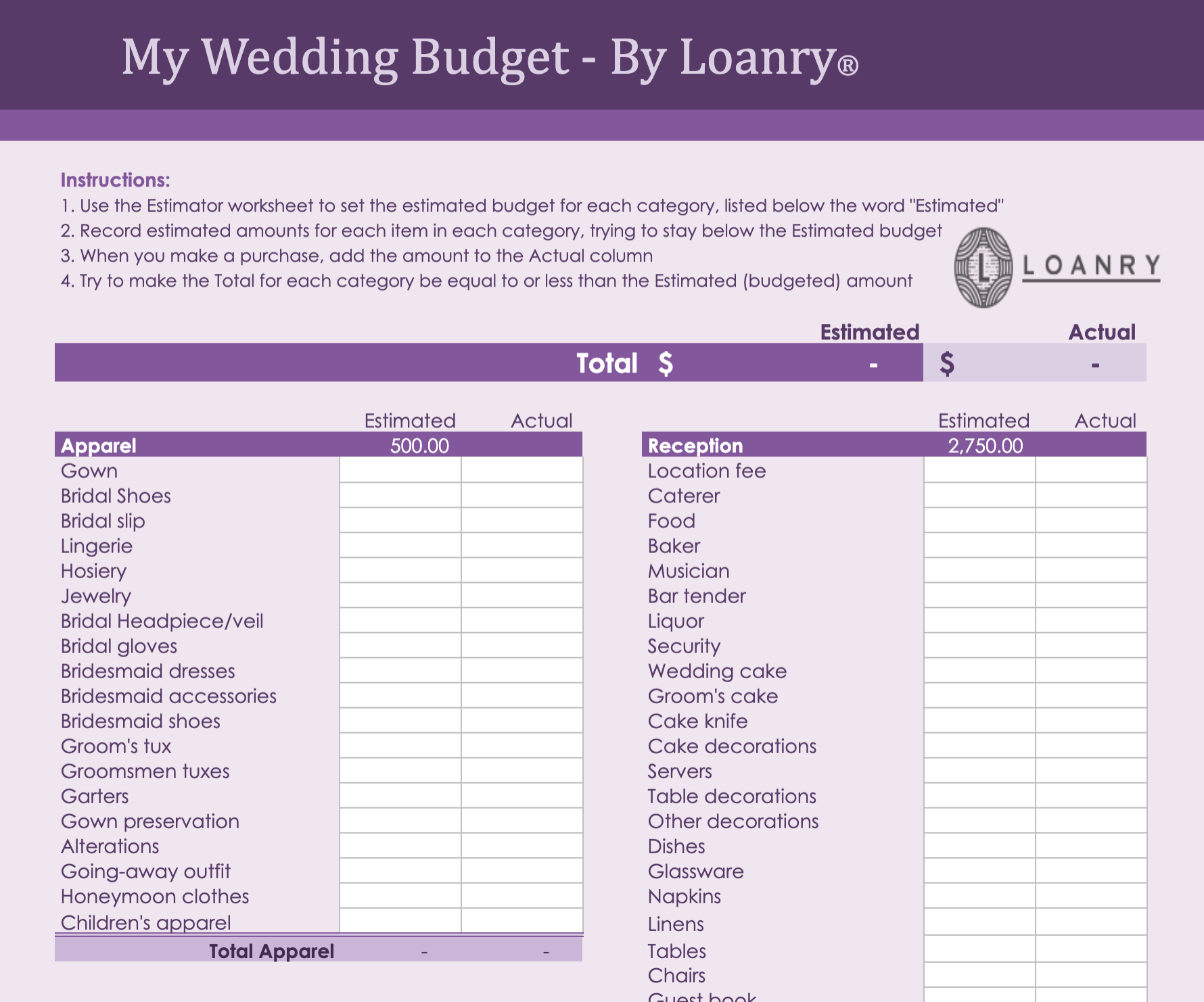 you to plan a wedding on a budget. Believe it or not, there are some easy ways to create a wedding budget for yourself. Just as a reminder
when you plan a wedding on a budget, that does not mean you will not get all the things you want. You might have to think about your wedding plans a little differently.
First, you need to know how much money you have to spend on your wedding. You need to figure out how much money you have saved that you are willing to put towards your wedding. You need to consider how much money you can realistically save for your wedding. Then, look at how much money, if any, your families are going to give you. All of those together determine how much cash you have to spend on your wedding.
Depending on how much it is, you may want to make that your budget. Another key to remember, when you set your budget, stay on budget. Do not go over. You should pad your budget for unforeseen expenses but do not go over budget.
You should track how much money you are spending. Once you have an idea of how much things cost, put them in a spreadsheet. This gives you a good idea of how much money you need. When you have spent money you can put it in another row or column called spent. This not only tracks how much you are spending, but it lets you know if you have stayed on budget.
If you already know you do not have enough cash and you have decided to charge some items, do so with thought. Make sure you are thinking about what you are charging and have a plan to pay it back. Do not get yourself into a position where you cannot pay your credit card bills. It is not a good idea to let your wedding get you into debt that you cannot afford to pay back. Before that happens, you should find areas where you can cut costs.
How Can I Save Money For My Wedding?
You want to plan a wedding on a budget and you know what that budget is already. You are faced with the fact that you cannot afford the wedding of your dreams. Before you decide what you need to cut from your wedding, you want to determine if you can save money for the items that you really want. The best way to do this is to look at your expenses.
Cut out any unnecessary expenses. Do you have a gym membership that you have not used in almost a year? Cancel it. Do you have subscriptions to things you are not using or reading? Cancel them.
Take a look at other spending. Do you eat out often? Stop eating out and buy food to prepare at home. Not only will this save you money, but it is healthier for you. Do you have an expensive bad habit like smoking? Maybe now is the time to consider quitting. You can save yourself thousands of dollars a year if you quit smoking.
Think of what you would not have to cut from your wedding if you kicked that bad habit. Do you have other extravagant habits or expenses that you do not need? Are you willing to put them on hold for a year so you can save money for your wedding? Now is the time where you can decide which is more important.
How Much Will My Wedding Cost?
Weddings are incredibly expensive. The cost of your wedding depends on how many features you have in your wedding. You can determine the cost of your wedding with a wedding calculator. The calculator helps you know how much money you need for your wedding. Wedding cost depends greatly on where you live, but New York City is the most expensive city in which to get married. They average cost of a wedding in NYC is over $80,000. The cheapest place to get married is Mississippi with an average cost of a little more than $12,000.
The wedding venue is the most expensive part of a wedding. It is often more expensive than the engagement ring. The venue costs around $13,000 and the average cost of a ring is a little more than $5,000. The least expensive part of the wedding is the favor. Some couples are moving away from favors. That only saves around $300.
The cost of weddings has increased significantly over the years. There does not seem to be any hint that increase will stop. As long as couples are willing to pay for expensive weddings, the price will continue to rise. There are ways to save on your wedding.
Can I Get A Wedding Loan?
Loans for wedding expenses are personal loans. It is possible to get a loan for a wedding, but the terms depend on your credit score.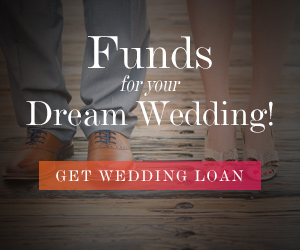 A personal loan is when a lender, such as a bank, lends you money. You pay that money back with a regular monthly payment for pre determined length of time. That is usually three to five years. The amount you pay does not change from month to month. It always stays the same.
These loans are unsecured and do not require collateral. Unsecured loans are risky for the lender. Taking out a loan for your wedding allows you to pay for everything at one time and pay one payment per month. However, having a loan could work against you and you forget that you should plan a wedding on a budget. It also increases how much you are actually spending on your wedding because of the interest.
The loan interest adds additional cost to the price of your wedding. You are also taking on additional debt by using a loan to pay for your wedding.
Can I Get A Wedding Loan If I Have Bad Credit?
Yes, you can still consider taking out a loan for a wedding when you have bad credit. There are some things you should know before you decide this is the way to do. When a lender considers your credit worthiness, they look at your credit score. Anything below 650 is considered bad. This makes lenders less willing to give you money.
You can still find lenders who will loan you money, but you need to do some shopping. You have to make sure you are getting the best deal. Credit unions and online lenders have more relaxed standards for lending money. They are willing to loan money to those with bad credit. You should know that the lower your credit, the higher your interest rate.
Before you opt for a loan, especially if you have bad credit, you should consider some other options. You should consider to plan a wedding on a budget. There may be ways for you to decrease some of your wedding costs so you may not need a loan. You can cut out some of the items you plan to have in your wedding. This may decrease the costs, as well.
Should I Take Out A Loan To Pay For My Wedding?
You must decide for yourself if a loan is right for you. There are some things to take into consideration when thinking about a wedding loan. There are good things and bad things about taking out a loan. Typically, a loan has a lower interest rate than a credit card. A loan can help you consolidate all of your debt to help you focus only on wedding costs. With a loan, you will not be using your cash. This keeps your cash flow flexible and not tied up in wedding costs.
Having one payment per month makes it easier to budget for the payment. If you are paying varying amounts to multiple places, it is hard to budget. Making regular payments on time helps improve your credit score. The interest rate is static and will not change month to month.
There are some negatives to obtaining a loan. You should also be aware of those. If you cannot payback the loan, you run the risk of late or missed payments. You can default on the loan. This means that lenders could send collectors after you to get their money. All of these things impact your credit score in a negative way. If you have bad credit, the interest rate could be high. The lower your credit score means the higher your interest rate for your loan.
Should I Use A Credit Card To Pay For My Wedding?
You can consider using a credit card as part of when you plan a wedding on a budget. People often have a negative association when thinking about using a credit card for wedding expenses. Credit cards have a tendency to get out of control when you use them improperly. If you use them properly, they can really work to your advantage. If you find a credit card that offers zero percent interest, that is a great way to go. It is basically getting a loan without any interest. The key is to pay off the full amount before your interest free period ends. If you do not pay it off, the credit card hits you with interest from the date of the purchase.
Some credit cards offer a signing bonus. The way it works is you spend a certain amount of money, perhaps $5,000, over a set period of time, 6 months of opening the credit card. If you do that, you receive money back. This basically gives you a discount on the items you purchased. Another way to save money is to use a card that offers cash back on purchases. Many cards offer either 3 percent, or 1.5 percent back on all purchases.
Should I Have A Destination Wedding?
Destination weddings are popular now. It is a way for you to have a smaller wedding without hurting anyone's feelings. You limit the guest list to the number of people who can and want to travel to your destination. It may be an option for you when you want to plan a wedding on a budget.
Typically, when you have a destination wedding, the couple getting married does not pay for the transportation or lodging costs of their guests. Depending on how many people are on your guest list, you could decide to pay for one or both of those items for your guests. That may also depend on how much the actual wedding is going to cost you.
One thing to consider with a destination wedding is the cost for your guests. If you decide to go the destination wedding route, you could give your potential guests advance notice to allow them to save the fund to be able to attend your wedding.
Typically when you have a destination wedding, the venue for the wedding offers an all in one package. There may not be a lot of savings in that respect, but since the guest list is much smaller, you can save a lot of money. It is a great way to plan a wedding on a budget and limit your guest list without deciding who you are going to cut. Weddings are a funny time. You feel compelled to invite people to your wedding that you have not seen in years, and maybe have never seen.
Conclusion
Weddings are expensive and many couples go into a lot of debt to have the wedding of their dreams. You always intend to plan a wedding on a budget. Sometimes, it just does not work out the way you thought it would. You find yourself in a position where you are considering a wedding loan. You are the only one that can decide if this is the right option for you.
The real question you must answer for yourself is can you afford to pay back the loan? If the answer is no, stop there, do not go any further down the loan path. If you cannot pay it back, you are putting yourself in a worse financial position. Do not do it. Now, if you know that you are going to have a regular stream of income after the wedding and you are confident you can make the monthly payments, then maybe. Maybe it is right for you to get a loan.
You have to take an honest look at your finances and decide if you can repay the loan. Before you decide yes on the loan, go through all the other suggestions and tips we have given you to save money.