The best way to determine if a wedding loan is right for you is to take the time to learn about wedding finance and all the options available. Reading up on the pros and cons of loans for wedding expenses is a great way to start.
In the U.S., the average cost of a wedding for 2021 is between $22,000 and $25,000. If you're a planner, you may be one of the few who's been saving for this major life event for years – but many are not so well-situated. If you're one who doesn't have healthy savings account earmarked for this purpose, you may be considering a wedding loan. When you're considering financing your wedding, you are probably asking "are wedding loans worth it"?
I'll answer that question in full detail below. Before I do, I think it's important to define wedding loans first.
What Are Wedding Loans?
If you've never heard of a wedding loan, you're not alone. Wedding loans are actually just personal loans used to pay for a wedding. You don't need to prove you're getting married to get one, and you can spend any money left over after paying for the big day on whatever you like. (Did someone say honeymoon?) The amount you can borrow, and the interest rate you'll pay, will be based on your credit score and debt-to-income ratio. If you can't qualify on your own, you may be able to use a cosigner.
Are Loans for Wedding a Good Idea?
Is taking out a wedding loan a smart thing to do? Put another way, are wedding loans worth it? It depends. While it's always better to pay cash if you can, weddings can cost more than many couples have on hand. If you are going to borrow, research your options. A wedding loan instead of a credit card may be a better choice, but there are pros and cons of both. Interest rates on credit cards are often higher than those on personal loans.
On the other hand, if you can put your wedding expenses on a credit card with an introductory interest rate of 0% – and pay the debt off quickly, before the rate goes up – that may make more sense.
There are different types of wedding loans. Do your research to determine which type makes the most sense for you:
Unsecured Loans
Unsecured loans don't require collateral, which means you're not at risk of losing your property if something happens and you can't repay the loan.
Short-term Loans
Short-term loans are just what they sound like: loans you must repay more quickly than others. With these, you are paying interest for a shorter amount of time, and putting the debt behind you faster, than with other types of loans.
Loans with Fixed Interest
Fixed interest rate loans give you the security of knowing what your payment, and interest rate, will be for the life of the loan.
The internet is a great resource for information about wedding loans. You can even research lenders and apply for loans online. Loanry is one of the best places where you can look for loans.
Pros of Wedding Loans
Are wedding loans worth it? Consider the positives of wedding loans:
Less burden on a family. If relatives feel responsible for helping you pay for your wedding, a wedding loan may take some of the pressure off them.
Less burden on you while you plan your wedding. You can use the loan money to book a venue, caterers, and even honeymoon travel. You can shop for a dress, decorations, the cake – without worrying as much about cost. The freedom a wedding loan gives you during the planning phase can certainly make the process more fun.
Possibly lower interest rates. In many cases, wedding loans come at lower interest rates than credit cards.
A fabulous wedding. The additional money a wedding loan gives you allows you to do more to make it exactly the way you want. Whether this means better food, a more elegant venue, more guests or something else completely, is up to you.
Cons of Wedding Loans
Are wedding loans worth it? Suddenly having enough in your pocket to create your dream wedding may feel like, well, a dream come true. But before you sign on the dotted line, be sure to consider the negatives:
It's debt, incurred at the start of your marriage. Debt can put a strain on a couple, and you may not want to begin your life together with that burden.
You may need to put other plans on hold. Starting your life together with wedding debt may force you to delay things like buying a home or traveling.
A higher cost wedding. Because you will pay interest on your loan, you will end up paying more for your wedding than if you had paid for it

out of pocket

.
To answer the question, "Are wedding loans worth it?" ask yourself if you are willing to accept these downsides in order to have a bigger budget for your big day.
The Verdict – Are Wedding Loans Worth It?
This is a very personal question. The answer depends on what is most important to you, in the grand scheme of things. If a lavish wedding ranks high on your list and you can't afford to pay for it up-front, you may very well decide to say "I do" to a wedding loan. Though we can't answer the question "Are wedding loans worth it?" for you, we can offer some suggestions. For starters, if you're wondering if you should finance a wedding, try doing the following:
Talk to your partner. Ask them the question, "Are wedding loans worth it?" If, like you, they don't know the answer, do the rest of these steps together!
List and prioritize your life goals. See where a dream wedding falls in comparison to being debt-free.
Talk to friends and family who've paid for their weddings in different ways.
Read a variety of articles about wedding finance.
Research lenders and loans.
Consider your credit score and options it gives you
Make a budget to see whether you can save for a wedding instead of financing it
The more you learn about wedding finance and wedding loans, the better position you will be in to answer the question, "Are wedding loans worth it?"
Why Would a Couple Take Out a Wedding Loan?
Everyone of course has their own reasons. But we all want our wedding to be perfect. And that costs. Weddings can be one of the more expensive events in a person's life.
According to a recent survey conducted by the credit check company ClearScore, 31 is the age at which people, on average, spend the most money – and the largest expense of the year is their wedding! When you consider that people take out loans for major expenses, such as buying a home or paying for college, it seems logical they might think of taking out a loan for a wedding as well.
The website Student Loan Hero surveyed 1,000 people planning to marry within the next 12 months. They found a whopping 74% planned to incur debt to pay for the nuptials.
Based on those statistics, you are hardly alone in asking are wedding loans worth it.
What Happens When a Couple Takes out a Wedding Loan?
So what happens after I am approved for one? Wedding loan terms vary by lender, but loan funds are typically disbursed as one lump sum, via a check or direct deposit into your bank account. Repayment usually begins shortly after you receive the money.
Interest rates vary based on your credit score and other factors. Your regular loan payment will be determined by the principal, interest rate and loan term. Loan terms vary. A term of 36 months is typical but some loans have terms as long as 84 months.
Best

Ways to Save Money on Your Wedding

After doing your research and thinking about your priorities, you may find yourself answering "No" to the question "Are wedding loans worth it?" If so, know that it is possible to save money on your wedding with any budget. Sure, a $100 wedding will look very different from a $50,000 wedding – but both will result in a married couple! The internet abounds with sites that offer creative ideas for reducing the cost of your wedding. Google away and get inspired!
Begin with a Budget
The first thing to do is make a budget. How much can you afford to spend? What do you want to spend?
List your wedding necessities. What are absolute must-haves? To start, you will need to wear something and you will need to have your wedding somewhere

–

so clothes and a place. Other necessities vary from person to person. For example, you may need a particular family member or friend to be there when you tie the knot, while your significant other might need a representative of a church or other religious body to perform the ceremony.
Once you've written down your necessities, start listing the things you'd like your wedding to have. This may include things like food, flowers, music, decorations, and a venue. Don't hold back. You can always cross things off later, if you have to.
Next, prioritize your list of wedding needs and wants. Rank each item from most important to least.
Now put your thinking cap on (and maybe do a bit of googling) and start figuring out how much each item on your list might cost. Again, don't hold back. If there's a dress you've got your eye on and it's $1,000, go ahead and write that down.
Once you've got an estimate next to each item, add them all up.
Is your total more or less than your budgeted amount?
If it's more, look at each item on your list and thinking of creative ways to spend less. Identify the items you're willing to do without, if necessary in order to spend a bit more on something that's more important to you.
Keep doing this until the total you plan to spend matches the total you want to, or can, spend.
This sounds simple, and it is. Simple, but not easy. At the same time, this process can be fun because it forces you to be creative. They say necessity is the mother of invention. If you're determined to stick to your budget, chances are you will come up with some fantastic ideas you wouldn't have otherwise!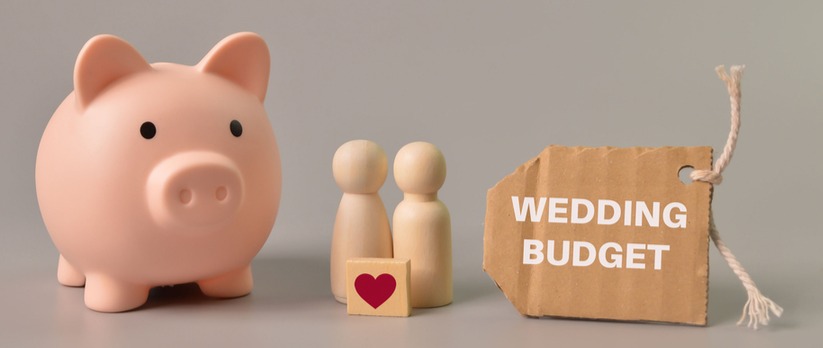 Wedding Savings Success
Many couples who have done their weddings "on the cheap" remember the day as a special one filled with personality, if not a lot of frills.
One couple who had a budget of $3,000 – and managed to stick to it – remembers their wedding fondly.
"We tried to keep it small, but our guest list just kept getting longer and longer. Every time we thought we had everyone, we would think of someone else w just had to invite! We ended up with about 80 guests."
As their guest list grew, they realized that most of their budget would need to go to food and beverages. Which meant there wasn't much left for venue, clothing and music. Fortunately, the bride's grandparents' home had a large backyard, and they were willing to host. The bride found a wedding dress she loved for only $200 at a discount bridal shop, and the groom rented a tuxedo. Rather than a live band, they asked a teenage relative to play DJ – and he was thrilled to oblige!
"Our wedding was so informal, the focus was really on the people that were there, and everyone enjoying each other's company," the bride said years later. "For us, it was perfect."
Conclusion
Your wedding is perhaps the most personal event you will ever plan and pay for. It is truly all about you and your betrothed, and what is most important to both of you. Are wedding loans worth it? Only you and your soon-to-be spouse can decide. The good news is there are plenty of resources to help you figure it out. So grab your partner, fire up your computer, and sharpen your pencils! And, hopefully, by doing this exercise together, you will come to know each other better and love each other more.