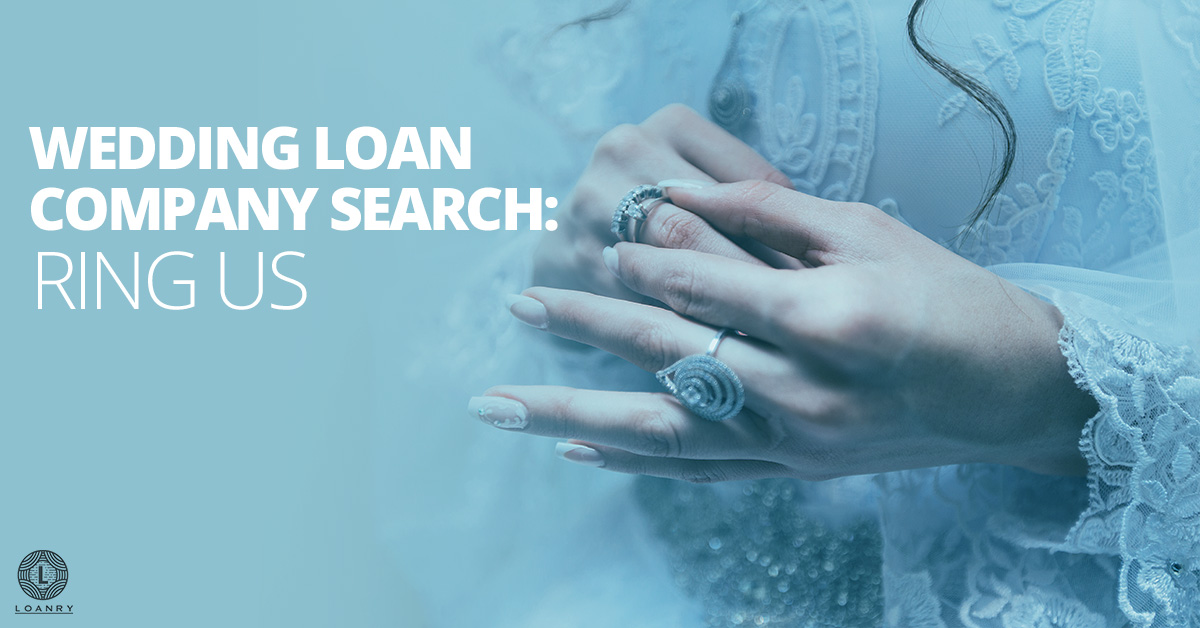 Loans for wedding expenses can be given as a personal loan with repayment over a specific time period. When planning a wedding, you will quickly find out that it can be an expensive event. In order to help pay for this event, you may be looking for a wedding loan.
Why Take Out a Wedding Loan?
When you start your wedding loan company search, remember a wedding is a once-in-a-lifetime expense and the memories you make will last a lifetime. A benefit of taking out a loan is that you aren't depleting your cash savings. You can stretch payments out over many months, which can help take some of the burdens off. You also won't be maxing out credit cards so you have room on your limit for other emergencies that could come up.
Find the Best Wedding Loan That Fits Your Finances
When on a wedding loan company search, you may be wondering why a couple would want to take out a wedding loan. While tradition states that the bride's family should pay for the majority of wedding costs, this isn't the case anymore. Many times the bride and groom are paying for the entire wedding. Taking out a loan for the wedding has been a common solution when families and couples don't have cash on hand to make the wedding day memorable and special. Loans for wedding expenses can be used to pay for a number of big-ticket items, including the venue, quality engagement ring and wedding rings, groom's suit and bride's dress, a catered reception, entertainment, professional photographer, and even a one-of-a-kind honeymoon.
It is important to find a lender who is credible and who is trustworthy to keep their word when it comes to following the terms and conditions of the loan agreement in the initial stage of the application. You may find one here, on Loanry!
The Cost of a Wedding
The cost of a wedding can quickly add up and you may need wedding finance options. Depending on many different factors, you can have an expensive wedding or a reasonably priced wedding. Bar service can range between $1,800 and $3,000. A cash bar can be an option for reducing this expense. Catered food can run an average of $30 per plate. Of course, there are some fancier options that can go up to $100 a plate. The venue rental is usually the second priciest expense, which can average about $3,000. Equipment rentals, such as tables and chairs to accommodate the number of people, can be about $1,700. Other things to think about include the photographer, videographer, wedding gown, invitations, cake, transportation, favors, and the reception band.
Ways to Save Money on a Wedding
Even if you do get a wedding loan, you may still want to save money on your wedding so that you don't have to take out a large amount.
Save on the Wedding Dress
In order to save money on your wedding dress, you can shop vintage and second hand. There are some shops that specialize in second-hand wedding gowns. This is a budget-friendly option as well as friendly for the environment. You can also borrow from family members of a similar size. This may not be your first choice but, in some families, it can actually be a tradition. If you have your heart set on a new dress, then try last year's designs. This can still save you hundreds of dollars.
Save on the Wedding Cake
To save money on the cake, ditch any elaborate designs. Something simple can be truly elegant and there can be more important details to spend money on. Go with smaller slices. This can help stretch your cake budget and many people might thank you for the effect a smaller piece of cake has on waistlines. You can choose a small-tiered display cake and then use a larger sheet cake to serve guests. Guests will never know the difference. You can also just eliminate the cake since most guests don't even touch it. Think cupcakes and brownies for a dessert alternative.
Save Money on the Venue
When choosing your venue, you should consider if you need to get married at a certain place or if a relative or friend will allow you to have your celebration on their property. In order to save money on the venue, think outside of the box. Fall and summer are common times for weddings so venues may charge more during that time. Saturday is also the most popular day to get married. If you have a venue in mind, try getting married on a different day of the week during the off seasons.
Save on the Decoration
In order to save money, start with DIY. You can make your own wedding invites. There are plenty of simple templates you can find on the web that are easily personalized and they won't look unprofessional or tacky. Choose bigger tables so you can get away with fewer centerpieces. Shop during the off-season. If you need black decorations, shop after Halloween. For silver, red, green, and gold, shop after Christmas, and for pastels shop after Easter.
Save on the Flowers
Flowers can be some of the most expensive parts of the wedding. In order to save, supersize the flowers. Bigger flowers mean fewer stems and the fewer flowers you have, the more money you will save. Stay seasonal in order to cut down on cost. If you stay seasonal, you will have fewer options but there will be more supply and less demand. Stick to one or two kinds of flowers and use greenery to fill in the spaces.
Save on the Food
To cut down on food costs, make it a buffet. This way you don't have to sacrifice quality for quantity.
Save on the Drinks
Check if your venue will let you purchase your own alcohol. This way you don't have to pay for inflated prices and may be able to return bottles guests don't drink. You can also limit alcoholic beverages to just beer and wine so you don't have to pay for additional liquor. If you do want to serve liquor at your wedding. then stick to one signature drink.
Wedding Loans for Bad Credit
Wedding loans for bad credit are personal loans that are used for wedding expenses. Getting approved depends on two things: your employment history and your credit score. While you can get a wedding loan with bad credit, it helps to know your options and how much money you need. You need to use caution on your wedding loan company search. You can use third-party services that aren't lenders to give you information about different lenders.
These sites can give you a wealth of information so you are better prepared as you start the process. If you can, you may decide to hold off on your wedding loan company search until you can get your credit score up. Under 650 is considered a bad credit rating. By paying off any current debts, making payments on time, and paying off as much as you can to improve your debt-to-income ratio, you can improve your chances of a higher credit rating. You can also improve your chances by knowing exactly what you need for the wedding, so it helps to be prepared before you go through the loan process. If you have bad credit, consider this type of loan the last option.
Should You Use a Personal Loan to Pay for the Wedding?
When using a personal loan to pay for the wedding and beginning your wedding loan company search, there are a few things you should keep in mind. Is there a prepayment penalty if you pay off your loan early? Many people think they can use the cash gifts they get at their wedding to pay off the loan early. There may be a prepayment penalty in order to make sure that the creditor gets paid too.
Check the fine print before you use your wedding gifts to pay off the loan. The better your credit score is, the better interest rate you will have. There are many expenses headed your way when planning a wedding so you need to make sure that you take out enough to cover expenses, but not too much that you can afford the monthly payments. Before you begin your wedding loan company search, you should check your credit score and know how much you need to take out for a loan.

Should You Use a Credit Card for Wedding Expenses?
Instead of getting a wedding loan, you can use a credit card for expenses, and there are advantages and disadvantages to this option. The first is there is a credit limit so you can only spend so much on your credit card. This allows you to spend to get what you need when you need it. There are some credit card companies that offer no-interest opportunities, which can be used to pay for wedding expenses. Credit cards do come with a higher interest rate than many other loan options. For each month that you don't pay off your credit card, the interest will continue to accrue. There can also be additional fees associated with credit cards. This can include annual fees, fees for late payments, and fees for being over the limit.
Credit Concerns for Wedding Loans
If you have debt issues and not the best credit, you may have concerns when it comes to getting a wedding loan. Cleaning up your credit record can help with wedding financing efforts. It's also a good idea to take action to remove any negative information from a credit report before you begin a wedding loan company search. You also want to find the right loan for you. There are a number of entities that offer personal loans and the criteria for getting approved can vary widely from one company to another. Some are stricter about credit scores, while others aren't. It's important to do your research when it comes to finding the best loan for your needs.
Ways to Avoid a Wedding Loan
If you absolutely want to avoid a wedding loan, there are some things you can do to still have a great day while spending less money.
Master the Mindset
Remember that the wedding is about the love and union you two share and not about the dress or anything else. It's the union that matters and not the embellishments. If you can afford a big wedding, then you should have one, but if you can't afford a big wedding you will still be married at the end of the day and you can avoid a wedding loan if that is what you choose.
Talk About It
You and your future spouse should have a discussion about the day. What matters to each of you on this day? The important details that matter the most will be different for everyone. It's important to keep these important, non-negotiable things in mind as you put together your plan and decide on a wedding budget together. Agree on a budget and be sure to commit to it. Don't forget the honeymoon. Maybe you want to spend less on the wedding so you can have a longer and more extravagant honeymoon.
Plan It
Once you have a number in mind and details that are non-negotiable, now it's time to begin the planning process. Use a wedding checklist since it makes it easier to stay on track and see everything on paper. Right now you can still dream about some of your ideas. Flip through magazines or use the Internet for inspiration. Make a vision board or keep images all together as you start to make some of your decisions.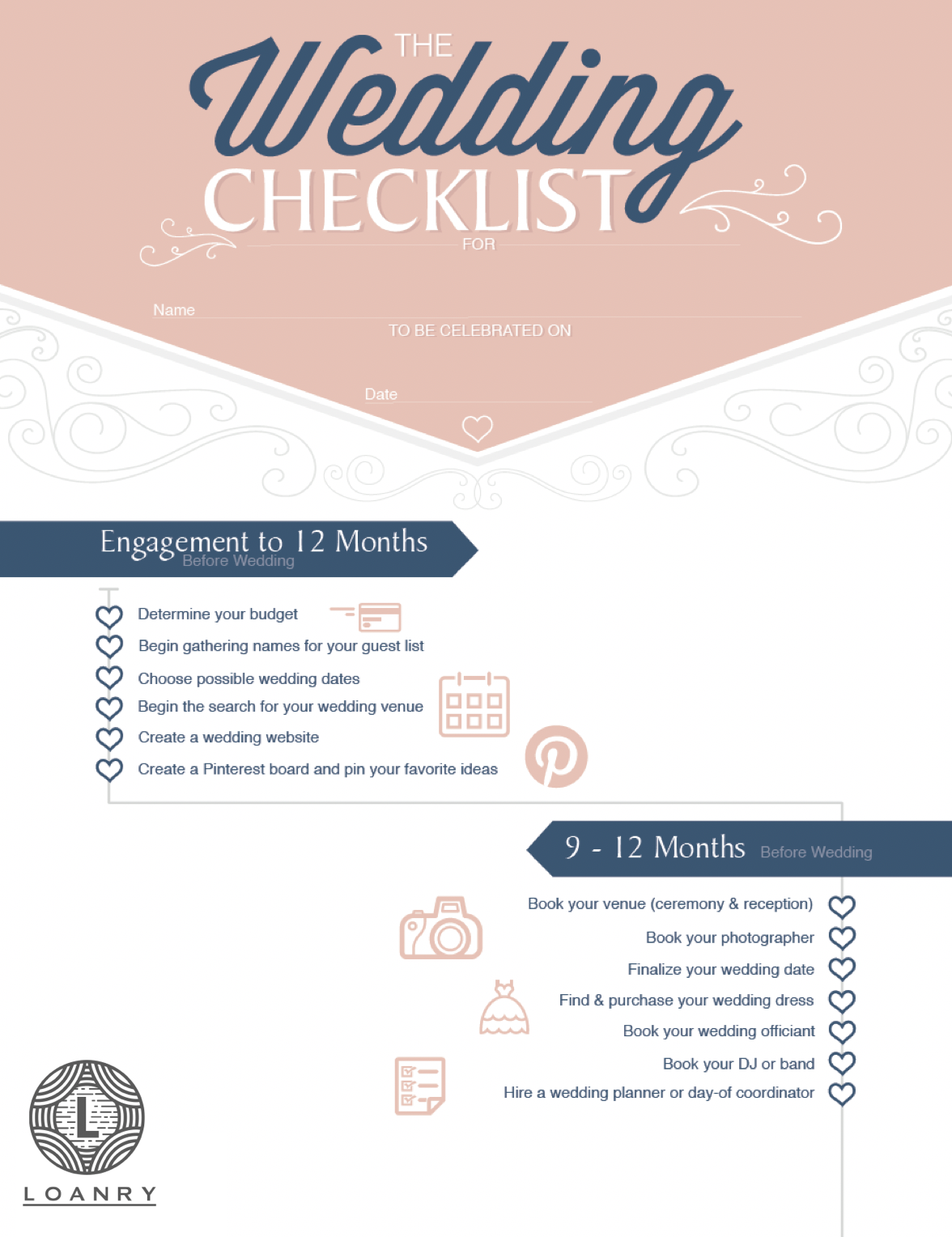 Pare It Down
Now that you have dreamed up details, you do have to get back to reality about costs. As you work through your plan, have a list of contacts nearby to see what you need and don't need. There are steps you can use to cut down on costs. Keep in mind that there are only six things that are absolutely needed at the wedding. This includes the bride and groom, marriage license, a witness, someone to officiate, and somewhere to stand. This barebones wedding still does cost something, so see how much this will all cost and how much is left in your budget. This will give you how much you are working with for the rest of the wedding. Now look at your checklist.
Which items fit the vision you have? Highlight the things that matter to you and then mark off anything that is left. Keep in mind the things that you have highlighted should matter to you and not anyone else. The day is about you two and you don't want to go over budget to keep families happy. Now that you have the most important things, research the cost of items. If these items fit into the budget then great, but if not you have some more work to do. Have a friend or family member go over the checklist with you and brainstorm some additional ways to save.
Cut Down Current Expenses
Besides trying to cut down on wedding costs, you can cut down on some current expenses. Try cutting out cable, turning off lights you aren't using, and taking shorter showers to save money on other utility bills. Have date night in the home instead of at a movie theater or restaurant.
Tips for Saving Additional Money on Weddings
There isn't going to be such a thing as a free wedding, but with some help, you can pay for a wedding with hardly any money.
Join Forces
It may seem like just the bride's day, but it's also for the groom. When you are married, you are going to be making financial decisions together so you should start now.
Wedding and Bridal Expos
Many local businesses will host bridal expos. The idea is it will show you what professionals you have in your area, but many brides can benefit from the discounts that these businesses will be offering.
Garage and Yard Sales
You can pay for a big chunk of wedding expenses by selling items you are no longer using. You don't even really need to sell valuables. Instead, a majority of money can come from clothes that you aren't wearing anymore or don't fit.
Don't Go Pro
If your wedding budget is tight, then resist hiring professionals for wedding items. It's likely you, a friend, or a family member can provide you what you need for little cost.
Conclusion
Weddings can be expensive, but a wedding loan can help pay for this once-in-a-lifetime event. Before you begin your wedding loan company search, it's important that you check your credit score and know how much you need to pay for your wedding expenses. If you have time, work on improving your credit score by paying off debts before getting a loan. There are a number of ways to save on a wedding. It's important to have a budget and know which details of the wedding are the most important to you and your future spouse. Even if you have bad credit, there may still be ways to get a wedding loan if you find the right company. You may have a higher interest rate if you have bad credit, but there are options available.