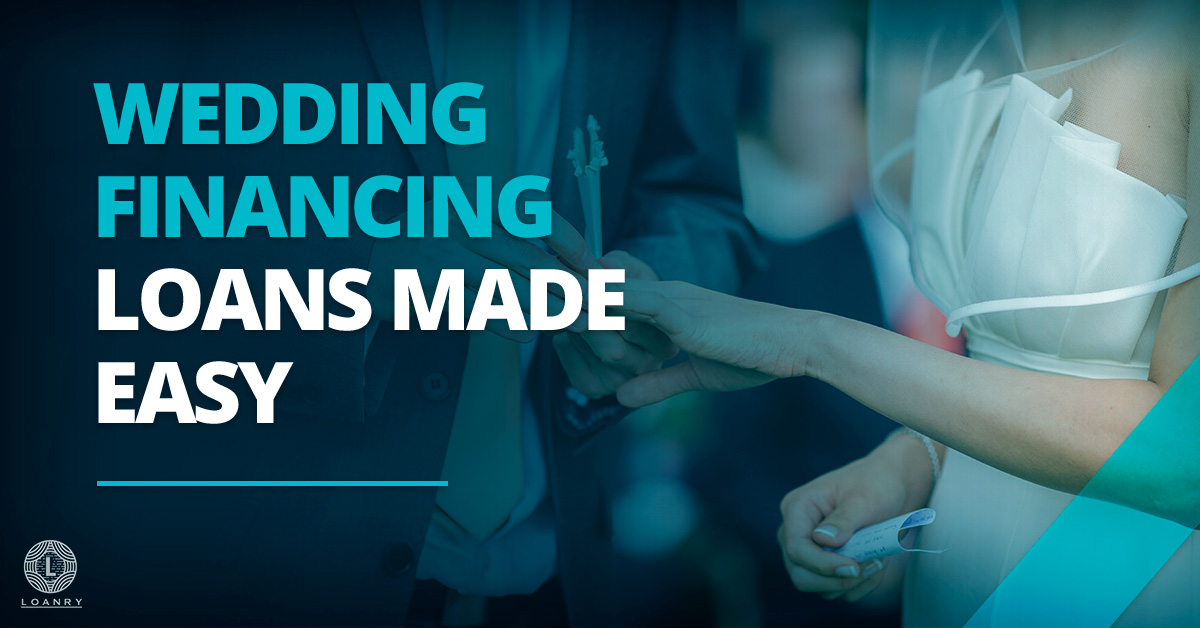 What is your greatest joy in life? Receiving your college diploma? Receiving your first pay? Getting a marriage proposal? Indeed! Receiving or giving a marriage proposal is every person's milestone. A great moment worth celebrating until you realize the need for a wedding financing loan.
What If You Don't Have Enough Wedding Finance Dollars?
Wedding costs can be discouraging – it is a fact. To date, people are expecting a lot when we say a wedding ceremony. Aside from the grand menu, they also expect grand photoshoots, grand location, and grand show. Of course, you can opt to have a simpler wedding. After all, it is the vows that matter!
But what if you don't have enough wedding finance dollars even for a simple wedding ceremony?
Take a Loan to Finance Your Wedding
Wedding financing loans are also considered as personal loans. If you will take a personal loan, you can spend it any way you want including on your wedding.
A few years ago, taking out a loan for wedding expenses was a no-no. Most parents are eager to shoulder their sons' weddings. Today, most men want to shoulder their own weddings. It is now taken as a sign of being mature and ready for married life. To have a decent wedding, some couples look for wedding financing loans.
So how can you do a wedding without money? Take a personal loan! Here are some of the types of loans for wedding expenses that you can consider.
Types of Wedding Loans
Personal loans for a wedding can be obtained easily especially if you have a good credit rating. If you are wondering what type of loan to take, here are some examples and the reasons why you should take or avoid it.
Bank loans
If you have a good credit score, taking a bank loan for your wedding won't be a problem. Taking a bank loan to use for a wedding is now a common scene. Why? Here are some of the advantages of taking bank loans for wedding expenses.
Advantages
It works best if you have a good credit score
Low-interest rates
Flexible payment terms
Plenty of options in terms of payment schemes and interest rates
Disadvantages
Getting approval can take time especially if you have a bad credit score
Some banks do a thorough background check before approving loans
It takes time for loans to get approved and reviewed
Short-Term Loans
As your wedding is a special day, you would want to give the best to your future wife. If you are in dire need of cash, there are short-term emergency loans are available. Short-term loans are wedding financing loans that you can use as an emergency fund.
You can also use it to pay for a wedding ring or dress.

Advantages
It is easy to avail
It gets approved easily
Payday loan creditors don't ask for too many requirements
Disadvantages
Be prepared with high-interest rates
They don't offer long payment terms
Be prepared with additional charges like processing fee
Family Loans
Asking a family for a wedding loan is easier if your family supports your decision. Give back by offering to pay your loan with interest.
A few years back, parents often spend on their daughters and sons; weddings. Today, most people want to shoulder their own wedding. Still, a family member is one of the best ways to get wedding financing loans.
Advantages
You can ask for the exact amount you need
Negotiation of terms and conditions is easy
You can ask for a better payment scheme like quarterly, depending on your financial capacity
There are no late or processing fees
Disadvantages
Inability to pay your wedding loan to a family member can affect relationships
They might ask you to pay anytime if there is no written contract
Taking Wedding Financing Loans With Bad Credit
Applying for a wedding loan with bad credit is still possible. It is a harder process but you can still find one. There are pros and cons involved though.
If you think you have bad credit, check your credit score first and find ways to improve your credit rating. There are services that can help you improve your credit score and rating review your score such Creditry.
If you want to do a debt for a wedding with bad credit, take wedding financing loans as your last resort. Though the loan might help you achieve your dream, it can affect your future. Wedding loans with bad credit means higher interest rates and steeper payment terms.
Using Your Credit Card to Finance Your Wedding?
The good thing about a credit card is like having a pre-approved bank loan. If you really need to purchase something for the wedding, your credit card can save you. Instead of taking loans for wedding expenses, why not swipe that card?
Here are some tips to maximize your credit card for your wedding expenses.
Spend only on what you need
With your credit card, you can only buy necessities. It includes wedding rings, wedding shoes, wedding dress, or for booking your honeymoon. Since you have a credit limit, you should only use it when necessary.
Check for promotions
There are a lot of credit card promotions that you can take advantage of while preparing for your wedding.
Finding company-tiered promotions
Company or service tiered promotions are services or products offered at a discounted price if you will use a specific credit card. If you are lucky, you might be able to find a wedding planner service provider that is tied up with your bank.
Rebates
Take advantage of rebates. Some credit cards give big rebates, depending on the amount you spent for a particular

period. Rebates are good as cash so if you will earn thousands of rebates, you can expect to get some free vouchers or gift checks from your bank.
Installment
If you are going to purchase a wedding ring, shoes, or dress, look for stores that offer 0% installment. This will make your wedding expenses lighter.
Always check the price first
If you are lucky, you can purchase with your credit card and pay it on an installment plan. If the installment is not available for your card, you have to pay it the following month. For this reason, you have to be very careful when purchasing with your credit card.
Request for a credit consolidation
One way to maximize the benefit of your credit card is to have your debt consolidated. It means that you can consolidate your total bill and have to pay it on installment. Some credit card companies offer a low-interest rate for card consolidation. Before using your card, check if this offer is available for you.
If credit card consolidation is not available and you have an extra card, check if you can do a balance transfer. Balance transfer means your other credit card company will pay for your current balance for a minimal fee. The balance transfer will be paid in installment as well.
Is it Possible to Avoid Wedding Loans?
https://www.loanry.com/blog/7-smart-tips-to-avoid-a-wedding-loan/
To be honest, weddings are getting more and more expensive today. Even with savings and help from family and friends, marrying couples still find themselves looking for additional wedding financing loans. However, if you want to avoid taking out a wedding loan, you can do these steps.
It might not totally keep you from taking a loan. Still, it can help you minimize the amount you need to borrow.
Make Plans and do Your Maths
When making wedding plans, you need to start with where, when, what, and how many guests to have. When planning, it is best to write it down, along with possible prices.
Where to?
Are you planning to have a beach wedding? A church wedding? How much would it cost to pay for a church wedding?
Where will your guests stay at the wedding? Where will the reception be?
When?
Is there a certain time of the year when the wedding gets cheaper? Actually none. The "when" that you have to answer is 'when do you expect to have a budget?' Are you expecting bonuses? Do you have savings that you can use? Do you have families that can help at a particular time?
The answer to 'when' must be the time when you are financially capable. If not, then it should be the time when you are able to find a wedding finance scheme to use.
What?
The answer to what is your motif. It includes what to wear, food, decors, invitation designs, and even souvenir theme. Make a list of these. Put an estimated cost for each item.
Check which item can be crossed out. Check if you can find cheaper alternatives.
Number of Guests
Save on food by sending an RSVP invite. This way, you won't be ordering more than enough.
With RSVP invitation, you can also get the exact number of people coming to your wedding.
Plan Together!
If you are having issues with your budget, you should talk as couples. If you need to take loans for wedding expenses or need to use credit cards, tell each other. Do not use your credit card and suffer the consequences on your own.
Respect each other's opinions. Make suggestions and accept ones. Compare your ideas.
Prepare a Checklist
During wedding preparation, always carry a checklist with you. What you need, your guests' need, your expenses, and budget. Stick with your plan and budget. Avoid going over. Make sure you have everything on your checklist even small details like flower arrangements, the bouquet, among others.
Use Your Friends to Cut Costs
Do you have talented friends? Invite them, then ask for help. Do you have a photographer friend? Ask him to cover your wedding? Is your friend venturing into baking? Ask her to do your wedding cake. She would love the promotion and she might give you a big discount. If she's a close friend, she might just bake it as a wedding gift.
Why Are Weddings Becoming More Expensive?
A wedding celebration of today is more expensive than before. Couples enjoy prenuptial pictorials and videos. Also, couples celebrate their wedding in different places. Some choose to get wed outside the country with selected friends. After a week, they will throw another celebration at home.
Why it is getting more expensive to get married today?
Location Matters!
The term destination wedding is becoming popular as more and more couples aim for it. It is exciting and it makes the ceremony lovelier. However, it causes a heavier dent on the wallet. Because of this trend, some couples need to take out a wedding loan to cover expenses.
Wedding destinations such as Rome or Paris are very popular. Some couples go to the most beautiful beaches in their town or city. It seems like the scenic view is now used as a backdrop, adding more romance to the couple's vow.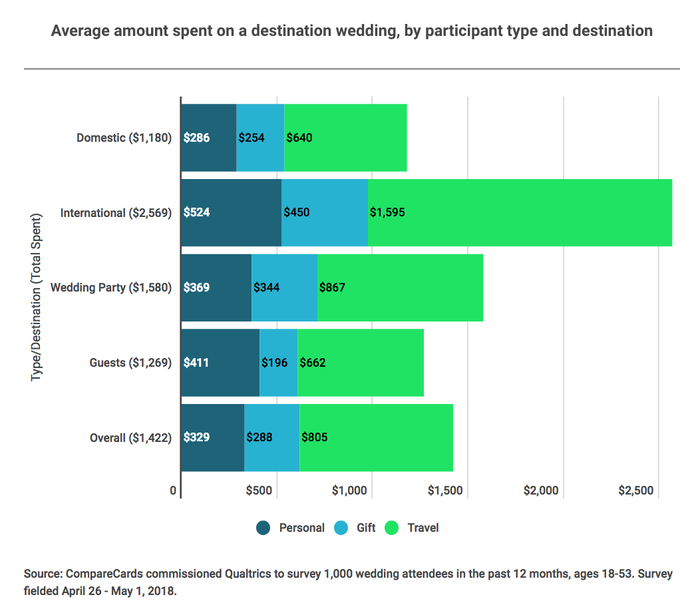 Food Matters!
Today's weddings often include steak, baby back ribs, and wine on the menu. These are expensive food that a serving can cost more than $10 per person.
If you want to cut the cost of food, you can slim down the menu.
Make it simpler. Invest in taste and presentation. Get a caterer that can provide you promotions such as discounts or cashback.
Honeymoon or Post-wedding Celebration Matters!
After the wedding ceremony, you still have to pay for travel cost. You still have to go on a trip or a post-wedding celebration.
Most couples often seal this happy event with a grand vacation somewhere else. It sounds nice but it can cause real damage to your bank account. To make it cheaper, book your honeymoon ahead of time. Look for airline sales.
Finding the Right Loan for your Wedding
As you borrow, remember that you will be paying with more. Taking loans for wedding expenses means you spend more on your wedding. Since your only option is to take a personal loan, it is important to find the best wedding finance system to take.
Search and Compare
There are too many lending institutions out there. You can find local creditors that can give you a loan. You can also find them online. Don't rush. Choose at least 3 creditors that you are confident with. It means if you will apply with them, you will get approved.
If you're seeking for a reputable lender (which you should be doing), our partner Fiona may be able to offer you some options depending on the information you put in below.
Once you have picked a creditor, check their offers. Compare each creditor using the following:
Interest Rates
Which creditor offers the lowest interest rates? Interest rates range from 5% to 20% of the principal amount. Imagine if you are borrowing 50 grand for your wedding, how much would the interest be in a year?
Terms of Payment
Check which one offers the friendliest terms of payment. The terms of payment can be monthly, quarterly, or bi-yearly. Choose the one that is easier for you to follow.
Fees and Charges
What are their policies regarding late payments? What is their penalty rate? Anything can happen in the future. What if an emergency occurs and you are unable to pay for a month or two? Check if they offer grace periods or any options that can help you in case an emergency arises.
Convenience
This is something that couples are forgetting to check when taking out a loan for wedding costs. After the wedding, you will be busy working again. Back to the real world. Your wedding loan should not affect your daily routine. Convenience means you can:
Make online payments
View your loan on your mobile phone
Talk easily to their support team if you have questions
Conclusion
If you cannot totally avoid financing your wedding, don't fret. It is okay to take it and give your partner the best she deserves on her wedding day. You can now apply for wedding financing loans that made easy. All you have to do is search for one.
Your best bet? Take enough wedding loans. Do not take more than what need. If you have cash, pay with cash. If you have a credit card with good standing, use it. When taking a loan, there will always be interest to pay. Look for a loan that offers the least interest.
Still, if you know how to manage your finances, you can easily pay off a wedding loan.
Taking loans for wedding expenses can make your wedding budget easier to manage. Make sure that the cost of your loan is worth it by having the best wedding for your partner. In addition, make sure that it is worth it by honoring your vows on your wedding day.