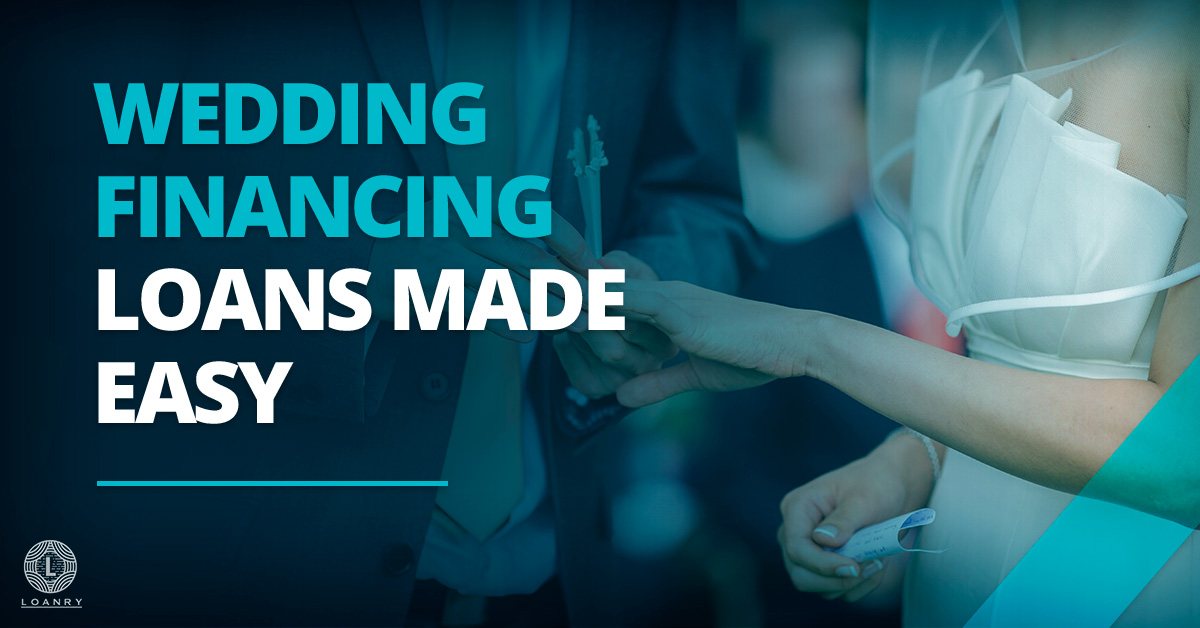 What is your greatest joy in life? Receiving your college diploma? Receiving your first pay? Getting a marriage proposal? Indeed! Receiving or giving a marriage proposal is every person's milestone. A great moment worth celebrating until you realize the need for a wedding financing loan.
Wedding costs can be discouraging – it is a fact. To date, people are expecting a lot when we say a wedding ceremony. Aside from the grand menu, they also expect grand photoshoots, grand location, and grand show. Of course, you can opt to have a simpler wedding. After all, it is the vows that matter!
But what if you don't have enough wedding finance dollars even for a simple wedding ceremony?
Take a Loan to Finance Your Wedding
Wedding financing loans are also considered as personal loans. If you will take a personal loan, you can spend it any way you want including on your wedding.
A few years ago, taking out a loan for wedding expenses was a no-no. Most parents are eager to shoulder their sons' weddings. Today, most men want to shoulder their own weddings. It is now taken as a sign of being mature and ready for married life. To have a decent wedding, some couples look for wedding financing loans.
Personal loans for a wedding can be obtained easily especially if you have a good credit rating. If you are wondering what type of loan to take, here are some of the types of loans for wedding expenses that you can consider.
Bank Loans
If you have a good credit score, taking a bank loan for your wedding won't be a problem. Taking a bank loan to use for a wedding is now a common scene. Why? Here are some of the advantages of taking bank loans for wedding expenses.
Advantages
It works best if you have a good credit score
Low-interest rates
Flexible payment terms
Plenty of options in terms of payment schemes and interest rates
Disadvantages
Getting approval can take time especially if you have a bad credit score
Some banks do a thorough background check before approving loans
It takes time for loans to get approved and reviewed
Short-Term Loans
As your wedding is a special day, you would want to give the best to your future wife. If you are in dire need of cash, there are short-term emergency loans are available. Short-term loans are wedding financing loans that you can use as an emergency fund.
You can also use it to pay for a wedding ring or dress.
Advantages
It is easy to avail
It gets approved easily
Payday loan creditors don't ask for too many requirements
Disadvantages
Be prepared with high-interest rates
They don't offer long payment terms
Be prepared with additional charges like processing fee
Family Loans
Asking a family for a wedding loan is easier if your family supports your decision. Give back by offering to pay your loan with interest.
A few years back, parents often spend on their daughters and sons; weddings. Today, most people want to shoulder their own wedding. Still, a family member is one of the best ways to get wedding financing loans.
Advantages
You can ask for the exact amount you need
Negotiation of terms and conditions is easy
You can ask for a better payment scheme like quarterly, depending on your financial capacity
There are no late or processing fees
Disadvantages
Inability to pay your wedding loan to a family member can affect relationships
They might ask you to pay anytime if there is no written contract
Taking Wedding Financing Loans With Bad Credit
As you can see, there are many wedding financing options, but what if your credit score is not in the green? Applying for a wedding loan with bad credit is still possible. It is a harder process but you can still find one. There are pros and cons involved though.
If you think you have bad credit, check your credit score first and find ways to improve your credit rating. There are services that can help you improve your credit score and rating review your score such Creditry.
If you want to do a debt for a wedding with bad credit, take wedding financing loans as your last resort. Though the loan might help you achieve your dream, it can affect your future. Wedding loans with bad credit means higher interest rates and steeper payment terms.
Using Your Credit Card to Finance Your Wedding?
The good thing about a credit card is like having a pre-approved bank loan. If you really need to purchase something for the wedding, your credit card can save you. Instead of taking loans for wedding expenses, why not swipe that card?
Here are some tips to maximize your credit card for your wedding expenses:
☛

Spend Only on What You Need

With your credit card, you can only buy necessities. It includes wedding rings, wedding shoes, wedding dress, or for booking your honeymoon. Since you have a credit limit, you should only use it when necessary.
☛

Check for Promotions

There are a lot of credit card promotions that you can take advantage of while preparing for your wedding.
☛

Finding Company-Tiered Promotions

Company or service tiered promotions are services or products offered at a discounted price if you will use a specific credit card. If you are lucky, you might be able to find a wedding planner service provider that is tied up with your bank.
☛

Rebates

Take advantage of rebates. Some credit cards give big rebates, depending on the amount you spent for a particular period. Rebates are good as cash so if you will earn thousands of rebates, you can expect to get some free vouchers or gift checks from your bank.
☛

Installment

If you are going to purchase a wedding ring, shoes, or dress, look for stores that offer 0% installment. This will make your wedding expenses lighter.
☛

Always Check the Price First

If you are lucky, you can purchase with your credit card and pay it on an installment plan. If the installment is not available for your card, you have to pay it the following month. For this reason, you have to be very careful when purchasing with your credit card.
☛

Credit Consolidation Request

One way to maximize the benefit of your credit card is to have your debt consolidated. It means that you can consolidate your total bill and have to pay it on installment. Some credit card companies offer a low-interest rate for card consolidation. Before using your card, check if this offer is available for you.

If credit card consolidation is not available and you have an extra card, check if you can do a balance transfer. Balance transfer means your other credit card company will pay for your current balance for a minimal fee. The balance transfer will be paid in installment as well.
Is it Possible to Avoid Wedding Loans?
To be honest, weddings are getting more and more expensive today. Even with savings and help from family and friends, married couples still find themselves looking for additional wedding financing loans. However, if you want to avoid taking out a wedding loan, you can do these steps.
It might not totally keep you from taking a loan. Still, it can help you minimize the amount you need to borrow.
Finding the Right Loan for Your Wedding
As you borrow, remember that you will be paying with more. Taking loans for wedding expenses means you spend more on your wedding. Since your only option is to take a personal loan, it is important to find the best wedding finance system to take.
Search and Compare
There are too many lending institutions out there. You can find local creditors that can give you a loan. You can also find them online. Don't rush. Choose at least 3 creditors that you are confident with. It means if you will apply with them, you will get approved.
Once you have picked a creditor, check their offers. Compare each creditor using the following:
Conclusion
If you cannot totally avoid financing your wedding, don't fret. It is okay to take it if you need help paying for a wedding.
Your best bet? Take just enough wedding loans. Do not take more than what need. If you have cash, pay with cash. But if you don't have enough, look for a loan that offers the least interest.
And remember, if you know how to manage your finances and make the best choices for yourself, you can easily pay off a wedding loan.
Taking loans for wedding expenses can make your wedding budget easier to manage. Make sure that the cost of your loan is worth it by having the best wedding for your partner. In addition, make sure that it is worth it by honoring your vows on your wedding day.