Weddings are a huge deal to individuals and even the community at large. This is why they weigh a lot on the minds of couples looking to get married. The biggest block, however, is the amount of money the affairs cost. I remember the pressure I had to deal with of which most came from my state of finances at the time. Fabulous weddings will come with a cost. The tension begins right at the engagement stage where you need an engagement ring for your fiancé. This is why someone would consider a wedding loan for an engagement ring despite the warning signs. The best engagement ring is a combination of some factors.
These are what you are soon to be spouse prefers, what the dream engagement ring would be as well as the ability to meet the cost of the ring. It is for this reason that wedding loans become an option for most. Wedding loans can cater for the engagement ring, wedding, and even the honeymoon. Getting the best loan service or dealer is not an easy feat.
Wedding Loan for an Engagement Ring: Do Knot?
A wedding loan is a personal loan taken to finance a wedding. The credit is however not wondered as a wedding loan at this stage as the purpose is determined to be purely personal. These loans are not collateral-based and are determined by your credit score and employment status. Taking a wedding loan for an engagement ring needs to be well thought of. The loan enables you to do a wedding of choice within the budget you desire. These loans help you accomplish a feat that would otherwise be difficult if you used your savings. It allows you to;
Do a bigger wedding that you would have if you were using your savings.
Finance a honeymoon of choice
Lift the burden of other individuals that would need to help finance the wedding
Give you the autonomy of making decisions on your wedding
1.

Should You Finance an Engagement Ring with a Wedding Loan?

The question of whether one should be taking out a loan for a wedding Engagement Ring is purely personal. It will also be determined by your ability and values when it comes to the future of the family and financial obligations. You will also have to consider whether the move is worthwhile in the long run.
Some of the Considerations You Need to Make Include:
You will begin your life in debt one way or another. That debt is your responsibility to carry the burden.
You may not be able to take any other loan at that point to finance a new home or get a child for a while.
The wedding will last a short time, but you will pay for the loan for about 3 to 4 years depending on your provider.
Pros of Using a Personal Loan for a Wedding Ring
Taking loans for a wedding engagement ring comes with its advantages as opposed to using savings. A wedding loan gives you access to an amount of money that you have already budgeted for to cater for the wedding expenses. You also get the chance to apply for the exact amount of money you need to complete all the stages of your wedding right from the engagement to the honeymoon.
You get a fabulous wedding because you have all the money you need.
It is better to budget because you have access to a definite amount of cash
You can buy a great engagement ring and still manage to pull off an excellent wedding and honeymoon.
You get peace of mind when planning for the wedding.
The loan does not need any collateral which means that you will not be putting any of your valuables at risk.
Lower interest rates compared to credit card debts that are payable in a short amount of time.
It is possible to put a down payment for a new home, depending on the amount of money you get for your loan. This may again help you kick off your quest for acquiring a house. The same amount of money will be of significant help if you have a child coming along.
Cons of Using a Personal Loan for a Wedding Ring
Taking a wedding loan for an engagement ring also comes with its pressures and burdens. The fact that you will be acquiring money that you will need to repay over. A period of 3 to 5 years at the beginning of your life together is a significant commitment. Some of the disadvantages of this step are;
Starting your lives on a negative balance
Having to put off some critical steps at the beginning of your marriage, including investing in a new home or having children due to the cost implications.
You are getting into deeper debt, especially if you have bad credit.
It is always an assumption that you will have your job for as the loan needs to be repaid. Any slip up in this stage could cause a problem in paying back your wedding finance obligations.
2.

How Do You Get a Wedding Loan for a Ring with Bad Credit?

Getting a wedding loan for an engagement ring and credit is possible. It is not as easy as getting a personal loan with good credit. Lenders are more cautious with borrowers that have defaulted before and will execute some contingencies to safeguard their money.

These contingencies may not be favorable for the borrower. Some of these include higher interest rates, shorter repayment periods and sometimes the involvement of other parties. You can find lenders that are willing to give loans for users with and credit on OLA and the stipulations for the same. One of the biggest downfalls to takings. Alone on getting a wedding loan for bad credit is that you sink even deeper into debt. This may entirely affect your path to financial stability while starting a family.
3.

The Alternative Way to Finance an Engagement Ring

Goodness, is that banks and other financial institutions are not the only way to finance your wedding ring. Getting a wedding loan for an engagement ring does not have to be all about filling papers and paying interest. You can get a sort of loan from other sources that may attar other forms of agreements that will allow you to have a great wedding without intensive forms of commitment still. Some may still not be. Good idea as they will still get you in debt. Others may even end up being worse than a slow bank payment in the long run.
3.1

Using a Credit Card to Buy an Engagement Ring

Going for a wedding loan for an engagement ring using your credit card facility is fast and easy. It, however, comes with a catch which includes very high-interest rates. Credit cards are the most significant cause of debt in America, especially when it comes to new couples. Credit card debt is easy to accumulate until you cannot pay it anymore. One needs to be very careful how much they spend this at the end as repaying may not be as easy. The method is however fast and convenient for those that have stable financial backing.
3.2

Finance Through a Jewelry Store

Most jewelry stores that have engagement rings have installment plans as opposed to going after a wedding loan for an engagement ring. They also come with their advantages which include the lack of interest on the payments for some of them. Some will allow you to have the ring before the amount is over as others will require you to finish the payment plan first.

These stores have their collection mechanism which means that defaulting may not be as well taken as financial institutions. The period of payment is so much shorter and, in most cases, lesser than six months, which may be a stretch for someone with a low income. The best way to work with jewelry stores is to start paying much earlier if you already know what your fiancé loves. This will ensure that you are done with the payments by the time the engagement comes.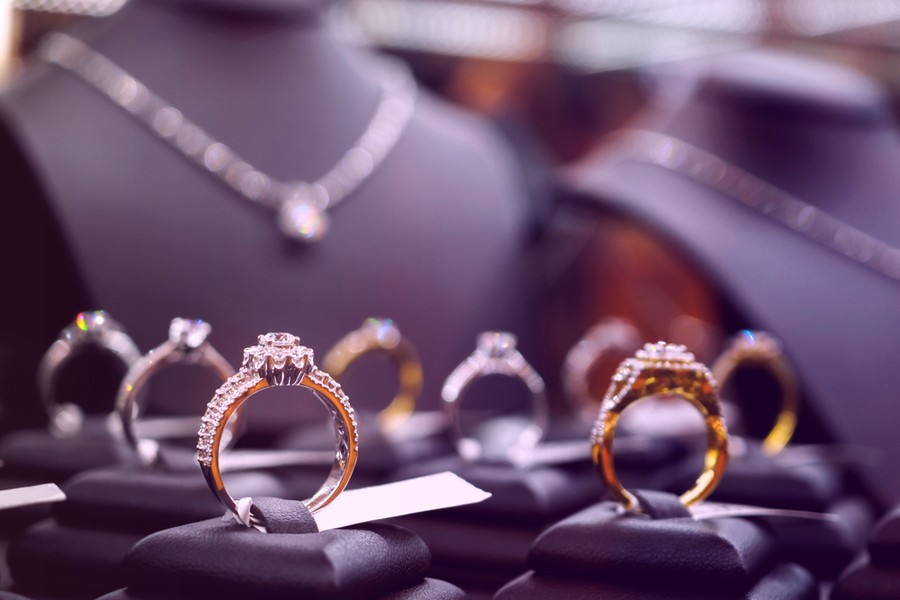 3.3

Ask Family or Friends for a Loan

Family and friends are a go-to option if you do not want to get a wedding loan for an engagement ring. This is of course if you have someone willing to front you the money. Many advantages come with getting money from a family member as opposed to getting a wedding loan for an engagement ring. Family members will not need you to pay interest on the amount fronted. They may also give it to you as a grant if they are capable. This will lift the burden to repay the amount. Family members will also not exert as much pressure on you as the financial institutions when it comes to repayment.

One of the main challenges, however, may be the fact that it could cause divisions due to the inability to repay. Some family members may not take it Kindly the moment you are unable to pay your amount. This has ended in serious lawsuits which are not something you want to delve into when it comes to those you love.
What is the Average Cost of An Engagement Ring?
Engagement rings are no joke when it comes to costs. Some rings such as diamond decked ones will cost between $5000 and $30000 depending on what you are going. The value for some is a whole year's salary while for some it is some months. It is not a pleasant thought, either way, considering that you have not started a life together. Going for a wedding loan for an engagement ring may prove helpful if you want to go all out. There are much cheaper engagement rings if you do not want to spend that much which may cost between $100 and $1000.
The average cost for an engagement ring in 2021 is between $4,770 and $5,580.
The kind of the ring you pick is determined by the preference of your loved one, not to mention their dream engagement ring. All in all, it is wise for you to be as realistic as possible when it comes to this purchase. Some of the other factors that will affect the cost of the ring include:
Some tips are cheaper than others. Pawn shops come with some of the best deals when it comes to purchasing engagement rings. Buying rings off major shops and streets will cost you much more compared to online and pawn shops. You will need to be careful when purchasing such jewelry and be sure to check for authenticity and value.
The more or, the larger the pieces of diamonds, pearls, or gems on the ring, the higher the cost. Going for smaller well-distributed stones as opposed to more significant clusters or singular ones is better.
Rings with a sentimental value assigned to them will cost more. Rings that belonged to certain celebrities or known persons will cost more despite them being basic.
How Much Should You Spend on an Engagement Ring?
Some issues will determine the amount of money you spend on an engagement ring.
☛

Your Job Situation

The kind of job you have will heavily determine how much you should spend by the end of the day. Someone getting $135k per year will quickly put down $5k for a wedding ring, despite the high nature of the cost. Also, someone getting less may also do the same, but the debt situation will be different. Someone getting over that amount can push the boundaries bit further. It will however still not make sense spending most of your money on buying a ring.
☛

Your Credit Score

Getting a wedding loan for an engagement ring will be heavily dependent on the nature of your credit score. A good credit score equals the right amount and better terms. Bad credit scores will attract lower offers as well as higher interests. It will also draw higher penalties. Some institutions do give loans to holders with bad credit scores. This, however, leads to a higher debt.
☛

The Level of Understanding of Your Loved One

The person you are with will determine the amount you spend. Someone heavily vested in a unique engagement ring will lead to higher costs while one that is understanding. The amount you spend will be dependent on how much you get from the bank, your budget and ability to repay.
Is Financing an Engagement Ring Worth It?
Is getting a wedding loan for an engagement ring worth it? The answer to this will heavily lie on the consequences of the loan. The worth of the engagement ring is comparable to the ability to pay and how much the process of payment affects the couple. It is also determined by how well the wedding paid off at the end of the day.
The personal question needs to be honestly answered by the couple. Taking a wedding loan for an engagement ring will have you begin your family in debt for some years which may facet your obligations. It may also affect major issues like taking care of a new baby. The loan will, however, give you some valuable benefits including not being a burden to your parents and friends.
You will also enjoy the ability to finalize your wedding and start your life together. It will also give you the advantage of planning the wedding of your dreams without financial constraints. Having a headache free wedding because of a wedding loan for an engagement ring and a wedding is worth it.
Conclusion
A worthwhile wedding loan for an engagement ring will have some favorable attributes. These include low interests, more extended payment friendly periods, and an understanding financial partner. Weighing the options, both for now and the future is wise before you take the step.
Taking a wedding loan for an engagement ring will have implications on the future of your finances whether you like it or not. The number of impacts or the level of the same should be a real guiding factor. Finding a lender when considering taking out a loan for a wedding ring as well as being safe through the whole process is important. The Online Lenders Alliance has listed all institutions that work within their rules which comes in handy when you have complaints about issues with the financial institution you choose to work with.