Moving with Bad Credit Loan Options: Make Your Move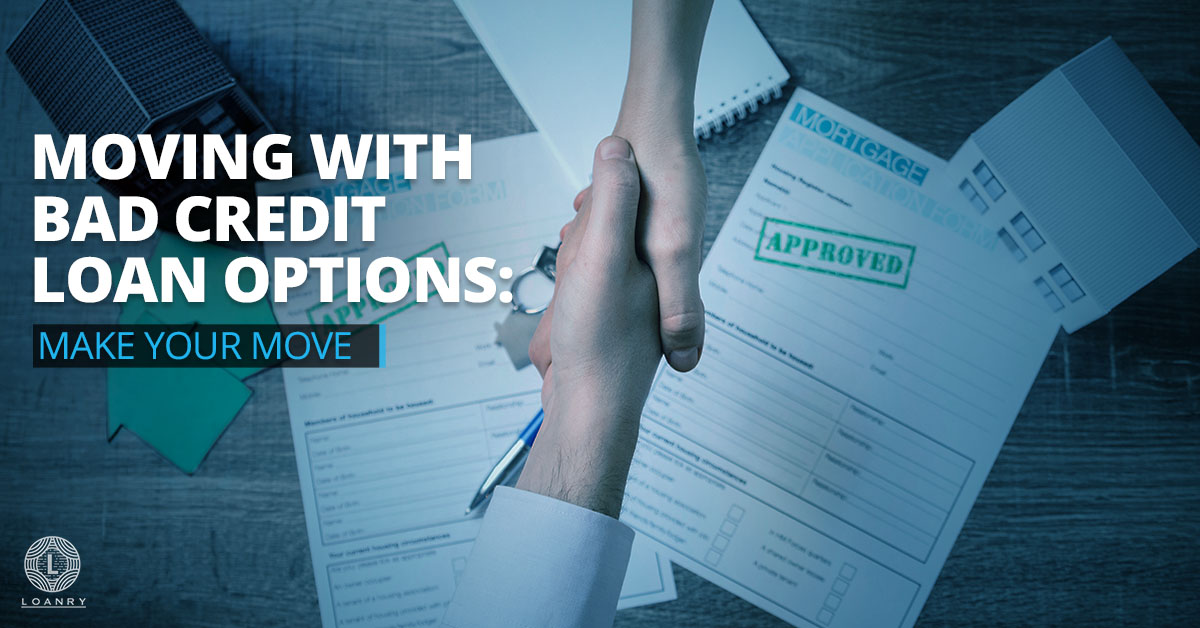 You just got offered your dream job. You blurted out an acceptance. As soon as you hung up with the hiring manager you realize your dream of working in a big city office has come true. You also realize you need to move more than 1,000 miles to start work. Now you have to figure out how to relocate. You do not have that much money in the bank and your credit card is pretty much maxed out.
Moving Loan Options for Your Bad Credit
You suddenly need to rent a moving van or hire movers, not to mention you must have the first and last month's rent, plus deposit on a new apartment. Before you jump to open a new credit card, look into moving loans.
Relocation Loans
A relocation loan with bad credit, also referred to as a moving loan, helps you pay for your move even if you have had trouble paying bills on time in the past. This type of personal loan can cover financial needs including moving expenses and deposits, even if for example you need help paying rent. This applies for moving within the state in which you already reside and moving out of state.
You might worry if you to move but have poor credit. Moving with bad credit or no credit does not have to be complicated. You can take out a loan to do so. Although you may not qualify for the lowest interest rates, you can still obtain a relocation loan.
What Does a Moving Loan Cover?
Like other types of personal loans, you have many options in how to spend the money. You can use a moving loan to pay for various things:
deposit and rent,
packing materials,
professional movers,
professional packing,
rental fees,
self-moving costs,
storage fees,
utility deposits.
Deposit and Rent
Right out of college or after getting laid off, you may not have the funds to relocate. You may have a terrific opportunity in another area of the country though that you need to take. A relocation loan can help you pay the deposit and first and last month's rent necessary to rent your new apartment in your new city. You can also use it to pay other rental fees, such as application fees for apartments or cleaning fees.
Packing Materials
If you go it the do-it-yourself route, you need to purchase the proper packaging materials. You'll need sturdy boxes, bubble wrap, packing tape, air pillows, furniture blankets, bungee cords and a moving truck. If you hire pro movers to do it, they provide everything.
Hiring Pro Movers
Moving long distance requires next level packing and transit. You'll need a moving van or semi-trailer to transport all of your belongings. To drive these larger vehicles, you must have a commercial driver's license (CDL). If you do not have a CDL, you should hire movers to haul your belongings.
Perhaps you need to move quickly and do not have time to pack everything and transport it yourself. Hire professional movers to do the job.
Another reason to hire movers is if you do not know how to properly package your belongings and furnishings, so they make the trip in one piece.
The cost of hiring pro movers ranges by the company but generally costs more than $2,000 for a state to state move.
Self-moving Costs
You may save money by handling things yourself. This depends on the amount of stuff you need to move, how you transport it and how long it takes to transport it.
You may have few enough items that you could conceivably ship them to your new location. This could cost quite a bit though, depending on their weight and the shipping carrier you choose. The most common options include DHL, Federal Express, UPS aka Brown and the United States Postal Service (USPS).
The other option is moving via moving van or truck. You'll need to pay for a hotel while you drive. You physically will not be able to drive at fast as you would in a car. That is because most truck rental companies out limiters on their vehicles as a safety measure. If you thought you would rent a Ryder or UHaul truck and speed, you're out of luck.
You'll need a hotel room. You'll be driving the speed limit which will mean you can conceivably drive about 480 to 600 miles in a single day, assuming you want to drive for eight to 10 hours. Once you factor in bathroom breaks and a lunch stop, you are not making it cross country or even halfway in one day.
Storage Fees
You may relocate immediately and stay in a hotel. You will not have room for your belongings in the room. You will need to rent a storage unit. Your relocation loan helps you pay for a storage facility. Prepare to have to rent a storage facility for at least three months.
Utility Deposits
Most utility companies require a hefty deposit to establish an account before starting new service. These deposits can vary in amount from $50 to $400.
So What Does the Average Move Cost?
There's no single average cost for a move. It all depends on whether you plan to move intrastate or interstate.
If you are moving locally, you'll probably spend $200 to $1,000. This depends on how many bedrooms you're moving. Calculate about $200 per bedroom. Add the $400 to hit $1,000 if you hire pros to do it for you. The average intrastate, or within the same state, move costs about $2,300. Moving interstate, or from one state to another, costs about $4,300.
Pro movers cost more. You'll still spend quite a bit though if you buy the materials, pack it yourself and then move it yourself. You will rent a truck, pay for the gas and the driving miles.
Calculate the Moving Cost
Once you have decided what method you want to use to move, you need to calculate the costs, so you know the amount of loan for which you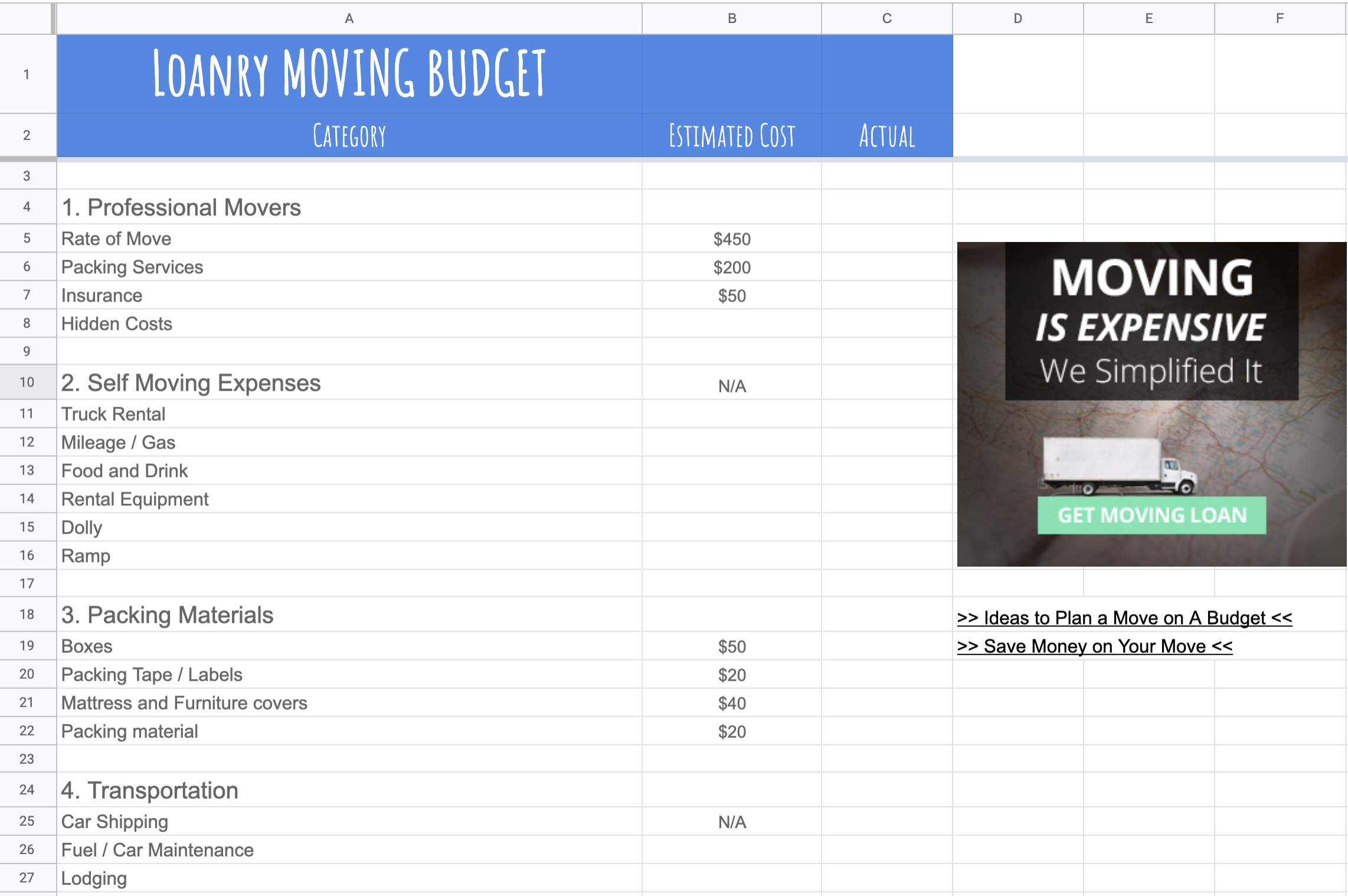 need to apply. Use one of the many moving cost calculators online to estimate your moving costs.
The calculator provides areas for you to enter your current zip code and the one of city to which you're moving. It will also ask the number of bedrooms you need to move and your desired moving date.
Realize that this amount is not set in stone. It is fluid. You should add a cushion to it of at least $200. That means you will apply for a loan that covers surprise expenses, too.
Options for Paying for a Move
If you have bad credit or no credit, paying for a move can present a problem. You do have a number of options. These include:
dip into your savings,
use an existing credit card,
take out a personal loan,
open a new credit card.
Dip Into Your Savings
Savings presents the best option. If you have at least a couple of thousand in the bank, use it. You can make the move without incurring any debt. This is great because debt translates to interest. When you get charged interest, you pay more than the original cost of the item. Using savings lets you move for the exact cost of the move. That's smart financial management.
Use an Existing Credit Card
The next best option is if you have open credit on an existing credit card. Most movers and all rental truck companies take plastic. By using a card you already have, you do not need to take a hit to your credit report, nor do you need to open a new line of credit.
Some movers require a cash advance. In this case, do not use your credit card. The interest rate on cash advances, plus the fees, will gouge your budget. You'll need between $2,000 to $4,000 in open credit, depending on whether it is an intrastate or interstate move.
One consideration is to determine in advance how long it will take you to repay your moving expenses. This depends on your interest rate. Do not simply make minimum payments. Pay as much as you viably can each month to quickly pay off the credit card.
Take Out a Personal Loan

You can fund your move with a personal loan. Even those with bad credit or no credit can qualify for a secured or unsecured loan. This makes the best sense if you have to make a move on the higher end of the cost spectrum.
Most personal loans for moving feature lower interest rates than a credit card would. You'll also have a fixed repayment schedule and payments.
This is not an appropriate option if the move costs less than $1,000. Most lenders will not make a loan of such a small size. Take out a loan only if it costs more than $1,000 to move.
Secured vs. Unsecured Loans
If you choose to take out a personal loan, you will get a better rate with a secured loan. A secured loan refers to a loan in which you provide collateral, such as your home, car, or boat. An unsecured loan refers to a loan you obtain solely on the basis of your credit score and report.
If you have something to offer as collateral, use the secured loan. It provides better interest rates. Otherwise, you'll need to apply for an unsecured loan.
Finding a Lender
Visit Loanry.com to find a lender that may work for you. Rather than making loans, Loanry created a shopping mall of lenders so individuals can find a deal for themselves.
It would normally take you a lot of effort to find a lender and compare loan rates online. You would need to visit each lender's site, then obtain their application and terms. Loanry.com does all of that for you.
You complete a short form. Loanry searches its loan store for a lender so you only have a single hit to your credit. It spits out a potential lender. You can review the lender's terms and complete the linked application.
If you're interested in applying for a loan, you can put in your information below and lenders whose qualifications you meet may contact you:
Loanry also compares tons of credit card companies, financial institutions, and other financial lenders. You'll be able to shop for a loan as if you were at the mall shopping for shoes. This simplifies the process. IT all makes it easier for you to find a deal that may be right for you. Loanry offers many options including credit cards and personal loans online.
Tips for Shopping for a Loan
Let's assume you do not have $2,000 to $4,000 in savings. You need to take out a relocation loan of some type. If you choose to apply for a credit card or loan, take the following into consideration.
Search for credit cards with a zero percent promotional APR. This interest-free period can last up to 12 to 15 months. If you have bad credit or no credit, you may not be able to obtain this.
If you do qualify for a zero-interest card, make a plan to pay it off fully during the period of time the promotional rate applies. This makes it as if you used savings because you do not pay anything extra over the actual moving expenses.
If you will purchase a home when you move, recognize that any loan you take out now will affect your impending mortgage approval. So long as you have not closed on the home, any new debt obligation may affect your mortgage loan. That's because your lender is continually watching your credit. They will re-evaluate your qualifications according to your new debt-to-income ratio.
Talk to your mortgage lender before you apply for a credit card or loan.
Tips to Help You Save Money on Your Move
While it may be tempting to buy things while they are on sale, that just requires you to pack and move more stuff. Regardless of whether it is small items like sheets or major appliances like a refrigerator, hold off buying it until you get there.
Put off unnecessary expenses like cable and Internet. Use your cell phone data and café and store WiFi for a few months. This can free up extra funds to more quickly pay off your moving loan. You can quickly save some money for your move by turning off these items a few months before moving.
Hold a garage or yard sale before you move. That lets you make money off items you will not need or plan to replace.
Donate items that do not meet the criteria for a garage or yard sale. The Salvation Army can use what you cannot sell. Everything you sell or give away is something you do not have to pay to move.
Look for movers that offer payment plans. These are not that common, but they do exist. Go here to learn about the easiest way to save money on your move.
Moving with Bad Credit
When you tackle moving with bad credit, it requires more savvy. Unless you have a savings account you can withdraw from, you will need to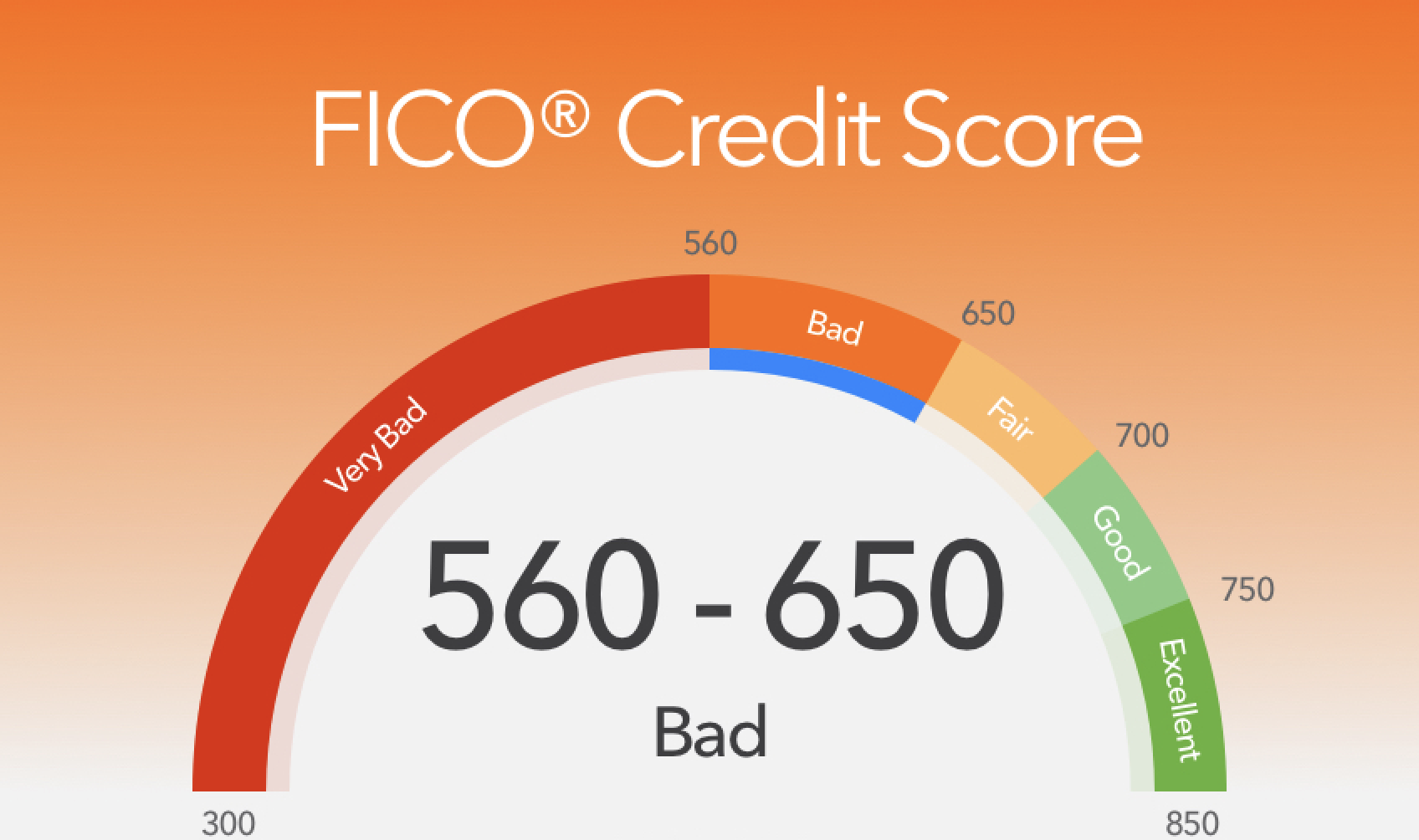 take out a loan or credit card. Lenders look at your credit score as the main indicator of whether you repay your debt.
Your best course of action is to improve your credit score before moving. Start before you begin job hunting. That means before you need to move. Use Creditry to check your credit score.
Report any inaccurate information. If it is genuinely incorrect, the credit reporting agency removes it from your report.
Conclusion
Cut down on going out and cut out unneeded expenses. Use the money you save to make extra payments to your credit cards or sock it away in a savings account if you do not have credit cards. You need at least six months of timely or early payments to improve your credit score.
Moving with bad credit, especially long-distance, can be tough. You can do it though. You'll need to plan ahead and save money. If you need to take out a loan, use a service like Loanry to help you find the right lender with a reasonable interest rate. You can make the move you need to make.
Carlie Lawson writes about business and finance, specializing in entertainment, cryptocurrency and FOREX coverage. She wrote weekly entertainment business and finance articles for JollyJo.tv, Keysian and Movitly for a combined seven years. A former newspaper journalist, she now owns Powell Lawson Creatives, a PR firm, and Powell Lawson Consulting, a business continuity and hazards planning consultancy. She earned BAs in Journalism and Film & Video Studies from the University of Oklahoma. She also earned her Master of Regional & City Planning at OU. Her passion lies in helping people make money while reducing risk.