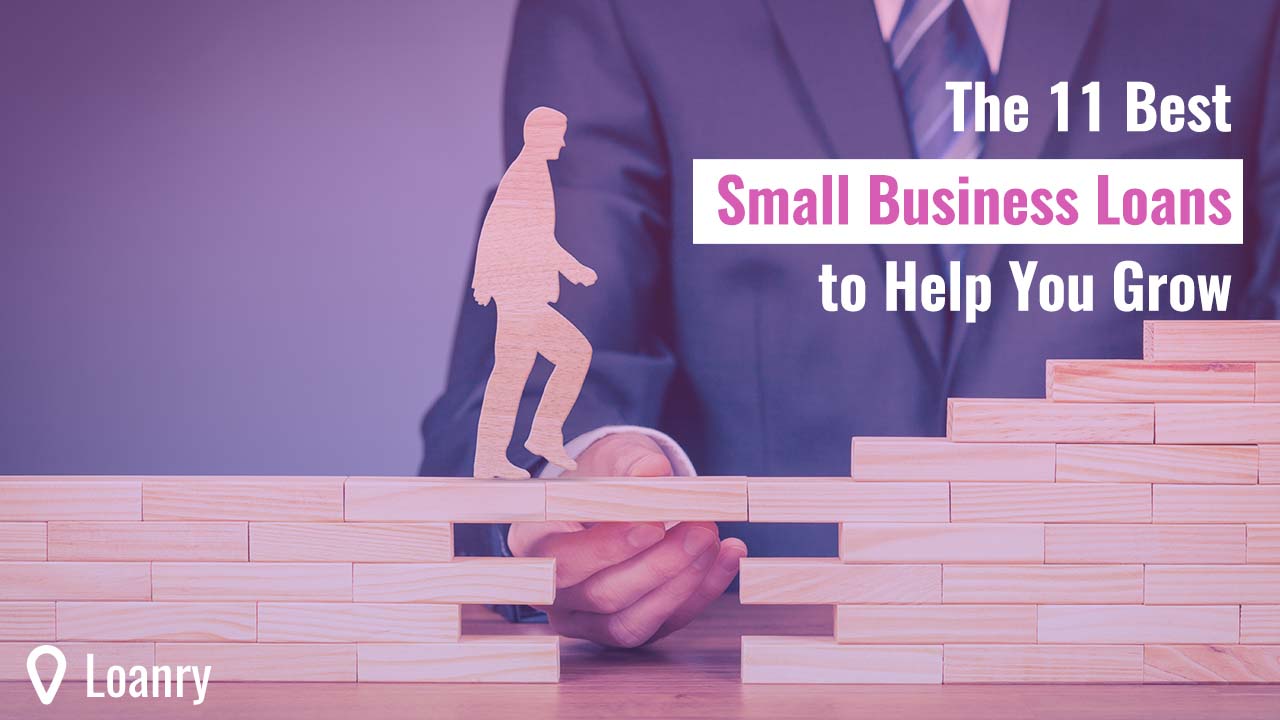 Starting and running a business is tough, especially when you do not have the cash you need to make moves. This article is going to guide you through the types of small business loans you can apply for as well as 11 of the top loans and lenders you can consider.
11 of the Best Small Business Loans and Lenders
It is always important to compare small business cash loans to make the best choice. There are plenty of small business loans and lenders out available, but here are 11 of the best options for you to consider in your small business loan shopping:
#1 OnDeck
Good For: Those who need cash fast and often, and those who have trouble being approved for small business loans elsewhere.
OnDeck is a pretty popular option that is known for both term loans and lines of credit. The term loans are available in amounts from $5,000 to $500,000. You can pay them off in three to 36 months, depending on the amount you borrow. Interest rates for term loans start as low as 11.89 percent, though your rate will depend on credit scores or credit history.
You can also apply for a line of credit from $6,000 to $100,000 that you can repay in 12 months. Interest rates for lines of credit start as low as 10.09 percent.
OnDeck is also an approved lender for PPP loans through the SBA. PPP loans are federal loans that are intended to help cover the cost of payroll and certain other things. These tend to be low-interest loans, and you can borrow up to two and a half months worth of payroll.
That time frame gives you the chance to get on your feet or make the decisions necessary to cut your payroll costs.
OnDeck requires that you be in business for at least one year. This is because they factor in your business's performance as well as your credit for approval. That can be helpful as a profitable business has the chance to get approved even if the owner's credit score is low or the business does not have a good credit history.
On the other hand, it can be risky. Part of the reason they take your performance into account is that they are using your business for collateral. If you are late or fail to make payments, you might lose your business.
Bottom line: OnDeck can be incredibly helpful for those who cannot get approved through other lenders. However, if you choose to apply through them, be sure you have a backup plan in place so you do not lose your business. Think it through before making moves.
#2 Kabbage
Good For: Small business loans for those with not so great credit and those looking for convenience.
One of the best things about Kabbage is that there is no credit check. Instead, you link your bank account and basically they approve or reject you according to the money you have coming in- and you need at least $50,000. This is great for those whose credit just cannot score them a loan elsewhere but makes a decent income. However, it also means higher interest than many other lenders.
Kabbage does not have many loan products. In fact, it usually only offers lines of credit. At times, they will open up other loan products, but not always. While lines of credit can be convenient, the interest rates often fluctuate and there are usually maintenance fees.
Fortunately, they offer several ways to access your line of credit. You can choose a physical card, which they will send through the mail, but you have to wait until the card arrives to use it. Or you can also use a bank account or a PayPal account. You are expected to repay what you borrow in either six months or 12 months, depending on how much you borrow.
Bottom line: Kabbage is great for those who need money pretty quick without a credit check, but be prepared to repay the loan within a year tops.
#3 Wells Fargo
Good For: Those with good credit who want a well-known lender.
Wells Fargo has been in business since 1852, making them a well-established and well-known lender. They offer several types of small business loans including term loans, lines of credit, and more. The lines of credit start as low as $5,000 and go up to $100,000. The rates are as low as 1.75 percent.
The unsecured small business loans start as low as $10,000 and can go up to $100,000 with interest as low as 8 percent and go as high 22.99 percent. There is usually a $150 opening fee, but it is sometimes waived. Repayment terms can go from one to five years. They even offer SBA backed loans.
Bottom Line: If you have good credit and your business does between $2 million and $5 million in annual sales, Wells Fargo can be a really good option for you as they can loan high amounts with low interest. Those with bad or fair credit should look for other small business loans.
#4 SBA Small Business Loans
Good For: Those who cannot get an approval through other lenders.
The SBA, or Small Business Administration, was founded to support the small businesses in our country. There are many small business owners who simply cannot get funding through traditional avenues due to credit or other lender requirements. This is where the SBA comes in. It is not a lender itself but rather guarantees business loans making lenders more apt to approve you.
In order to qualify for SBA small business loans, you must meet some requirements, such as your business must be operated in the U.S., it must be a for-profit business (non-profits have other funding avenues), time and/or money must already be invested in the company by the owner, and the owner must not be able to qualify for alternative loans.
Bottom line: The SBA works with business owners to get loans with competitive rates and repayment terms- all the way up to 25 years depending on the loan. It is a great option for businesses that simply need a hand but cannot get it elsewhere.
#5 Lending Club
Good For: Businesses that are somewhat established but not completely.
Lending Club is a peer to peer lending service that provides term loans of up to $300,000. The requirements are pretty fair in comparison with other lenders. You must have been in business for at least a year and make at least $50,000 in annual sales to qualify. You must also own at least 20 percent and have decent credit.
Lending Club is a peer to peer lending service that provides term loans of up to $300,000. The requirements are pretty fair in comparison with other lenders. You must have been in business for at least a year and make at least $50,000 in annual sales to qualify. You must also own at least 20 percent and have decent credit.
The biggest downside is that there have been accusations of hidden fees and double payments. This is being disputed and it still has a decent rating on the BBB's website. Still, it is something to keep in mind. Also, loans of more than $100,000 usually require a lien on your business for collateral, which can always be a bit risky.
Bottom line: Lending Club seems like a great option for many, but- as always- go into it with your eyes wide open so you are not blindsided later.
#6 BlueVine
Good For: Businesses with inconsistent cash flow and startups.
BlueVine is an online lending service that aims to help businesses that have issues with cash flow. It is one of the lending services that offer small business loans with what is known as invoice financing. If you have unpaid invoices, you can sell them to BlueVine- you get a lump sum and BlueVine collects the payments from your customer.
This type of lending through BlueVine requires that your business have $10,000 or more in monthly revenue, have been in business for at least three months, and that you have a credit score of at least 530.
BlueVine also offers term loans and lines of credit. The requirements for these are a little more stringent but not as stringent as other loans and lenders. BlueVine opens doors for many that are not normally able to qualify for small business loans through alternative avenues.
Bottom line: BlueVine is definitely worth considering for new businesses that need cash. However, watch out for high interest rates if you have a low credit score. Also, make sure you can repay loans quickly- sometimes in as little as six months.
#7 Fundbox
Good For: Those with little or no time in business.
Fundbox is an interesting lender. It does not have many requirements at all. Small businesses and even freelancers are welcome to apply. There is no minimum amount of time you have to be in business and you can have a credit score as low as 500. Also, there are a few different loan types Fundbox offers that go all the way up to $100,000 and have repayment terms up to two years.
There are really only two specific requirements. Fundbox goes by bank activity and income. Therefore, all you need to do is meet the requirement that you are using a compatible bank that they can look into for at least three months. For other credit, you must have been using certain types of accounting or invoicing programs for at least two months. The bank and the programs are what Fundbox uses to evaluate your business, depending on the type of loan you get from them.
Bottom line: Fundbox is one of the most relaxed lenders you can find at this time as far as requirements go. As with most credit, though, lower credit scores will lead to higher interest rates.
#8 Crest Capital
Good For: Businesses wanting to purchase instead of rent equipment.
Crest Capital offers small business loans that focus on financing equipment for those who hope to purchase instead of rent. It offers several ways to purchase this equipment, with loans going up to $1 million. Repayment terms extend all the way to 84 months depending on the loan.
On the downside, Crest Capital requires more than many of the other options we have mentioned here. For one thing, they want a credit score of at least 700. They also want you to have been in business for at least two years among other things.
Bottom line: If you want to purchase your equipment, have really good credit, and your business is pretty established, Crest Capital might be your best option. If you do not meet these requirements, apply elsewhere.
#9 Accion
Good For: Startups and small business without much history
Accion is a nonprofit company that started as an organization that supplied microloans and financial education to low-income communities. Over time, they began offering more products and bigger loans but are still dedicated to helping businesses in need.
Accion does a case by case approval basis, so they have very little set qualifications listed. They usually only ask for credit scores of 575 and has no specific requirements in terms of how long you need to have been in business.
Bottom line: Accion is a good choice for any startup or small business, but especially those that do not meet the stringent requirements of other lenders.
#10 Rapid Finance
Good For: Businesses that need quick cash.
Rapid Finance offers cash advances as opposed to outright loans and repayment terms up to 60 months. The requirements to qualify are pretty attainable. You only need a credit score of 500 and you need to have been in business for at least 12 months. They do not have a specific amount of revenue they require to apply as it goes by the amount you need to borrow.
Rapid Finance lives up to the name by generally offering an answer within 24 hours and quick disbursement of the money. You will likely end up paying high monthly payments and have to use your business as collateral.
Bottom line: Rapid Finance offers cash advances to those who need quick cash and meet few requirements. However, these advances can be costly and risky. If you are unsure of whether you can repay the cash advance or not, look for alternative loans that come with less risk and lower payments.
#11 SBG Funding
Good For: Startups and other small businesses.
SBG Funding is great for newer businesses that cannot attain other financing due to their age. They have loans all the way up to $5,000,000 and offer repayment terms of up to five years. They even accept credit scores as low as 500 and only require that your business be at least six months old.
Unfortunately, they do require you to make at least $150,000 in annual revenue, which may be an issue for some startups. Fees and any additional requirements are typically not disclosed until you are in the application process. Additionally, you may end up paying weekly instead of monthly payments.
Bottom line: SBG Funding does give many newer businesses a chance at financing, but not all. While some requirements are very relaxed, others are not.
Conclusion
For many people- especially freelancers, entrepreneurs, and startup companies- getting the financing necessary to grow a business can seem like an insurmountable task. Fortunately, that does not have to be the case. There are small business loans out there for almost everyone and every business. With planning, research, and some time, you should be able to find a loan to suit your needs and your situation.